JDF16
For a team that isn't known for doing the right thing, the Miami Marlins did everything right when honoring Jose Fernandez last night.
When I woke up to the news Sunday, I was in shock. I looked at my phone and say the MLB update, made coffee and turned on ESPN to watch the coverage. I sat on the couch and couldn't hold back the tears. There's nothing that will break your heart like a room full of grown men crying.
Monday evening, I was driving back from Auburn and stopped in Franklin. While I was waited for directions to check out an indoor facility, I turned on the Marlins game. The ceremony had just started and the water works started again. A few of those guys like Dee Gordon and Giancarlo Stanton are around my age.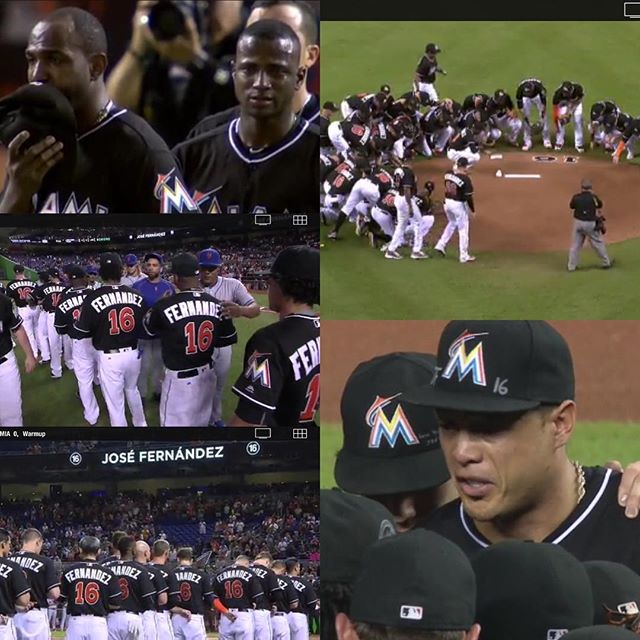 From the gathering around the mound to Stanton's speech. There wasn't a dry eye in America if everyone was watching. I called my mom and asked if she watching, she wasn't but she turned it on when I mentioned it. A few minutes later, I was back on the road and she called me to tell me about Gordon's at bat.

I DON'T CARE WHO YOU ARE, NOBODY CAN SCRIPT A MOVIE BETTER THAN HOW THE FIRST INNING PLAYED OUT!
As he rounded third base, bawling and everyone in the dugout crying. He made his way to the hall leading to the clubhouse and Mets pitcher Bartolo Colon waited for him to leave the dugout before he stepped back up to the rubber. Kudos to you Mr. Colon for honoring the Marlins that way.
The game was without a doubt, the most respectable way to send Fernandez out of his physical life on Earth. He isn't gone completely and it showed last night. Even Gordon said, "If y'all don't believe in God, y'all might as well start."
---