Patriot Talk: New England Draft Picks Breakdown, Part 1
The 2019 NFL draft was full of some surprising picks, especially in the first round. The Patriots did not stick to the norm with their first draft selection, and went a little off the board on day 2. But who did the Patriots get in the players they did draft? Here are some evaluations I have gathered from Patriot reporter Doug Kyed (NESN).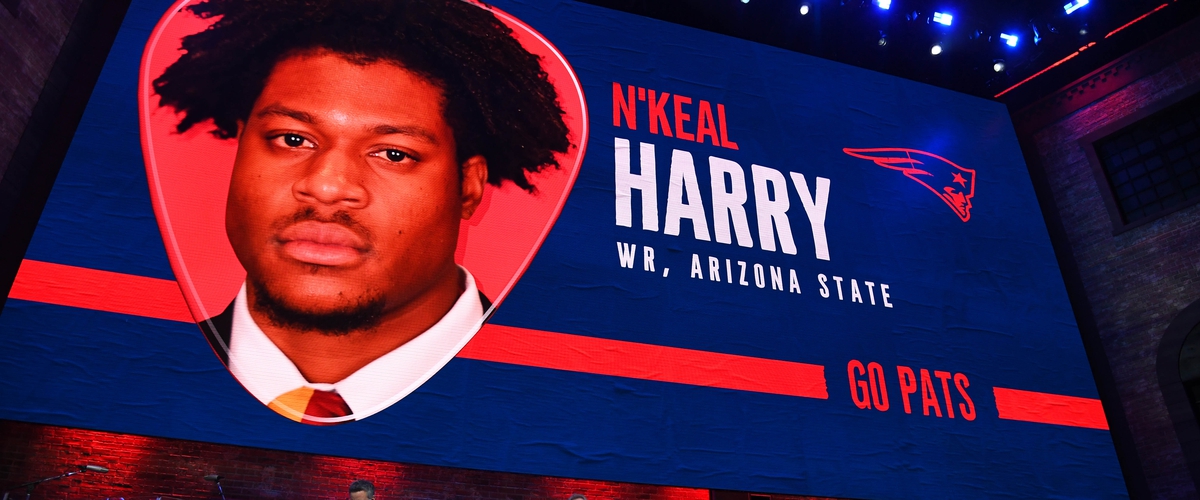 Round 1, Pick 32: Patriots select N'Keal Harry, Wide Receiver, Arizona State
Harry stands at 6'3, 225 pounds, and although had a smaller sample size, in terms of usage at the collegiate level, found a ton of success. He has the ability to play in just about every offensive situation, as he, obviously, is a pass catcher, but he also added 23 carries for 144 yards in his college career, ultimately like Cordarrelle Patterson last season. He also helps out on the return team, registering 14 punt returns for 165 yards and a TD. Harry never registered more than 83 catches in a season with Arizona, catching 58, 82, and 73 passes, respectively, in his three seasons. However, he still managed to register back to back 1,000+ yard campaigns in his final two seasons, averaging 14.4 yards per catch. Patriots Director of Player Personnel had this to say on the ASU wideout: "Productive player over a three year period... Big, strong receiver, good hands, good with the ball after the catch... He's hard to tackle, so he actually has a little bit of ability to make some people miss... One of the things he does well is he plays the ball in the air [he goes up and grabs the ball rather than waiting for it to get to him]." To put into context how good N'Keal Harry really is at picking up yards after the catch, 47.3% of his 1.088 yards last season (roughly 514 yards) came after the catch. Harry marks the first time since Belichick has joined New England (2000), that they have selected a WR in the first round. They also strayed away from their usual habits of selecting smaller, shiftier slot receivers by taking Harry, who mainly plays on the outside, and is bigger, stronger and a little less shifty. Harry could create mismatches, and if Josh Gordon is able to make a return and sticks around, they could be a formidable WR duo.
Round 2, Pick 45: Patriots select Joejuan Williams, Cornerback, Vanderbilt
After trading later picks in this draft to the Rams to move up in the second round, the Patriots selected the guy they were also debating on picking with the 32nd pick. Basically, although not exactly true, they got 2 first round caliber selections. Standing at 6'4, 211 pounds, Williams has good size. He could be used to cover tight ends and bigger wide receivers in a small sample size next season, so long as he stays healthy and impresses in camp. Belichick, prior to the draft, sort of hinted at this selection, according to Doug Kyed, by saying, "This is another year where there's a lot of big receivers - 6'4, 225 [pounds], 230, whatever they are - I mean, somebody's going to have to cover those guys one of these days," Again, Williams likely won't be a starter next season, with guys like Stephon Gilmore, Jason McCourty, JC Jackson and young guys like Keion Crossen, Duke Dawson and Jonathan Jones to compete against. He will likely be deployed in situational moments, or in tough matchups, like when the Pats face Kansas City and he lines up against Travis Kelce. The fact that the Patriots cornerbacks and safeties aren't exactly young anymore make Williams a true need in the draft, and his measurables and size are favorable for the Pats. Williams allowed 36 catches on 75 targets (48% catch rate) for 451 yards (allowing 6 yards per target), 5 TDs, and 4 interceptions. Doug Kyed points out that Williams isn't the fastest corner, but at his size, along with his numbers in agility drills such as the three cone drill, and short shuttle, he is top-tier.
Round 3, Pick 77: Patriots select Chase Winovich, Defensive End, Michigan
After the Patriots moved out of round 2, (64th pick) by trading with the Seahawks, for picks 77 and 118, they used 77th overall to fill arguably their biggest need, defensive end. They also had pick 73, but moved that as well to the Bears for picks 87, 162 and a fourth round pick in next seasons draft. Standing at 6'2, 252 pounds, Winovich isn't a very big defensive lineman, relative to many others out there. But Doug Kyed made the comparison of Winovich to that of Rob Ninkovich and Mike Vrabel. He also has the versatility to play both on the defensive end and outside linebacker, which could make him a valuable piece on the Patriots defense for years. He tested well on his pro-day, and put up numbers that are deemed prototypical to the usual players selected by the Patriots at his position. Last season, according to Pro Football Focus (PFF), Winovich had 5 sacks, 14 Quarterback hits and 34 hurries, and based on comments last season, along with the analytical numbers to back it up, hurries and QB hits are invaluable to the Patriots pass-rushers. He ranked 25th in pass rush productivity for PFF. But what sticks out the most is his run defense effectiveness, something that the Patriots struggled with last season (up until the playoffs, that is). He ranked 2nd in PFFs run stop percentage metric, as he recorded 34 run stops on 288 run-defense snaps (11.8%). With the thin crop of linemen next season with Michael Bennett, John Simon, Derek Rivers and Deatrich Wise highlighting the Pats d-line, he does have potential to start next season, despite being a 3rd round selection. I am a big fan of this selection personally, and I'm very excited to watch Winovich play next season.
3rd Round, Pick 87: Patriots select Damien Harris, Running Back, Alabama
This was completely off-the-board. With speculation that the Patriots could take a QB at this point, especially with West Virginia's Will Grier still available at this point, taking a RB doesn't make sense. That's not all, however. The Patriots have James White, Sony Michel and Rex Burkhead all as options, along with first round pick N'Keal Harry's versatility to run the ball like Cordarrelle Patterson, this doesn't make sense regardless of who was still available. But let's dive deeper into the "why" of this pick. Sony Michel has knee problems, and if he is the Pats number one true runner, we need insurance behind him. What about James White? White isn't necessarily a great running back, he's a huge threat in the passing game out of the backfield. Although not necessarily bad, that's not his true role. Finally, Rex Burkhead hasn't been able to say healthy for the life of him. If he's the insurance behind an already injury-riddled Sony Michel, we need more insurance. That's what the Patriots get with Harris. Despite being Alabama's starting running back over 1st round selection Josh Jacobs, he fell. Harris carried the ball 150 times for 876 yards (5.84 yards per carry) and 9 TDs. He added 22 catches for 204 receiving yards (9.3 yards per catch). Harris broke away from 22 tackles last season, and he ranked 49th in PFF's elusiveness rating metric and 36th in their breakaway percentage metric. As stated earlier, Harris will likely serve as a backup to Michel and fill-in for injuries next season. He's also experienced as a pass catcher out of the backfield, and could make the Patriots a little bit more unpredictable offensively.
Round 3, Pick 101: The Patriots select Yodny Cajuste, Offensive Line, West Virginia
The Patriots had pick 97, but traded back to reclaim their original pick (101) from the Rams. The whole trade was the Pats receiving picks 101 and 133 from the Rams in exchange for picks 97 and 162. Ultimately, they move back in round 3, while moving up in round 4. The Patriots didn't have good backups behind Marcus Cannon, who does suffer injuries often, and Isaiah Wynn, who missed all of his rookie season due to a torn achilles in a preseason game. There's no way of knowing if Wynn will be a true starter next season, and there's no way of knowing either him or Cannon will be healthy. Adding depth and reliability on the offensive line is super important. Cajuste stands at 6'5, 312 pounds, making him the biggest o-lineman after the departure of Trent Brown. According to Doug Kyed, Cajuste missed parts of two seasons with West Virginia with knee injuries, which is a concern, and he didn't have pre-draft workouts due to a quad injury. But Cajuste has been extremely successful, and didn't allow a single sack his entire senior season. He allowed just 2 QB hits and 10 pressures in 11 games last season. In his entire collegiate career, Cajuste allowed only 3 sacks, and 2 of the 3 were as a freshman. Cajuste has allowed 32 hurries in 31 games, which is really telling of just how successful he has been. He played Left Tackle in college, although many reporters, according to Kyed, have projected him as a potential right tackle, which means he has the ability to back up both of Cannon and Wynn if completely necessary. He is a valuable piece for next season, if he can stay healthy, however he may not have a major role unless he really impresses and surpasses either one of Wynn or Cannon on the depth chart.
Wrap Up
On the surface of each pick, outside of Cajuste, there is a good chance that each pick could be starters, or play a fairly important role on the team. N'Keal Harry is a great pick, and makes the contested catches look easy, and provides a trusty option for Brady this coming season. But the pick I'm most excited for is for Michigan DE Chase Winovich, especially because of the comparability to Rob Ninkovich. All-in-all, a very good draft, and now it's up to time to really see if these guys turn out the way they're initially expected. The drawbacks are that they didn't select any Tight Ends to replace the recently retired Rob Gronkowski, even though they had a chance at selecting Alabama's Irv Smith Jr. Another drawback, although not entirely a bad thing, is the fact that they had QB Will Grier right in their laps and didn't take him. Tom Brady can't play forever, and Will Grier had the best foundation among all the QBs they realistically had the chance of grabbing. It's not entirely a loss however, as next season's crop of QBs are much stronger.