Patriot Talk: New England Draft Pick Breakdown, Part 2
Day three of the NFL draft is complete, and undrafted free agents have been signed. What under the radar players did the Patriots get? Here are some evaluations I have gathered from Patriot reporter Doug Kyed (NESN).
Round 4, Pick 118: Patriots select Hjalte Froholdt, Offensive Lineman, Arkansas
More offensive line depth selected early in the fourth round by New England. Hjalte (pronounced Yelda) Froholdt is a 6'5, 306 pound offensive guard. With this pick, the Patriots are looking ahead, as starting right guard Joe Thuney is an upcoming free agent, and left guard Shaq Mason was already paid top money, and as Doug Kyed points out, the Patriots most likely aren't going to pay big money to two guards. This ensures that they have somebody in the pipeline for next season. He was a three year starter at left guard, and played center at times as a senior. According to Pro Football Focus (PFF), Froholdt didn't allow a single sack his last two seasons with Arkansas. In his college career, Froholdt allowed a total of 3 sacks, 14 quarterback hits, and 22 hurries. He's a better pass protector than run blocker based upon PFF's grading metrics.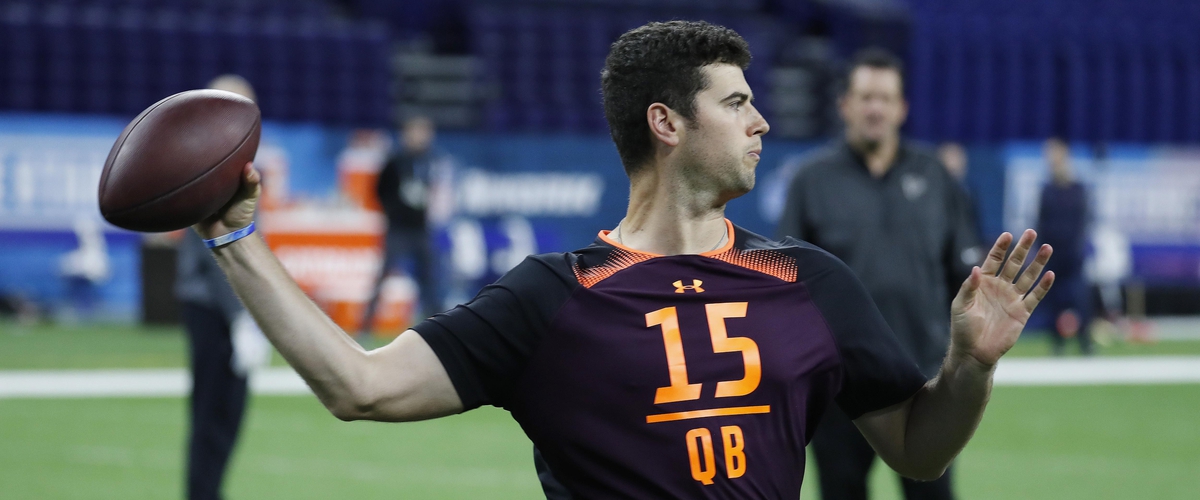 Round 4, Pick 133: Patriots select Jarrett Stidham, Quarterback, Auburn
Two seasons ago, Jarrett Stidham was looked at as a future first round pick. That season, he completed 66.5% of his passes for 3,158 yards, with 18 TDs and 6 interceptions. He also showed athleticism, as he rushed for 153 yards and 4 TDs. But the following season (last season), he completed almost 6% less (60.7%) passes, almost 500 yards less (2,794), with the same amount of TDs (18) and one less interception (5). It didn't entirely help that his offensive line wasn't great and his receivers did drop quite a few passes, which was enough for him to drop substantially from the year prior. To really show how bad his luck was, his receivers dropped 7% of his passes. If those passes had been completed, he would've had a higher completion percentage from his sophomore year and potentially even more yards, and TDs. He ranked 15th in PFF's adjusted completion percentage metric, ranked 9th in PFF's adjusted completion percentage against pressure and 19th in adjusted completion percentage against the blitz. Stidham completed 18 of his 51 deep passes, for 681 yards with 8 TDs and no interceptions, showing off his strong arm, and deep ball accuracy. This pick is a low risk-high reward selection, as there's potential there, but he could also be the passer we saw last season, and not develop into an NFL starter, but he did only cost a fourth round pick. He also will be facing less pressure coming into the NFL, as, again, he was a 4th round selection, which alleviates the pressure on his shoulders to have more success at a faster rate. If he impresses in camp and summer training, he could force the Patriots hand in releasing Brian Hoyer and making him Tom Brady's backup. What's more likely, is the Patriots keeping him on the main roster as the third QB, and maybe releasing Etling (7th round pick in last year's draft). With a team as highly touted and successful as the Patriots, as well as being behind one of, if not, the greatest quarterback in NFL history in Brady, Stidham may have the best environment for success around him.
Round 5, Pick 159: Patriots select Byron Cowart, Defensive Lineman, Maryland
The Patriots had another fourth round pick (134) but traded that, along with a 7th round pick (243) to the Rams for two 5th rounders (162, 167), and then used pick 162 in a trade with the Vikings, along with 7th round pick (239) to get this pick. That's a lot to take in, but with this pick, they get Cowart, who stands at 6'3 and 298 pounds. Cowart, according to Doug Kyed, projects to be a defensive tackle for the Patriots. He had 38 tackles, 3 sacks, 1 forced fumble, and 5 tackles for a loss in 2018 in his first, and only, season in Maryland last year. Coming out of high school, Cowart was the number 1 defensive recruit, according to Kyed, showing that there is upside with this pick. He's going to compete against Frank Herron, David Parry and Ufomba Kamalu in summer camp for a roster spot, although he will likely be a practice squad player.
Round 5, Pick 163: Patriots select Jake Bailey, Punter, Stanford
I was very confused with this pick. The Patriots just extended their punter, Ryan Allen, this off-season, so why would they add another one? Belichick is known for drafting punters in the fifth round, if at all, but he's also known for preferring left-footed punters, which Bailey is not. But what stands out to me is Bailey's athleticism. Belichick is quoted saying that Rams punter, Johnny Hekker, is a "weapon", and by adding an above average athlete (relative to other punters), could he be trying to get his own "weapon" like Hekker? Maybe, but that still doesn't make sense why they take a punter that they may have had a chance grabbing later on in the draft, or signing in free agency.
Round 7, Pick 252: Patriots select Ken Webster, Cornerback, Mississippi
Ken Webster doesn't fill a need, and will almost certainly not be a starter unless the Patriots secondary is smacked with the injury bug. There is one big thing that stands out, and Patriots director of player personnel, Nick Caserio, touched on it: "Really, really good player in 2016. Had some injuries in 2017. Kind of worked himself back. Similar to [Keion] Crossen -- outstanding testing numbers. Eye-popping numbers. Element that needs to translate on the field." That being said, Webster is extremely athletic, and if he can use his athleticism and translate it into on-field success, then he could turn out to be a steal a few years down the road.
Undrafted Free Agent Signings
Jakobi Meyers, Wide Receiver, North Carolina State
Standing at 6'2, 203 pounds, Meyers isn't the most athletic, but is added to the list of guys the Patriots have picked up to make their receiving core taller. He had 92 catches for 1,047 yards (11.4 yards per catch), and 4 TDs. According to Doug Kyed, Meyers was a big slot receiver with great hands.
Xavier Ubosi, Wide Receiver, UAB
Another taller receiver, at 6'3, 215 pounds, he's slightly faster than Meyers but far less used in college, recording just 35 catches for 837 yards (23.9 yards per catch) and 8 TDs. Deep threat and redzone monster, if he can translate that onto the NFL stage, could be a steal. Doug Kyed further stressed his deep threat ability, stating that he has great hands and more than half of his yards came off of deep targets.
Calvin Anderson, Offensive Guard, Texas
At 6'4, 292 pounds, he is a big body on the interior. Had an impressive pro-day, as a more athletic lineman. Good depth for the Patriots as well, which is something they stressed coming into the draft. Texas offensive line coach, Herb Hand, said, "The Patriots are getting a tough, driven young man. One of the smartest that I've ever coached."
Terez Hall, Linebacker, Missouri
At 6'1, 230 pounds, he is a little undersized, and not the most athletically inclined. He recorded 71 tackles, 9 tackles for a loss, and 5 sacks last season, which is solid. There's a bit of upside with this signing, but nothing too crazy. Doug Kyed said that Hall is a ball of fury, after a video of him drilling an offensive lineman who was selected in the 5th round surfaced.
Malik Gant, Safety, Marshall
Standing at 6' foot, 209 pounds, Gant was expected to go in the last two rounds, but wasn't, and it has led to several analysts questioning why he wasn't drafted at all. He's a physical safety like that of Devin McCourty and Patrick Chung, but less versatile and not as athletic. "Motor and closing speed stand out the most on film. Gant knows how to ground in a hurry, and plays with a ton of effort on every play." This evaluation comes from StampedeBlue.com, which is a Colts site, and they wanted the Colts to take Gant in round 4 or 5.
Tyree St. Louis, Offensive Tackle, Miami
St. Louis is a big body on the tackle, at 6'5, 314 pounds. He is not athletic, but that's not exactly expected when you're a lineman. He was an honorable mention for an All-ACC left tackle position. Was a four star recruit out of high school.
Ryan Davis, Wide Receiver, Auburn
Standing at 5'10, 189 pounds, Davis is the only shorter, shiftier, slot type that the Patriots have picked. Davis isn't the fastest, but neither was Edelman during his pro-day. He caught 69 passes for 546 yards and a TD. What's important to note is that his teammate in college, QB Jarrett Stidham, was selected by the Patriots. That could bode well for Davis as he will have chemistry with the guy throwing him the ball in camp. Like Edelman, he was at one time a QB, but switched in college to WR. He's also a solid punt return man, taking 22 punts for 217 yards (9.9 yard average) last season.
Tyler Gauthier, Center, Miami
At 6'4, 211 pounds, he's yet another depth piece and big body on the offensive line. Plus, they had a lot of success with another undrafted center they picked up, David Andrews. So why not take a flier on Gauthier? "No other Hurricane lineman has been on the field for as many snaps as Gauthier the past two seasons, 92.5% this season (392) and 98.5% last season. The team's third-highest graded lineman has only allowed four total QB pressures (zero sacks) and yet to be penalized." per Brent Rollins, PFF.
Andrew Beck, Tight End, Texas
The Patriots did not draft a tight end, and I do not understand why. Standing at 6'3, 252, Beck is not Gronk-esque. He's athletic for a tight end, and he is a leader in the locker room, as he was the captain for Texas last season. He was underused however, catching just 28 passes for 281 yards (10.04 yards per catch) and 2 TDs. According to Doug Kyed, Beck had a high drop rate.
Nick Brossette, Running Back, LSU
At 5'11, 210 pounds, he is a bigger body in the back field. He's not very athletic, as he was on the slow end of the spectrum after running the 40 yard dash at his pro-day. He was productive though, with 1,039 yards on 240 carries (4.3 yards per carry), with 14 TDs. He is a goal-line running back, like LeGarrette Blount-ish, but the backfield is already jam-packed in New England, and he may not make the roster after summer camp.