Rotation Plot Thickens With News of Gray Injury
Well, at least we got it out of the way early. News of Sonny Gray 's lat strain that could potentially keep him out until late April broke yesterday morning. The news followed an ugly start for Gray (2 IP, 5 H, 4 BB, 7 ER) that kicked off Tuesday's offensive barrage at Salt River Fields. In a post game interview with John Shea Gray mentioned he felt he was yanking his pitches to his glove hand side, consistently missing low and away. That particular mechanical flaw falls right in line with a lat strain on the throwing side, and leads this writer to believe the injury is a result of overthrowing/overexerting on Gray's part.
With Gray once again on the shelf for what's looking like at least six weeks, the competition for a back end rotation spot got that much more interesting. Granted, Gray's injury essentially removes any doubt Andrew Triggs will begin the season in the starting rotation, but it widens what was looking like a very slim opportunity for Raul Alcantara to overtake Jesse Hahn for the final rotation spot.
While he's yet to make a start, Triggs has been as sharp as can be in limited action thus far this spring. He's allowed just three hits and has walked none in two scoreless innings, throwing 28 of 38 pitches for strikes. While there are no guarantees Triggs will continue to dominate as he is stretched out later on this month, he's looked good so far.
As for Hahn, it's been a tale of two starts. He was roughed up in his first outing of the spring, allowing four hits, a walk, and three earned runs over 1.2 innings against the Cubs on February 25th. However, he bounced back in dominant fashion on March 2nd, throwing three shut out innings against the Rangers with incredible efficiency, tossing 18 of 18 pitches for strikes. Should Hahn continue to pitch like that for the rest of March, it will be difficult for Alcantara to supplant him no matter how well he pitches.
That being said, manager Bob Melvin is giving Alcantara all the looks he could hope for in order to win a spot. He's thrown the most innings of any A's hurler this spring (8.2) and was allowed to stretch out to nearly 50 pitches during his appearance in the slugfest against the Dbacks. That was not only his longest outing of the spring but also his worst, as he allowed 4 hits and three earned runs over three innings after allowing just two hits and a run over his first two appearances combined.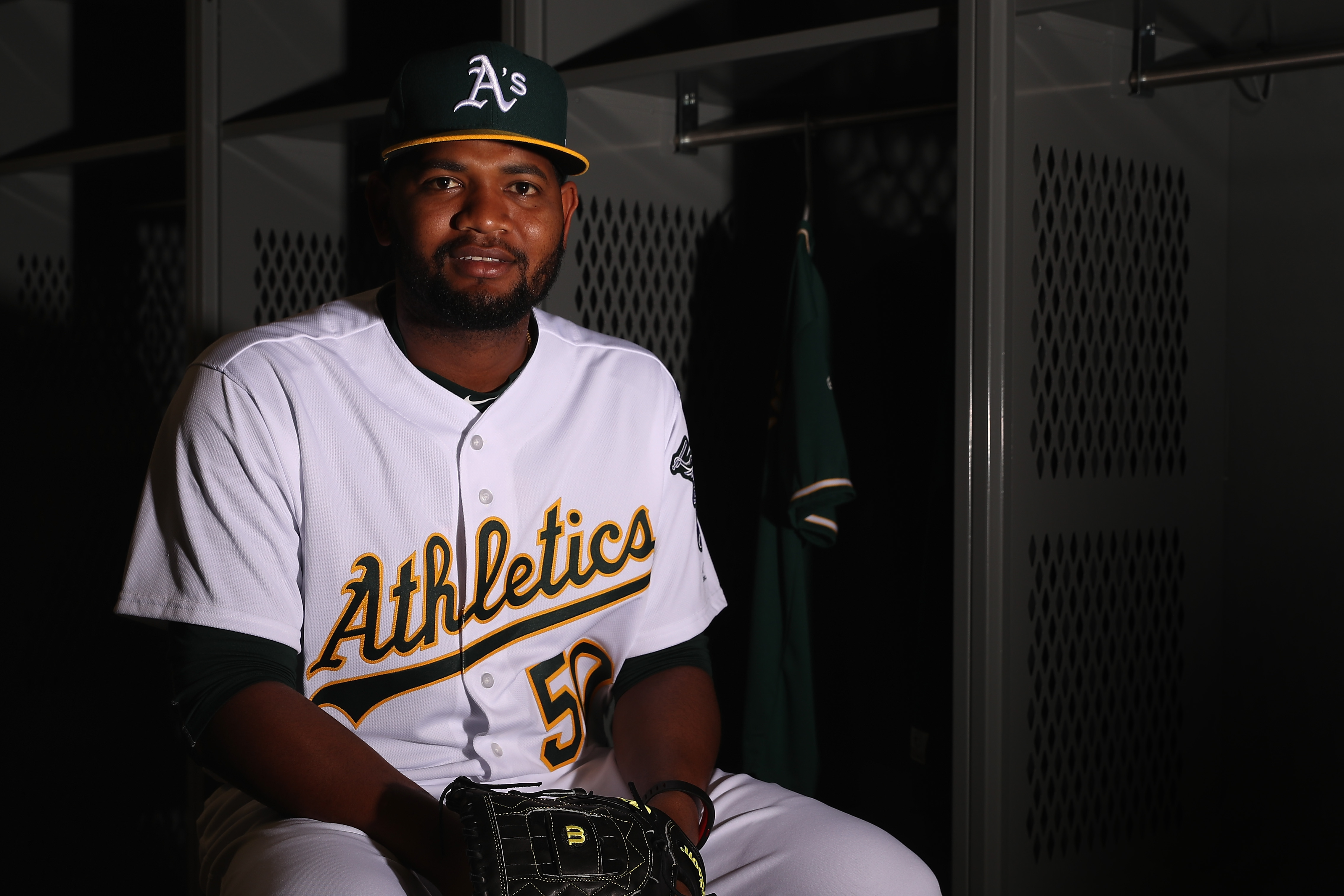 Raul Alcantara is hoping spring picture day isn't his only memory in an A's home uniform this season.
The fact Alcantara is out of options adds some intrigue to the situation. If the A's were to go with Hahn, they will have to expose the 24 year-old Alcantara to waivers and risk losing him to another club prior to being able to outright him to Nashville. He's already spent five seasons in the A's system; if he once again fails to make the opening day roster a change of scenery may be best, especially with the stockpile of young starting pitching Oakland has in it's system.
As it stands Hahn and Alcantara have been nearly neck and neck this spring, so each appearance from here on out will be crucial for both. The advantage still lies with Hahn, but any inconsistency on his part could leave the door open for Alcantara to swoop in to the final rotation spot. Oh the beauty of March.
-AC
---