Is There A Friendly Game of Baseball in the MLB? Wainwright - Gsellman Evenly Matched
St. Louis Cardinals Adam Wainwright returns to the scene of a game he'd really like to forget this Spring, at Port St. Lucie, FL. So, that's what I'm going to do, too. Today was a day of MLB Spring game friendly. Can't be done? Let's look.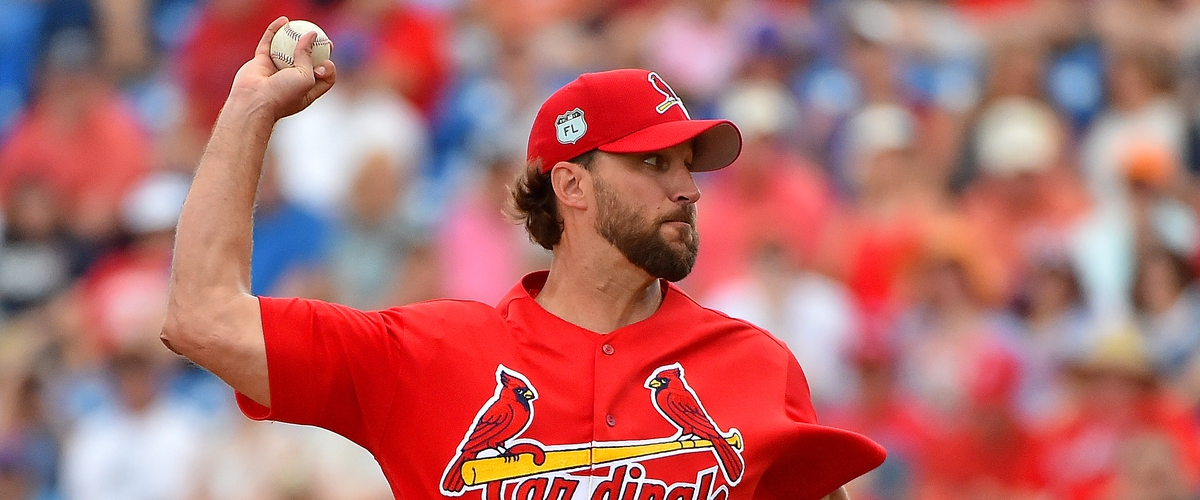 Wainwright has that determined, concentrated, do your job, no experimenting today look about him. He faced New York Mets Robert Gsellman.
RG takes out the side in the first. Wainwright, did allow one hit - a triple by Yoenis Cespedes, but got his third out unscathed. Gsellman top of the second, gives up two hits, but with a double play closes his inning. Wainwright once again, gives up a hit; however, gets his three outs leaving the runner stranded. Onto the third, both take out the side. So, for all concerned, both cruise through their first three innings with no score on the board.
Then in the fourth and only inning scores were put on the board. With one out on the board, two runners on Gsellman faces Matt Adams. With a 1-1 count, Adams sends RG's next pitch blasting the two-seamer out over the left wall, almost hitting the scoreboard for a three-run homer. That was Adams' fifth homer this Spring.
Wainwright takes the hill, bottom of the fourth, with a two outs on the board, two runners on. Lucas Duda returns the favor and slugs out a three-run homer to tie.
That baseball fans is the final score of the game, 3-3, tie. Wainwright went 5 IP/1 HR/3 ER/3 SO. Gsellman, 6 IP/1 HR/3 ER/1-BB/6 SO. Both gave up five hits each. Yes, this is Spring Grapefruit League at it's best. A friendly game of baseball.
Cardinals Miguel Socolovich pitched two innings, no hits allowed, one strikeout. Seung Hwan Oh, the final two innings, no hits allowed and two strikeouts. Mets relievers each 1-IP, Jerry Blevins, two hits, one walk. Addison Reed, one hit, one walk, one strikeout. Jeurys Familia, no hits, one strikeout.
In the Spring, yes in my opinion, there can be a friendly game pitch, catch and hit. No real competitive fire, easy as you go with great pitching, add a couple of scoring hits, work on what the players still have time to address. Come this Sunday and Monday, all of that changes.
MATT ADAMS PLAYS LEFT FIELD, AGAIN
There has been some discussion about 2B Kolten Wong being platooned. With Adams being replaced at first base by Matt Carpenter, will the new position in the outfield give Adams more playing time? Will Randal Grichuk, stated to be Cardinals everyday leftfielder, be sharing time with Adams? This Spring Adams holds a .340 BA/.396 OBP/.681 SLG. Grichuk, a .245 BA and only a .286 OBP/.453 SLG. Could it be that Adams has brought hope for more playing time with his bat? To become Cardinals everyday leftfielder. This was his fourth game in the far left corner.
As much as Wong is a strong defensive player, Grichuk is a solid outfielder, with a strong arm and speed. And, it's quite the transition for an infielder to play outfield. But, does this new set-up have merit for Adams. The drawback thus far, not too many balls have gone Adams' way to really test his arm from the corner. Matter-of-fact, not sure any have been hit for Adams to field.
Should Adams continue his offensive strength, I foresee his bat winning him a new position on the field. Plus, this could be Adams "break-out" season in 2017. In today's game, Adams was 3-4 at-bat. Grichuk, 0-3. Just food for thought. Cardinals need a heavy bat. One they can call their "extreme hitter" ~ will Matt Adams fit that bill.
TOMORROW'S GAME ~ LAST OF THE SPRING GRAPEFRUIT LEAGUE PLAY
The Cardinals will host the Washington Nationals, 12:05 CST first pitch, to close their Spring at Roger Dean Stadium. It will be Michael Wacha to make his final Spring appearance. He is 3-0/2.05 ERA/1.09 WHIP in his 22 IP thus far.