NLCS Game Two ~ Dodgers Justin Turner Three Run Homer Walk-off Win over Cubs. An Anniversary Celebration.
MLB 2017 NLCS, the Los Angeles Dodgers take a one game lead over the Chicago Cubs Saturday with a 2-1 win. Sunday, September 15, Justin Turner was the "Offensive Player of the Game" in Game Two celebrating a 29 year anniversary walk-off win by Dodgers Kirk Gibson.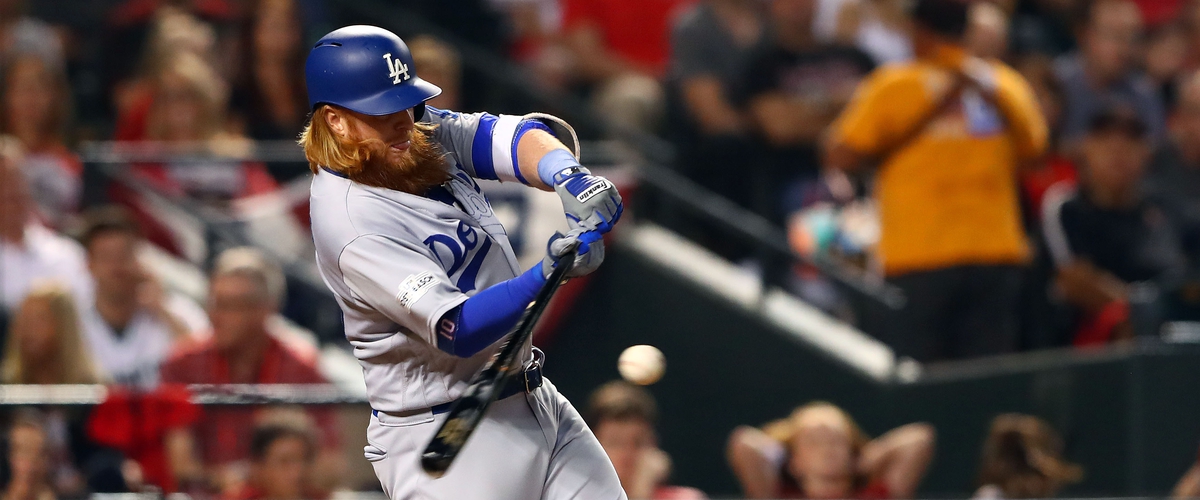 Game Two, last night, was no less a hard fought battle between the two teams. Cubs top-of-the-order Addison Russell crunched out a solo home run facing Dodgers Rich Hill in his fourth. Once again the Cubs take the lead first, as they did in Game One.
Fifth inning, Justin Turner, facing Cubs Jon Lester, knocks out a RBI single to tie, which remained until the ninth inning.
Cubs Brian Duensing returned to the hill after holding the Dodgers scoreless, inducing a double-play to close his eighth. In the ninth, he issued a walk, with two outs on the board, Chris Taylor coming to the plate. Manager Joe Maddon made a switch. John Lackey was called from the bullpen to relieve Duensing. Taylor drew a walk off Lackey, two runners on. Next up, Justin Turner.
Lackey's 1-0 pitch was the one Turner was looking for. He blazed the two-seamer out over the center wall for a two-out three-run home run walk-off 4-1 win over the Cubs.
Not only to giving the Dodgers a walk-off win; but, a 2-0 series lead. And, 29 years to the day, Turner and team celebrated another walk-off win in the Dodgers history. September 15, 1988 World Series, PH Kirk Gibson smoked a two-out, two-run homer for the Dodgers walk-off 5-4 win over the Oakland A's in their Game One.
Turner was 2-4/4 RBI in Game Two; and, yes, the sole owner of "Offensive Player of the Game". If one believes in signs, believes in fate, this may truly be Los Angeles Dodgers year to take all. In 1988, the Dodgers went on to win the World Series over the A's four games to one.
TRAVEL DAY TODAY ~ NEXT UP, NLCS GAME THREE, TUESDAY 8:00 CST
Back to Wrigley Field, Cubs in home territory to host the Dodgers. Cubs Kyle Hendricks (3.27 ERA/Postseason) will face Dodgers Yu Darvish (1.80 ERA/postseason). This will be the first appearance in 2017, for both starters, facing their opposition.
Another strong match-up. Paper numbers, past history, Hendricks has held the Dodgers to a .189 BA. Darvish has only allowed a .195 BA by the Cubs.