Grichuk, Molina Boost Cardinals, 8-4, Over Pirates. Next Up ~ Reds-Cardinals Make-up Game.
St. Louis Cardinals made the announcement yesterday, LF Randal Grichuk to return from Memphis Triple-A to join the team after his 'work-out' assignment, which began on May 29.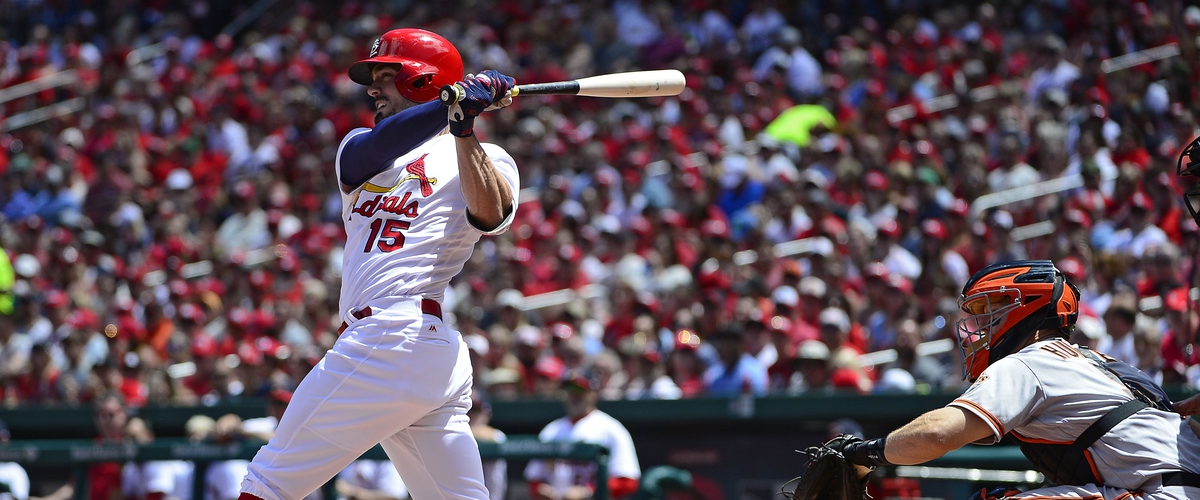 In the final game against the Pittsburgh Pirates, Grichuk was in last night's line-up hitting clean-up. Yadier Molina, who had sat out (sore knee) the first two games, also, returned to the line-up in his #5 spot.
Grichuk, who had been sent down for his second time in two seasons to work on his hitting, had played in 15 games between Palm Beach High-A and Memphis Triple-A. He logged a .273 BA/6 HR/10 RBI. Before being sent down, he was hitting .222/4 HR/19 RBI/14-2B in 46 games played. He returned and was 2-5/1 RBI and added two runs for his first game back with the Cardinals.
His RBI set a record for him at Busch Stadium. Grichuk slammed out a high flyer solo home run (record 478 feet) in the sixth to bring the Cardinals within one of the Pirates two run lead.
Molina was 3-4 at the plate, one RBI and added three runs in his return.
In the sixth, Jedd Gyorko crunched out a RBI double, Molina in for the run for the 4-4 tie. In the seventh, Molina cranked out his RBI on a single to take the lead.
Stephen Piscotty added another run for the Cardinals, in the seventh, on an error throw to first by SS Jordy Mercer. Two runners on, rookie Paul DeJong connects for a 2 RBI single to give the Cardinals an 8-4 lead and the final score for the win.
It was Greg Garcia who put the Cardinals on the board first. He faced Pirates Chad Kuhl in the second and slugged out a 2 RBI single up the center to take a 2-0 lead.
Facing Mike Leake, Adam Frazier (2 RBI triple) and Josh Harrison (sac-fly RBI) for the go-ahead runs, 3-2, in the third. In Leake's fourth, he would give up one more earned run on Elias Diaz sac-fly for the Pirates brief 4-2 lead.
CARDINALS MOVEMENT JUNE 25
Along with Grichuk, reliever Micheal Myers was called up from Memphis. Cardinals purchased the minor league contract of 1B Luke Voit who holds a .322 BA/.406 OBP/.561 SLG/.967 OPS with the Redbirds. In 70 games, he has logged 12 HR/48 RBI. OF/1B Chad Huffman was optioned back to Memphis.
Voit made his major league debut in last night's game. Pinch hitting for Trevor Rosenthal in the seventh. Not quite the fanfare fans were hoping to see from this prospect power hitter. However, he reached first base with his first major league hit-by-a-pitch. He later stated, he really didn't feel a thing with the adrenaline running on high. He was just smiling all the way down the first baseline to the bag.
TODAY ~ MAKE-UP GAME HOSTING THE CINCINNATI REDS
Due to the postponed game, April 29, the Cardinals will host the Reds in their last make-up (of four) this season.
The one game will be played at 3:15 CST with Cardinals Michael Wacha (3-3/4.76 ERA) facing Reds Brandon Finnegan (1-0/2.70 ERA).
Wacha has been penciled in for the start. In my opinion, dependent on this outing, a decision will be made whether or not he remains in the Cardinals rotation. In June, he has only one game in four starts that he has gone six innings. In his total this month, 18.1 IP/3 HR/14 ER/10 BB/15 SO. The Reds history facing Wacha, a .302 BA.
Finnegan will make his first start since April 15 sustaining injury to his shoulder. April 16, "The Reds placed LHP Brandon Finnegan on the 10-day disabled list with a strained left trapezius muscle." (Rotoworld.com) He completed his rehab assignment and is now back with team. "Finnegan has posted a 3.00 ERA and 10/3 K/BB ratio over 12 innings across three rehab starts. He's be relatively limited from a pitch count perspective Monday but is probably built up enough at this point to give it a go." In the past, he has held the Cardinals to a .233 BA.