Cardinals Drop Sixth Straight, Diagnosed As "Cubs Flu". Chad Huffman Called Up With Cure?
The St. Louis Cardinals began this road trip at Wrigley Field. Facing an 'sluggishly ill-ridden' Chicago Cubs who had returned home after being swept two series, six game losing streak. Since, the Cardinals have been handed loss after loss, their sixth last night against the Cincinnati Reds, I believe the Cubs infected the Cardinals for their road trip.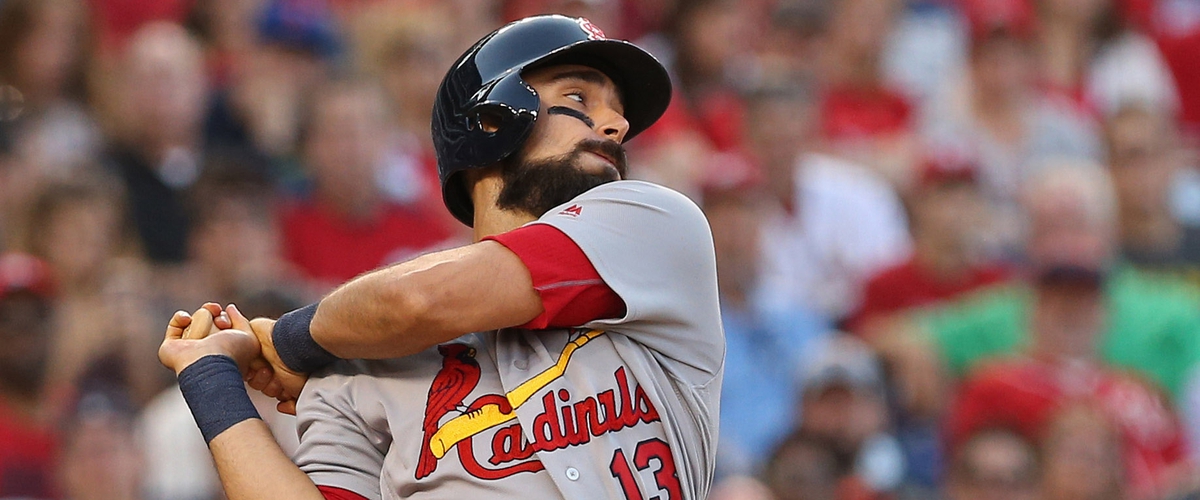 Oh, come on, one has to find some humor in our Cardinals recent demise; because, "there's no crying in baseball". So, yes, I blame the Cubs for the Cardinals last six losses. As good as an excuse as any, I think.
But, all tongue-in-cheek humor aside. My own opinion, much has to do with Matt Carpenter not being lead-off hitter. And, I have never understood why the Cardinals felt the need to 'experiment' with placing Carpenter down in the line-up. This was beyond my understanding. "Why change something that is not broken".
I so appreciate the fact that the Cardinals signed CF Dexter Fowler. I have admired his play when he was with the Colorado Rockies, Houston Astros; and, then, with the Cubs. He was essential as Cubs lead-off and he was capable in his years of play.
Carpenter has been proven worthy at the top. In his past three seasons as lead-off, slashline of .283/.382/.485/.867 with 50 HR/174 RBI/99-2B/10-3B with 377/1333 AB. He held a 205/291 BB-SO ratio. In the #2 and #3 spot, he held a .222 BA; which, he has only been a tick above this season as #3 hitter (.226 BA).
In defense of Fowler, in lead-off the past three seasons: .265/.367/.436/.803 with 34 HR/104 RBI/63-2B/17-3B and was 309/1166 at-bats. He, also, read the ball well with 176/304 BB-SO ratio. One key factor for Fowler, his 33 stolen bases compared to Carpenter, who only had seven. As clean-up, 39-91 AB held a .330 BA. Second in the line-up, .258 BA and third, only a .234 average.
Very close in paper numbers. Even though, obvious to me, Carpenter is far more comfortable at the plate in a lead-off role. With Fowler's current .226 BA, will thought be given (since manager Mike Matheny shakes the line-up a bit lately) to place him as clean-up? I would. However, I have not received that conference call.
With Fowler having the night off from starting in the line-up, Carpenter was penciled into his former position. He was only 1-4; but, put the Cardinals on the board first with a solo shot in the third. Therefore, for the night, he earned a .250 BA with one walk and one strikeout. That was his first RBI this month, for his 10 HR/28 RBI this season.
Fowler did break into the game in the sixth. He, once again, slugs out a pinch-hit RBI double to give the Cardinals a 4-1 lead. Very close to being a 2-RBI; but, Eric Fryer was tagged out at home.
Could be the beginning of quite the duo, Carpenter as lead-off and Fowler in to clean-up. No? I believe it would worth the "experiment".
MINOR LEAGUER OF/1B CHAD HUFFMAN TO JOIN ST. LOUIS IN CINCINNATI
Yesterday is was announced that Cardinals reliever John Gant, optioned back to Memphis Triple-A; and, contract purchased for OF/1B Chad Huffman. Not only has Huffman been hitting well with the Memphis Redbirds; but also, a very long and good friend of Matt Carpenter's.
Per Jenifer Langosch, MLB.com: Huffman, 32, hasn't been in the Majors since debuting in 2010. He appeared in nine games for the Yankees that year. He signed a Minor League contract with St. Louis over the offseason and was batting .292/.407/.508 with four homers and 20 RBIs in 43 games for Memphis this season.
Huffman and Carpenter played high school ball together; and, Carpenter has followed his career since. At one point, Carpenter convinced his friend to stay the course, not to give up. And, he feels that Huffman will add a "breath of fresh air" for a slumping Cardinals team. If not the team, I'm sure he will up-lift Carpenter's mood stemming from 'childhood' competition and encouragement coming back two-fold.
The Cardinals feel Huffman will work into a bench role this season. And interestingly enough, I was not aware the 3B Jhonny Peralta had a no-trade clause in his contract (or, just didn't remember such when he was signed in the 2013 off-season). However, Peralta gave General Manager John Mozeliak a list of ten teams to opt-out of this 'no-trade clause' for. (Cardsblog.com Newsletter)
SO, could it be, the Cardinals are trying to find Peralta a new home? Time will tell.