Cardinals Honor 1967 World Series Champs Over the Boston Red Sox. Current Series, Red Sox Down the Cardinals.
St. Louis Cardinals hosting the Boston Red Sox in a split series. Pregame ceremony honoring the Cardinals, 1967 World Series Champs, which came down to Game 7 over the Red Sox at Fenway Park.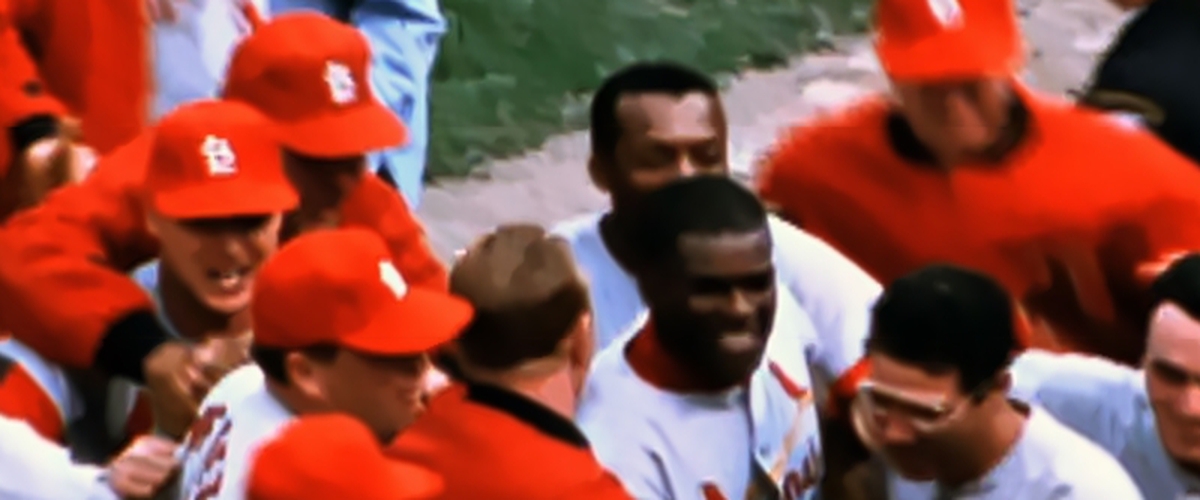 Title Series was tied, Cardinals Bob Gibson on the hill facing Red Sox Jim Lonborg in the final game.
In our day and age of 'modern baseball', much consideration is giving to starters. Making sure they have five days rest, keeping their pitch count from going over the 100 mark. To think, Gibson pitched three games in seven. Not only three games; but, three complete games for a 1.00 ERA/26 SO with ten of those strikeouts in Game 7. In today's baseball, that concept is inconceivable.
Per Jenifer Langosch, Twitter: Gibson, on throwing 3 CGs in '67 WS: "I told Red, 'When you think about taking me out, look down in the bullpen and tell me what you see.'"
50 YEARS LATER, CARDINALS 1967 WORLD SERIES CHAMPIONS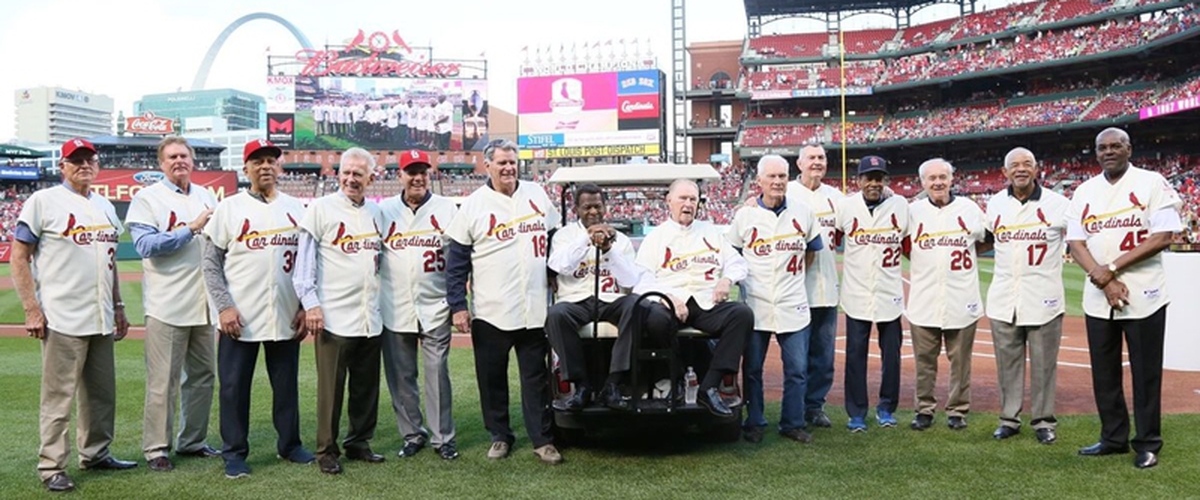 The line-up 50 years ago: Lou Brock, Curt Flood (B-1938/D-1997), Roger Maris (B-1935/D-1985), Orlando Cepeda, Tim McCarver, Mike Shannon, Julian Javier, Dal Maxvill and Bob Gibson. The team that earned the Cardinals their eighth World Series Title.
Back in the day, it was McCarver as backstop for Gibson. The pair were on the field together again as Gibson threw out the ceremonial first pitch.
Not quite the heat Gibson laid down to McCarver in the past. But, the throw was successful in that McCarver was able to make the catch. Yes, the years have changed our great players of 1967. Two of the players have passed away, 1967 manager Red Schoendienst (94) recently had heart surgery; but, recovering well with his rehab duty. And Lou Brock (77), continues his battle against cancer, was able to attend the ceremony. The team who closed their season 101-61, are still an exemplary and highly respected group of players. Collectively, they gave Cardinals fans a lot of memories of great baseball played.
FAST FORWARD ~ GAME TWO OF SPLIT SERIES
The Cardinals-Red Sox match-up, the Red Sox won the first game; and, in extra innings last night, took the second.
Cardinals took an early lead, with Dexter Fowler slugging out a lead-off solo shot in the first facing Rick Porcello. In the second, Cardinals prospect Magneuris Sierra gets his second major league RBI. Kolten Wong followed with a RBI double and Tommy Pham grounded out to second ~ but, young Sierra crossed home to give the Cardinals a 4-0 lead.
From that point, the Cardinals were held scoreless for the next 11 innings. Mike Leake held the Red Sox in check until his seventh inning. One runner on, Jackie Bradley, Jr. blazes the two-seamer out over the center wall for a two-run homer.
In the eighth, Xander Bogaerts, facing Trevor Rosenthal who had issued a free pass to put a runner on, sails the leather out to right-center for RBI triple. Andrew Benintendi ties the game with a RBI sac-fly. Both teams held in the ninth - onto extra innings.
In the 13th inning Sam Tuivailala on the hill. Chris Young pinch-hitting for Fernando Abad, sends a out a single for the winning RBI. Ben Taylor got his first save, issued one walk, but got his three outs to hand the Red Sox a 5-4 win.
The players of 1967, watching last night's game, probably thinking 'that's okay, we'll get at Fenway' as they did 50 years ago.
DAY OFF FOR THE CARDINALS
Today, the Cardinals have their second day off this week before hosting the San Francisco Giants.
Cardinals Michael Wacha (2-1/3.19 ERA) will face Giants Matt Moore (2-4/5.67 ERA).
Wacha, in the past three seasons, is 1-0/1.88 ERA facing the Giants. Pitching a total of 24 innings, has only given up 1 HR/5 ER with 23 strikeouts holding the Giants to a .231 BA
Moore, will face the Cardinals for the second time in his career. He faced them in 2016, 1-0/3.60 ERA/5 IP/2 ER/4 SO and allowed the Cardinals a .333 BA.