Cardinals Jose Martinez, 1st career Grand Slam. Reds Joey Votto 250th career homer in Cardinals win.
St. Louis Cardinals slugged out their second nine run inning game this season. Their first was against the Chicago Cubs, July 21, in the eighth for a 11-4 win. Yesterday's rubber match against the Cincinnati Reds, nine runs in the fourth for their 13-4 win.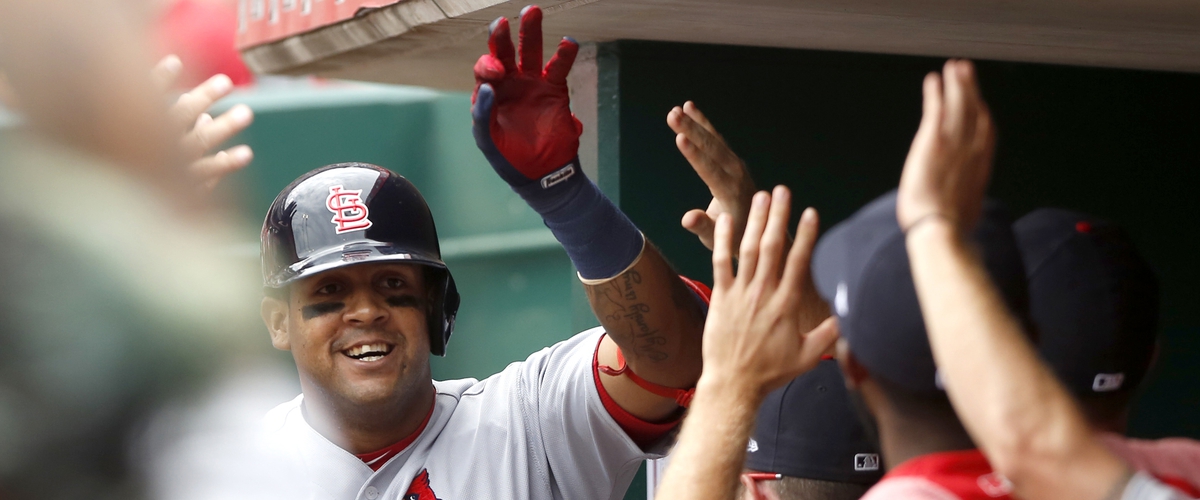 CARDINALS-REDS RUBBER MATCH ROUGH ON THE STARTERS
Cardinals Adam Wainwright, coming off the DL (back stiffness), was far from his past few quality starts. In his first, he would face nine Reds batters, issuing two walks, one IBB and allowing three hits throwing 39 pitches before he saw his first out. The 'one big hit' was slugged out against him by Joey Votto for a three-run homer to give the Reds their one and only 3-0 early lead. That was Votto 250th career home run; and, his 135th in Great American Ball Park matching Jay Bruce's total. He has 29 for this season.
Wainwright got his first two outs on a great 3-2 double play. 1B Matt Carpenter tagged the bag and his throw to Yadier Molina for out #2 on Adam Duvall at the plate. Wainwright got his one and only strikeout to close the inning. He would be retired after three frames and 88 pitches later.
Reds didn't hold the lead long. In the top of the second, facing Reds Homer Bailey, the Cardinals slugged out four doubles and a single for a four run inning to overcome the Reds three run lead.
CARDINALS FOURTH INNING ROUT
Onto Bailey's fourth. He issued two walks, with Wainwright's bunt sacrifice in-between for the first out. Tommy Pham connects for a RBI single. Rookie Paul DeJong, infield tap-out beating the throw to first by catcher Tucker Barnhart. Bases loaded. Next up Jose Martinez was 2-4/4 RBI/2 Runs in yesterday's final game against the Reds. He smoked the two-seamer delivered by Bailey perfectly off the tip of his bat out over the right wall for his first career Grand Slam
Yadier Molina adds a single before Bailey was retired after his 3.1 IP. Lisalverto Bonilla followed. A single, a walk issued to load the bags again. Pinch hitter Luke Voit, for Wainwright. He slugs out a ground-rule 2 RBI double. Matt Carpenter, our lead-off hitter, slugs out a triple to the rightfield line corner for 2 RBI to take a 13-3 lead.
A rough day for the starters. Wainwright, 3 IP/1 HR/3 ER/5 BB/1 SO. Bailey, 3.1 IP/1 HR/10 ER/4 BB/3 SO.
BULLPENS HOLD STEADY
Reliever Brett Cecil followed Wainwright for three scoreless innings with three hits allowed. He issued no walks and logged two strikeouts. John Brebbia followed for 2.2 IP. He was stung by Eugenio Suarez with a solo-shot to give the Reds their final run in the eighth. He proceeded to take the next two batters down with "K's", but no walks issued. Matt Bowman was called for ninth, holding the Reds scoreless to hand Cecil his second win this season. Bailey received his sixth loss. However, the Reds bullpen behind Bonilla allowed no further damage by the Cardinals in their 13-4 win.
The last time the Reds gave up so many runs in an inning was July 25, 2015, when they allowed 10 at Coors Field. (AP Recap-ESPN.com)
CARDINALS TRAVEL TO KANSAS CITY FOR SPLIT FOUR GAME SERIES
Cardinals still on the road for the first of two games at Kauffman Stadium in Kansas City to face the Royals. Then, Cardinals return home to host the KC team for two games in the "I-70 Rivalry".
Cardinals Carlos Martinez (7-9/3.59 ERA) will face Kansas City Royals Ian Kennedy (4-7/4.60 ERA).
C Martinez has faced the Royals twice in the past three seasons. Once out of the bullpen and one start. He has held the Royals to eight scoreless innings, eight hits allowed, with one walk and three strikeouts. In his start, June 29, 2016, he went six scoreless innings but handed a no-decision in the Cardinals 3-2 loss.
Kennedy will face the Cardinals for the first time as a Royals. In his last three seasons, he was 1-1/2.25 ERA in 12 IP. He allowed 1 HR/3 ER on 14 hits. He only issued one walk while logging 14 SO. The last he faced the Cardinals, he was with the San Diego Padres and went six scoreless innings with seven hits and 10 of his 14 strikeouts against them.
GAME ONE - FIRST PITCH TONIGHT AT 7:15 CST ~ C Martinez-Kennedy to start. to begin these four "I-70 Rivalry" games.
ANOTHER CARDINALS PLACED ON THE DL
Cardinals reliever, LHP Kevin Seigrist has been placed on the 10-Day DL. He last pitched Thursday, August 3, in the game against the Milwaukee Brewers. He been diagnosed with tendinitis in his left forearm.