Cardinals Rotation Perplexing, Especially #1 Carlos Martinez
St. Louis Cardinals rotation. Carlos Martinez who had worked his way into the rotation in 2015 at the end of Spring training over the strong efforts by LHP Marco Gonzales. His strength on the mound continued last season as he remained the Cardinals #5 starter, maturity developed; along with command and control. He closed last season, 16-9/3.07 ERA.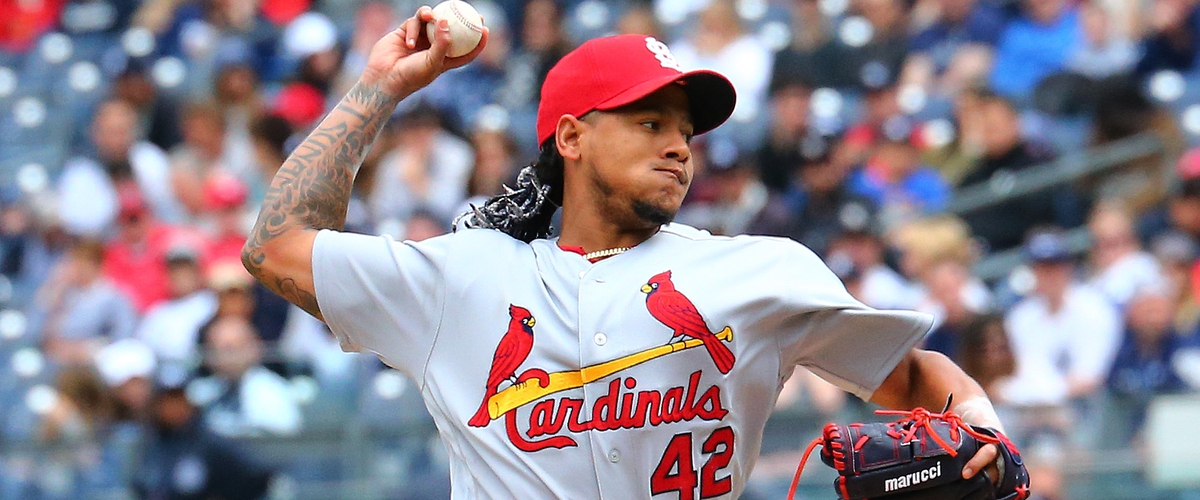 He was chosen to be in the 2017 World Baseball Classic and would pitch for his native Dominican Republic. He pitched very well with heaters of 100 and 101 mph on the gun. Commanding and decisive. Spring camp, 2017, he continued to show dominance closing with a 1.38 ERA in his three game starts. News came down the pipeline, he would replace longtime "Ace" Adam Wainwright as Cardinals #1 starter for this season.
Martinez debut start, facing the Chicago Cubs in the season opening game, he was lights out. Pitching 7.1 innings, only allowed six hits, held the Cubs scoreless with 10 strikeouts. But, received a no decision in the Cardinals 4-3 win. Seung-Hwan Oh, who followed in the game for 1.2 IP, was handed the win even though allowing 1 HR/3 ER which tied the score in the ninth. It was Randal Grichuk who got the walk-off win with his RBI single.
Since that game, Martinez has not been the pitcher he was in his first start.
In his fourth start last night against the Milwaukee Brewers, he was handed his third straight loss, giving up two home runs for five earned runs. He issued two walks and fanned seven. Since his debut he has not gotten past 5.1 IP. Thus far, he has 22.2 IP/3 HR/12 ER/14 Runs/11 BB/31 SO for a 4.76 ERA/1.50 WHIP. Eight of his walks issued was in his third start against the New York Yankees; but, he also logged 11 strikeouts in the game.
In my opinion, his demeanor on the mound is not the firey, intense pitcher Cardinals fans have witnessed. His concentration seems to be lost with little command. He's going through the motions, but not 'pitching' to his capability of the past.
Has C Martinez's decline resulted from the no-decision in his debut start? Or, has the newly adorned "Bo Derek" look (referenced by Dan McLaughlin, Fox Sports Midwest commentator) dreadlocks bling part of his problem. I do know, from fan comments, the new look has not been well received for a baseball player. Myself included. Consensus is the d-locks need to go. The addition certainly has not been a 'good luck charm' for Martinez.
Last season as #5 in the rotation, in April he was 4-0/1.93 ERA. But in May, he hit a skid of 0-5 before he saw his fifth win. By the end of May he held a 3.69 ERA. His fifth win was against the Brewers, 8 IP/1 BB/8 SO for the 6-0 Cardinals shutout. "C Martinez lifetime 1.41 ERA is the lowest mark at Miller Park among all pitchers in @MLB history (min. 44.0 IP)." [@Cardinals - Twitter] That went right outta the park after last night's Game One in their four game series.
CARDINALS ROTATION STRENGTH IS ON THE BACK END
C Martinez, obviously having his issues at the moment, is followed by #2 Adam Wainwright, 0-3/7.24 ERA/13.2 IP/11 ER/12 Runs/6 BB/13 SO/2.195 WHIP.
The strength of the rotation is with 3-4-5, respectively. Lance Lynn, 17.1 IP/3.12 ERA/3 HR/6 ER/6 BB/13 SO/1.098 WHIP. Mike Leake, phenomenal #4, 21.1 IP/0.84 ERA/2 ER/1 BB/14 SO/0.844 WHIP. Michael Wacha, 18.2 IP/2.41 ERA/5 ER/6 Runs/5 BB/17 SO/1.125 WHIP.
I just don't recall, for our Cardinals, the #1 AND #2 starters have such a sluggish beginning. C Martinez, I feel will right his train wreck. Not so sure about Wainwright. I know the mindset to do better is there, but execution has just not been there for him.
The Cardinals came to Milwaukee with a sweep over the Pittsburgh Pirates - of which, Lynn, Leake and Wacha were on the hill.
TONIGHT'S GAME ~ FIRST PITCH 7:10 CST
Cardinals Adam Wainwright will face Brewers Wily Peralta (3-0/2.65 ERA). The Brew Crew have the first win, 7-5, over the Cardinals and will look to continue against Wainwright.
The Cardinals have been able to cause W Peralta some headaches in the past with hitting a .292 BA. However, his one and only outing at home, he held the Colorado Rockies scoreless in his five innings pitched. Last season, he held a 4.76 ERA facing the Cardinals with 2 HR/9 ER given up in his 17 IP. Even though, he logged 17 SO.
By the numbers, past history, Wainwright has held the Brewers to a .218 BA. Last season he held a 0.82 ERA in 22 IP. And, at Miller Park, he held a 1.29 ERA and the Brewers only saw a .125 BA in his 7 IP. Will he be able to come close to that performance tonight.
All Cardinals fans, and Wainwright, want to see his command and control to return. In Game Two tonight would be a great time for improvement to be realized. Especially after C Martinez performance, of seemingly indifference, in last night's game.
LHP TYLER LYONS RETURNS FROM THE DL.
Reliever Tyler Lyons, completing his rehab from a knee injury which required surgery, returned with the team last night in the bullpen. Lyons has also made 20 starts for the Cardinals in his major league career. The last he pitched was July 30, 2016 in a relief role. Jhonny Peralta was placed on the 10-day DL due to a upper respiratory illness, retro-active as of April 16.