Cardinals-Royals "I-70 Series" Has Begun. Cardinals take Game One
One of the strongest MLB baseball rivalries is played in Missouri. The St. Louis Cardinals - Kansas City Royals "I-70 Series". A four game split series. This season, first two games at Royals Kauffman Stadium (August 7-8) and last two will be played at Cardinals Busch Stadium (August 9-10). Cardinals take Game One, 11-3, over the Royals.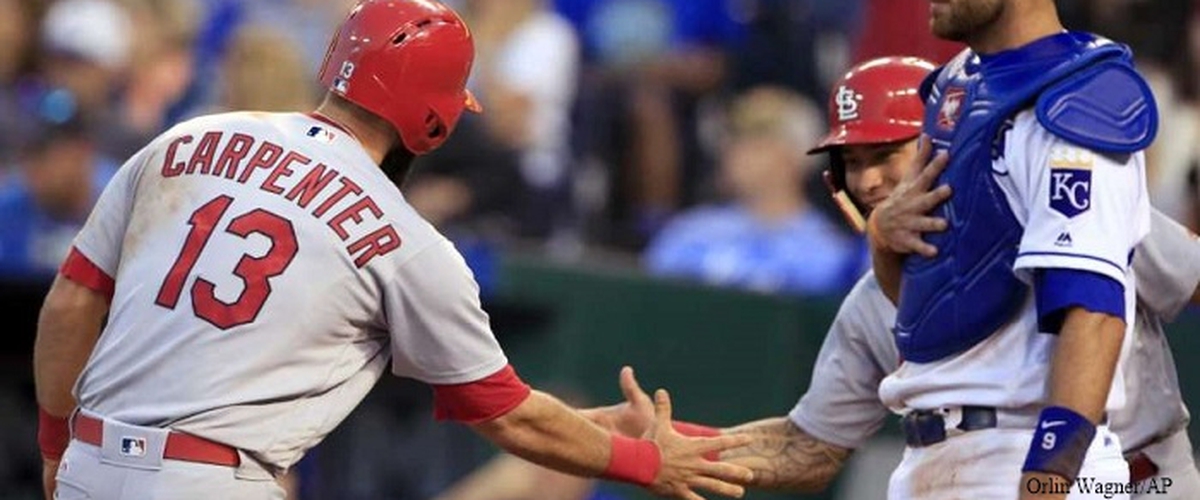 And, one of 'on the road' ballparks to play in for Cardinals Matt Carpenter is Kauffman Stadium. Against the Royals on their home field he holds a .447 BA/.500+ OBP. He tops the list of opposing players with a 1.065 OPS. In Game One, he stayed the course with a .500 BA last night.
Lead-off Carpenter began the game with a double. But, he was stranded as Royals Ian Kennedy took down the next three Cardinals he faced. However, Carpenter was not finished for his night; nor, was he finished facing Kennedy.
Cardinals got on the board first in the second inning with a RBI sac-fly by Kolten Wong. Short-lived as Mike Moustakas blazed out a solo-homer facing Carlos Martinez in the bottom of the inning.
The Cardinals put up a nine-run fourth against the Cincinnati Reds in their final game on Sunday. They brought the heat with them facing Kennedy in his fourth.
Kennedy had loaded the bases, a single, a double and issuing a walk with no outs on the board. Cardinals tallied six runs staring off with Wong's RBI on a ground-out. One out, Kennedy issued another walk for 'walk-in' run. Dexter Fowler, returned from the DL, slugged out a triple, then added a run on an error by back-up catcher Drew Butera. (Catcher Salvador Perez, on the DL sustaining an intercostal strain injury) Still two runners on. Carpenter back to face Kennedy.
On a 2-2 count, he lifts the two-seamer up over the right field line for a three-run homer to give the Cardinals a 7-1 lead. Kennedy got his final two outs, but not without damage. He would be retired after six frames, 1 HR/6 ER/7 Runs on six hits allowed, four walks and logged five strikeouts.
C Martinez would give up one more solo-shot to Eric Hosmer in the bottom of the fourth. He went eight strong innings, two home runs for two earned runs on seven hits allowed, while fanning seven. No walks issued.
In the final two innings, Kolten Wong slugs out a two run homer in the eighth. Rookie Paul DeJong, full count, followed suit banging out a two-hole shot.
Reliever Sam Tuivailala, brought back up from Memphis Triple-A, came in for the ninth following C Martinez. He had his first out, the former Cardinals Brandon Moss to face him. He serves up a fast ball to Moss who blazed it out over the center wall for a solo for the Royals third and final run. He got his second strikeout and a ground out to close the inning. Cardinals take Game One handily, 11-3; and, C Martinez with his eighth win and Kennedy's eighth loss.
ONTO GAME TWO ~ FIRST PITCH: 7:15 CST
Cardinals Michael Wacha (8-4/3.66 ERA) will face Royals LHP Jason Vargas (13-5/3.10 ERA).
Wacha is 5-1 with a 1.90 ERA in his past seven starts. However, he is 1-3/5.19 ERA on the road this season. Vargas registered a 7.23 ERA in four July starts after having a 2.22 ERA on June 30. Even though, at home, he is 7-2/2.71 ERA.
This could be a very strong match-up; or, another game with lots of runs.
This win brought the Cardinals "back" to .500 and just 3.5 games out of first in the NL Central Division. Not a big deal? Yes, it is. And, this was the second win with back-to-back double-digit runs. Indication?: In my opinion, the Cardinals have found their game mind-set to push forward, in my opinion. I believe they are finally having "fun", too, doing the job they are dedicated to ~ great teamwork.