Cardinals Shook-up Coaching Staff in Lieu Of Sluggish Season and Seven Game Skid ~ Brought A Win Over Phillies
St. Louis Cardinals 2B Kolten Wong was activated off the DL yesterday; and, 3B/SS Jhonny Peralta was designated for assignment. Then, the announcement came. There would be new faces among the coaching staff; and even, manager Mike Matheny was 'put on notice'. The time has come to prove, he is - or is not - a leader for the Cardinals, in my opinion. I would say, rather quickly. A time frame of approximately six weeks was mentioned to turn this season around.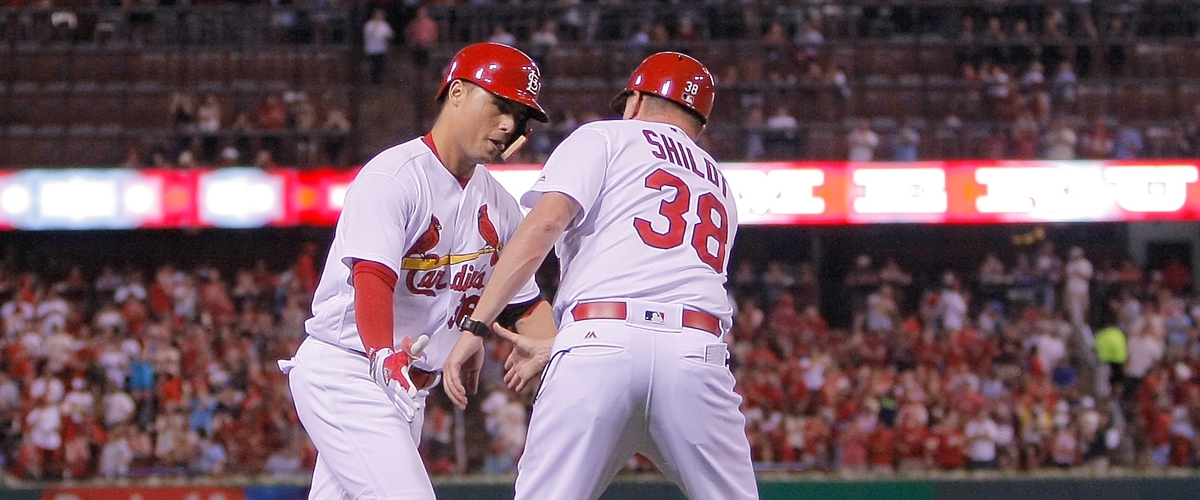 A 2:00 press conference was held yesterday by Cardinals General Manager John Mozeliak and shook the proverbial coaching staff. He announced reassigned third base coach Chris Maloney to a to-be-determined organizational post, moved "quality control" coach Mike Schildt to the third base box and verified assistant hitting coach Bill Mueller's leave of absence. He also promoted Mark Budaska and Pop Warner from minor league posts to the big league staff to bring fresh voices to the group. And, hitting coach John Mabry? He's still with the staff; but, on the clock, also. (Jeff Gordon, St. Louis Post-Dispatch)
In lieu of a very surprising sluggish start to this season, Mozeliak had made some moves previously regarding the bullpen to help bolster some poor performances. When Jose Martinez returned from the DL, LF Randal Grichuk was sent to Palm Beach High-A for "batting rehab", much as he was last season. Which is a situation that may put him in traveling mode if results show no improvement once back with the team. Prospect OF Magneuris Sierra is in the wings ready to play on a regular basis. Even at 21 years of age, he has shown far more confidence, I feel, than Grichuk. Only has logged eight games; but, brought some spark to the team with his bat (.375 BA) and his speed around the bags. When he was with they team, they were 6-2. Just sayin'.
GAME ONE HOSTING THE PHILADELPHIA PHILLIES
The Cardinals were able to hold on in last night's game to end their seven game losing streak on the road. Being swept in two series; and, with "shake-up" news, the team seemingly had more energy, concentration and a new dedicated effort in the game. News of replacements on the staff could very well be a 'trickle-down effect' to team members? I believe Mozeliak would not hesitate to do so this season.
CARDINALS OFFENSIVE PLAYER OF THE GAME
Aledmys Diaz (.300 BA/2016) is just one who has experienced an early slump at the plate. But, has been working his way out it. In April, he closed the month with a .217 BA. However, in May, he closed with a .294 BA/.402 SLG; and, thus far in June holds a .296 BA/.556 SLG. Last night he was 2-4/1 HR/1 RBI with one double.
Just to note, Matt Carpenter has been moved from the #3 spot in the line-up (.226 BA) back as leadoff. In his three games at the top, he has hit a .417 BA/5-12 AB/2 HR/3 RBI/3 Runs bumping his SLG from .440 to a .917/SLG. He has seen a .360 OBP to go a .462 OBP. In three games as lead-off, he holds a 1.379 OPS.
Dexter Fowler has hit behind him and held a .216 as lead-off this season. In the #2 spot, his average has risen to a .250 BA.
Will this remain so for Carpenter and Fowler? Time will tell; however, I feel this is one move to the positive.
"THE" DEFENSIVE PLAYER OF THE GAME
The offense still has work to do. Once again, they only put-up three runs on the board. However, between Wacha and bullpen the 3-2 lead in the fifth was held to get the win that broke their skid.
Tommy Pham's extremely fantastic catch along the left field track was the winning catch for the game.
With the new coaching staff members in place, the Cardinals look for improvement overall. Offensively and defensively. If not, I feel certain more changes will be announced in the next few weeks without hesitation by GM Mozeliak.