Cardinals Split a Pair Against Brewers ~ Highlights ~ Jose Martinez
Due to a make-up game from May, the St. Louis Cardinals hosting the Milwaukee Brewers, began with a a double-header yesterday in a four game series. Game One ~ Day Game, rookie OF/1B Jose Martinez had special inspiration. His mom. She is visiting from Venezuela and was in attendance to watch her son, for her first time, play in the majors.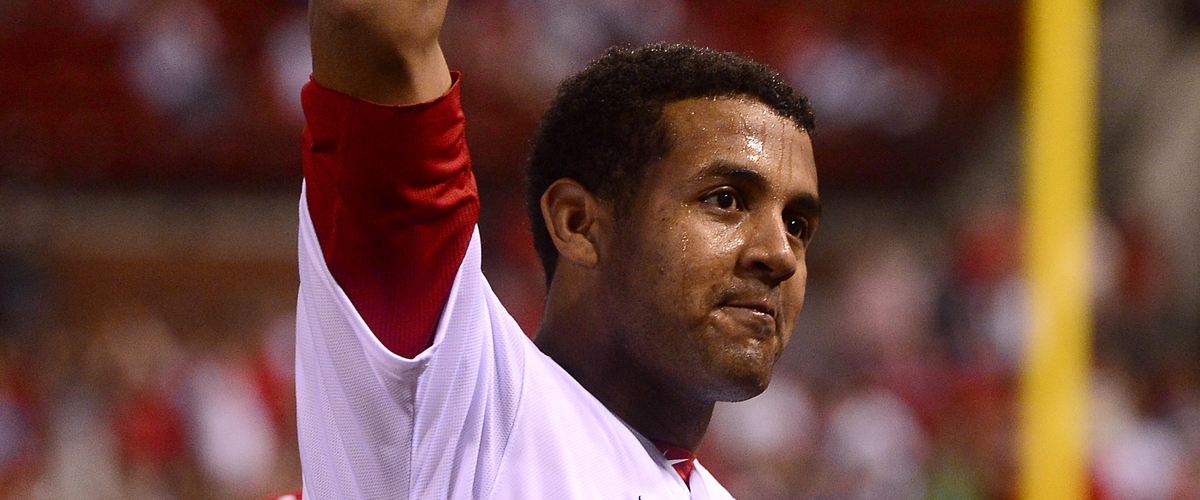 What a show he gave her and Cardinals fans. His career first to have a multi-home run game. A game which he put up three RBI. He opened the scoring for the Cardinals in the fifth with a solo home run to right. He added his second solo shot to the left, to give the Cardinals their final score in the eighth.
In the sixth, he added a RBI on a sac-fly. For the day, he was 2-3/2 HR/3 RBI/2 Runs, holding his current .282 BA. He did play for the Cardinals in 2016, September in 12 games, 7-16 AB/1 RBI/1-2B/4 Runs and held a .438 BA. He won a spot on the Opening Day roster this season with tremendous play during Spring training with a .380 BA.
Not only did J Martinez have quite the game; but, so did Cardinals starter Lance Lynn. The defense behind him; especially, CF Dexter Fowler in his final inning. Lynn held the Brewers scoreless; and, with Fowler's great fielding got out of his bases-loaded jam.
In his fifth, Lynn had given up two of his three hits allowed, issued his fourth walk and only one out on the board. Hernan Perez hit a high flier to center, Fowler with the catch and a tremendous throw back in to hold the runners on the bags. Travis Shaw followed with another high ball, Fowler underneath for Lynn's third out, leaving the three Brewers stranded; and, closing his day on the hill. During his five inning stand, he had 8 SO.
He was followed by John Brebbia for a very solid sixth inning, three up - three down. LHP Tyler Lyons took over for the last three innings, no walks issued, two strikeouts to earn his first save since returning from the DL (knee). He handed Lynn his fifth win this season in the 6-0 shutout over the Brewers.
GAME TWO ~ NIGHT GAME
The second game, with field temps probably still hovering at the 100 degree mark, Cardinals rookie LHP Marco Gonzales made his debut for this season. He first pitched for the Cardinals in 2014; and, was brought back in 2015. He returned this season with the Memphis Triple-A after undergoing Tommy John's surgery in 2016. His stand was not what he wanted; nor, were the Cardinals looking for.
Gonzales faced Brewers Jimmy Nelson. The four year veteran had not won any games facing the Cardinals. And, that stat remains intact. And, Gonzales can hit. In the second, he punched out a single to reach base.
Cardinals scored first facing Nelson. Once again, it was Jose Martinez to open the scoring, in Nelson's first, with a fielder's choice RBI. In the second, Matt Carpenter connected for a RBI single to give Gonzales a 2-0 lead.
Gonzales held the Brewers in his first two innings. Then the Brewers would begin to take advantage of the rookie with three solo home runs, a triple and a fielder's choice to take over with a 5-2 lead into his fourth inning. Brebbia relieved him with one runner on and only one out on the board. Orlando Arcia to face Brebbia, as he hit the fielder's choice to third for a RBI. Brebbia got Lewis Brinson "looking" for the final out. Gonzales retired 3.1 IP/3 HR/5 ER/2 SO with six hits allowed.
Even though, the Cardinals did not give up. Eric Fryer and Dexter Fowler put-up two RBI to cut the lead to one run in the sixth. In the seventh, Carpenter added his second RBI of the game with a solo shot to tie, five all.
However, Trevor Rosenthal on the hill would realize the same fate as Gonzales. A short stay on the hill and the Brewers overcoming to take the lead.
Rosenthal issued two walks to his first two hitters. Gave up a RBI single, with two runners on. Another single to load the bases. He was relieved by Seung-Hwan Oh. The Brewers added two more RBI on a single and a sac-fly to take a 8-5 lead and final score.
Special note: 3B Jedd Gyorko had his first appearance in the outfield in last night's game. In a double-header, sometimes it is necessary to introduce players to "multi-tasking". But, it is easier for an infielder to go "out" versus an outfielder coming "in".
Jimmy Nelson? He was handed a no-decision, as was Gonzales demise. The win was earned by Jared Hughes, with Corey Knebel earning his ninth save.
GAME THREE - TONIGHT AT 7:15 FIRST PITCH (CST)
Cardinals Mike Leake (5-5/2.70 ERA) will face Brewers Matt Garza (2-2/3.82 ERA)
Facing Leake, the Brewers history is only a .224 BA. He is 1-0/3.00 ERA this season facing Milwaukee. 6 IP/2 ER/3 BB/6 SO. He will look to get his sixth win and take a series lead. However, Leake is 1-3/2.45 ERA at home allowing a .255 BA in his 40.1 IP.
Garza has held the Cardinals to a .204 BA over his 11 seasons in the majors. This will be his first to face them this season. In his last three seasons at Busch Stadium, he has been 1-2/4.43 ERA in 20.1 IP. He has given up 1 HR/10 ER/14 Runs on 21 hits with a 12-18/BB-SO ratio for a Cardinals .253 BA. Overall in those three seasons, he is 2-4/4.02 ERA facing the Cardinals. In his away games this season, he is 0-1/2.89 ERA/18.1 IP. However, the opposition has hit a .271 BA facing him. Garza will look for his third win and handing the Brewers the series lead.
This should be a very interesting match-up. Leake has been able to hold Eric Thames to 1-3 AB, no home runs, no RBI for the Brewers rookie. And, Garza has yet to face Jose Martinez.