Pham Is Building Steam As Cardinals Contemplate Grichuk's Return for DH
St. Louis Cardinals OF Tommy Pham made his debut in the Bigs September 2014. He has been on the yo-yo train between Memphis Triple-A and St. Louis since that time. Battling injury and a rare eye disease that has kept him in Memphis a great deal time in his career.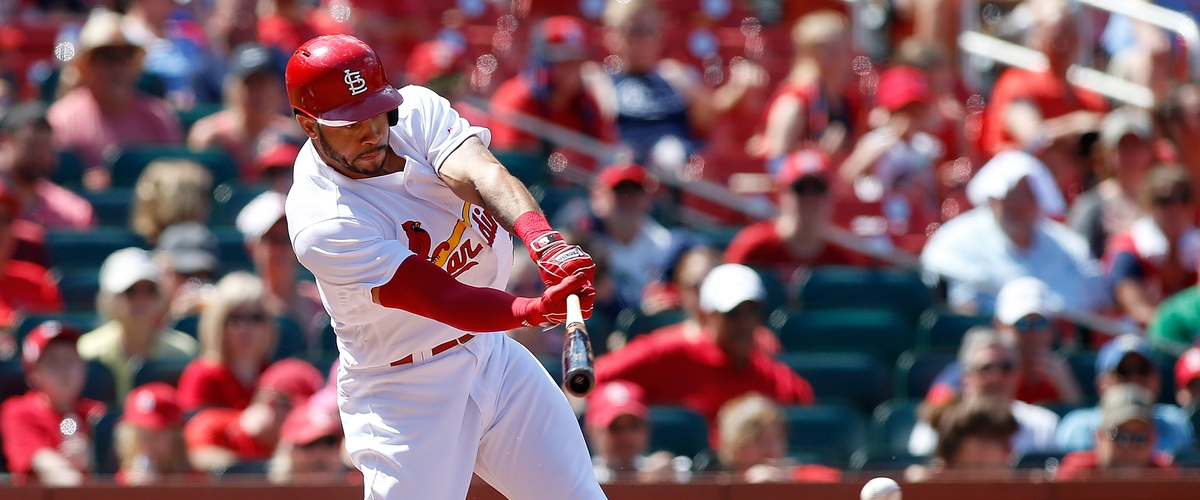 However, prior to the beginning of the Memphis season this year, Pham had gone through treatments for his eye condition. Finally, was fitted with a new corrective contact lens that has helped his eyesight twofold. He has been a solid addition to the Cardinals team since his last call-up, May 5, this season. A new situation for Pham, he has played being able to see the ball, turning that into strong appearances at the plate and, with his speed, great work in the field.
In 2014, was not a good showing for the rookie. In six game appearances, he only had 2 AB/2 SO for a .000 BA. In 2015, due to a strained hamstring injury in his first game up, returning July 3 to end the season with a .268 BA. In 2016, only logged a .226 BA. Coming from Memphis this season, holding a .283 BA, he has not disappointed. With the Cardinals, thus far, in his 32 games played his 32-106 AB/5 HR/16 RBI with five doubles. Impressively, he has logged a 18-30/BB-SO ratio. Because? He is now truly seeing the ball. After Sunday's game against the Phillies, recording 2-4 AB/20 and 21 run; Pham bumped his average up to a .302 BA drawing one walk and had one strikeout.
TODAY, HOSTING THE MILWAUKEE BREWERS, A DOUBLE-HEADER
Due to a make-up game necessary from the Brewers-Cardinals series in May, the two teams begin this four game series with a double-header. It is possible, OF Randal Grichuk may return with the team from his "hitting rehab". This is his second stint in as many seasons to be sent down to work on his bat.
When Grichuk was brought up and placed on the 25 man roster in 2014, I was excited about this young rookie. But, as rookie's experience after doing well in the minors, the major league level was totally different. However, he closed that season with a .245 BA/3 HR/8 RBI on 27 hits, 5-31/BB-SO. In 2015, he closed with a .276 BA/17 HR/47 RBI, even though experiencing lower back, throwing arm issues and a 22-110/BB-SO. In 2016, he closed with a .240 BA; but did crank out 24 HR/68 RB; however with warranted a "hitting rehab" during the season - closed his season with (again high strikeout count) 28-141/BB-SO ratio.
This season, again his bat has been evasive, thus "batting rehab"; and, left holding a .222 BA/37-167 AB/4 HR/19 RBI/14-2B with 19 runs. However, still a pushing air at the plate with a 12-54 BB/SO ratio.
In his rehab, Palm Beach High-A: One game, 1-3 AB/1-3B/1 RBI/1 BB/1 SO for a .333 BA. Memphis Triple-A: Three games, 4-15 AB/1-2B/1 RBI and 0-5 BB/SO for a .267 BA.
Per RotoWorld.com:
Randal Grichuk could return to the Cardinals early this week.
Possibly for Tuesday's makeup doubleheader against the Brewers. "We're considering it," said Cardinals manager Mike Matheny. "Depending on what things look like, [we may] make some adjustments." Grichuk is 3-for-9 with a double and a walkoff single so far at Triple-A Memphis, after playing one game for High-A Palm Beach. He'll work back into the left field mix in St. Louis with the hot-hitting Tommy Pham. Jun 12 - 11:22 AM Source: Cardinals.mlb.com
"We're going to have to give Grichuk the opportunity to do this every day and sink or swim," said [Cardinals General Manager] Mozeliak. (Rick Hummel, St. Louis Post-Dispatch)
PERSONAL OPINION
The recent 'shake-up' by the Cardinals regarding their coaching staff, 3B/SS Jhonny Peralta DFA'd and a strong statement that "everyone", including manager Mike Matheny, was being put on the clock to get their season turned around. However, in my opinion, bringing Grichuk back at this particular time to face the #1 team in the NL Central, would be ill-timed and not holding with the former statement.
I'm sure the Cardinals are holding faith that Grichuk will be the player they thought they had when he was signed. I would like to think he is. But, with Pham playing extremely well right now; to me, this is not the time to "share" the outfield duties with the two. Ill-advised to replace a .302 BA with a .222 BA.
Let Pham play until signs are witnessed that his performances are going down hill. Allow him to continue as the Cardinals everyday leftfielder. he works out in preparation to take the field. He plays hard as he is concentrated on the game at hand; and, has proven to be a team player.
If in fact Grichuk is brought back with his small sample down in the minors, place him on the bench for emergency purposes only. He's still pushing air with his bat. This is not the time to see if he can "swim"; but, more importantly "sink". I feel this would be an injustice and insult to Tommy Pham, who has done so well thus far.
DOUBLE-HEADER DAY GAME ~ FIRST PITCH, 1:15 CST. NIGHT GAME ~ FIRST PITCH, 7:15 CST.