Piscotty, Diaz, Fowler's Homer Not Enough To Overcome Brewers In Final Game.
Not since October, 2009, had the St. Louis Cardinals given up three straight losses to the Milwaukee Brewers at Busch Stadium. That record was matched, last night, in their final game of the four game series.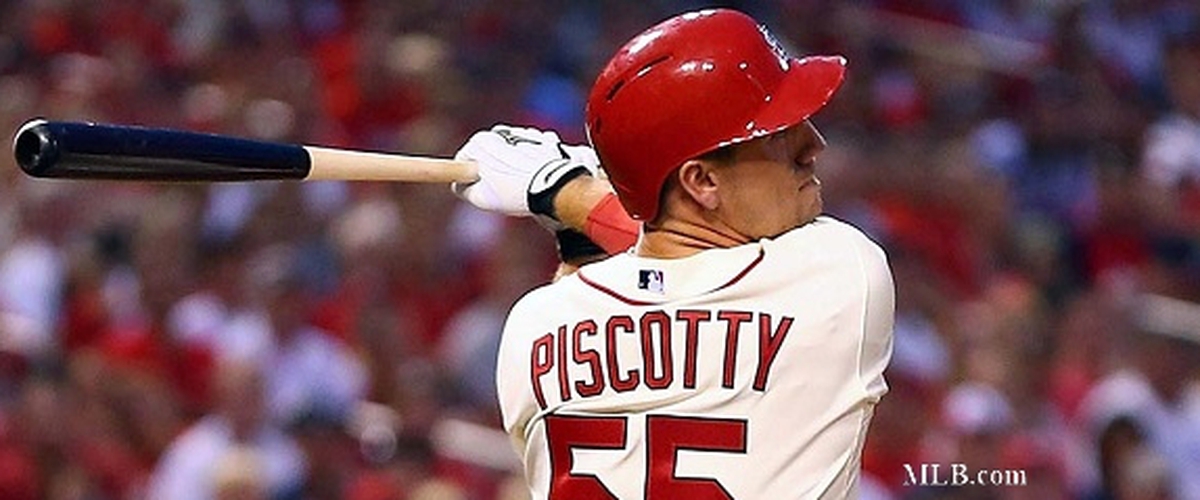 Stephen Piscotty opened the scoring for the Cardinals in the first with a RBI single facing Brewers Zach Davies.
A statement was made during the game by Dan McLaughlin, former Cardinals/Fox Sports Midwest commentator, that if they lose the game, it would be because of the first inning. Tim McCarver, former Cardinals catcher was sharing the booth last night, referencing "base running". In the first, Cardinals had five runners on and only put two runs on the board.
Specific sequence McCarver was referencing was following Piscotty's hit.
Next up, Jedd Gyorko connects for a single. Yadier Molina sends the leather up the center, runners advancing and Piscotty begins to round third on his way home; but, held up at third. Gyorko was in hot pursuit of the third bag; however, sees Piscotty being waved back and is caught by the throw back into Davies for the first out.
Yes, Piscotty did sustain a hamstring injury earlier in the season; but, seemed to be running with confidence. He should have been encouraged to go for home. I believe, as the play unfolded with the momentum Piscotty had, he would have added another run and Gyorko would have camped out at third, with runners on the corners. This specific example is why 3B Coach Chris Maloney is no longer with the team. This one was on his replacement, Mike Shildt.
Base running is, and has been, an issue for the Cardinals that still needs work. As one Cardinals fan mentioned last night, "they are showing no intensity" in their play. I have to agree.
Still in Davies' first, Aledmys Diaz reached on an infield single for a RBI, to give the Cardinals a 2-0 lead.
Michael Wacha had taken down the side in his first. Coming into his second with a bit of cushion. That would be tied-up with a two-hole shot by Keon Broxton.
There were three ties during the game. Dexter Fowler blazes the two-seamer out into the Cardinals bullpen for a 3-3 tie in the third.
Both Wacha and Davies, each gave up four earned runs during their respective stands. Wacha going only four innings. Davies logged five.
Cardinals rookie reliever John Brebbia followed in Wacha's fifth with bases loaded, no outs on the board. One run did score on his watch; a RBI single into right by Travis Shaw. With a bullet throw of precision by RF Piscotty to Molina, Eric Thames was thrown out at the plate for the first out. But, bases still loaded.
Hernan Perez next up, tapped out a fielder's choice bunt to Brebbia. With full concentration, Cardinals rookie threw Domingo Santana out at the plate for his second out. He would get his first "K" of his night on Jett Bandy. Brebbia returned for the sixth taking down the side. Both Piscotty and Brebbia provided some excellent defensive baseball to watch. However, the Brewers were able to recapture the lead, 4-3.
Fowler, on Davies watch in his fifth, would sting him again. Matt Carpenter, Cardinals lead-off, crunched out a double. Fowler followed with a RBI single, for a 4-4 tie, floating on the second base on the throw. Per McCarver, "Now that's the way to run the bases". However, Davies settled back in and took down the next three Cardinals he faced.
BREWERS ERIC THAMES WOULD NOT BE DENIED
After the fifth, no more runs by either team, with respective bullpens holding the tie. Cardinals Seung-Hwan Oh to the hill. He had allowed one hit. Thames to the plate and would not be denied a run facing Oh. He had 3 RBI the night before with one two-run home run against Leake. He would prove to be a nemesis to Oh, also. He got the pitch sending a missile out over the right wall for a two-out two-run homer before Oh would get his one strikeout to close the ninth.
Brewers Oliver Drake, in for their ninth, took down the side to earn his first save and the handing the Brewers the 6-4 win. Oh was handed his third loss this season.
CARDINALS PACK UP AND HEAD TO MARYLAND
With one win - three losses to the Brewers, the Cardinals traveled to Baltimore to face the Orioles for three games this weekend.
Cardinals Carlos Martinez (5-5/2.95 ERA) will face Orioles Kevin Gausman (3-5/6.49 ERA).
C Martinez' last outing was a career first, a complete four-hit game for a shutout over the Phillies. We will see if he has the tenacity to go deep against the Orioles, because he is 1-4/5.10 ERA) on the road. Past history facing Baltimore, he has held them to a .167 BA.
Gausman has only faced two Cardinals previously, Matt Carpenter (1-3/.333 BA) and Kolten Wong (3-3/1.000 BA). However, hits were all the two logged against him. This season Gausman is 2-1 at home with a 4.69 ERA.
FIRST PITCH, 6:05 CST