Playoff Predictions and Players To Watch On Each Division Winner
After six months of absolutely unpredictable baseball, we find ourselves about to begin one month of even more unpredictable baseball. The Major League Baseball playoffs are possibly the most difficult thing to predict in sports, and every year something amazing happens that reminds us of why it's such a beautiful game. Nobody from this generation will ever forget the show that St. Louis Cardinal's third baseman David Freese put on in the 2011 World Series. In 2013, it was the Boston Red Sox winning the World Series at home for the first time in 95 years, which of course was led by David Ortiz and his .353/5 HR/ 13 RBI postseason. In 2014, the Kansas City Royals, who were an unlikely playoff team, made an unlikely run to the World Series as the number one AL Wild Card team. 2015 saw those same Royals win the World Series against the New York Mets, another team who made an unlikely World Series run. To make things even more interesting, who can forget the last three even numbered years (2010, 2012, 2014) where Madison Bumgarner and the San Francisco Giants have taken home the commissioner's trophy after not even making the playoffs the year before. Despite baseball making predictions look ridiculous every year, we all still try it, and here are mine for 2016.
Joe Maddon and the Chicago Cubs won an incredible 103 games in 2016, as they look to break a 100+ year curse
David Kohl-USA TODAY Sports
The Chicago Cubs have been the story of the Summer, as they attempt to win the World Series for the first time since 1908. Chicago was the hardest team to beat in baseball this year, winning an incredible 7 more games than the team with the second most wins (Cubs - 103-58, Texas Rangers/Washington Nationals 95-67). There is absolutely no doubt that he Cubs have just about every component needed for postseason success, but the question remains, will the curse end in 2016? The Cubs have one of the best veteran managers in baseball with Joe Maddon, they have the best starting pitching in baseball, veteran presence in the clubhouse, plenty of postseason experience, and a young, exciting offense that could easily take them deep into October. Chicago has been the World Series favorite all season, and it certainly has not changed at all as we head into the postseason.
Pitcher to watch: Jon Lester - The Cubs have such a good pitching staff that it is incredibly difficult to chose just one pitcher to watch, especially with guys like John Lackey and Kyle Hendricks around. The reasons I chose Lester are that not only is he coming off arguably his best season in the big leagues, as unbelievable as that is, but he is looking to return to the his old postseason form after two straight rough years. In his career, Lester is 6-6 with a 2.85 ERA in the playoffs, including when he went 4-1 with a 1.56 ERA in 2013 to help him win his second World Series ring. Lester got roughed up in the 2014 Wild Card game (7.1 IP/6 ER), and followed that by losing his only two 2015 playoff starts and giving up seven runs in 14 innings. Lester returning to his old postseason form will be key for the Cubs to make a deep run.
Hitter to watch: Ben Zobrist - The Royals biggest move last year was acquiring the versatile veteran Ben Zobrist, who led them to their first World Series win since 1985. Chicago saw what Zobrist did for the Royals, and made him a part of their huge offseason spending spree. The career postseason line for Zobrist isn't so pretty, but he'll look to duplicate his 2015 October (.303/2 HR/ 6 RBI).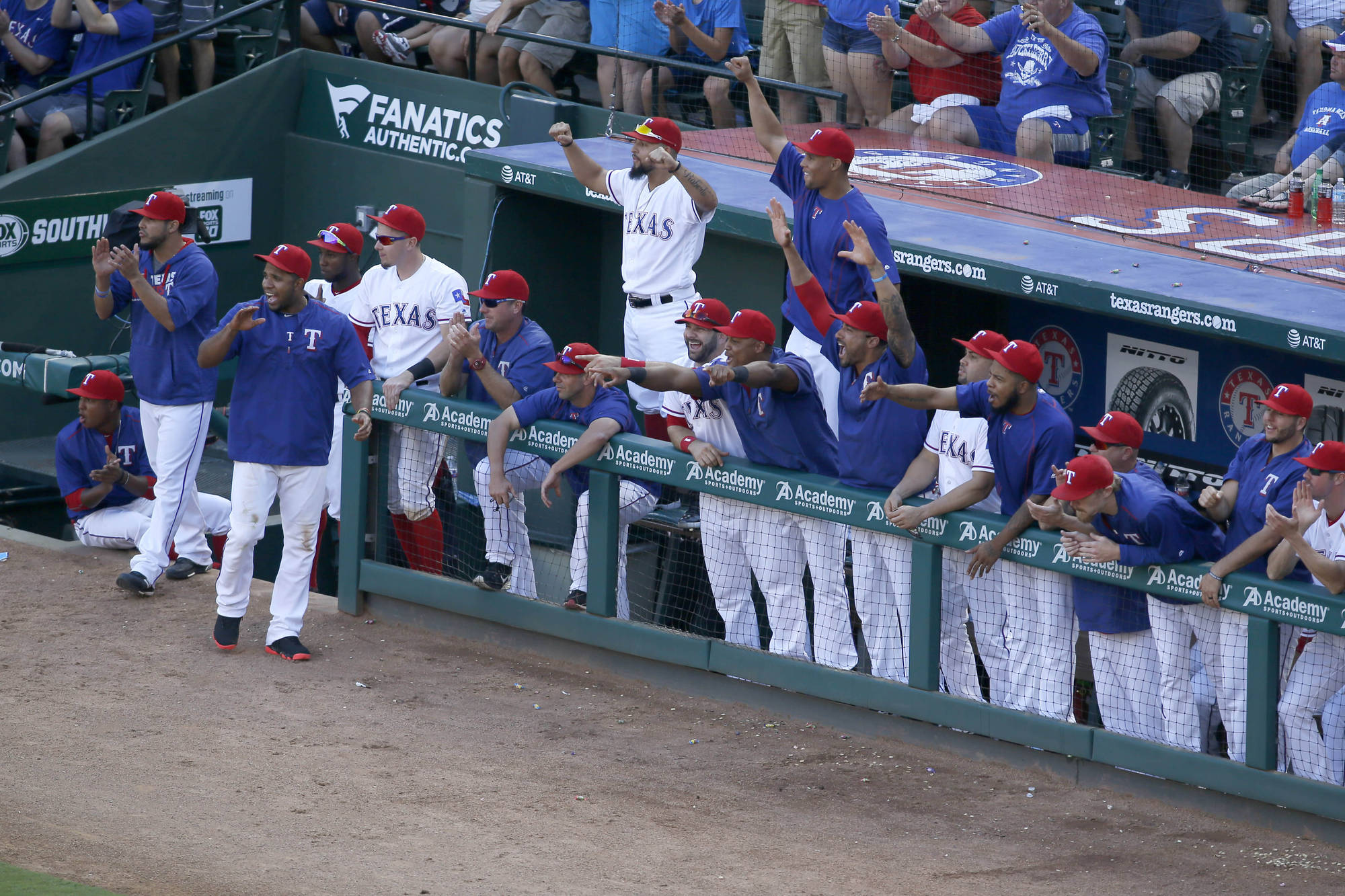 The Texas Rangers have been to the World Series only twice, and have yet to win
Tim Heitman-USA TODAY Sports
After making it to the World Series for the first time in club history (2010), the Texas Rangers made the big dance for a second straight season, and were again sent home with a hard loss. Texas has not made it to the World Series since, but after winning their second straight division title they will look to change their fortune. While Cleveland and Boston both gave them a late run for their money, Texas' 95-67 record was the best in the American League, giving them the number one seed. While on paper it would appear Texas has a team built for the playoffs, when you dig into it the starting pitching is concerning. Texas' rotation is very injury prone, and also contains some arms that have been highly inconsistent, but the good news is most of them have been here before and succeeded.
Pitcher to watch: Colby Lewis - While I could take the easy cop-out and pick one of the best postseason pitchers in the game today in veteran lefty Cole Hamels, I decided to take the riskier route with Lewis. Lewis is one of only four players remaining from the 2010 Rangers team that made the World Series for the first time in club history (Mitch Moreland, Elvis Andrus, Derek Holland), and he could be in for a storybook close to his career in Texas, and quite possibly his entire career. While Lewis has been very injury prone over his career and certainly has not been a dominating force on the mound, his statistics don't tell the full story. In 9 playoff appearances, Lewis is 4-1 with a 2.38 ERA.
Hitter to watch: Jonathan Lucroy - Once again, I chose not to cop-out, even though I easily could have picked Carlos Beltran, arguably the best postseason hitter of all-time. After blocking a trade to Cleveland, Lucroy was moved to Texas, and has been on another level ever since. As Lucroy prepares for just his second playoff trip, he'll look to continue his hot finish to the season where he hit .271/ 11 HR/ 31 RBI in 47 games after the trade (.299/ 11 HR/ 50 RBI in 95 games prior to the trade). Don't forget about outfielder Carlos Gomez either, who seemed to have re-found himself after signing with Texas late in the season. Gomez also had some huge hits in the 2015 postseason as well, so he may make his presence felt with Texas this year.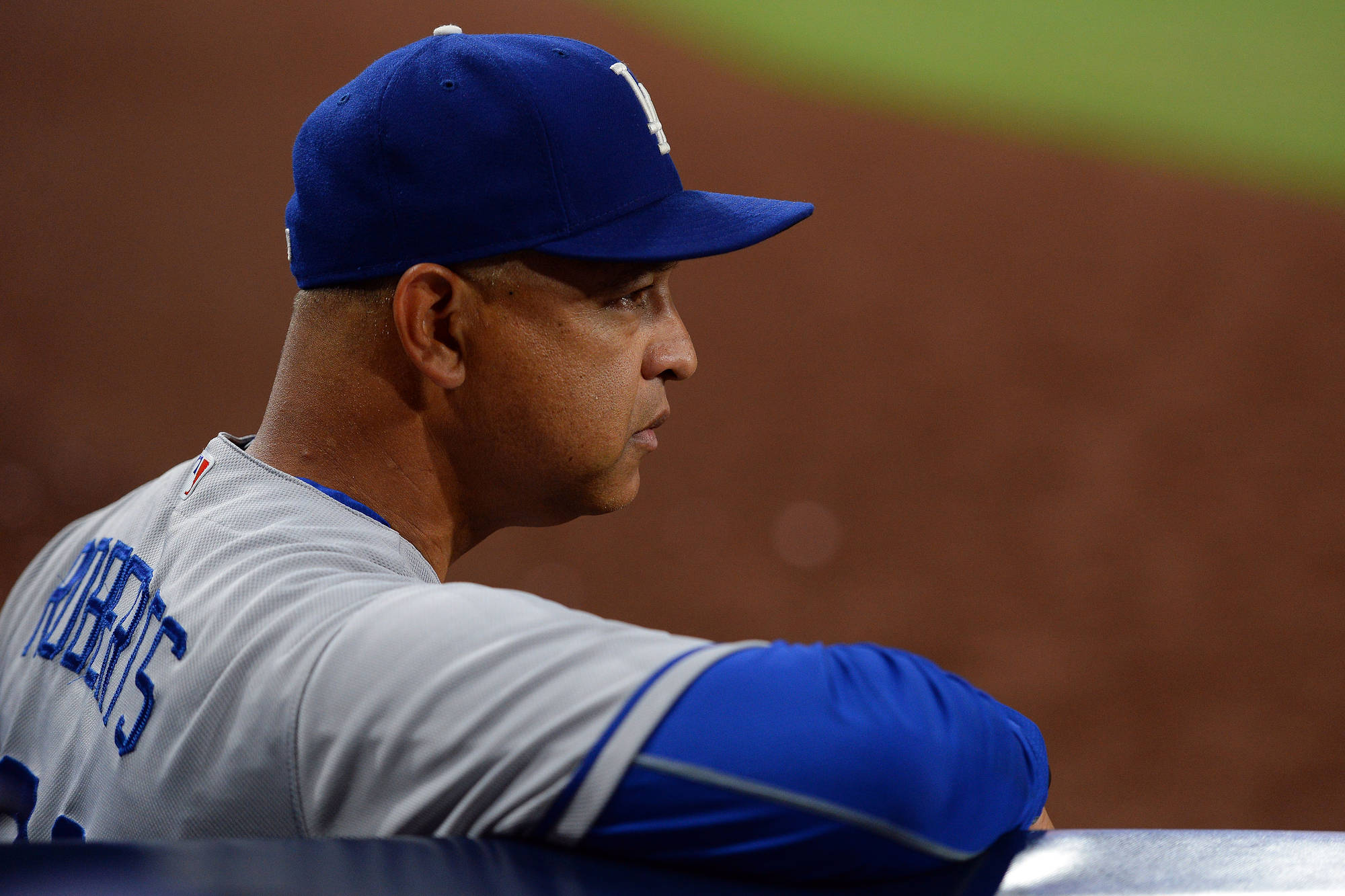 Rookie manager Dave Roberts will be asked to do what the great "Donnie Baseball" couldn't, and that is take the Dodgers to the World Series
Jake Roth-USA TODAY Sports
The Los Angeles Dodgers have been the best at one thing, and only one thing, over the past years - being the biggest choke artists in sports. The Dodgers have made the playoffs three straight seasons, and have failed to move past the NLDS in the past two. Now under new management, the Dodgers will look to buck their awful trend. The Dodgers went 91-71 to win the NL West for the third time in a row, but the playoffs are whole different beast.
Pitcher to watch: Clayton Kershaw - Unlike most of my picks, Kershaw is a player who has hardly seen any postseason success. There is absolutely no debating that in regular season baseball, Kershaw is the best pitcher on the planet, but he has been made to look like a batting practice pitcher in the playoffs. 2015 did see Kershaw change the trend a little with a 2.63 ERA in two starts, but he is still 2-6 with a 4.59 ERA in his postseason career. If Kershaw can retain his regular season form into October, the baseball world and the Dodgers will be in for a historical run, if not, they can prepare for another early elimination.
Hitter to watch: Yasiel Puig - While it may be a highly risky pick, don't forget about Yasiel Puig in the 2016 playoffs. Puig has had the most frustrating career in baseball since his great rookie season in 2013, and was even demoted to the minor leagues for a portion of 2016; however, after getting called back up to the MLB, Puig came back with a vengeance. Yasiel may not see a tremendous amount of playing time, but don't be surprised if he comes through with some big pinch hit appearances.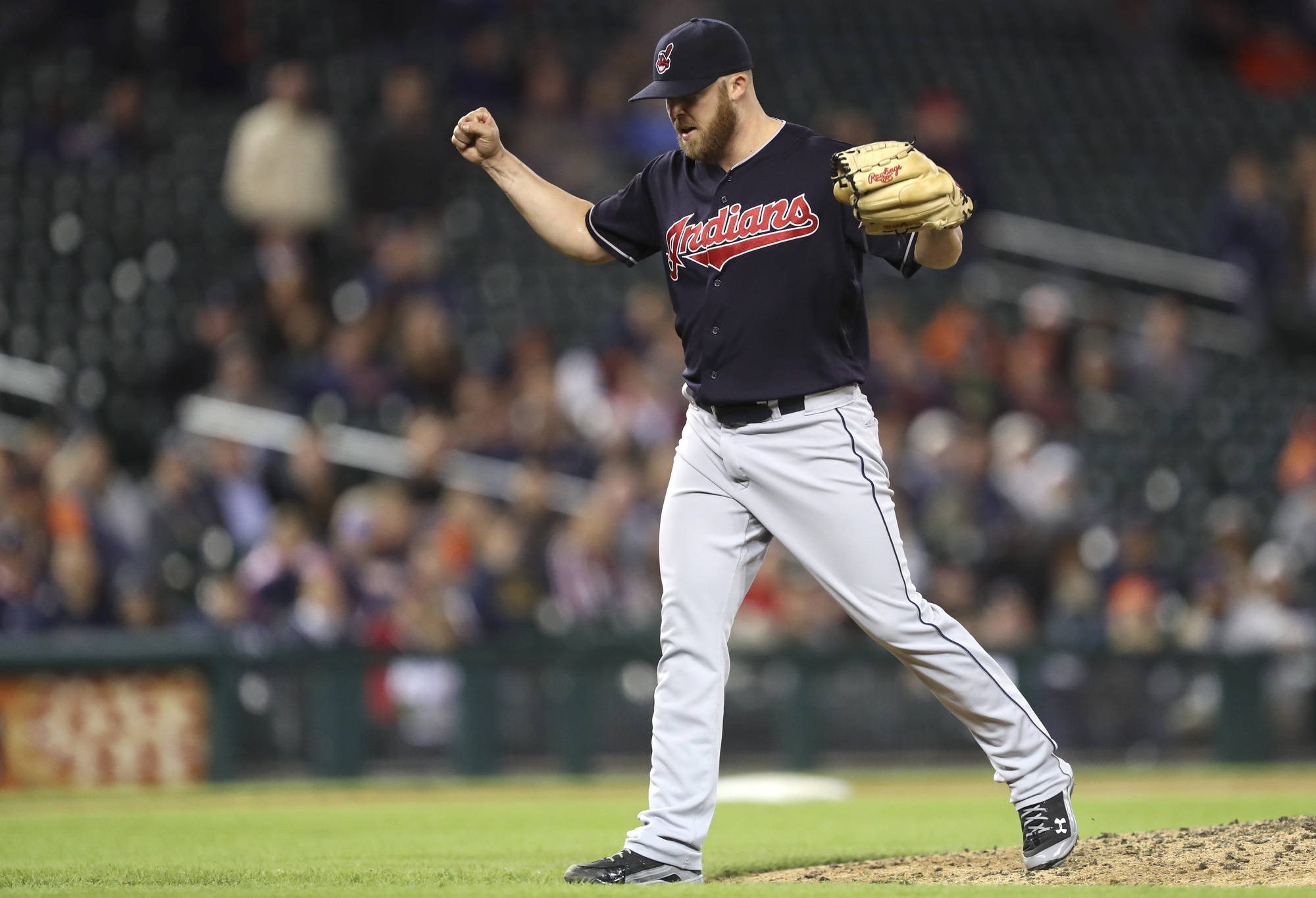 The Cleveland Indians won their first division title since 2007, and will be tasked with eliminating the Boston Red Sox, the team that eliminated them in 2007
Raj Mehta-USA TODAY Sports
The Cleveland Indians have overcome a lot of adversity in 2016, and hope that maybe there is just a little bit more magic left in the tank for the month of October. Despite several crushing injuries, Cleveland managed to somehow, some way, squeeze out 94 wins, securing home field advantage in the ALDS. Tribe skipper Terry Francona has been here before, and this may be his toughest challenge yet.
Pitcher to watch: Trevor Bauer - If you had asked me in April who the key pitcher in October for the Indians would be, I certainly would never have said Trevor Bauer. I also would not have believed the Indians would win 94 games with hardly any help from some of their best players. After a string of injuries to the Cleveland rotation, Bauer will not only get the ball in game one, but he will be the X factor. Trevor pitches with a chip on his shoulder that somehow makes him at his best in high pressure situations, and while Boston has a tough lineup, Bauer pitching in front of a sold out postseason crowd is an outstanding recipe for success.
Hitter to watch: Jose Ramirez - If you haven't watched the Indians or looked at the baseball leader-boards all season, you might not even know the name Jose Ramirez. If you have watched the Indians, you recognize that name as one of the biggest clutch hitters right now. Ramirez got key hit after key hit all season long in Cleveland, and wound up cracking 46 doubles to go with them. Some may think that his first appearance in October baseball is reason to be concerned, but with the way he performed in high pressure situations all year make him a no brainer to have a good postseason.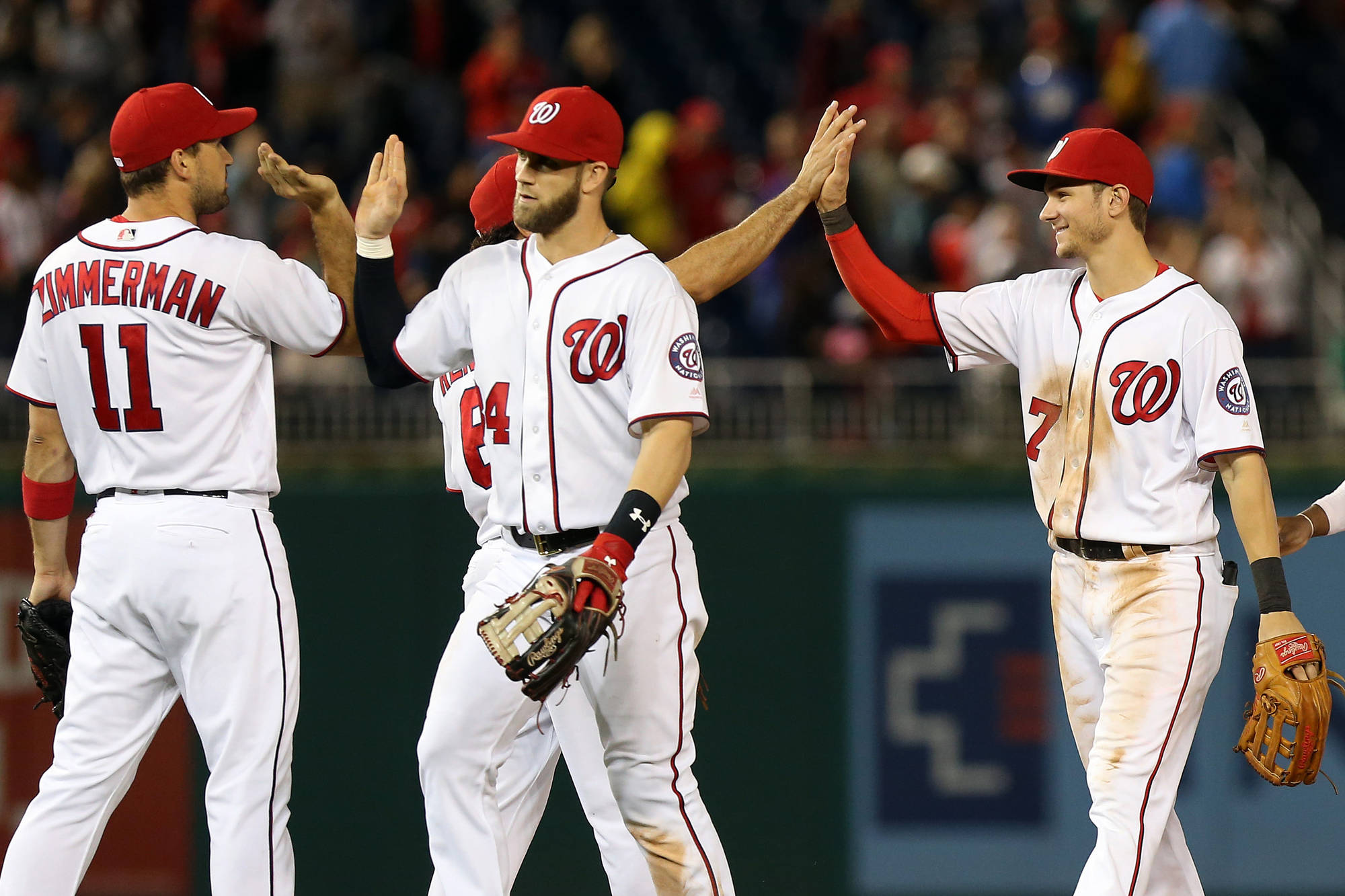 The Washington Nationals have yet to win a Playoff series, much less a World Series
Geoff Burke-USA TODAY Sports
There is certainly cause for concern in Washington, as not only have they never won a postseason series, their manager, Dusty Baker, has also never won a postseason series (Three first round eliminations with the Reds). When you add in the fact that they just lost All-star catcher Wilson Ramos, things don't look too promising. As the doubt surrounding Washington rises, they could easily remind us that anything can happen in October.
Pitcher to watch: Tanner Roark - In a playoff series, often times the third starter is the one who makes the biggest difference. Right hander Tanner Roark will likely be the Nationals number 2-3 starter in October, and after an extremely under the radar year (16-10 2.83 ERA), he will look to be the key factor for a Nationals run. With Stephen Strasburg being unlikely for the NLDS, Roark will play a huge role for Washington.
Hitter to watch: Anthony Rendon - While injuries have somewhat limited Rendon, he is without a doubt one of the leagues best third baseman. Rendon can affect the outcome of a game in a surplus of ways, and hits both LHP and RHP well. Rendon was also 7-19 in the NLDS last year, which he will look to build on in 2016.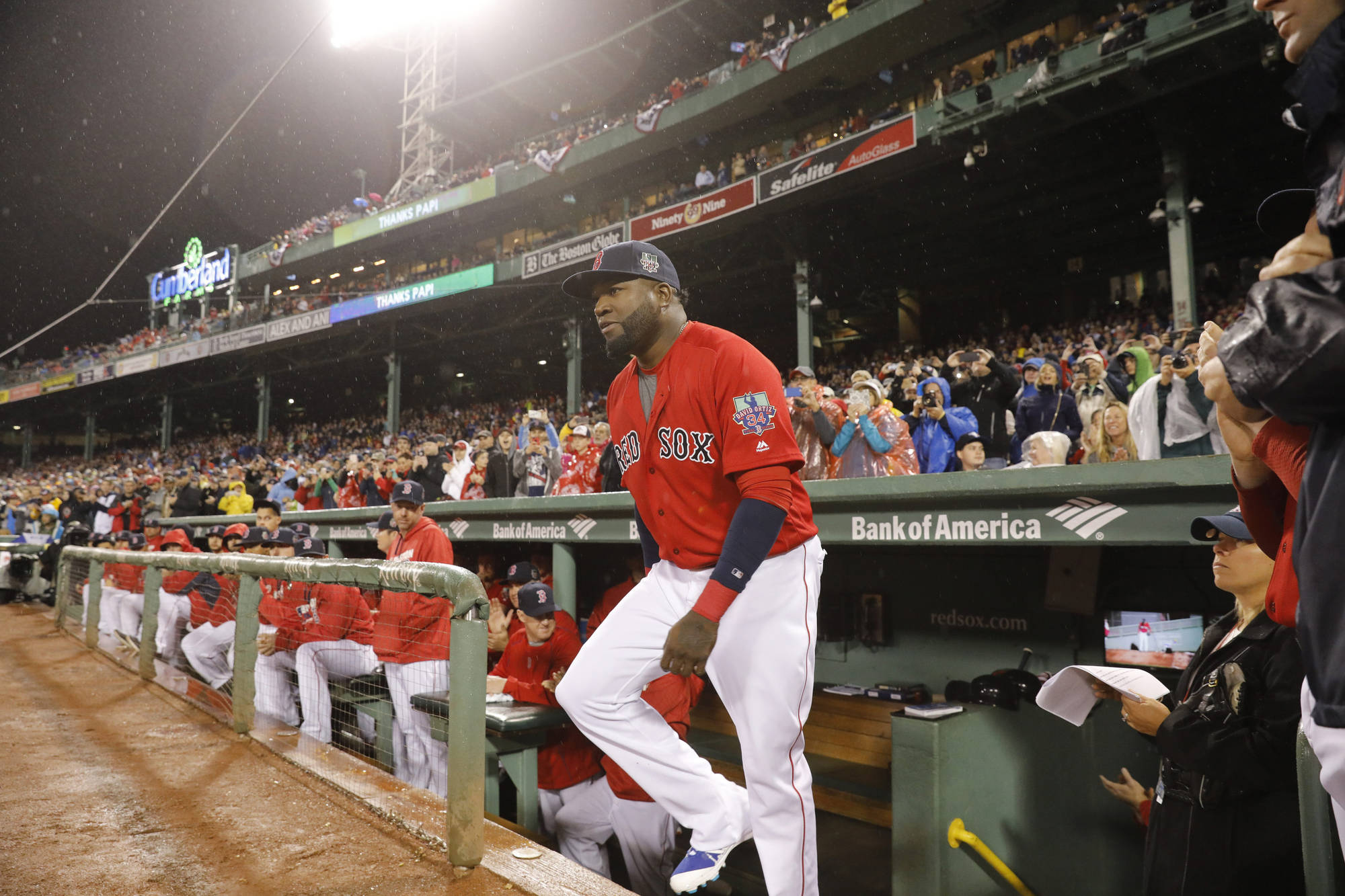 Boston had a rough end to their season, but we all know how fast things change in October
David Butler II-USA TODAY Sports
The legendary "Big Papi" has had a storybook ending to his storybook career, and nothing would close out the last chapter better than another World Series ring. Boston went worst-to-first once again, which resulted in a World Series win last time around. Boston dropped a crucial two out of three games to Toronto to close the season, allowing Cleveland to host the ALDS. While many are concerned with Cleveland's rotation injures, few realize that Boston is stuck with under-performing starting pitchers, which puts them in a similar position as Cleveland. Their big offseason acquisition had possibly the worst year of his career, will be starting game two over game one, and has never won a postseason game in his life. The Red Sox certainly have other arms that can step up big and not shock anybody, but they really are in the same boat as their opponent.
Pitcher to watch: Clay Buchholz - After a horrendous start to the 2016 campaign, righty Clay Buchholz seemed as if he may not even last the entire season with Boston. The 32 year old righty went 5-1 with a 3.22 ERA in the second half of 2016, and if he can continue that he may be the savior for Boston in the playoffs.
Hitter to watch: Dustin Pedroia - While the talented young Red Sox outfield basked in media attention all season long, veteran Dustin Pedroia quietly returned to the Pedroia of old (.318 AVG/ 15 HR/ 74 RBI). The 33 year old second baseman has had a less than impressive postseason career, but after his resurgent season there is no time like the present for him to breakout.
Postseason Bracket and and predictions
ALWC - TOR vs. BAL
Chris Tillman out-duels Marcus Stroman, Orioles beat Toronto by 3+
ALDS - CLE vs. BOS
Cleveland takes first two games in Cleveland, Boston offense beats Josh Tomlin at Fenway in game three and Bauer in game four, Corey Kluber and the bullpen carry Cleveland to game five win back at home
ALDS - TEX vs. ALWC
Texas takes advantage of Baltimore's lack of starting pitching and takes games one and two, the dominant Baltimore pen helps scratch out a win in game 3, but Texas comes back and wins game four to take the series
ALCS
Texas beats Cleveland in 6 games
NLWC - NYM vs. SF
Madison Bumgarner continues to be the postseason beast that he is, Giants get to Noah Syndergaard in the middle innings and advance to the NLDS

NLDS - WAS vs. LAD
Kershaw pitches well in game one but is outnumbered by Max Scherzer, Dodgers take game two, Nationals take game three, Nationals rock Kershaw for game four/series win
NLDS - CHC vs. NLWC
Cubs beat the Giants in four games, ending their bid at another even year win
NLCS
Washington edges out Chicago in seven pitching dominated games
World Series
Washington is in the World Series for the first time in club history, Texas for the 3rd. Texas takes game one behind Cole Hamels, but ultimately loses the series in six games
---