2017 Fantasy Football: Experimenting with Waiting on Wide Receiver
In fantasy, experts always tell you to wait on drafting Quarterbacks, tight ends, and sometimes running backs as well. Nobody ever recommends waiting on wide receivers, in fact many experts choose to go receiver with their first two or three picks on purpose. I'm not making an argument against doing this, as there is no argument to be made. Wide Receivers typically are more consistent in fantasy than running backs and tight ends. Just look at all the receivers going in the first round, all of whom have had WR1 production in a past season. When you look at running backs however, both Todd Gurley and Adrian Peterson were first round picks last season who failed to live up to their ADP.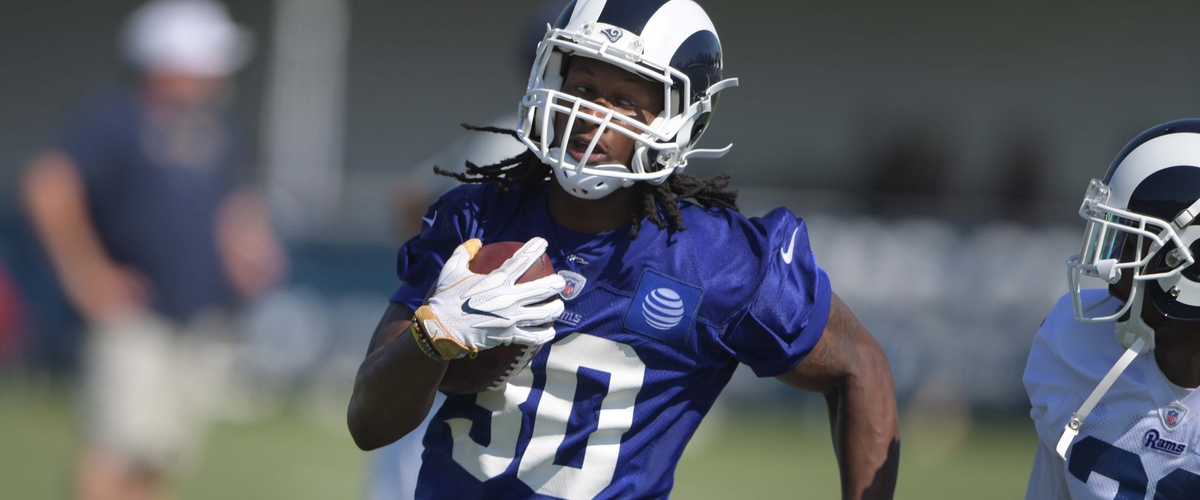 So to try something different, I'm going to try a whole different strategy of waiting on receiver. I'm going to complete a 10 team standard mock draft, and won't take a receiver until after the sixth round. This will give me four Running Backs, a Quarterback, and a Tight End before touching receivers. I picked standard scoring over PPR for this mock draft because this strategy makes even less sense in PPR formats. Nevertheless, I'm excited to see how this strategy works out. Below I will list my draft selections, the point in the draft they were made, and the reasoning behind the pick. I will also write about which late round receivers I'm targeting, and the strategy I'm using for these late round receivers.
Draft Summary
1.02: David Johnson, RB, Arizona Cardinals
2.09: Jordan Howard, RB, Chicago Bears
3.02: Leonard Fournette, RB, Jacksonville Jaguars
4.09: Travis Kelce, TE, Kansas City Chiefs
5.02: Drew Brees, QB, New Orleans Saints
6.09: Joe Mixon, RB, Cincinnati Bengals
7.02: Stefon Diggs, WR, Minnesota Vikings
8.09: Martavis Bryant, WR, Pittsburgh Steelers
9.02: Mike Wallace, WR, Baltimore Ravens
10.09: Eric Decker, WR, Tennessee Titans
11.02: John Brown, WR, Arizona Cardinals
12.09: Jeremy Maclin, WR, Baltimore Ravens
13.02: Tyrell Williams, WR, Los Angeles Chargers
14.09: Minnesota Vikings DST
15.02: Kenny Stills, WR, Miami Dolphins
16.09: Caleb Sturgis, K, Philadelphia Eagles
I'm drafting second overall in this mock draft, so it makes more sense to take running backs early. I ended up taking three bellcow running backs early in David Johnson, Jordan Howard, and Leonard Fournette. In standard format, I really can't argue against this technique, as there were still plenty of solid WR2s in the fourth and fifth rounds to take. These players included Sammy Watkins, Keenan Allen, Emmanuel Sanders, Michael Crabtree, and Davante Adams, who all fell in the draft. However, I promised I wouldn't touch a receiver until after the sixth round, so I grabbed Travis Kelce and Drew Brees. I rounded the first six rounds off with Joe Mixon, a high upside pick here who should have a big role in this offense.
From here on, I took eight receivers with my final ten picks. Even though I love receivers like Stefon Diggs and Martavis Bryant, they are typically flex or bench options for me. My best bet was throwing darts at receivers that met some of characteristics I was looking for. Below are the characteristics I was looking for in late round receivers in this order:
Deep Play Threat Ability
Red Zone Threat
Type of Offense
Target Share
It's important to remember that this is a standard league scoring format, which means no points per reception. This format boosts the value of players who are deep threats and red zone threats, while lowering the value of reception receivers. Even though Stefon Diggs is definitely a reception machine, we've seen his upside in down the field routes, which he will have much more of this season. I was able to secure some great deep play threats like Martavis Bryant, Mike Wallace, John Brown, and Kenny Stills. The latter two are definitely fliers, but if one catches fire in their respective offenses, their fantasy value relative to ADP will be big.
I was able to grab Eric Decker and Tyrell Williams as well, who will have good touchdown production in their offenses. I was really happy to grab the two main Ravens' receivers in Mike Wallace and Jeremy Maclin. Baltimore passed more than any other team in the NFL last season, and their offense has a lot of targets up for grabs after numerous free agent departures. Maclin also had success in finding the end zone in Kansas City, and should do the same in Baltimore with their lack of red zone threats.
After doing this mock draft, it's really hard to recommend this strategy. I would need to try this in a legitimate, standard format league to know for sure, but I hate seeing deficiencies on my roster. Seeing Diggs and Bryant as my starting receivers, both of whom are typically a flex at best in my lineups, is uneasing. The worst part about this is that I saw plenty of wide receivers that I like in standard scoring falling in the fourth and fifth rounds that I couldn't touch. Ultimately, I can recommend taking three running backs early in standard scoring, but then you need to address receivers right after. Positions like Tight End and Quarterback can wait until later, you simply can't pass up on the depth at running back and receiver early.