Fantasy Baseball: DraftKings DFS Picks for Sunday April 2nd, 2017
As excited as I am for Opening Day, I'm also ecstatic for the return of Fantasy Baseball DFS. Even in a small three game slate like we have on Sunday, DFS can be a bunch of fun with friends. Most of us here at SCFE primarily play DraftKings, so that's what we'll be using for price points. These small slates can be tricky because there's a lack of options. However, this gives you less of a chance of drafting a bust. Obviously Opening Day will be riddled with aces, which makes drafting hitters difficult. 
In this slate, I'm primarily drafting pitchers in the NYY @ TB game, and hitters from both the SF @ ARI and CHC @ STL games. I'm far more comfortable with the ladder games and their lineups than in the AL East showdown. In addition, Tanaka has been incredibly dominant this spring, which is why I'm building my lineups around him. Follow this guide for helpful DFS advice, as our team will be coming out with piece like this every day. Hope this helps, and thank God for bringing baseball back!
Pitchers I like this Sunday: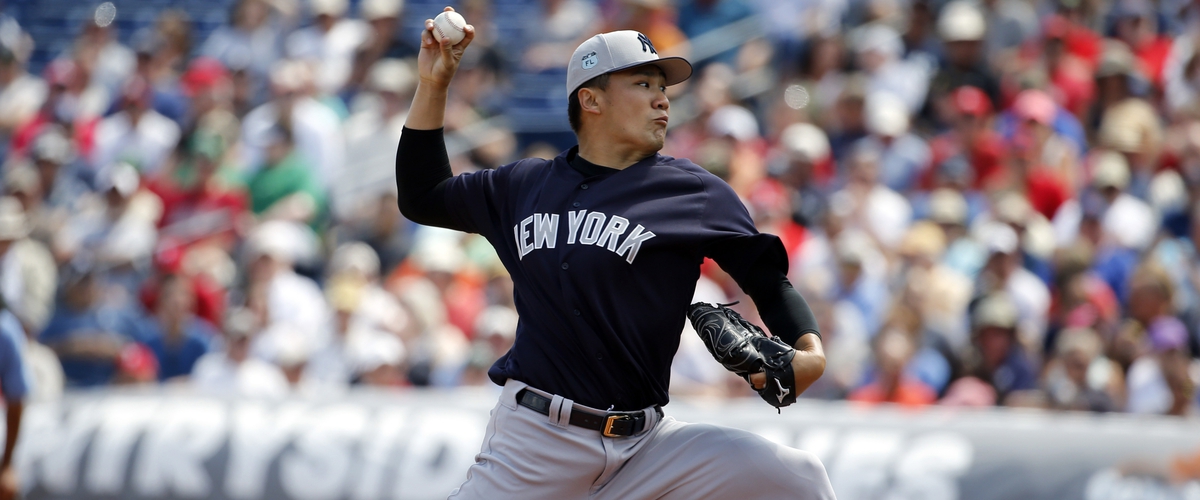 Masahiro Tanaka, NYY @ TB, $8,800: Tanaka is coming off a great 2016 season, and a hot spring training to face one of the weaker lineups in the league. The Rays ranked in the bottom third of every batting category in 2016, and this lineup is no better. Tanaka also pitched better on the road last season, boasting a 2.34 road ERA. All this mixed with Tanaka being one of the cheaper pitching options Sunday makes Tanaka a great option for Opening Day.
Chris Archer, TB vs NYY, $9,200: On the other side of this matchup, Archer is another pitcher worth targeting on Sunday. Archer gets a great matchup with the Yankees, who also rank in the bottom third of all batting categories in 2016. Archer was also much better at home in 2016, boasting a 2.65 ERA at home vs. a 5.44 ERA on the road. These numbers in a small slate make Archer a worthy start on DraftKings against the Yankees.
Other Pitchers I like this Sunday: Jon Lester, CHC @ STL, $10,600.
Catchers I like this Sunday: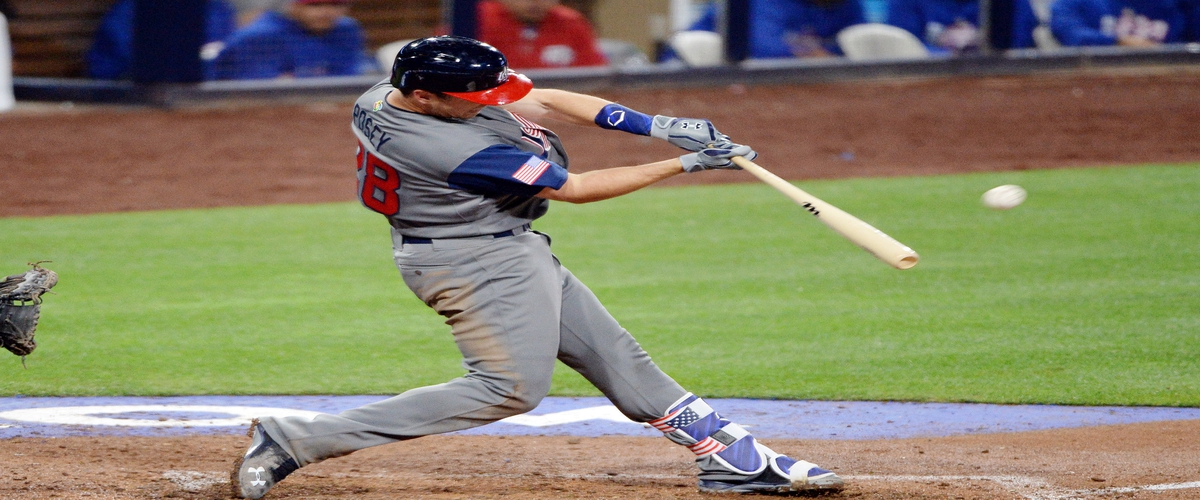 Buster Posey, SF @ ARI, $4,400: The Catcher slate is already small enough before playing in a three game slate. Posey looks to be the most solid option at catcher in a good matchup against Greinke. Arizona's pitching staff struggles with giving up runs, especially at home. This makes it totally worth it for paying up for the best catcher in the game.
Yadier Molina, STL vs CHC, $3,500: A cheaper option I like is Molina, who will bat behind a solid Cardinals lineup. Molina hits well for average, and knows Lester really well as a division rival. Even though Lester is a great pitcher, Molina isn't a bad option here in a miniscule slate.
First Baseman I like this Sunday: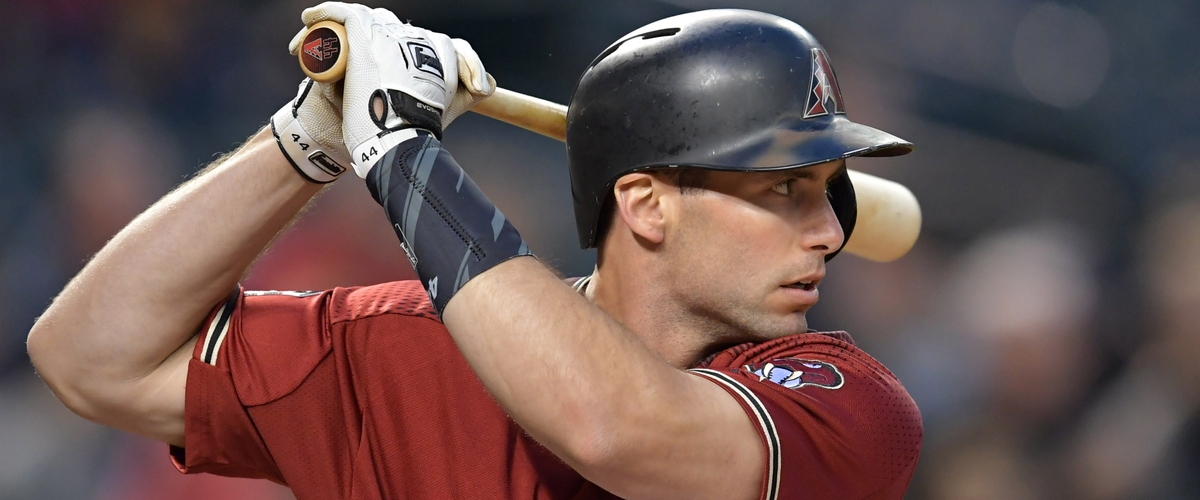 Paul Goldschmidt, ARI vs SF, @4,800: Goldy is always a dangerous batter, and averaged 10 fantasy points per game at home last season. The matchup isn't great, but the home ballpark is, which makes Goldy appealing. Arizona has a strong lineup, especially at home, which puts him in great position for a strong ROI.
Brandon Belt, SF @ ARI, $4,200: Belt has a good matchup in Arizona, the second highest run scoring park in baseball. Greinke has struggled greatly at home, and Belt has the lefty-righty matchup Bochy loves. Bochy also has Belt hitting out of the two spot, which gives him more at-bats. Play Belt with confidence this Sunday in the small slate.
Other First Baseman I like this Sunday: Anthony Rizzo, CHC @ STL, $4,900, Matt Carpenter, STL vs CHC, $4,000.
Second Baseman I like this Sunday: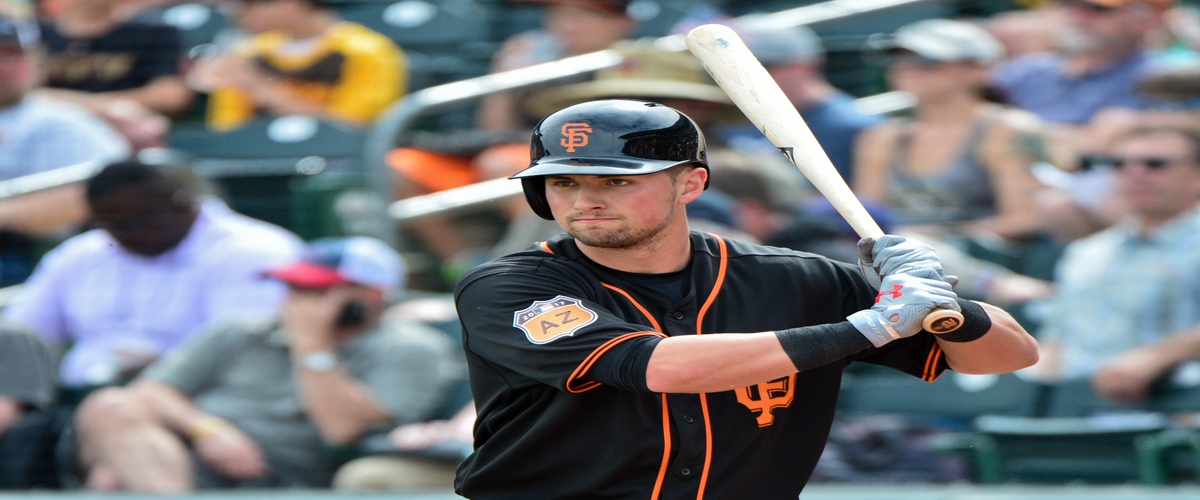 Ben Zobrist, CHC @ STL, $4,000: Zobrist highlights the second base options for Sunday, and averaged eight Fantasy points per game in 2016. Even though he doesn't have the best matchup, Zobrist is in the best lineup in baseball. Invest in the sure-hitting Zobrist with confidence.
Joe Panik, SF @ ARI, $3,900: Panik is another solid option at second base today as he should have RBI opportunities hitting sixth. Unfortunately he won't get the at-bats that he had last year hitting second, but he's a good option in a small slate. Look for Panik to be a solid option here on Opening day.
Third Baseman I like this Sunday: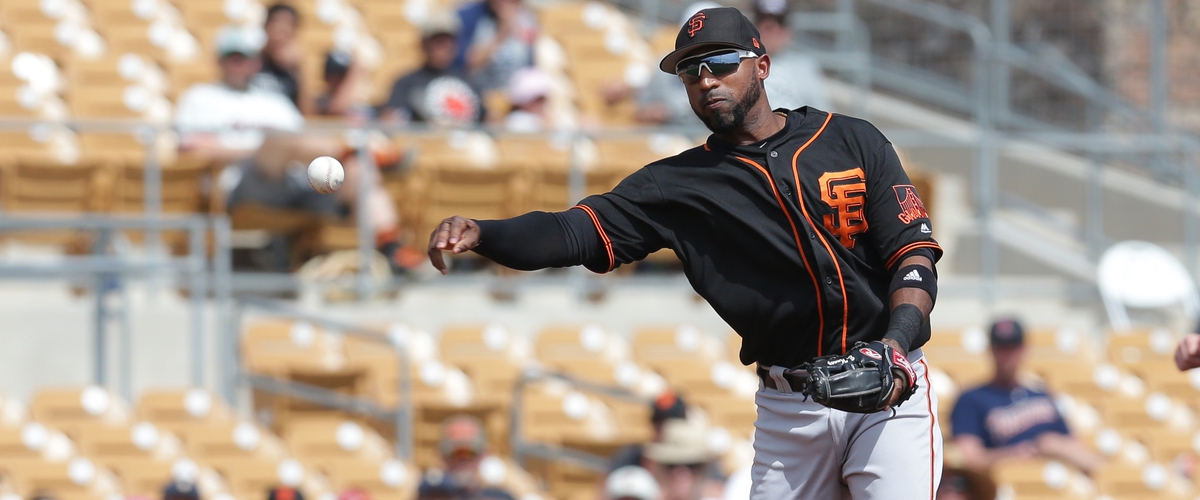 Eduardo Nunez, SF @ ARI, $4,100: Even though I'm not a big fan of Nunez in season long formats this year, I like him on DFS on Sunday. Nunez is hitting .600 off Greinke in his career, and there will be lots of offense in Chase Field. Greinke struggled at home last season, posting a 4.81 ERA, which will benefit Giants' hitters. Even though the price is a little high, Nunez is a good bet this Sunday.
Jake Lamb, ARI vs SF, $3,700: All of the other third baseman have had bad splits against their respective pitchers. This leads me to go with Lamb, the other third baseman in the game likely to be the highest scoring of the slate. Lamb is only 1-3 in his history against Bumgarner, but he has a ton of power and a high ceiling. If you're looking to save a couple bucks, go with Lamb on Opening Day.
Shortstops I like this Sunday: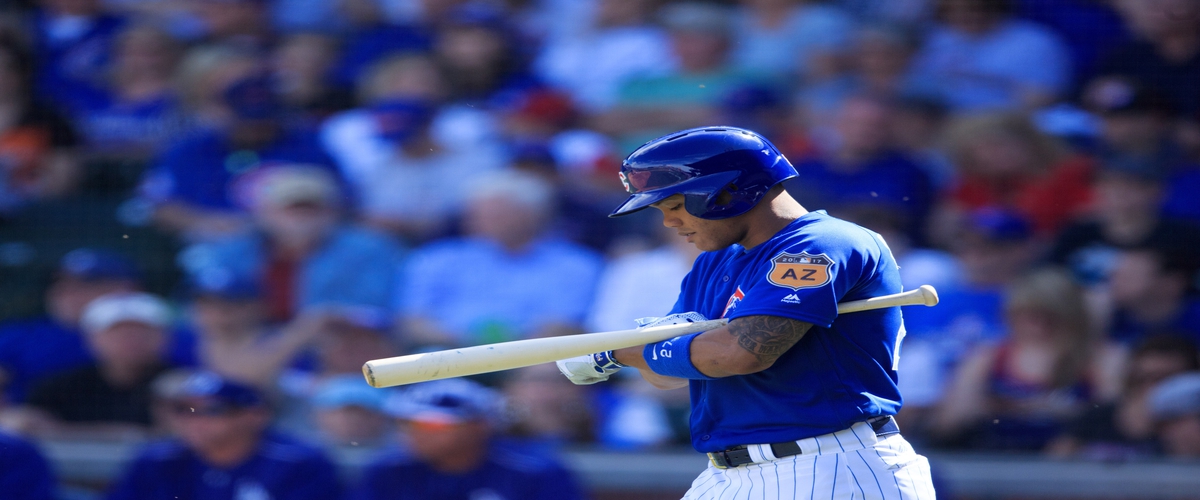 Addison Russell, CHC @ STL, $3,500: Russell has one of the more steady batting averages of shortstops in the slate. The Cubs shortstop has hit .316 off Carlos Martinez in his career over nineteen at-bats. This big sample size and hitting fifth in the best lineup in baseball makes his $3,500 price tag well worth it. Look for Russell to be a common pick on Sunday in DFS.
Starlin Castro, NYY @ TB, $3,300: One of the few players worth targeting in this matchup, Castro is cheap option in this slate. Castro has put up solid numbers against Archer, hitting .333 against him with five RBIs in twelve at-bats. Even though I like Archer and he will rack up strikeouts, he usually gives up a couple runs as well. I'm hoping Castro will be that guy Sunday to homer off Archer
Outfielders I like this Sunday: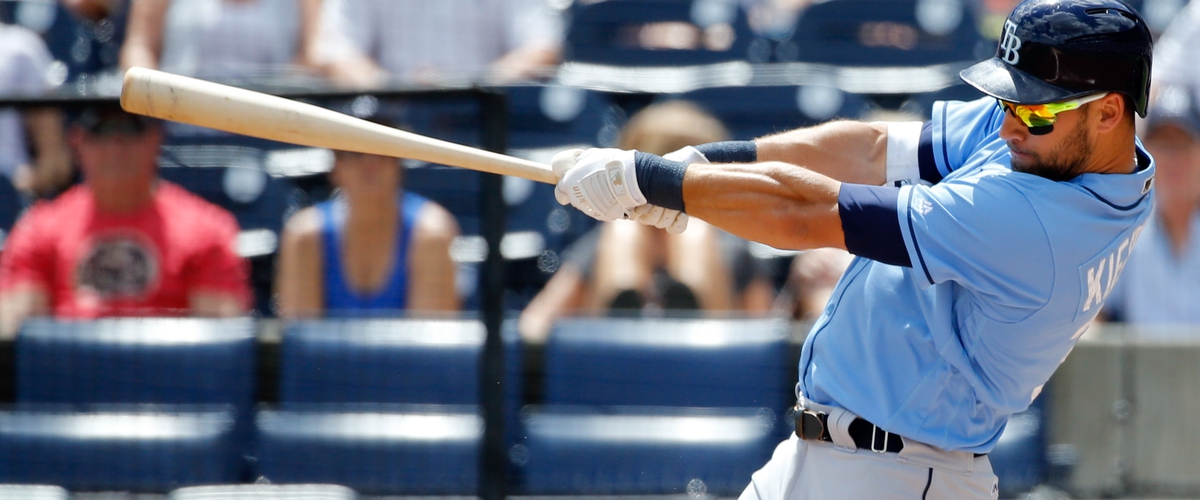 Dexter Fowler, STL vs CHC, $4,100: Fowler is an interesting DFS pick for Sunday as he plays his former team. Fowler doesn't have experience hitting off Lester, but he'll want to do well against his old team. The New Cardinal will also get a lot of at-bats and will be in line for lots of runs. Fowler could be an interesting wild card on Opening Day for DFS.
Denard Span, SF @ ARI, $4,000: In what is looking to be the higher scoring affair of the slate, Span is a solid outfield option. Span has hit .304 off Greinke over 46 at-bats, and will get a lot of at-bats atop the Giants' lineup. I know the price is a little high, but he'll get a lot of opportunities. Consider paying for Span on Opening Day in the second best hitting park in the league.
Kevin Kiermaier, TB vs NYY, $3,400: Kiermaier is a sneaky outfield option on Opening Day. For a cheap price, Kiermaier has a good history against Tanaka, hitting .444 against him in nine at-bats.The Rays center-fielder makes for a cheaper option on Opening Day in your outfield.
Corey Dickerson, TB vs NYY, $3,300: Dickerson should start at DH on Sunday, but will have outfield eligibility on DraftKings as well. Dickerson has hit well against Tanaka, going .357 over fourteen at-bats, with two home-runs. Even though I love Tanaka this Sunday, Dickerson and Kiermaier have some of the best splits of all the outfielders. Look for Dickerson to be a solid cheap option this Sunday.