My 2017 NFL First Round Mock Draft
With the draft in just a couple weeks, the excitement just keeps brewing in NFL fans. Part of the excitement is so much uncertainty regarding where Quarterbacks will be selected. Many mock drafts have had up to four Quarterbacks going in the first round, and experts and league intel all are unsure who they'll go to. However, I feel there is too much talent to justify drafting too many Quarterbacks in the first round. The talent of the defensive players and running backs in this draft completely overwhelm the Quarterbacks. Even though this doesn't negate the need at Quarterback some teams have, it makes them think twice of drafting one early.
Now by no means am I a draft expert or college football expert, but I do know the NFL and know what teams need. Of course these teams' needs aren't always the most relevant in the NFL draft. Many teams have a priority of drafting the best player available, and just look for the best player with the best fit. Fortunately this year, unless your biggest need is Quarterback or offensive line, you will be able to draft a player who can be considered as best available. This just shows how deep the draft is on defense. I'd appreciate any feedback you all have, as I was inspired to do this mock after seeing serious mistakes in some mock drafts. I hope you all are as excited as I am for this upcoming 2017 NFL Draft!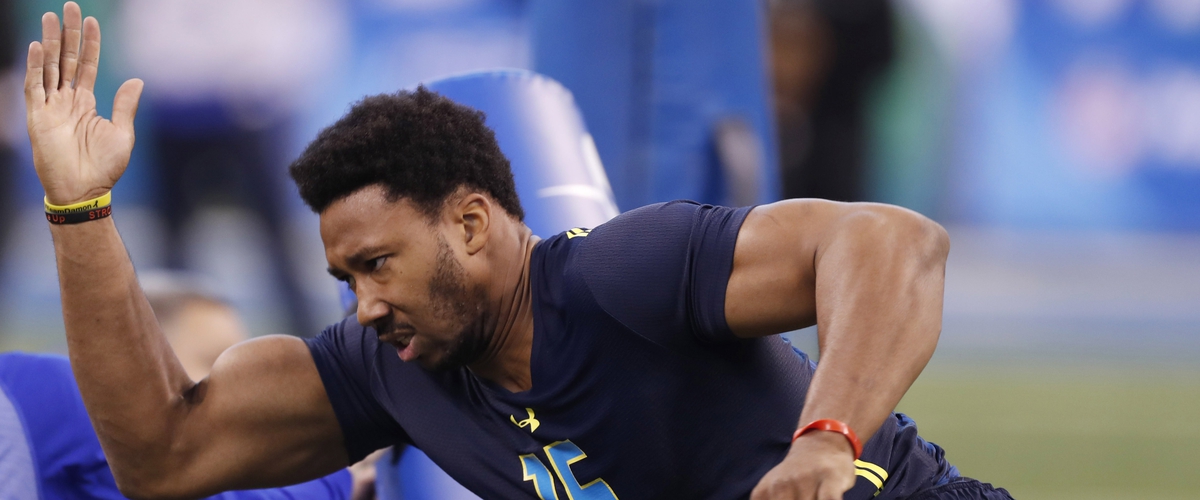 1. Cleveland Browns: Myles Garrett- DE, Texas A&M: This should be an obvious pick, let's hope Cleveland doesn't blow it. Garrett is the best all around talent, and the Browns gave up the second most rushing yards in the league last year. Great fit.
2. San Francisco 49ers: Solomon Thomas- DE, Stanford: Another obvious need here. The 49ers gave up 170 rushing yards per game last season, Thomas can help lower that number.
3. Chicago Bears: Jamal Adams- S, LSU: Adams is the perfect fit for the Bears who don't have as big of a need at CB or DL as they do at safety. Adams is a born leader who will keep this defense organized and improving from a sneaky good year last season.
4. Jacksonville Jaguars: Leonard Fournette- RB, LSU: With all the additions to their defense in free agency, the Jags need to do something to take pressure off of Blake Bortles. Since there are no elite offensive line prospects, Fournette can absolutely go this early to make the Jags a good defensive and running team.
5. Tennessee Titans: Marshon Lattimore- CB, Ohio State: The Titans are in a great position with how their roster is built in the trenches. It's time to add a lockdown corner, a position that was a weakness for them last season.
6. New York Jets: O.J. Howard- TE, Alabama: The Jets have so many needs it's not even funny. However, to help out Quarterbacks they will draft and already have, the Jets need a trustworthy pass catcher and blocker. This makes Howard a great fit for them, to slowly build their roster around.
7. Los Angeles Chargers: Malik Hooker- S, Ohio State: The Chargers need offensive line help too, but safety is the one void in their secondary. With corners Jason Verrett and Casey Heyward, this secondary could be one of the best in the league with Hooker back there as well.
8. Carolina Panthers: Jonathan Allen- DE, Alabama: The Panthers need to get younger in their trenches, and find their stride on defense again. With Ealy now in New England, Jonathan Allen can play a big role in this aging defense.
9. Cincinnati Bengals: Reuben Foster- LB, Alabama: It's no secret that the Bengals have a lot of talent on defense. Foster could be that guy to manage this defense and keep all those personalities under control.
10. Buffalo Bills: Mike Williams- WR, Clemson: Even though I could see the Bills going CB here, it's hard to pass on Williams. The Bills could have two elite ex-Clemson receivers for Taylor to throw to.
11. New Orleans Saints: John Ross- WR, Washington: Even though the Saints could use secondary help, they need to replace Brandin Cooks. Ross is the perfect fit to replace Cooks, as he has the fastest combine 40 time ever.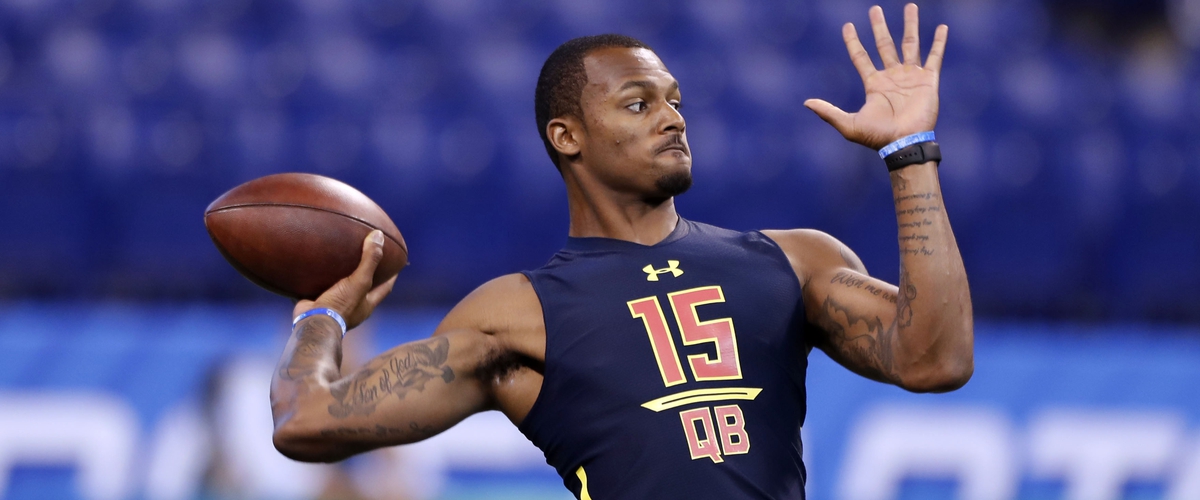 12. Cleveland Browns: Deshaun Watson- QB, Clemson: It would be hard for Cleveland to pass up on a Quarterback here. They could go with Trubisky, but I just like Watson as the Quarterback who can change a team's history.
13. Arizona Cardinals: Garett Bolles- OT, Utah: Arizona now has a variety of needs, including safety and defensive end. However, their offensive line ranked 26th last season. Their whole offense revolves around David Johnson, and needs to keep him and Carson Palmer healthy, so going offensive line makes sense.
14. Philadelphia Eagles: Gareon Conley- CB, Ohio State: The Eagles can also go a couple different directions here. With all the elite receivers in this division and after losing Nolan Carroll, cornerback is a necessity here.
15. Indianapolis Colts: Takkarist McKinley- DE, UCLA: The Colts have a number of defensive needs, but a strong pass rusher is ideal here.
16. Baltimore Ravens: Derek Barnett- DE, Tennessee: The Ravens always tend to surprise us a little, but a pass rusher is a solid guess. The Ravens love to build up their trenches, and can always use a new pass-rusher.
17. Washington Redskins: Tre'Davious White- CB, LSU: If you ask Matthew Berry of ESPN, he didn't always love Washington's bold defensive strategy of leaving receivers wide open. You need good corners in the NFC East, and a tandem of White and Norman is very good.
18. Tennessee Titans: Corey Davis- WR, Western Michigan: Tennessee has a trio of okay receivers in Rishard Matthews, Kendall Wright, and Tajae Sharpe, but no top receiver. Davis will give Mariota a true WR1 to throw to.
19. Tampa Bay Buccaneers: Dalvin Cook- RB, Florida State: With Doug Martin in rehab and suspended for four games, the Bucs need a ground and pound runner. I'm a big fan of Jacquizz Rodgers, but it's hard to pass up on Cook at this point in the draft.
20. Denver Broncos: Forrest Lamp- OG, Western Kentucky: Denver needs help on its offensive line so it can run the ball effectively and give their subpar Quarterbacks time to throw and read progressions. Lamp is the most NFL ready lineman in this draft.
21. Detroit Lions: Haason Reddick: LB, Temple: As a Lions fan, Reddick's versatility really intrigues me, and is typical of what GM Bob Quinn looks for. Reddicks ability as a linebacker and a pass rusher is exactly what the Lions need.
22. Miami Dolphins: Jarrad Davis- LB, Florida: Miami has the flexibility to go with a lot of different positions, but Davis is a great pick for them. He's a great talent to have help lead their defense.
23. New York Giants: Christian McCaffrey, RB, NYG: This pick is a little out of the box, but if McCaffery falls this far it'll be hard to pass up. With McCaffery, Odell Beckham Jr., Brandon Marshall, and Sterling Shepard all running routes, it'll give Eli Manning no more excuses, that offense must click.
24. Oakland Raiders: Kevin King- CB, Washington: The Raiders got beat deep all year, and King gives them a long athletic corner to help prevent that.
25. Houston Texans: Mitchell Trubisky- QB, UNC: I could see Houston going cornerback, but they need a Quarterback badly. If Trubisky is still here at 25, I think Houston has to pull the trigger, as Tom Savage won't cut it.
26. Seattle Seahawks: Ryan Ramczyk- OT, Wisconsin: Ramczyk is the last offensive lineman that can really be considered a first round talent. The Seahawks need protection for Russell Wilson, and blocking for its mean running back trio.
27. Kansas City Chiefs: Teez Tabor- CB, Florida: Even though Tabor had a bad pro day, Kansas City always seems to look past character issues. You need corners in this division with all the wide receiver talent. Phillip Gaines got gassed all year by receivers, so KC needs someone reliable across from Marcus Peters.
28. Dallas Cowboys: Adoree' Jackson- CB, USC: Dallas needed secondary help anyway before they lost Morris Claiborne, Barry Church, J.J. Wilcox, and Brandon Carr. This is a necessity, and Jackson would thrive on America's team.
29. Green Bay Packers: Quincy Wilson- CB, Florida: Everyone saw Green Bay's secondary get exposed with all their injuries last season, but they struggled even when healthy. Wilson will give the Packers the depth at corner that they badly need.
30. Pittsburgh Steelers: T.J. Watt- LB, Wisconsin: After losing Jarvis Jones in free agency to Arizona and with Ryan Shazier's contract expiring next season, the Steelers need a long term fix at linebacker. Watt has great flexibility at the position, and will fit in well with the Steel Curtain.
31. Atlanta Falcons: Charles Harris- DE, Missouri: Atlanta really doesn't have many needs, but additional pass rushers can always come in handy. Harris will give Atlanta a long term solution across from Vic Beasley.
32. New Orleans Saints: Jabrill Peppers- S, Michigan: The Saints still need help in their secondary, and safety is an obvious need. Why not try and hit the homerun ball at the end of the first round with a talent as exceptional as Jabrill Peppers.
---