Saquon Barkley the RB 1 in Fantasy 2019?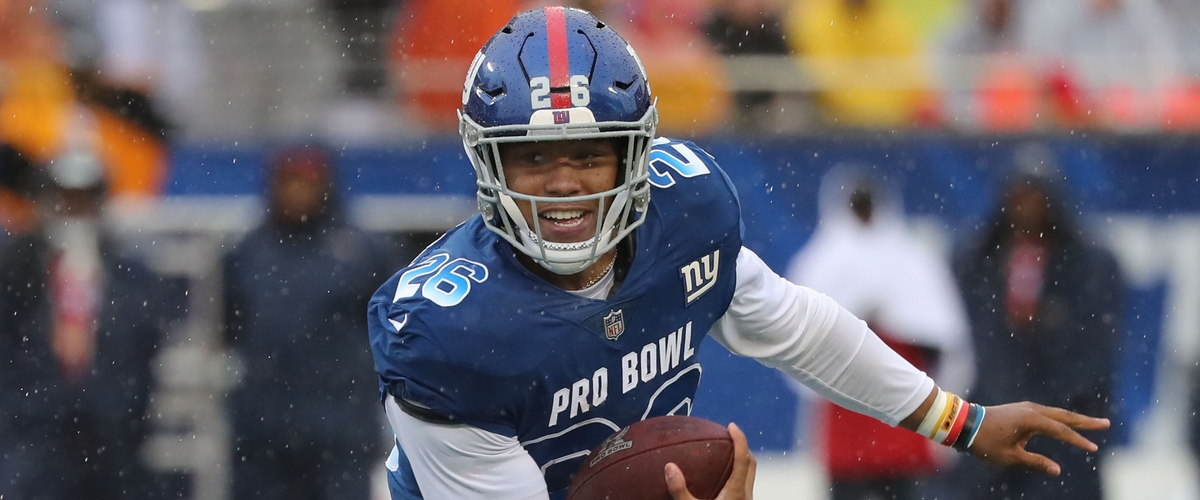 The preparation time for the 2019 Fantasy Football has begun.
Many people connected to fantasy football will consider there to be 4 main players who can be the 1.01 in drafts. Zeke, Barkley, CMC and Kamara. I will make the case for Barkley today.
The Case for Barkley
For starters, Barkley is by far the most talented and complete back in the NFL. Considering the talent around him last year, Barkley shouldn't have finished anywhere near where he finished last season. Barkley finished as the RB 2 last season, by just .2 points in PPR formats. This year, the Giants should have an improved offensive line which will help create holes for Barkley. The Giants added Kevin Zeitler in a trade with the Giants, who is one of the highest graded OG, according to PFF. The Giants also added RT Mike Remmers who is an average OT, but is a significant improvement over the Giants RT from 2018. Another important aspect to dive into is the addition of talent to the roster of the Giants, specifically on the defensive side of the ball. Therefore, theoretically the Giants should be in more close games, which could lead them to run the ball more which will solely help Barkley. Finally, with the trade of OBJ, the Giants offense is fairly barren, which could lead to Barkley seeing an increase in touches. Realistically, I could see Barkley varying anywhere from RB 1 to RB 5, barring injury.
The Case Against Barkley
There are a few reasons why Barkley may not be the RB 1 for fantasy 2019. The biggest reason is the loss of OBJ, which I previously mentioned as a possible positive; however, the loss of OBJ could cause Barkley to see many more stacked boxes of 7-8 men in the box. Another reason, why the loss of OBJ could cost Barkley is the fact that some drives may stall early which can lead to a decrease in Barkley's touches and TDs. Another major reason why Barkley may not be the RB 1 next season is because of the QB situation for the Giants. They added Daniel Jones to learn under Eli Manning, but neither QBs look particular good at this point in time and could lead to Barkley not having as much opportunity for TDs. Finally, the Giants still look like they're a team that is going to struggle barring massive impacts from their rookies, therefore, the Giants will be in a lot of passing situations and will be looking to push the ball down the field to stay in games, so Barkley will not see the carries and likely won't be able to catch the short passes out of the backfield.
If Zeke if suspended from the minor incident yesterday, Barkley will be my 1.01; however, if he is not suspended he will be my 1.02 solely because of the team around him.
---