Time to Shine for C.J. Anderson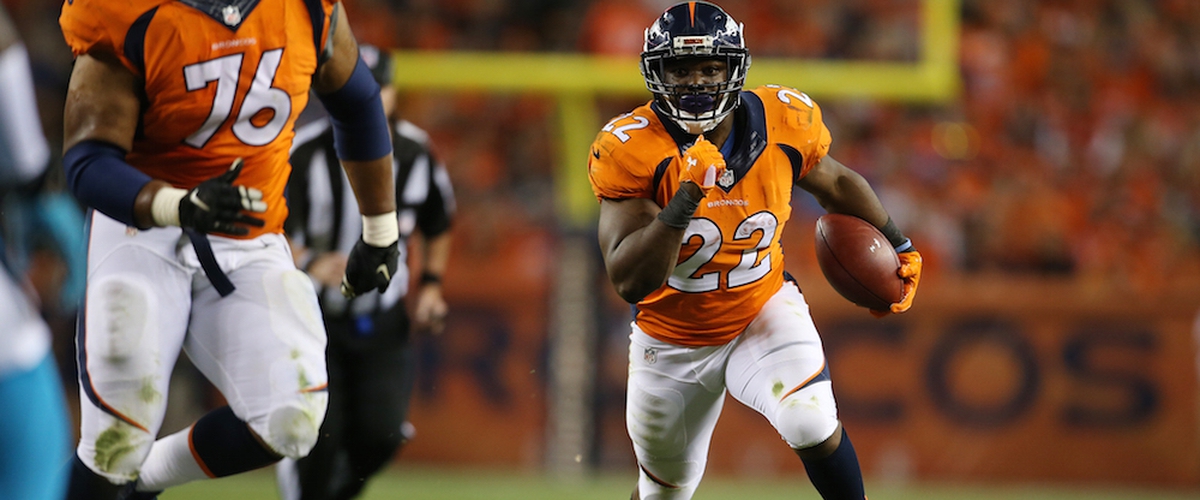 In week 1's highly anticipated Super Bowl rematch, the defending champion Denver Broncos hosted the Carolina Panthers in a thriller. Two teams expected to make playoff runs, although this didn't end up being the case, kicked off the season on Thursday Night Football at Sports Authority Field in Mile High. It was a thriller, but the Broncos, once again, edged out the Panthers by a score of 21-20 after Panthers kicker Graham Gano missed the game-winning field goal in the final seconds. In Broncos QB Trevor Siemian's starting debut, many expected the Panthers to beat Denver. However, C.J. Anderson stepped up big. He got 20 carries, rushing for 92 yards and a touchdown, along with 4 receptions for 47 yards and a receiving TD. He had a very solid 4.6 YPC.
Week 2, he received 20 carries once again, but this time rushing for 74 yards (3.7 YPC) and a TD. Anderson's carries then went down, receiving just 14 the following week against Cincinnati, rushing for only 37 yards and a measly 2.6 YPC. The following week, he ran for 2.6 YPC as well, this time in 19 carries. After that, the struggling back turned things around. The following two weeks he rushed for 3.7 YPC twice in a row, yet totaling just 21 carries combined between the two weeks, gaining 78 total yards. That seemed to be enough for then-Broncos head coach Gary Kubiak to increase Anderson's workload, and it paid off well. on 16 carries week 7, Anderson ran for 107 yards and a TD, which is 6.7 YPC. However, a huge portion of his workload was lost to rookie Devontae Booker, who out-carried him 18-16 that game. Unfortunately, when it looked like Anderson's season had taken a turn for the better with that productive game, he suffered a torn right meniscus which ended his season short.
This season, with a new head coach, Vance Joseph, who's sure to utilize Anderson better than Kubiak did, Anderson has potential for a bounce back season. The offensive line doesn't look great, but Ronald Leary was a good addition and they're likely to further address it in some way during the Draft. The Broncos are going to rely on the run game more than last year which will increase Anderson's workload. Last year, he was product in 3/4 games with 16+ carries. 16 carries is not enough for a player of his caliber, and I expect Vance Joseph to know that, as part of the reason Denver missed the playoffs last year was Kubiak's overly heavy reliance on the mediocre passing attack. Anderson averaged about 0.4 yards per carry more than Devontae Booker, who struggled mightily at times, but looked solid on other, less frequent occasions. Anderson's early season play will be crucial to his fantasy production this year, since Booker and Kapri Bibbs will be looking to vulture carries from him. If he plays very well, he will be the lead back and Booker and Bibbs will battle for backup carries. On the other hand, if Anderson gets off to a slow start, similar numbers to weeks 3-9 of last season should be expected as he's going to fall into a 3-RB Committee that it'll be hard to escape from. That would make him a low-end RB2 in fantasy. Not terrible, but his low ceiling would make him unappealing. If Anderson gets off to a strong start, which I strongly believe he will if he gets the workload he deserves, he can be a decent RB1, making him a steal in drafts and a must-start on a weekly basis.
According to fantasyfootballcalculator.com, Anderson holds an ADP (average draft position) in the early 3rd round of 12 team leagues. It's a bit of a risky pick, but if Anderson stays healthy, I believe he will work out for everyone who drafts him.
Instagram: @FantasyFootball.Beast