100 Most Expensive Player Transfer in Football History
Detiksport | The monumental moves just keep on coming with Atletico Madrid splashing the cash for France and Monaco midfielder Thomas Lemar
Neymar completed his move from Barcelona to Paris Saint-Germain for a staggering fee of €222 million in the summer of 2017 and the big deals haven't stopped since, with Kylian Mbappe joining him in Paris for €145m plus €35m in bonuses.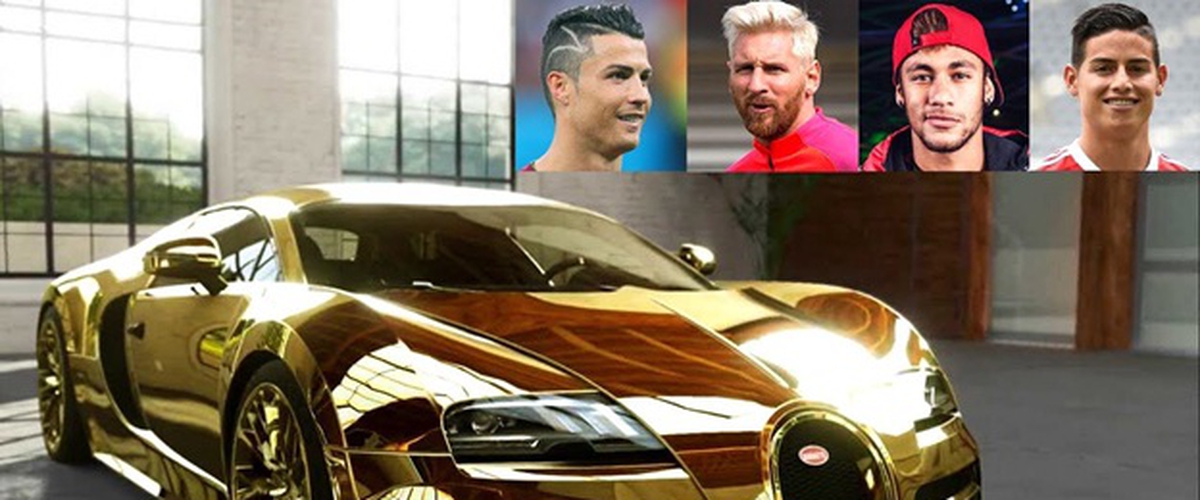 As a result of his move to the French capital, the Brazilian is now the most expensive player of all time, having smashed the previous record held by Manchester United's Paul Pogba, who arrived at Old Trafford last summer from Juventus for €105m. Mbappe, meanwhile, moves to second on the list.
Philippe Coutinho's move from Liverpool to Barcelona in January puts him third on the list, while Barca's capture of Ousmane Dembele from Borussia Dortmund for €105m plus add-ons sees him ahead of Pogba in the top five.
Cristiano Ronaldo occupies positions seven and eight on the list, with his move to Juventus in the summer of 2018 eclipsing the cost of his transfer to Real Madrid from Manchester United nine years earlier. beIN Sport
No. Player Club Years Price
1. Neymar Jr Barcelona - PSG 2017 €222m
2. Kylian Mbappe Monaco - PSG 2017 €145m (+€35m)
3. Philippe Coutinho Liverpool - Barcelona 2018 €120m (+€40m)
4. Ousmane Dembele Borussia Dortmund - Barcelona 2017 €105m (+€45)
5. Paul Pogba Juventus - Manchester United 2016 €105m
6. Gareth Bale Tottenham - Real Madrid 2013 €100.8m
7. Cristiano Ronaldo Real Madrid - Juventus 2018 €100m
8. Cristiano Ronaldo Manchester United - Real Madrid 2009 €94m
9. Gonzalo Higuain Napoli - Juventus 2016 €90m
10. Neymar Santos - Barcelona 2013 €86.2m
11. Romelu Lukaku Everton - Manchester United 2017 €84.8m
12. Virgil van Dijk Southampton - Liverpol 2018 €84.5m
13. Luis Suarez Liverpool - Barcelona 2014 €82.3m
14. James Rodriguez Monaco - Real Madrid 2014 €80m
15. Alvaro Morata Real Madrid - Chelsea 2017 €78.9m
16. Zinedine Zidane Juventus - Real Madrid 2001 €77.5m
17. Kevin De Bruyne Wolfsburg - Manchester City 2015 €75m
18. Angel Di Maria Real Madrid - Manchester United 2014 €74.6m
19. Zlatan Ibrahimovic Inter - Barcelona 2009 €69.5m
20. Raheem Sterling Liverpool - Manchester City 2015 €69.1m
21. Diego Costa Chelsea - Atletico Madrid 2018 €66m
22. Thomas Lemar Monaco - Atletico Madrid 2018 €65m
23. Kaka AC Milan - Real Madrid 2009 €65m
24. Aymeric Laporte Athletic Bilbao - Manchester City 2018 €65m
25. Edinson Cavani Napoli - PSG 2013 €64.5m
26. Pierre-Emerick Aubameyang Borussia Dortmund - Arsenal 2018 €63.75m
27. David Luiz Chelsea - PSG 2014 €62.5m
28. Angel Di Maria Manchester United - PSG 2015 €61.6m
29. Oscar Chelsea - Shanghai SIPG 2017 €60.3m
30. Naby Keita RB Leipzig - Liverpool 2018 €60m
31. Luis Figo Barcelona - Real Madri 2000 €60m
32. Fernando Torres Liverpool - Chelsea 2011 €59m
33. Hulk Zenit - Shanghai SIPG 2016 €58.6m
34. Benjamin Mendy Monaco - Manchester City 2017 €58.2m
35. John Stones Everton - Manchester City 2016 €58m
36. Kyle Walker Tottenham - Manchester City 2017 €56.7m
37. Hernan Crespo Parma - Lazio 2000 €55m
38. Alexandre Lacazette Lyon - Arsenal 2017 €53m (+€7m)
39. Gianluigi Buffon Parma - Juventus 2001 €52m
40. Eliaquim Mangala Porto - Manchester City 2014 €51.7m
41. Alex Teixera Shakhtar Donetsk - Jiangsu Suning 2016 €50m
42. Bernardo Silva Monaco - Manchester City 2017 €50m
43. Fabinho Monaco - Liverpool 2018 €50m
44. Anthony Martial Monaco - Manchester United 2015 €49.3m
45. Gylfi Sigurdsson Swansea City - Everton 2017 €49.2m
46. Christian Vieri Lazio - Inter 1999 €49m
47. Gaizka Mendieta Valencia - Lazio 2001 €48m
48. Mesut Ozil Real Madrid - Arsenal 2013 €47m
49. Juan Sebastian Veron Lazio - Manchester United 2001 €46m
50. Rio Ferdinand Leeds United - Manchester United 2002 €46m
51. Ronaldo Inter - Real Madrid 2002 €46m
52. Juan Mata Chelsea - Manchester United 2014 €46m
53. Douglas Costa Bayern Munich - Juventus 2017 €46m
54. Christian Benteke Aston Villa - Liverpool 2015 €45.8m
55. James Rodriguez Porto - Monaco 2013 €45m
56. Joao Mario Sporting Lisbon - Inter 2016 €45m
57. Granit Xhaka Borussia Monchengladbach - Arsenal 2016 €45m
58. Tiemoue Bakayoko Monaco - Chelsea 2017 €45m
59. Vinicius Junior Flamengo - Real Madrid 2018 €45m
60. Nemanja Matic Chelsea - Manchester United 2017 €44.7m
61. Leroy Sane Schalke - Manchester City 2016 €44m
62. Andriy Schevchenko AC Milan - Chelsea 2006 €43.9m
63. Robinho Real Madrid - Manchester City 2008 €43m
64. Radamel Falcao Atletico Madrid - Monaco 2013 €43m
65. Alexis Sanchez Barcelona - Arsenal 2014 €42.5m
66. Rui Costa Fiorentina 2001 €42m
67. Javier Pastore Palermo - PSG 2011 €42m
68. Thiago Silva AC Milan - PSG 2012 €42m
69. Jackson Martinez Atletico Madrid - Guangzhou Evergrande 2016 €42m
70. Henrikh Mkhitaryan Borussia Dortmund - Manchester United 2016 €42m
71. Mohamed Salah Roma - Liverpool 2017 €42m
72. Leonardo Bonucci Juventus - AC Milan 2017 €42m
73. Lilian Thuram Parma - Juventus 2001 €41.5m
74. Corentin Tolisso Lyon - Bayern Munich 2017 €41.5m
75. Andy Carroll Newcastle United - Liverpool 2011 €41.3m
76. Pavel Nedved Lazio - Juventus 2001 €41.2m
77. Shkodran Mustafi Valencia - Arsenal 2016 €41.2m
78. Sadio Mane Southampton - Liverpool 2016 €41.2m
79. Marc Overmars Arsenal - Barcelona 2000 €41m
80. Roberto Firmino Hoffenheim - Liverpool 2015 €41m
81. David Villa Valencia - Barcelona 2010 €40m
82. Sergio Aguero Atletico Madrid - Manchester City 2011 €40m
83. Radamel Falcao Porto - Atletico Madrid 2011 €40m
84. Hulk Porto - Zenit 2012 €40m
85. Eden Hazard Lille - Chelsea 2012 €40m
86. Javi Martinez Athletic Bilbao - Bayern Munich 2012 €40m
87. Axel Witsel Benfica - Zenit 2012 €40m
88. Fernandinho Shakhtar Donetsk - Manchester City 2013 €40m
89. Federico Bernardeschi Fiorentina - Juventus 2017 €40m
90. Paulinho Guangzhou Evergrande - Barcelona 2017 €40m
91. Ederson Benfica - Manchester City 2017 €40m
92. David Luiz PSG - Chelsea 2016 €39.6m
93. Didier Drogba Marseille - Chelsea 2004 €39.5m
94. Michy Batshuayi Marseille - Chelsea 2016 €39m
95. Antonio Rudiger Roma - Chelsa 2017 €39m
96. Michael Essien Lyon - Chelsea 2005 €38m
97. Fernando Torres Atletico Madrid - Liverpool 2007 €38m
98. Dimitar Berbatov Tottenham - Manchester United 2008 €38m
99. Gonzalo Higuain Real Madrid - Napoli 2013 €38m
100. Diego Costa Atletico Madrid - Chelsea 2014 €38m
=100 Eric Bailly Villarreal - Manchester United 2016 €38m
=100 Mats Hummels Borussia Dortmund - Bayern Munich 2016 €38m
=100 Andre Silva Porto - AC Milan 2017 €38m
=100 Alex Oxlade-Chamberlain Arsenal - Liverpool 2017 €38m