Should the Redskins pay Kirk Cousins?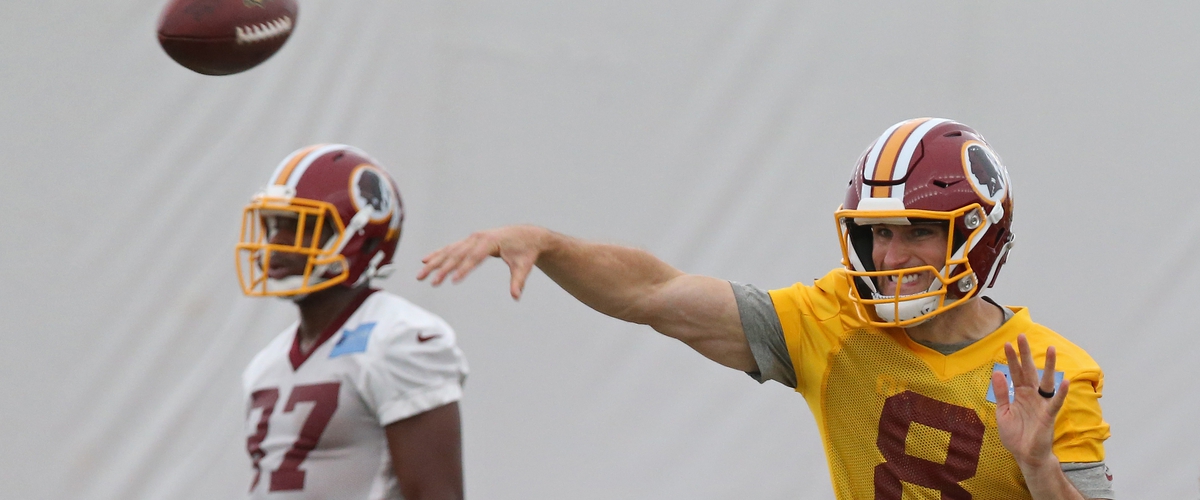 On June 17th, 2017, we sit in the same position we did as fans last season. With one question lingering over the offseason, and potentially the entire season: Should--or will--the Washington Redskins resign Kirk Cousins? The question looms large now as the deadline to extend franchise tagged players is July 15th; After that date, Kirk Cousins will play out 2017 on the franchise tag if no deal is made--and collect 45-million dollars over the last two seasons--Surprisingly there are still mixed reactions and opinions as to if Washington should resign the 28-year-old signal caller.
A puzzling pick in 2012, Kirk Cousins' story as to how he got to Washington and got his chance in the NFL is an interesting one, but one for another time. For right now, we ask:
Is he "The Guy"?
Well, it depends on your definition of "The guy".
Is he going to single handedly take an NFL team to the promise land using just his God-given arm talent? No.
Is he going to be a top-12 NFL starting quarterback for years to come? Yes.
With the right team and pieces around him, would he win a Super bowl? Joe Flacco won a super bowl.
Let's break down the 2016 version of Kirk Cousins.
By the numbers:
Cousins threw for 4,917-yards, completing 67% of his passes, while launching 25-touchdowns but giving away 12-interceptions. His longest pass of the year was good enough for 80-yards. He averaged 8-yards-per-attempt, and 307-yards-per-game. Kirk Cousins was sacked just 23-times, and under pressure was sacked only 11% of the time ranking second in that category--behind Tom Brady per Football focus--Cousins was not just a threat through the air on the ground he punched in 4-more-TD's.
Deeper than the numbers:
In the deep-dark-place that is the offseason, I went back and watched all 16-games via the all-22 film (Thanks NFL gamepass!) Why did I do this you asked? So you didn't have to, As I am the peoples champ.--I was also extremely board--Over the course of the 16 game season, Kirk Cousins had two absolute duds. Coincidentally, the first two games of the year. He had a "solid" game three times, and a "Good game" 9-of-the-16-games a season age. However, the problem comes in two win-and-you-are-in games last season. Against the Carolina Panthers and New York Giants respectively I walked away from the all-22 film not saying he had a bad game--like I and many people originally thought during the heat of a live broadcast--but rather, "I left wanting more." I jotted down in my beat up spiral notebook after both games. Cousins leaves a lot to be desired in big games, which can be a knock on him, or can be taken as something he can and will improve making him an even better quarterback--Is the glass half full or half empty?--Kirk Cousins foot work in the pocket still needs work, Cowboys Rookie Dak Prescott moved much better in the pocket than a now veteran Kirk Cousins. Kirk Cousins was also helped out a lot by his wide outs throughout 2016; A Jordan Reed leaping catch here, and DeSean Jackson sliding catch there, along with Pierre Garçon making a catch in traffic that does not even seem possible. Two of those guys are gone, and the Redskins are now tasked with something no NFL team has ever had to deal with in replacing two 1,000-yard wide-outs. How will Cousins do without a superstar wide out in DeSean Jacksons, and without his go-to-most-trusted-target in Pierre Garçon? That is cause for concern, but due to the addition of Terrelle Pryor (Who caught 1,000-yards in Cleveland while hauling in passes from four different quarterbacks), along with the emergence of Jamison Crowder, the return of Josh Doctson who played in just two games a year ago due to a nagging achilles injury, and one of the best tight ends in the league Cousins should not experience much of a drop off.
So why should they pay Kirk Cousins?:
If the stats alone, and my opinions after watching the game film, have not sold you, think about this: The Redskins have something the vast majority of NFL teams want, a solid quarterback, an above-average quarterback, and a quarterback with room to grow. In all likelihood the Redskins season will not dip under 8-8 or 7-9, and they will not be in position to draft a prized college football QB. Even if they were, you never know what you would be getting with those guys. You know what you have in Kirk Cousins, and that is important; A top-12-guy.
All-in-all the Redskins have their guy. Yes, they should absolutely pay Kirk Cousins.