JBJ should be an SFG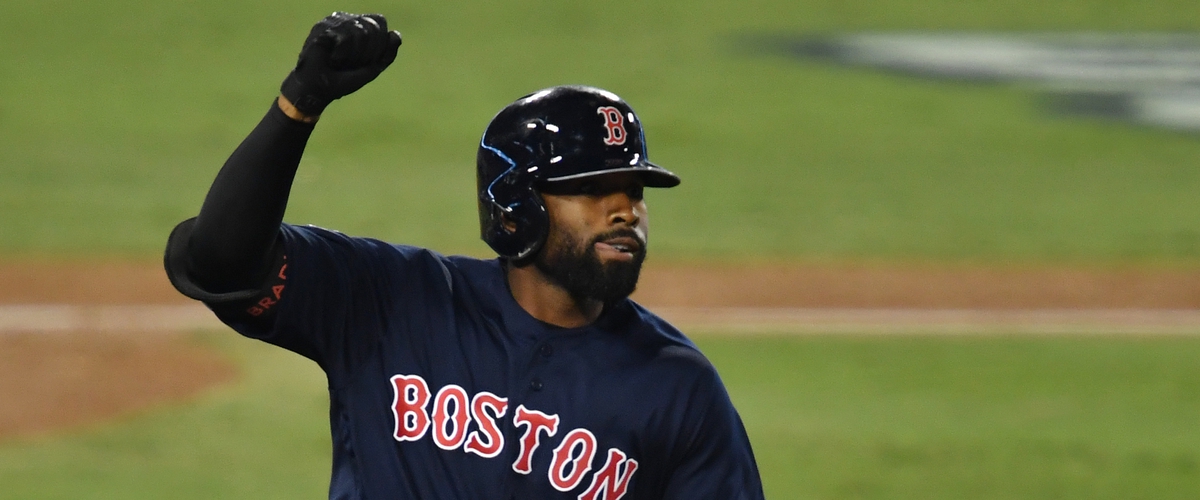 Jackie Bradley Jr. is reportedly on the trade block. The Red Sox have a ton of outfield depth and are looking to free up salary which has led them to begin shopping Rick Porcello, Jackie Bradley Jr. and (in some reports) Xander Bogaerts. While Porcello (former Cy Young award winner) and Bogaerts (two time silver slugger winner) each have their own appeal its JBJ that should be the Giants' focus.
Jackie Bradley Jr. is a 28 year old left handed hitting outfielder that stands at 5'10 and weighs 200 pounds. He was drafted 40th overall by the Boston Red Sox in 2011 and made his Red Sox debut in 2013. JBJ has never been much of a hitter hitting for .234/.317/.407 with a wOBA of .310 which is just below league average. But the reason the Giants should consider acquiring Bradley is for his base running ability and defensive ability which would come at great value in the spacious confines of AT@T Park. Last season, JBJ had a 5.7 base running runs above average and 8.8 fielding runs above average. Even if you add the -6.3 hitting runs below average JBJ works out to a WAR (wins above replacement) of 2.8. In comparison, JBJ's 2.8 war is .01 lower than Anthony Rizzo (2.9), George Springer (2.9), and Rhys Hoskins (2.9). His WAR was equal to Charlie Blackmon (2.8) and Joey Gallo (2.8) and was higher than Miguel Andujar (2.7), Marcell Ozuna (2.7) and former Giant Andrew McCutchen (2.6). What all that means is that Jackie Bradley Jr. may be one of the most underrated outfielders in baseball.
JBJ has already signed a one year 6.1 million dollar contract for this season to avoid arbitration. The Giants would still get him for his last two years of arbitration for 2019 and 2020. So, we have a young outfielder, who's vastly underrated, vastly underpaid, and available for what is likely a cheap price. There's no reason the Giants shouldn't be vastly interested in Jackie to fill an outfield spot that currently only has Steven Duggar as a viable starter.
Furthermore, according to the Streamer, which is a predictive algorithm that predicts future performance on Fangraphs, actually predicts an offensive improvement next season. The Streamer predicts JBJ will hit .247/.329/.421 with a wOBA of .324 in 2019 compared to his 2018 .234/.314/.403 with a wOBA of .310. Now the switch to AT@T park would likely lower those projections but even if they did JBJ was still a 2+ WAR player last season with the low 2018 offensive production. So, even with the move to AT@T park, we can expect JBJ to put out a similar performance in 2019 as he did in 2018 at Fenway.
Obviously this can not be the only move the Giants make in the outfield. The Giants lack some serious offensive ability. But the addition of Jackie Bradley Jr. would put another center fielder in the outfield alongside Steven Duggar which would be a massive defensive advantage. The outstanding defensive play of those two would allow the Giants to put a lesser defensive player in left that would provide the offense that Duggar and JBJ will lack. Its not sexy, but the Giants desperately need outfield help. People have to remember, the Giants won three world series championships with excellent defense, excellent pitching, and just enough offense. They can certainly head back in that direction with the acquisition of Jackie Bradley Jr.
---