Sam's Grading the Pack Week 6: From Zero to Hero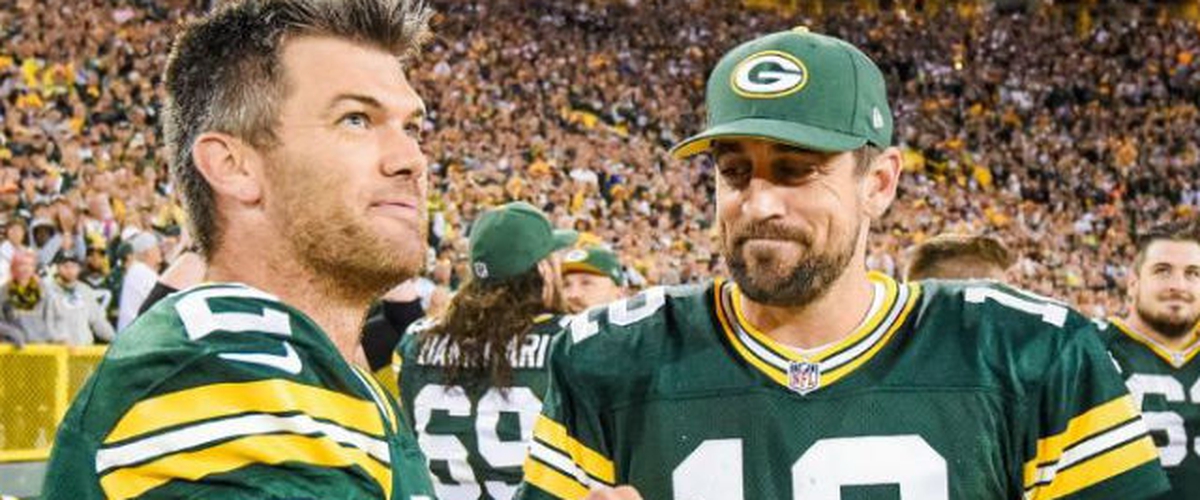 Mason Crosby won the game for Green Bay one week after going 1/6 on all kicking attempts. You read that right. Aaron Rodgers mounted an incredible comeback, featuring an All-Pro performance from Davante Adams (again) and stellar catches from rookie wideouts Marquez Valdes-Scantling and Equanimeous St. Brown. All three running backs had decent performances, overshadowing the lack of blocking across the entire O-Line. The D-Line didn't fare much better, with another quiet game from Mike Daniels, but Blake Martinez's tackling ability and Kevin King's game-changing pick were just enough to keep Green Bay in the game. Overall, the Pack shouldn't have allowed 30 points from a 1-4 team, but a win is a win. Right?
OVERALL: C+
Offense: B- QB/RB: B+ WR/TE: B+ OL: D+
Defense: C- DL: C LB: B- DB: D+ Special Teams: B+
BEST GRADE: A+: WR Davante Adams, QB Aaron Rodgers, K Mason Crosby
Davante Adams isn't just the best receiver on the Packers; he's making a case for being the best receiver in the entire league. 10 Receptions, 132 Yards and two Touchdown grabs adds to his already incredible 2018 campaign. Aaron Rodgers proved once again why he deserves to be the highest-paid player in the history of the game. 425 Yards, a couple scores, a few first down runs and zero interceptions is normal for the true GOAT. Mason Crosby forgot about his 1/6 effort last week and nailed all three extra points and all four field goal attempts, including the game-winning try with the clock expiring.
WORST GRADE: D-: Byron Bell, OL; Antonio Morrison, LB; Tramon Williams, CB; and Kentrell Brice, S
Byron Bell earned a "B" in his first start over Justin McCray at Right Guard, a "C-" last week and now a "D-" against San Fran. He couldn't pick up on a blitz to save his life, and on multiple plays he was literally tripping over himself. Both he and Justin McCray are absolute liabilities in pass protection, something that scares me big time moving forward. Antonio Morrison barely took snaps on defense, and committed two big penalties on special teams. Not good for a guy who was brought in to be a rotational starting Inside Linebacker. Tramon Williams looked far from a CB1, as he couldn't cover Marquise Goodwin (126 Yard, 2 Touchdowns) to save his life. He just simply couldn't cover, whether it be pressing, man-to-man or zone coverage. Kentrell Brice wasn't any better, tripping over himself multiple times in the secondary. Tramon will bounce back just like CB2 Kevin King did this week, but the Safety position still looks like a major weak spot with Brice and Ha Ha underperforming on a weekly basis.
MVP Watch: With both players earning "A+'s" this week, Davante Adams keeps his spot over Aaron Rodgers for first place in the Team MVP race. and Blake Martinez is sitting comfortably in third above everyone else, especially with Geronimo Allison still sidelined with a hamstring issue.
STATS OVERVIEW:
Passing - Rodgers: A+ (25/46, 425 Yds, 2 TD, 0 INT, 100.4 Passer Rating; 3 Rush, 34 Yds)
Rushing - J. Williams: B- (6 Rush, 29 Yds; 1 Rec, 10 Yds); Montgomery: B (4 Rush, 12 Yds, 1 TD; 2 Rec, 10 Yds); A. Jones: B- (8 Rush, 41 Yds; )
Receiving - D. Adams: A+ (10 Rec, 132 Yds, 2 TD) Graham: A- (5 Rec, 104 Yds); Valdez-Scantling: A- (3 Rec, 103 Yds); St. Brown: B- (1 Rec, 19 Yds); Kendricks: C+ (2 Rec, 37 Yds)
Defense - 1 INT (King), 2 Sacks (Clark, Matthews), 1 Forced Fumble (R. Greene), 1 Fumble Recovery (J. Crawford)
Questions? Comments? Concerns? General Feedback? Is Green Bay the NFC North favorite again? Please let me know!
Thank you and God Bless,
Samuel R. Fuller