Fuller's 2020 NFL Mock Draft 2.0 - First 3-Round Mock!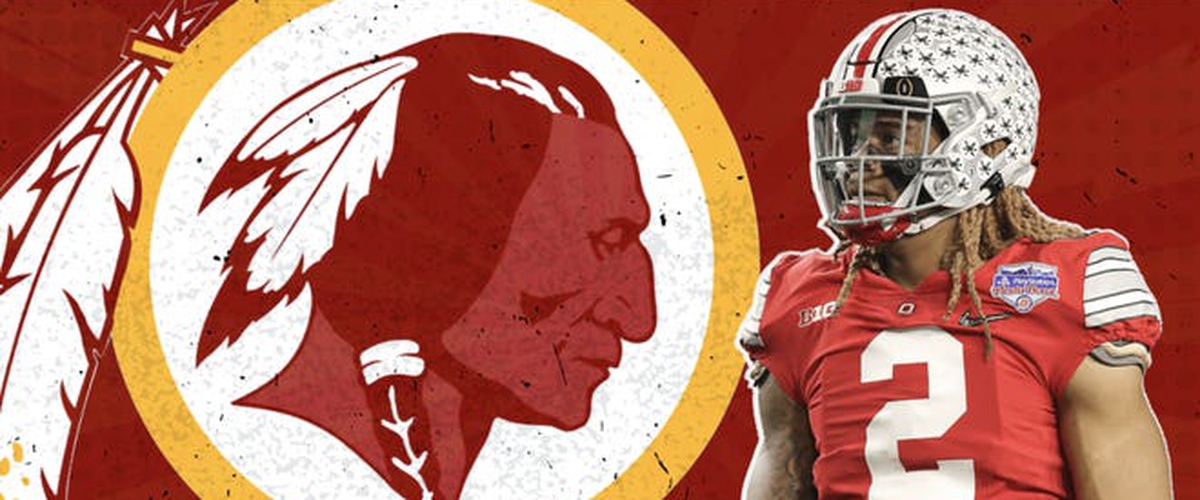 Despite the rest of the sports world suspending their activities due to the COVID-19 epidemic, NFL Commissioner Roger Goodell announced the NFL Draft will remain April 23rd through April 25th. It's been hard to find inspiration for sports blogging, but the draft remaining as scheduled is enough for me to crank out my first three-round mock draft of the 2020 campaign. Draft positioning is significantly based on my newest Big Board.
Stay calm, collected and compassionate! Here we go...
1. Cincinnati Bengals: Joe Burrow, QB, LSU
Nothing's changed here. Cincy still needs a Quarterback and Ohio-native Joe Burrow is still the standalone best option.
2. Washington: Chase Young, Edge, Ohio State
Washington may be tempted to take Tua Tagovailoa as competition for Dwayne Haskins, but no one's a better option than my highest-graded player in the whole draft, Chase Young.
3: Detroit Lions: Jeff Okudah, CB, Ohio State
Detroit could trade this spot to Miami if they're nervous about getting Tua, but as long as they keep it, I see Okudah as the much better option over Isaiah Simmons - especially after trading Darius Slay to Philly.
4: New York Giants: Isaiah Simmons, LB/S, Clemson
Typical Dave Gettleman logic would suggest an Offensive Tackle here, but I think Simmons' multi-positional defensive playmaking should seal the deal for him at #4.
5. Miami Dolphins: Tua Tagovailoa, QB, Alabama
Miami didn't have to trade up to get Tua in this mock, but that may very well be the case come April. I don't see them taking Jordan Love or Justin Herbert over the Hawaiian.
6. Los Angeles Chargers: Justin Herbert, QB, Oregon
Tyrod Taylor will likely be QB1 come September regardless of what L.A. does here, but Herbert's an ideal long-term solution available at #6 and unless they like Jordan Love more in a month, Herbert's the man.
7. Carolina Panthers: Derrick Brown, DL, Auburn
Brown is the best player available and Carolina lost Vernon Butler, Gerald McCoy and Dontari Poe this offseason.
8. Arizona Cardinals: Tristan Wirfs, OT, Iowa
Arizona will likely add a Tackle here at #8 before they take a wideout, especially now that they added DeAndre Hopkins. Tristan Wirfs, Jedrick Wills Jr., and Mekhi Becton all have a legit case as to why they could be the best O-Lineman in the class, and Wirfs is the highest on my new Big Board.
9. Jacksonville Jaguars: Javon Kinlaw, DL, South Carolina
Jacksonville cut Marcell Dareus and I don't think new signing Al Woods is the final piece to improving their D-Line. Kinlaw's one of the top players available here and a better value than CB CJ Henderson, the top player at their other biggest need.
10. Cleveland Browns: Mekhi Becton, T/G, Louisville
Cleveland needs help across pretty much their whole O-Line, and even though they signed RT Jack Conklin to a big deal, Mekhi Becton still makes the most sense: he's one of the best players available, and unlike Jedrick Wills Jr., Becton has the size of a Left Tackle, the game of a Right Tackle and the flexibility to move inside to Guard as well.
11. New York Jets: Jedrick Wills Jr., T, Alabama
The Jets will be tempted to add another receiving weapon for Sam Darnold, but the value Jedrick Wills Jr. provides as a potential starter at multiple spots along the O-Line is the smart call.
12. Las Vegas Raiders: Jerry Jeudy, WR, Alabama
The Raiders have needed a new WR1 since trading away Amari Cooper, and they have a toss-up between Jerry Jeudy and CeeDee Lamb, two potential WR1's, here at #12. Jeudy still holds on to the top spot by the slightest of margins.
13. Indianapolis Colts: Jordan Love, QB, Utah State
Taking whichever receiver Las Vegas doesn't is one smart play, but even with Phillip Rivers as the 2020 option, it would be difficult to pass up on a potential decent starting QB in Jordan Love.
14. Tampa Bay Buccaneers: Andrew Thomas, OT, Georgia
Tampa pulled off the unthinkable by signing Tom Brady; now they better protect him. Thomas isn't the top Tackle prospect anymore, but he's definitely still one of the best players available and boasts starting potential at both Tackle spots.
15. Denver Broncos: CeeDee Lamb, WR, Oklahoma
Sure, Denver could still take the speedy option in Henry Ruggs III here, but the smarter play is to take the only all-purpose WR1 option left - CeeDee Lamb. If Lamb's gone by 15, I'd be confident enough to pencil in Ruggs right away.
16. Atlanta Falcons: CJ Henderson, CB, Florida
Atlanta was weak in the secondary before they cut Desmond Trufant, and they haven't brought in any new talent at Cornerback. Henderson's standout combine solidified his spot as the top Cornerback in the class, and he's still available here at #16.
17. Dallas Cowboys: K'Lavon Chaisson, OLB, LSU
Dallas needs edge-rushing help and K'Lavon Chaisson is an excellent, high-potential option here at #17. Fellow pass rusher AJ Epenesa, CB's Kristian Fulton and Trevon Diggs and Safety Xavier McKinney are additional solid options.
18. Miami Dolphins: Henry Ruggs III, WR, Alabama
Miami could hold off and take another receiver at #26, but they're assuming RB D'Andre Swift will still be available there and Henry Ruggs III bears game-changing speed. Plus, he could reunite with his college Quarterback Tua Tagovailoa ASAP.
19. Las Vegas Raiders: Kenneth Murray, LB, Oklahoma
Vegas could take a Cornerback here and Kristian Fulton is probably good enough to take at #19, but Murray's the best Inside Linebacker in the class and could be the fix for the Raiders' failed Vontaze Burfict experiment.
20. Jacksonville Jaguars: Xavier McKinney, S, Alabama
Jacksonville needs playmakers on defense, especially after shedding Jalen Ramsey, AJ Bouye, Calais Campbell and Marcell Dareus. Their two top Safeties are Jarrod Wilson and Ronnie Harrison, so adding Harrison's former college teammate here for talent, speed and playmaking ability in the secondary is a no-brainer.
21. Philadelphia Eagles: Justin Jefferson, WR, LSU
Philly needs receiving help and that was before they let Nelson Agholor walk. Jefferson is the best receiver left (sorry, Tee Higgins) and the last true potential WR1, in my humble opinion.
22. Buffalo Bills: AJ Epenesa, Edge, Iowa
I marked Edge rusher as Buffalo's biggest need, and adding 32-year-old Mario Addison isn't the final piece of the puzzle. Epenesa's lackluster combine dropped him out of Top 10 consideration, but he's still the best edge rusher available and could lead the Bills in sacks come fall.
23. New England Patriots: Zach Baun, OLB, Wisconsin
If New England really loves Jacob Eason, they could reach for him here. Otherwise, it's adding another receiving target or adding help across Linebacker. Baun is the type of speed-first edge rusher that Bill Belichick loves, especially to replace Jamie Collins, but ILB Patrick Queen and WR's Tee Higgins, Brandon Aiyuk, Laviska Shenault Jr. and Denzel Mims are all excellent candidates here.
24. New Orleans Saints: Tee Higgins, WR, Clemson
Receiver is a bigger need than Cornerback for New Orleans, and Tee Higgins is an excellent value and a bonafide vertical threat still on the board at #24.
25. Minnesota Vikings: Kristian Fulton, CB, LSU
Minnesota lost Xavier Rhodes, Trae Waynes and Mackenzie Alexander in less than a month. Kristian Fulton is a better high-volume Cornerback option over Trevon Diggs, AJ Terrell, Jeff Gladney and Noah Igbinoghene.
26. Miami Dolphins: D'Andre Swift, RB, Georgia
Miami's decision to hold off on Swift paid off, as now they can add yet another top offensive weapon to their star-studded 2020 draft class.
27. Seattle Seahawks: Yetur Gross-Matos, Edge, Penn State
Seattle tried to take their next big edge rusher last year by picking LJ Collier in the first round, but as I predicted, he was the biggest first-round bust of the class. Gross-Matos is a proven producer off the edge, and hopefully the combination of him and a second-year Collier can eat up the Jadeveon Clowney reps they'll sorely miss come fall.
28. Baltimore Ravens: Patrick Queen, LB, LSU
Baltimore should be thrilled Patrick Queen is still left at #28. He's a borderline Top 20 talent and they haven't replaced Patrick Onwuasor at Inside Linebacker.
29. Tennessee Titans: Josh Jones, T, Houston
There are edge rushers and Cornerbacks that might tempt Tennessee here, but for who's left on the board, taking Josh Jones to replace the departed Jack Conklin is the smartest call.
30. Green Bay Packers: Brandon Aiyuk, WR, Arizona State
I don't think any Tight End is worth reaching for here, and since Kenneth Murray and Patrick Queen are both gone, there isn't an Inside Linebacker option worth taking either. Wide Receiver is the perfect choice, and Brandon Aiyuk has an edge over Denzel Mims for the best wideout available.
31. San Francisco 49ers: Ross Blacklock, DL, TCU
The 49ers don't have a ton of holes, and while I had Safety as their biggest need, they traded DL DeForest Buckner to Indianapolis and re-signed S Jimmie Ward. This being considered, San Fran may want to fill Buckner's void right away and Ross Blacklock is a solid value here.
32. Kansas City Chiefs: Trevon Diggs, CB, Alabama
Kansas City let Kendall Fuller, Bashaud Breeland, and Morris Claiborne walk away, all while signing... no one. Cornerback is the position to fill here and Trevon Diggs is arguably the best player available. AJ Terrell, Jeff Gladney, and Noah Igbinoghene are three other corners that would also make sense if they prefer a different type of Cornerback.
SECOND ROUND:
33. Cincinnati Bengals: Austin Jackson, T, USC
34. Indianapolis Colts: Jalen Reagor, WR, TCU
35. Detroit Lions: Grant Delpit, S, LSU
36. New York Giants: A.J. Terrell, CB, Clemson
37. Los Angeles Chargers: Cesar Ruiz, C, Michigan
38. Carolina Panthers: Jeff Gladney, CB, TCU
39. Miami Dolphins: Grant Delpit, S, LSU
40. Arizona Cardinals: Jonathan Taylor, RB, Wisconsin
41. Cleveland Browns: Antoine Winfield Jr., S, Minnesota
42. Jacksonville Jaguars: Jaylon Johnson, CB, Utah
43. Chicago Bears: Cole Kmet, TE, Notre Dame
44. Indianapolis Colts: Ezra Cleveland, OT, Boise State
45. Tampa Bay Buccaneers: Noah Igbinoghene, CB, Auburn
46. Denver Broncos: Damon Arnette, CB, Ohio State
47. Atlanta Falcons: Malik Harrison, LB, Ohio State
48. New York Jets: Laviska Shenault Jr., WR, Colorado
49. Pittsburgh Steelers: Neville Gallimore, DT, Oklahoma
50. Chicago Bears: Kyle Dugger, S, Lenoir-Rhyne
51. Dallas Cowboys: Lloyd Cushenberry III, C, LSU
52. Los Angeles Rams: Isaiah Wilson, T, Georgia
53. Philadelphia Eagles: JK Dobbins, RB, Ohio State
54. Buffalo Bills: Clyde Edwards-Helaire, RB, LSU
55. Baltimore Ravens: Julian Okwara, Edge, Notre Dame
56. Miami Dolphins: Denzel Mims, WR, Baylor
57. Houston Texas: KJ Hamler, WR, Penn State
58. Minnesota Vikings: Marlon Davidson, DE, Auburn
59. Seattle Seahawks: Cameron Dantzler, CB, Mississippi State
60. Baltimore Ravens: John Simpson, G, Clemson
61. Tennessee Titans: Terrell Lewis, OLB, Alabama
62. Green Bay Packers: Raekwon Davis, DL, Alabama
63. Kansas City Chiefs: Jordyn Brooks, LB, Texas Tech
64. Seattle Seahawks: Prince Tega Wanogho, T, Auburn
THIRD ROUND
65. Cincinnati Bengals: Adam Trautman, TE, Dayton
66. Washington: Michael Pittman Jr., WR, USC
67. Detroit Lions: Tyler Biadasz, C, Wisconsin
68. New York Jets: Josh Uche, OLB, Michigan
69. Carolina Panthers: Netane Muti, G/C, Fresno State
70. Miami Dolphins: Lucas Niang, T, TCU
71. Los Angeles Chargers: Curtis Weaver, Edge, Boise State
72. Arizona Cardinals: Chase Claypool, WR, Notre Dame
73. Jacksonville Jaguars: Bradlee Anae, DE, Utah
74. Cleveland Browns: Cam Akers, RB, Florida State
75. Indianapolis Colts: Hunter Bryant, TE, Washington
76. Tampa Bay Buccaneers: Jacob Eason, QB, Washington
77. Denver Broncos: Shane Lemieux, G, Oregon
78. Atlanta Falcons: Troy Dye, LB, Oregon
79. New York Jets: Bryce Hall, DB, Virginia
80. Las Vegas Raiders: Jalen Hurts, QB, Oklahoma
81. Las Vegas Raiders: Stanford Samuels III, DB, Florida State
82. Dallas Cowboys: Donovan Peoples-Jones, WR, Michigan
83. Denver Broncos: Jordan Elliott, DT, Missouri
84. Los Angeles Rams: Zack Moss, RB, Utah
85. Detroit Lions: Jabari Zuniga, Edge, Florida
86. Buffalo Bills: James Lynch, DL, Baylor
87. New England Patriots: Ashtyn Davis, S, California
88. New Orleans Saints: Solomon Kindley, G, Georgia
89. Minnesota Vikings: Tyler Johnson, WR, Minnesota
90. Cleveland Browns: Jake Fromm, QB, Georgia
91. Las Vegas Raiders: Robert Hunt, G/T, UL-Lafayette
92. Baltimore Ravens: Devin Duvernay, WR, Texas
93. Tennessee Titans: Troy Pride Jr., CB, Notre Dame
94. Green Bay Packers: Brycen Hopkins, TE, Purdue
95. Denver Broncos: Lynn Bowden Jr., WR, Kentucky
96. Kansas City Chiefs: Jeremy Chinn, S, Southern Illinois
97. Cleveland Browns: Anfernee Jennings, OLB, Alabama
98. New England Patriots: Albert Okwuegbunam, TE, Missouri
99. New York Giants: Jason Strowbridge, DE, North Carolina
100. New England Patriots: Matt Hennessy, C, Temple
101. Seattle Seahawks: Logan Stenberg, G, Kentucky
102. Pittsburgh Steelers: Harrison Bryant, TE, Florida Atlantic
103. Philadelphia Eagles: Logan Wilson, LB, Wyoming
104. Los Angeles Rams: Rashard Lawrence, DL, LSU
105. Minnesota Vikings: Leki Fotu, DL, Utah
106. Baltimore Ravens: Hakeem Adeniji, RT/G, Kansas