Packers Training Camp by Position: Special Teams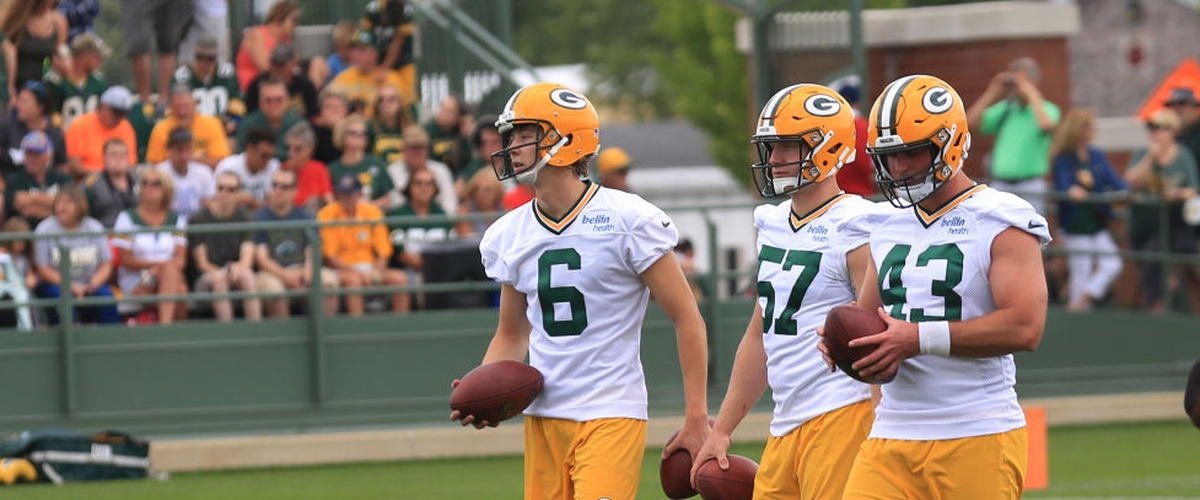 This one will be quick, as the two most relevant of the three special teams positions are already decided. Mason Crosby is killing it in his 12th training camp, and J.K. Scott is already showing why Green Bay was smart to use a 6th-rounder on a Punter. Long Snapper is the only question mark, and both Hunter Bradley and Zach Triner would be okay selections. While special teams may decide which fringe roster players make the active roster (CB Quinten Rollins, FS Jermaine Whitehead, SS Marwin Evans, and WR Trevor Davis especially), the actual special teams-designated postions are all but filled.
SPECIAL TEAMS
Mason Crosby, K - 33, 12th season, 176 starts, $5.25M Salary
Crosby booted two field goals over 50 Yards against Pittsburgh last night, proving the 33-year-old is still deserving of his relatively large salary for a kicker. Only injuries would derail another successful year in the green and gold.
JK Scott, P - 21, Rookie, $534K Salary
Many fans weren't too happy that Green Bay used a 6th-rounder on a Punter, but Scott shut them up very quickly in camp. His hang times are impeccable, and he's blasting 60+ Yard punts everyday in practice. The Pack haven't had a long-term otpion at Punter since Jon Ryan, and if JK Scott stays healthy and carries his camp form into the regular season, we're looking at a minimum of four years of Scott as the Punter.
Hunter Bradley, LS - 24, Rookie, $499K Salary
Bradley became one of a handful of Long Snappers selected in the NFL Draft when the Packers used a 7th-rounder on him back in April. He's overcome his collegiate knee issues, but scouts have taken notice of his inconsistent snapping. Zach Triner was the starting Long Snapper last night against Pittsburgh, so if I were a betting man, I'd say he's losing the race to make the active roster right now.
Zach Triner, LS - 27, 2nd season, 0 starts, $480K Salary
Triner made some flawless snaps to Mason Crosby in a couple of his first half field goals against Pittsburgh last night. His first time making it on an NFL roster was OTA's in the spring of 2017 with the Jets, and he's currently slotted to make his first active roster over draftee Hunter Bradley come September. It's his job to lose.
SUMMARY:
Mason Crosby: Kicker
JK Scott: Punter
Zach Triner: Long Snapper
Hunter Bradley: Misses the cut, decent option on another team's practice squad