FullerMetrics NFL Mock Draft 3.0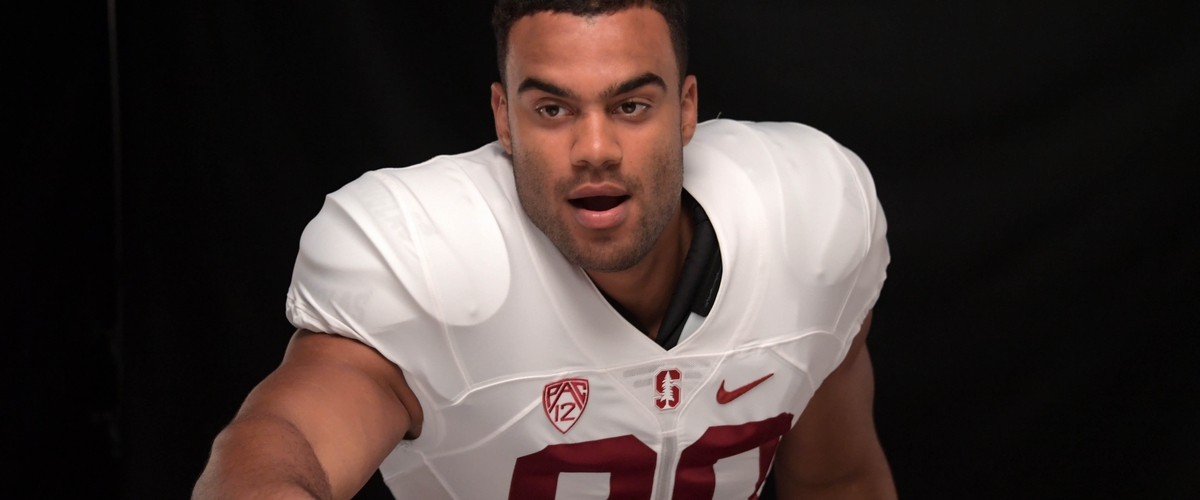 I'm baaaaack! After some technical difficulties and revamping of the SportsBlog formatting, I'm here to finally deliver my third NFL Mock Draft. BOY have things changed since 2.0. This is so dated, Sidney Jones is still at #14. I don't know how different things will be between this edition and the following edition even closer to the draft, but from all of the sources I've heard this week, this might be the hardest draft to predict in many, many years. Well, let's try!
1. Cleveland Browns: Myles Garrett, DE/OLB, Texas A&M
Hey, this one I know. This is still the consensus pick, and there's no evidence saying otherwise. Sure, Hue Jackson says he wants a QB, but honestly all of the QB's will likely still be available at #12. No-brainer here.
2. San Francisco 49ers: Solomon Thomas, DE, Stanford
In my last draft, Mitch Trubisky went here. Ron Jaworski doesn't even think a QB will go in the first round anymore. I'm not THAT extreme, but Brian Hoyer was signed and I'm all for the new popular pick here in Solomon Thomas. When I put Thomas at #9 a month ago, many others didn't even have him in the Top 10 at all. Coming from nearby Stanford, I love Thomas and he's a good fit for their young defense. This is the second safest pick.
3. Chicago Bears: Jamal Adams, S, LSU
Now the variety begins. This one isn't the hardest, but Jamal Adams and previous pick Jonathan Allen are both strong candidates. Hell even Mel Kiper has a different safety in Malik Hooker going here. From what I've heard, safety is a bigger priority and while Adams had a monster pro day, Allen most certainly did not. Jamal Adams it is.
4. Jacksonville Jaguars: Leonard Fournette, RB, LSU
Jamal Adams went here before and he's gone, so this will be new automatically. For a bit of time in between mock drafts, I had Leonard Fournette going here, but the Jags need D-Line too and Jonathan Allen is still here. Allen DID have an awful pro day, and Chris Ivory and T.J. Yeldon combined for fewer than 1,000 yards. Looks like Fournette goes here.
5. Tennessee Titans: Marshon Lattimore, CB, Ohio State
Yeah, no way Reuben Foster is going this early anymore. Both Todd McShay and Mel Kiper have Marshon Lattimore going here, and I couldn't agree more. Yes, receiver and tight end are bigger needs, but out of Mike Williams, Corey Davis and O.J. Howard, none are worth stretching for at #5. Plus, they can get a great value at either position at #18.
6. New York Jets: Malik Hooker, S, Ohio State
The Jets don't have the stones to get a QB here, and Lattimore is gone. They need an arm, but they also need help at RB, WR, CB, S and LB. Out of those positions, S Malik Hooker from Ohio State is the best player left on the board. Looks like the Buckeyes are going back-to-back.
7. Los Angeles Chargers: Jonathan Allen, DL, Alabama
Previous pick Malik Hooker is gone, and if the Jets aren't stretching for a receiver at #6, the Chargers are unlikely to at #7. Jonathan Allen is a versatile D-Lineman and arguably the best talent on the board, so in a case of "best vs. stretch," best wins this time.
8. Carolina Panthers: Derek Barnett, DE, Tennessee
Man, they wish Leonard Fournette was still on the board. Carolina's three best pass rushers are all over 30, so youth on the edge is a need. I don't see them stretching for Christian McCaffrey or Dalvin Cook either. Derek Barnett had a monster pro day, and I'd take him over Take McKinley or Taco Charlton here.
9. Cincinnati Bengals: Reuben Foster, ILB, Alabama
In March, I had them getting Solomon Thomas. Now, they're not so lucky. Reuben Foster is still on the board here, and he's a good value for a big need the Bengals have at ILB. A receiver in Corey Davis or Mike Williams could go here too, but for now, Foster hasn't dropped THAT far from his previous #5.
10. Buffalo Bills: Mike Williams, WR, Clemson
Tyrod Taylor needs another weapon, and Buffalo could go with Mike Williams, Corey Davis or O.J. Howard. I STILL like the Bills taking another Clemson catcher and have Williams here. This is likely the only other repeat from the 2.0 mock.
11. New Orleans Saints: Haason Reddick, LB, Temple
The Saints have needs at every line of defense, and could use a younger QB. Out of what's available, there's about five or six guys that could go here. Enter Haason Reddick. Talk about a rise from #27 in March, Reddick had a great combine and has proven his versatility and potential across the linebacker position. This pick could very well change, but I like it for now.
12. Cleveland Browns: Mitch Trubisky, QB, North Carolina
Yes, Hue Jackson will finally get his QB. Whether it'll be Mitch Trubisky or Deshaun Watson will be a different story. For now, I've heard Trubisky being mentioned a lot with Hue, so in a coin toss, he's the pick here.
13. Arizona Cardinals: Corey Davis, WR, Western Michigan
Looks like there's another repeat after all. Yes, they could go QB here, but they could likely get DeShone Kizer in the second round, so Deshaun Watson and Pat Mahomes aren't going this early. They need another offensive weapon before they take a corner (sorry Gareon Conley), and while O.J. Howard is still on the board, Jermaine Gresham is still a decent TE and behind Larry Fitz and John Brown, the Cards have absolutely no one.
14. Philadelphia Eagles: Gareon Conley, CB, Ohio State
Back in March, I had Sidney Jones going here and Gareon Conley wasn't even amongst my Top 50 players. One great pro day and Achilles rupture later, and the two have flip-flopped positions. The need at corner is greater than running back (sorry McCaff).
15. Indianapolis Colts: Forrest Lamp, G/C, Western Kentucky
This is the hardest pick yet. Dalvin Cook will not be here in 3.0, as he might slip out of the first round and they could get a good value at RB on the second day of the draft (think Jordan Howard). They need to protect
Andrew Luck ASAP, and they struck gold with the interior line last year with Ryan Kelly. Sure, they could reach for an OT in Cam Robinson, Garrett Bolles or Ryan Ramczyk, but I don't see any of those three going in the top 20. This pick is undoubtedly subject to change.
16. Baltimore Ravens: Takkarist McKinley, OLB, UCLA
This will likely go one of two ways. Either they'll go edge, where it's either Takk McKinley or Taco Charlton (Derek Barnett is off the board in 3.0). They could go WR and get John Ross here, but some think that's a stretch and even if he's talented enough, they'd basically be getting another Breshad Perriman. No added dimension in the receiving game. Takk has more hype right now, so he's the man here.
17. Washington Redskins: Christian McCaffrey, RB, Stanford
The Skins could take a few different avenues here. Sure, they could get a QB if they don't extend Kirk Cousins. They filled ILB (Zach Brown) so some D-Line help, interior O-Line and Running Back are valid options. Malik McDowell and Caleb Brantley are stretches here, and Forrest Lamp is gone. They could get a potential huge playmaker and one of the best players on the board here at #17 with McCaff.
18. Tennessee Titans: O.J. Howard, TE, Alabama
Damn, this one is a toss-up. They filled CB so now they need another weapon for Marcus Mariota. They could get a huge speed weapon with John Ross, or they could get a freak talent at TE with O.J. Howard. Yes, I know they have Delanie Walker, but they run Pro sets with two TE's and Walker is reaching his mid-30's. Howard is a steal here and Ross is still a bit of a stretch. Very surprised this pick repeated.
19. Tampa Bay Buccaneers: David Njoku, TE, Miami (FL)
The Bucs have a better team than usual this year. They could use another Tackle, and all of them are still on the board. Another RB option is a decent route too, but the in-state man David Njoku is a solid TE option as another weapon (joining Mike Evans and DeSean Jackson) for Jameis Winston.
20. Denver Broncos: Garrett Bolles, OT, Utah
This is the third mock where Denver is going OT at #20. No change as far as hype, so Garrett Bolles is still the man here.
21. Detroit Lions: Taco Charlton, DE, Michigan
It looks more like Detroit is addressing the pass rush over the O-Line at #21, and Taco Charlton is in-state, an excellent fit and the best edge guy left.
22. Miami Dolphins: Tre'Davious White, CB, LSU
Miami is a wild card here. Laremy Tunsil is moving to LT, so if Forrest Lamp was left, he'd go here. They stocked up at linebacker, so they could use corner help still. Tre'Davious White right now is the highest-rated corner left if you average out a variety of analyst's big boards. Pretty much whoever is the #3 corner behind Marshon Lattimore and Gareon Conley on Draft Day will go here. That could easily be Kevin King or Marlon Humphrey too.
23. New York Giants: Ryan Ramczyk, OT, Wisconsin
There's about four or five positions the Giants could fill here. They could take a running back, but with Dalvin Cook and Alvin Kamara both dropping, all the first round talents are gone. They could use help across the board at linebacker, and Jarrad Davis would be a solid fit. Right Tackle is a need since Marshall Newhouse left to Oakland, and Cam Robinson and Ryan Ramczyk are both still here. McShay and Kiper both have Jarrad Davis going here, but I'm sticking with my gut today and going with a RT with no character issues: Ryan Ramczyk
24. Oakland Raiders: Marlon Humphrey, CB, Alabama
The Soon-to-be-Las Vegas Raiders will most likely be signing Marshawn Lynch in the coming days, so that hole will be filled. Corner is still the biggest concern, and it's "next man up" at CB. Marlon Humphrey seems like a good fit, if they don't go with Kevin King.
25. Houston Texans: Cam Robinson, OT, Alabama
If the Texans don't take a QB here (cough Mahomes cough), then Right Tackle is the biggest concern for Houston. Bolles and Ramczyk are gone, and Robinson could move inside if RT doesn't pan out.
26. Seattle Seahawks: Kevin King, CB, Washington
I don't see Seattle as having any "needs" necessarily, but they could use help on the O-Line, secondary and the interior D-Line. McShay had DT Malik McDowell, but I'm not certain he's going in the first round. Almost all the NFL.com analysts have a secondary member, and as well as Kiper, they have Kevin King going here. He's an excellent fit and the best corner left, so a no-brainer really.
27. Kansas City Chiefs: Deshaun Watson, QB, Clemson
Many reports have made it clear that Alex Smith is not the long-term guy. I actually think they could go with a lower-talent/higher-upside QB like DeShone Kizer, but Watson is the next best QB and could grow well in their system. With no pressing needs, this decision is made easier.
28. Dallas Cowboys: Jabrill Peppers, S, Michigan
Here's another team with no pressing needs. They could use another corner with Brandon Carr and Morris Claiborne departing, so Quincy Wilson or Adoree Jackson could go here. They also could use a safety, and Jabrill Peppers is a pressing playmaker that they could easily take a risk on in this defense. Hell, they just need someone to stay healthy in the secondary.
29. Green Bay Packers: Joe Mixon, RB, Oklahoma
Now it's personal. They could add an OLB as insurance for a slumping Clay Matthews, but it's not a NEED since Nick Perry returns and I like Jayrone Elliott. D-Line was an option, but Ego Ferguson and Ricky Jean Francois filled that in Free Agency. We need a new starting RG because n Barclay sucks, but Forrest Lamp is gone and he's the only interior lineman worth taking Day 1. That leaves CB and RB. Both positions could use veteran aid over a rookie, but SOMEBODY has to go here. As weird as it is, I'm taking Joe Mixon over Dalvin Cook. Mixon worked out in Green Bay and from what I heard, they really liked him. It's a stretch here, but hey, this isn't the last one.
30. Pittsburgh Steelers: Charles Harris, OLB, Missouri
Lawrence Timmons is gone and James Harrison has no more than one good year left, so OLB is the biggest need. The best edge rusher left is Missouri's Charles Harris, and he's a pretty good fit too.
31. Atlanta Falcons: T.J. Watt, OLB, Wisconsin
Another super talented team with very few needs. They could use a playmaker off the edge or interior D-Line. A guard could go here too. I just don't think Dion Dawkins, Dan Feeney or Taylor Moton are good enough to go in the first. Malik McDowell or Caleb Brantley could go for DT, but OLB T.J. Watt is a solid playmaker here and the talent level is appropriate for #31.
32. New Orleans Saints: John Ross, WR, Washington
The Pats still had this pick in 2.0, so this is new territory. Brandin Cooks was traded to obtain this pick, and if they want to make the most of Drew Brees' final years, they'll need someone to throw to. In this scenario, John Ross drops all the way here, so he's not escaping the first round. If he's gone, Zay Jones is the only other WR worth stretching for at #32.
SECOND ROUND:
33. Cleveland Browns: Dalvin Cook, RB, Florida State
34. San Francisco 49'ers: Obi Melifonwu, S, Connecticut
35. Jacksonville Jaguars: Evan Engram, TE, Ole Miss
36. Chicago Bears: Quincy Wilson, CB, Florida
37. Los Angeles Rams: Adoree Jackson, CB, USC
38. Los Angeles Chargers: Zay Jones, WR, East Carolina
39. New York Jets: Pat Mahomes, QB, Texas Tech
40. Carolina Panthers: Taylor Moton, G/T, Western Michigan
41. Cincinnati Bengals: Malik McDowell, DT, Michigan State
42. New Orleans Saints: Budda Baker, S, Washington
43. Philadelphia Eagles: Alvin Kamara, RB, Tennessee
44. Buffalo Bills: Zach Cunningham, ILB, Vanderbilt
45. Arizona Cardinals: DeShone Kizer, QB, Notre Dame
46. Indianapolis Colts: Tyus Bowser, OLB, Houston
47. Baltimore Ravens: JuJu Smith-Schuster, WR, USC
48. Minnesota Vikings: Dion Dawkins, G/T, Temple
49. Washington Redskins: Caleb Brantley, DT, Florida
50. Tampa Bay Buccaneers: Dan Feeney, G, Indiana
51. Denver Broncos: Adam Shaheen, TE, Ashland
52. Cleveland Browns: Marcus Williams, S, Utah
53. Detroit Lions: Curtis Samuel, RB/WR, Ohio State
54. Miami Dolphins: Jarrad Davis, LB, Florida
55. New York Giants: Samaje Perine, RB, Oklahoma
56. Oakland Raiders: D'Onta Foreman, RB, Texas
57. Houston Texans: Chidobe Awuzie, DB, Colorado
58. Seattle Seahawks: Tim Williams, OLB, Alabama
59. Kansas City Chiefs: Josh Jones, S, North Carolina State
60. Dallas Cowboys: Jordan Willis, DE, Penn State
61. Green Bay Packers: Cooper Kupp, WR, Eastern Washington
62. Pittsburgh Steelers: Chris Wormley, DL, Michigan
63. Atlanta Falcons: Fabian Moreau, CB, UCLA
64. Carolina Panthers: Justin Evans, S, Texas A&M
Questions? Comments? Concerns? Please let me know!
Thank You and God Bless,
Samuel R. Fuller
---