Maple Leafs Edition: Toronto's Missed Opportunity to Cash in on James van Riemsdyk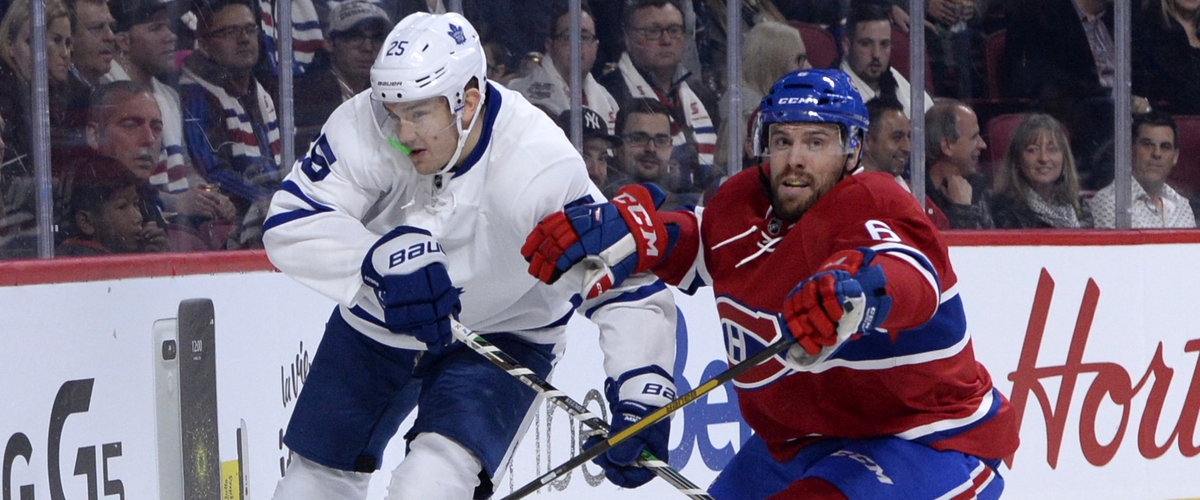 Now that the dust has settled and Maple Leaf fans can finally begin to process the crushing defeat their team endured in a Game 7 shootout with the Boston Bruins, we can finally analyze and reflect back on what really was a sensational season for the Leafs. For an extremely young team composed of a "Big 3" all aged 21 and under, the Leafs have taken massive steps compared to just last season when they qualified for the post season for the first time since 2013 (Heads up, we won't talk about how those playoffs went- still have NOT processed that one... ANYWAYS). In the 2017-18 season, the Leafs finished in the top 3 of their division while accumulating 105 points and 49 wins. As someone who has followed the Leafs since I could walk, talk, and could somewhat understand what hockey was about, I have had to endure some dreadful, dreadful teams... I'm talking like the Cleveland Browns of hockey, a full blown laughing stock, remember that fun year when Rolling Stone made it's first ever magazine? Yeah mean either, because that's the last time we won a cup so... yeah- its been bad. However, to put it in perspective, this new-look Maple Leafs team is, by a country mile, the most promising I've ever seen in my life time. In addition, when it comes to the Leafs or sports in general, I've always got something to complain about- so here it is!
So, to give some background context before I get into my argument, let me start by saying what James van Riemsdyk did for the Leafs this year was not only incredible, but also an irreplaceable component to the team's overall success this season. By the end of the year, Van Riemsdyk, better known as "JVR" to Leafs nation, racked up a career high 36 goals along with a solid 54 points. JVR is at his best when he's operating within inches of the blue paint (mainly on the power play) where he is known for his incredibly soft hands, big body making it difficult for defenders to get him out of the way, and his ability to supply a screen in front of the net. However, despite his contribution and elite skill set, with his contract expiring on July 1st of this year and what seems to be a fairly unanimous consensus that he will hit the open market, the reasoning for the Leafs keeping him past the 2018 trade deadline is quite confusing-and here's why:
For anyone who got a glimpse of the Leafs defensive play this year, in both the regular season and playoffs, it's fair to say their defensive core along with the defensive play of their forwards, was below average and at best average. The Leafs rank around the middle of the league when it comes to overall defence but are amongst the worst in terms for shots for/shots against ratio. In addition to statistics, the Leafs have shown incompetence on the back end all year long. The team has struggled with clearing the puck out of their own zone, defensive positioning, and shutting down and disrupting cycles. In addition, it is quite evident the team also lacks a physical element in which forwards of opposing teams have had their way with bullying not so physical Maple Leaf defenceman- which was shown on full display against a bigger Boston Bruin team. With that being said, you'd think Lou Lamoriello and co. would think of upgrading their defence in time for the playoffs, no? Well, to put it bluntly- they didn't. According to Lamoriello, the price to acquire was too high and just didn't make sense or fit in with the Leafs long term plans. Now, I totally agree with this sentiment. No sense in acquiring a short term D man for a playoff run in which the team is not ready to be a true, bonafide Stanley Cup contender in contrast to some more experienced and well rounded teams like Boston, Nashville, Tampa Bay, Pittsburgh, and so on. So, the question I have is, if you decided not to acquire a defence man that would address the team's obvious weakness, why didn't you sell JVR, accumulate assets, and then ride it out, just like the original plan had intended to do?
Now, I understand the perspective of those who say "you can't give up a 36 goal guy!" because obviously that would leave a huge hole in the line up and would be an extremely difficult position to live up to. But if we look at comparable deals for forwards that transpired at the deadline, and more importantly, what they garnered in return, we would see that selling JVR would have fetched a significant return contingent on the fact he will more than likely walk on July 1 as an impending UFA. Here are a few returns on deals for players that have been vastly out performed by JVR:
DET Acquires:
1st round pick (2018)
2nd round pick (2019)
3rd round pick (2021)
VGK Acquires:
Tomas Tatar (82GP 20G 14A 34PTS)
-----------------------
NYR Acquires:
1st round pick (2018)
Ryan Lindgren
Ryan Spooner
Matt Beleskey
7th round pick (2019)
BOS Acquires:
Rick Nash (71GP 21G 13A 34PTS)
A few things to point out here before I delve into these comparables. For one, I understand that the picks acquired are probably low first rounders along with a mixture of some salary dumps. However, the most significant thing to look at is how the Leafs approached the playoffs. As stated earlier, the biggest need was on the back end for the Leafs- yet they didn't upgrade. So if you're Lamoriello and co. you're essentially going into the playoffs with a hopeful attitude but not one where you feel the need to go all in- a.k.a a playoff run where more than likely, you truly don't believe its your year to win the Stanley Cup. At the end of the day, the Leafs are a young team still in the midst of a rebuild. What they have accomplished thus far should not be overlooked by a hypersensitive Toronto media that is constantly looking for a new story to write about. So, by that logic, the question remains: with JVR's contract expiring, with his return being deemed as highly unlikely, and management essentially taking a "lets wait and see" approach, why didn't the Leafs cash in on JVR for the future? Had they done that they could of easily gotten a return that would of been higher than both Detroit and New York's respectivley while still maintaining their original thought process and outlook going into the playoffs. But instead, JVR, a 36 goal winger will walk free and the Leafs did not get past the first round. Despite all this, I understand the Leafs wanted to assemble the most competitive roster they could going into the playoffs, but if you're not willing or able to upgrade your BIGGEST need on the back end, you clearly are not convinced that you are a Stanley Cup contender.
Furthermore, JVR averaged a shade less than 15:00 minutes per game. If we take a look at that stat, JVR slotted as 10th on the team in most ice time for a forward. TENTH. Despite him potting 36 goals, this stat screams out at the fact Mike Babcock basically viewed JVR as a defensive liability who can only be put out in offensive situations or on the power play. If you ask me, hauling in a first round pick and prospect(s), would have been a much better option for the Leafs as opposed to holding on to a piece that would not only leave at the end of the season, but was only utilized for one playoff round. Had the Leafs acquired picks and prospects for a valuable piece like JVR that would of undoubtedly been a big acquisition for a contending team that could use additional scoring (*cough San Jose, *cough Nashville), the Leafs could of used those assets in a possible package deal in a bigger summer trade that could of helped them solve some woes on the back end. All in all, the logic behind keeping JVR makes sense on one hand, but I truthfully think a trade for him would of been a much better move in the long run.