Your Father's Bowl Games, 25 Years Ago (1992-93), Part 1/3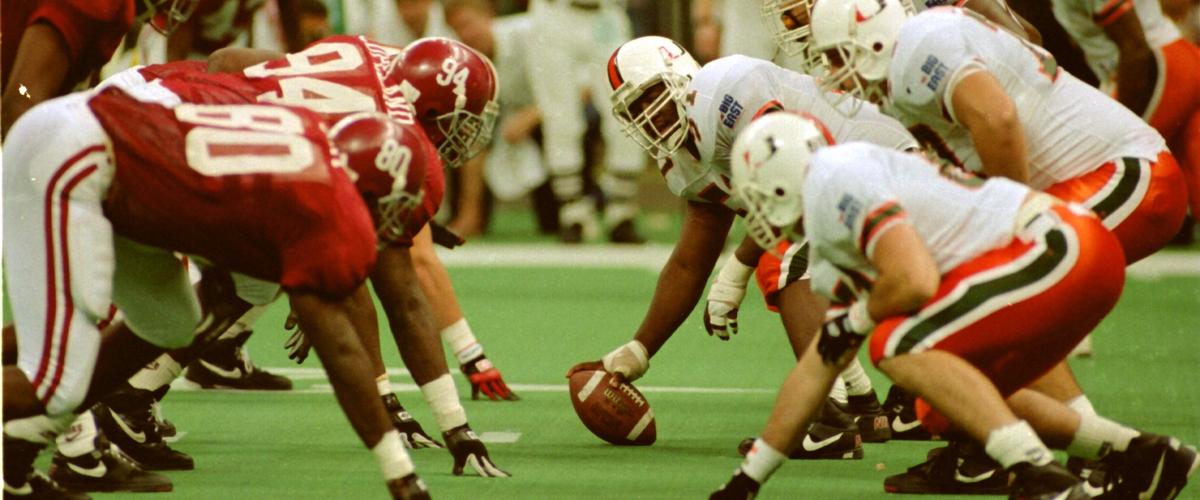 [NOTE: This is the most recent version of my occasional articles on the bowl games of previous generations, in which I examine the bowls held 25, 50, and 75 seasons prior to the current/most recently completed season. Prior articles can be found here. I hope to make it an annual feature of this blog. Due to the disparity in the number of games, there will be three articles about the games 25 years ago, and one each about the games 50 and 75 years ago.]
While most college students of the past two decades have taken the BCS/CFP structure of NCAA (Division I) FBS college football for granted, the means of determining the mythical "National Champion" was not always so matter-of-fact. Between the 1986-87 season, when consensus (AP/Coaches) #2 Penn State beat consensus #1 Miami-FL in the Fiesta Bowl, and the 1997-98 season, when the AP and Coaches polls chose different champions (Michigan and Nebraska, respectively), there was a move toward conference expansion (primarily by adding independent programs) and toward reworking the bowl system such that it would be more likely that the top two (ranked) teams at the end of the regular season would meet in a bowl game.
The Penn State/Miami Fiesta Bowl was the precursor to this, as it was specifically planned as a "National Championship Game" rather than just the "1987 Fiesta Bowl". However, the 1990-91 and 1991-92 season both ended with the AP and Coaches polls naming different champions (Colorado and Georgia Tech, respectively, in 1990-91; Miami-FL and Washington, respectively, in 1991-92). But with the wave of conference expansions and the advent of conference championship games, five of the seven major I-A (now FBS) conferences--along with still-independent Notre Dame--formed the Bowl Coalition beginning with the 1992-1993 season.
The five conference champions and Notre Dame (if it was bowl-eligible), as well as two at-large teams from the five conferences, were assigned to the four "Tier 1" bowls: Cotton, Fiesta, Orange, and Sugar. Additional teams were slotted into the three (then two) "Tier 2" bowls. So-called "mid-major" conference champions were completely left out of consideration for a championship, and not by accident.
The 1992-93 season saw the new 12-team SEC hold its first championship game, in which Alabama beat Florida, finishing #2 at the end of the regular season. Miami-FL, in its first year in the newly minted Big East football conference, ran the table and finished 11-0. Even though the Big East did not play a full conference schedule or name an official champion in its first year, Miami was considered the de facto champion by virtue of its undefeated conference record and its victories over new ACC member Florida State (then ranked #3) and new Big Ten member Penn State (then ranked #7).
Miami was the clear favorite going into the game, having been named AP champion the previous year and consensus champion in the 1987-88 and 1989-90 seasons. However, Alabama's defense shut down Heisman winner Gino Torretta and the Miami offense, while the Alabama running game shredded the Miami defense.
NEXT: The other "Bowl Coalition" bowl games of 1992-93, and the 1992-93 Rose Bowl.