Where is Eric Bledsoe headed?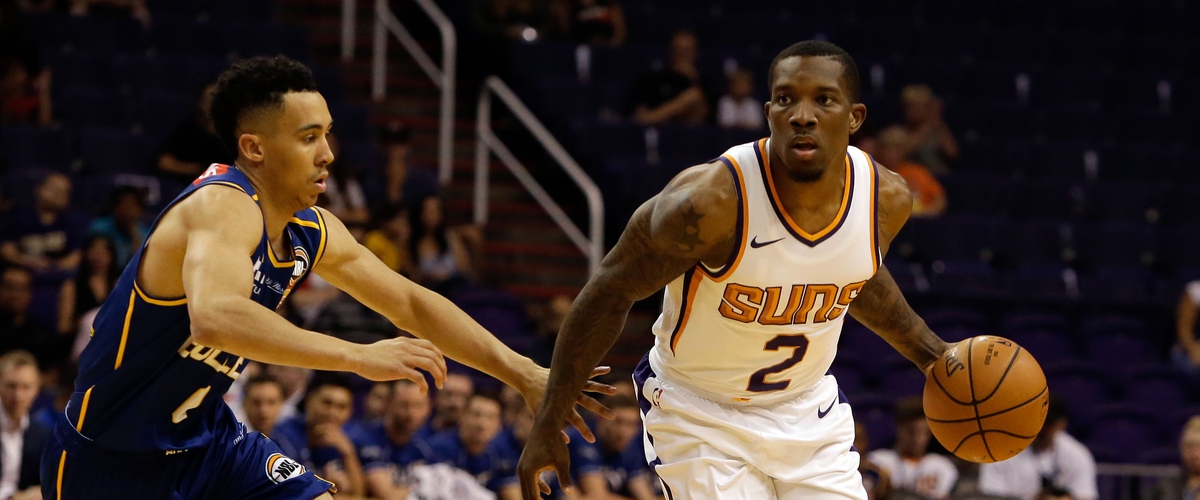 It's no surprise that Eric Bledsoe doesn't want to stay in Phoenix. They can't surround him with a cast that could make him into a star, they can't find him a coach that will make him thrive, and they certainly can't get him a star player to team up with him. Nothing's working, as shown evidently by the horrendous first two games of the season. The Suns have no bright future, and Bledsoe certainly isn't helping. To put icing on the cake, Bledsoe himself even tweeted out that he didn't want to play in Phoenix anymore (which has already received over 40,000 re-tweets.) So... where to?
Well, in order to find where he might be going, it's easiest to identify who needs him. There are several teams that could definitely use him, but only a few would thrive with him on the squad.
Denver Nuggets
The Nuggets are in a funny spot right now. They have been a lottery team for the past few years, and they've stacked up some pretty effective assets that could be detrimental toward their future. However, one thing they could definitely use is a proven veteran who is great right now, as a person to help lead the cast to success. Bledsoe could definitely be that guy.
As of right now, the only guy the Nuggets will keep absolutely is Jokic. The guy is a proven beast on the court, and having him on the team is basically cementing their future as a franchise. Despite this, however, they do have some other great young players on their team that could eventually become NBA all-stars. Mudiay and Murray are looking to be solid point guards, and their future is likely to be bright. Gary Harris and Beasley look very promising, and Will Barton has already proven himself as the perfect 6th man for Denver. Not to mention their selection of elite veterans, such as Chandler, Faried, and Millsap. It feels as though the trade would be perfect for Bledsoe.
Orlando Magic
Though I doubt this will happen, as Orlando doesn't have a lot to begin with, a trade to the Magic would be very helpful in Bledsoe's case. If he wants to be regarded as an NBA star, this will likely be the team in which he can prove himself.
As of right now, the starting point guard for the Magic is Elfrid Payton. Payton's not bad, mind you, but he's not star material. If he were a backup for Eric Bledsoe however, he would be in a position that would suit him much better. Not only that, but the Magic have gathered up some useful keys to their future. Aaron Gordon looks like a solid combo-forward, Evan Fournier looks quite promising for the near future, and Jonathan Simmons was a solid pickup during the off-season. Orlando has some solid assets to make a trade work, and still keep some solid players on the roster. Though this may be an unlikely choice, this is a very logical one.
Philadelphia 76ers
This is undoubtedly my wildcard. I came up with this team, because even though the chance of this trade happening is quite unlikely, this would probably be the most exciting trade of any that could be made in the league. Imagine if Joel Embiid had that second asset to make the Process even stronger for the future...
As of right now, the 76ers are the fastest changing team in the league, as they went from being a boring, uncaring team in 2016 to being an exciting, future-developing squad that's ready to take the NBA by storm in 2017. The team has kept some of their greatest assets from last year, including Robert Covington and T.J. McConnell. Aside from this, they have also added some new faces, such as J.J. Redick, and rookies Ben Simmons and Markelle Fultz. This is all included along with their main star, Joel Embiid. If Eric were to be traded along with some assets and some picks, the 76ers may have their point guard for the next few years, which could finally give them the push to the playoffs.
No team is perfect in this situation. No team ever is. But I think it's safe to say that some teams are more credible than others when it comes these decisions in specific scenarios, and in this one, the Nuggets, the 76ers, and the Magic are the most exciting. Regardless of whether or not he ends up in these 3 cities, I'm really enjoying being able to see just where he will end up.
- Mason Ocker, 10/24/17
Any questions, comments, or concerns? Tweet them to me, at @MasonOcker, or e-mail me through masonocker@gmail.com! Thanks!