An Unlikely Relationship: Dan Laing
From being in the backyard to the sandlot to the living room, everyone has at some point imitated the broadcaster on television that is doing the play by play for their favorite sports team. Whether it was Vin Scully, Hawk Harrelson, or even Jack Buck, everyone has had their own imitation or their own spin on those famous radio calls or TV moments. Growing up a San Diego Padres fan, Dan Laing always had that deep interest in sports, and on top of that he had a desire to do broadcasting. Now at Sirius XM Radio, Laing commends his mother for getting him on the right track to broadcasting.
"My mom said that if you want to do broadcasting you better get it together and think about it," said Laing. "I started at my high school, interning with the radio station there and I was just a statistician but slowly moved up to be the analyst." Laing didn't say much, with basketball not exactly his specialty, but over time he moved over to covering baseball and softball games, where it was a more comfortable feeling and something he knew well. Knowing that he wanted to build a future in broadcasting, he chose to continue school at University of Miami. Despite the jump into college, perhaps Laing's biggest accomplishment came when he built an unforgettable relationship with Hall of Fame outfielder Tony Gwynn, his childhood idol.
"I started getting credentials before I should've, back when I was in high school," he said with a smile on his face just thinking about it. Laing, now a broadcaster with the baseball department of Sirius Sports, resides just two blocks from Nationals Park. "In the sense of that, my first credential was probably at the age of 15. My first ever interview was Tony Gwynn. The reason I got that was because I built a relationship with Tony as a fan."
Tony Gwynn at the time was in the peak of his major league career with the San Diego Padres. A prolific hitter and regarded as one of the best at the time (and of all time), Laing had grown up watching Gwynn rise to stardom in San Diego. When he moved to Pennsylvania, his love for the Padres never diminished despite the hundreds of miles.
"Whenever the Padres would come east after we (my family) moved here, every time the Padres would come to Pittsburgh or Philadelphia or to New York we would go to those games." he said. With baseball running a 162 game season, and the west coast seeing the east coast over ten games apiece, Laing had numerous opportunities to socialize with professional athletes. "We would stay at the team hotel, I was one of those guys that was constantly down there to get autographs and meet the guys." However, when he was given the task of having to interview someone for a high school class assignment, he decided that he would try to use his constant accessibility to a team hotel to interview one of his idols - the late Tony Gwynn.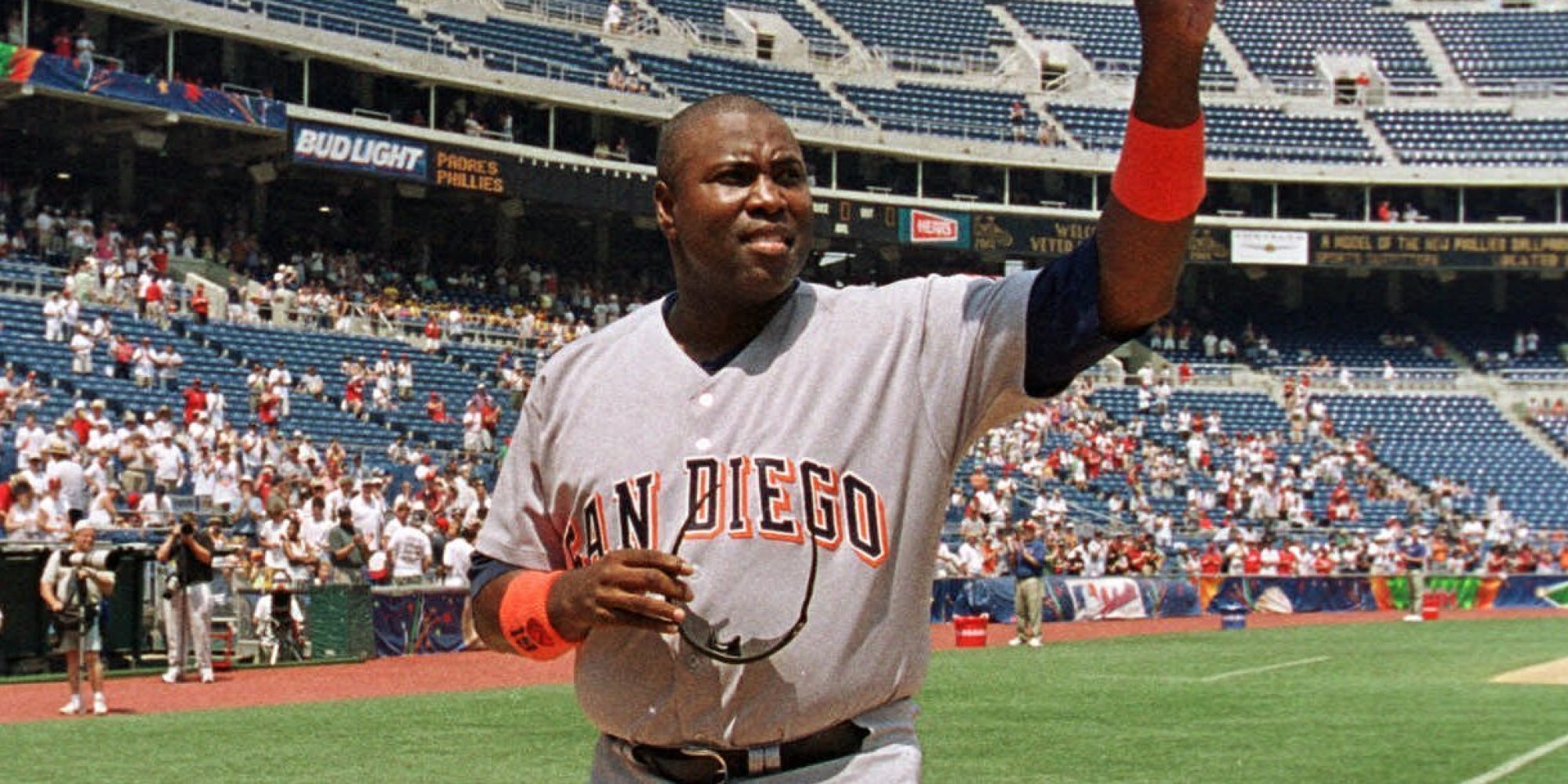 Tony Gwynn was Laing's childhood idol. At the time, he was a star outfielder for the San Diego Padres.
"It was amusing, here is a kid in Pennsylvania trying to interview a future Hall of Famer." he said thinking back. With big ambitions, he decided to call the Padres front office. After getting laughed at by the insane request, Laing decided to make an attempt to contact his wife Alicia. In a desperation attempt, Laing met with Alicia and after a few failed attempts she finally got through to her husband to try and get Tony to sit down and do an interview. It was not guaranteed, but it was a possibility. When it came to it, all he had to do was jog his memory when he saw him.
The next time Laing had a chance, it wasn't the optimal time.
That night Tony went 0-4 with a couple of strikeouts against the Phillies. A often routine night for a baseball player was something that Gwynn only did 34 times in his career, making it a rarity for him. Not the ideal time to talk to a player post game, but Laing decided he had to take a chance or else he would never be able to again. "Then it was a situation where I've got to ask him tonight, because it was a Friday and if I missed him on Saturday I wouldn't get to set this up. I decided I had to do it," he said.
Laing recalled the events where he intervened the Padres star in the hotel lobby. "He came in with his headphones on, and he was walking through with his head down and I go over to him - "Mr. Gwynn!" nothing "Mr. Gwynn!" nothing, and I got in front of him and said "Tony!", and he goes 'hey! What's going on, Alicia said you need to interview me?" so I explained what I needed and he asked when I could do it."
On 10:30 the next day, in a private conference room, Laing was able to interview his childhood hero for his homework. Over two decades later, Laing still considers it a big moment in his life. "He gave me some great stories, and I'm sure I had questions I thought were great but they had probably heard a million times." Compared to everything he's done in sports from the Miami Championship game to interviewing numerous professional athletes, he still considers the moment as the most nervous he's ever been. "I was so nervous - the most nervous I have ever been for any interview I've ever had. It was the most I have ever been, and he put me at ease, he had that big smile and told me a few jokes, started laughing. I'm sure he could tell how nervous I was, you're interviewing one of the greatest hitters of all time and your childhood hero."
Sure enough, when the Padres came back into town later in the year, Tony remembered Laings face and the interview. "When I saw Tony a few months later he asked 'How'd we do?' and when I told him I got an A he said 'Great! Great! Get more of them!'".
On top of the interview, later on in his life, Laing had the opportunity to see Gwynn get his 3000th hit. "I hold my professor I had to fly home, I had an emergency, and instead I flew to St. Louis." explained Laing on how Gwynn was chasing his 3000th and he needed to be there. With the help of a Marriott bellhop, Laing found his way into the game, only to see Gwynn come up one hit shy of his milestone mark. With the Padres going north of the border to Montreal tomorrow, Laing was left in a situation where he had to decide if he wanted to go to Montreal where he had the credentials or to go home. "I had to ask Tony if he was playing tomorrow," he said. And sure enough he was, and Laing witnessed it the next day.
Remembering how easy it was to talk to his idol, Laing gives credit to his persistence to get that interview in high school. "Ever since I got that first interview as a kid, I stopped asking for autographs and I just wanted to talk to him and get to know him. He was very gracious with his time."
From covering Max Scherzer's 20 strike out game, to numerous postseason games in Baltimore and Washington to NCAA basketball tournament games, his relationship with Tony Gwynn has been one of a kind and something that can't be repeated in Laing's life.
"Unfortunately Tony is not with us anymore, and it was great that we finally did a special on Tony's life." said Laing, talking about his work with Sirius XM. "We talked to everyone that was a big piece of his life - players, coaches, scouts, managers, family, and his son Tony Jr. I know how special that relationship was, it's not every day that you're able to meet your childhood idol and that your childhood idol is generous to you and nice to you and that you're able to hold a relationship that is outside the realm of 'Hey, how are you?'. That helped me become less nervous when I had to talk to other people, he put me at ease."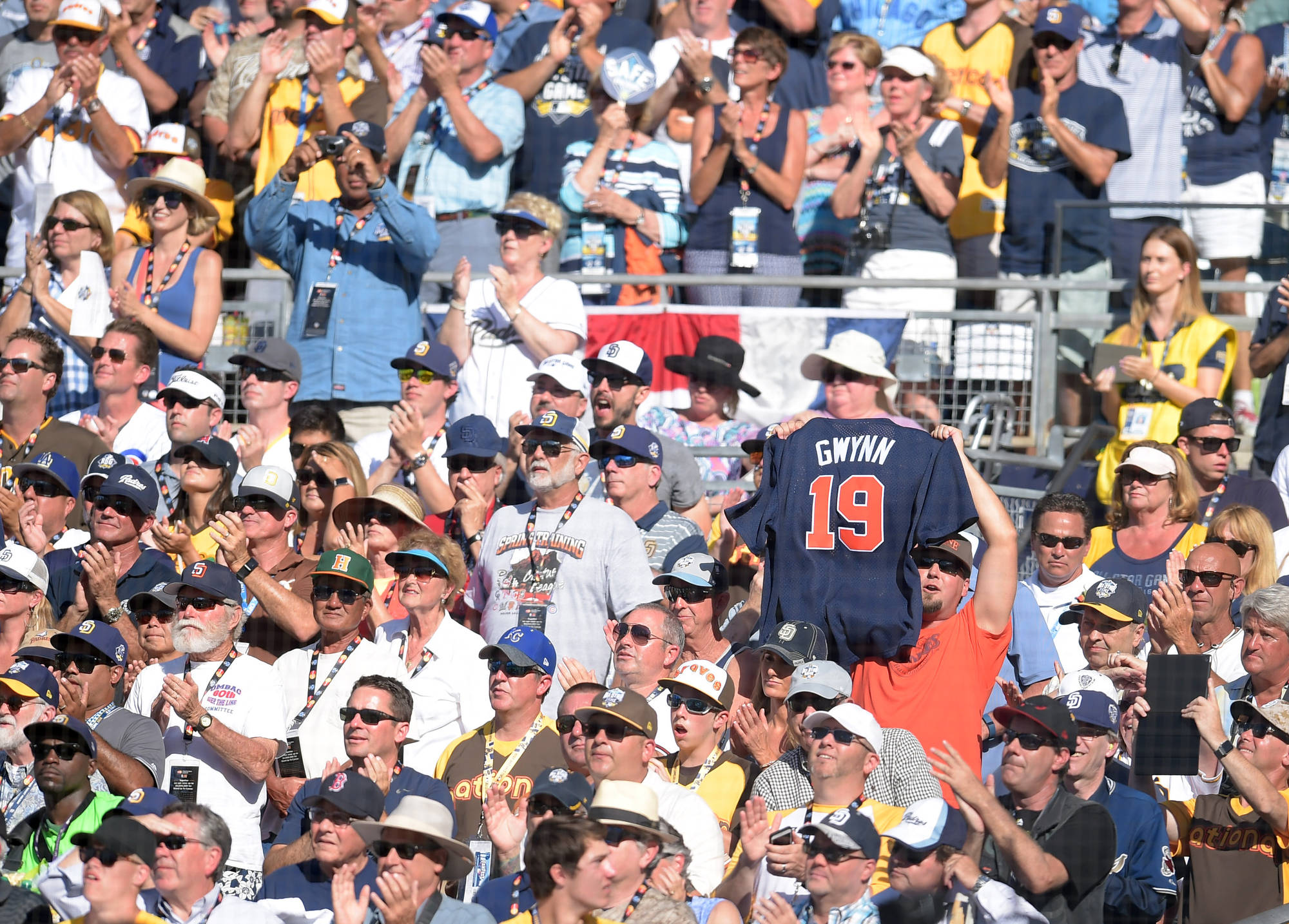 Despite his passing, Gwynn is still remembered and revered by a fan base in San Diego as "Mr. Padre".
Gary A. Vasquez-USA TODAY Sports
Laing looked down and paused after explaining his time with Gwynn, something that was obvious that can never be repeated. In the year 2014, Gwynn passed away from mouth cancer, now just a memory to Laing. From being present for his 3000th hit, to being present at his Hall of Fame induction, he never took his relationship for granted. "It is something I will never forget," explained Laing, his voice getting softer. Known by many for his infectious personality, Laing caught Gwynn in his most honest and genuine moments as not just a player, but as a friend. He experienced the moments many would never get the opportunity to ever see or be a part of. Forever "Mr. Padre" to thousands, Gwynn was just "Tony" to Laing.
With a smile, Laing looks down at his coffee and back up. "That's something that I'll carry with me forever,"
@TheTylerHetu
"
---