Avalanche Continue To Struggle, Must Consider A Trade
The Colorado Avalanche lost yet another game the other night, falling 2-0 against the Boston Bruins. The Avalanche, who have had trouble putting the puck on net this season, were outshot and played poor general defense. With thoughts of trades circling around, it brings the question up of who should be the one to go if the Avalanche pull the trigger and decide to make a trade?
For me, the answer points to their defense. An almost obvious answer, the Avalanche have been outshot in most games that they have played and have provided no help for goaltender Semyon Varlamov. On top of this, their roster is set up forward heavy, especially at the center position. This has been a struggle for the Avs for the last few years, having too much offense and not enough defense. Putting faith in Erik Johnson and Tyson Barrie (who is basically a fourth forward), has left their pretty much nonexistent defense of Patrick Weircioch and Fedor Tyutin (???) out to dry as penalty killers and bruisers. In short, their heavy set offense of Nathan Mackinnon, Matt Duchene, Gabe Landeskog, Jerome Iginla should be mixed up for the sake of the blue line. One of them has to go.
Who Must Go: I think of all forwards, the first to go must be Matt Duchene. I know, he's been a crowd favorite since he was drafted, but his production has not been consistent to that of a top five overall draft pick. Now, being out with concussion-like symptoms leaves him yet again off the ice for another offensive shake up. However, when he is fully healthy, there's not a doubt in anyone's mind that he is the best skater on the ice, and has some of the best hands on the ice. He's a brilliant playmaker that literally any team could use on offense, case and point being here, here, here, and here (poor examples, but you still get the point).
Matt Duchene, Colorado Avalanche forward, could be on the move.
Isaiah J. Downing-USA TODAY Sports
He's not a great physical guy, but has has moments just like any shooting forward. Oh and I forgot to mention how good of a scorer he is. Severely underrated because of his team, he is able to beat defenders with speed, go between the legs, have the moves on shootouts, and just rip it past goalies on the one timer. That's a small sample size for almost seven years of hockey, but the point is proven. He can score, and he can do it well.
The Return: I expect nothing less than the most out of a team if the Avalanche trade Duchene. A team that first comes to mind is Winnipeg. They have Jacob Trouba, who the Avalanche have eyed for months and I don't blame them, the kid is a dime a dozen when it comes to defenders. At just 22, they would get a young defender who can throw the body and will grow into a star given the right pairing. With Erik Johnson by his side, they would be a monster blue line that could not only turn the puck away but could also bring it up for offensive help. Winnipeg would be fools to part ways with Trouba, but if the offer is right I could see them doing it.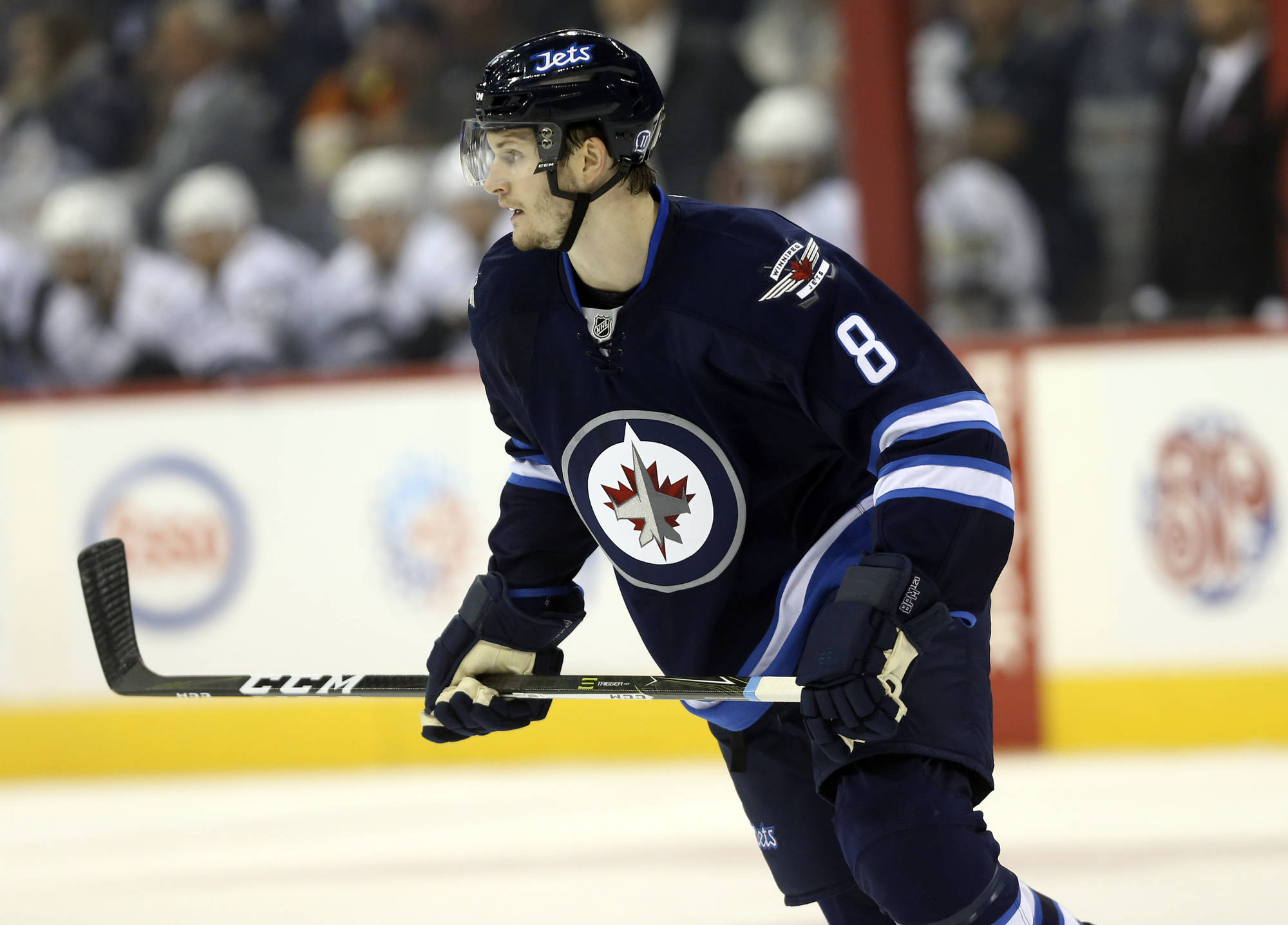 Jacob Trouba of the Winnipeg Jets could be a possible candidate for a Matt Duchene trade.
Bruce Fedyck-USA TODAY Sports
Another team I could see Duchene ending up on is Minnesota for two defenders: Marco Scandella and Mike Reilly. As much as I would rather chew glass than see Duchene in a Wild uniform, the game is a business and he fits their needs for a high caliber pairing with Zach Parise and Eric Staal. And the Wild have young defense of abundance for Duchene, and I can guarantee they would not hesitate to make the move if it was proposed. In return, the Avalanche would get two very young defenders who are big, and can bruise and move the puck. They aren't much, but this would add more depth to the thin blue line for the Avalanche, and that's what they need at the moment. I hope this isn't the move they make, but if it comes to it - take it.

---