Georgetown vs. Maryland Face Off In Gavitt Games
The Georgetown Hoyas faced the Maryland Terrapins in a physical, foul ridden game on Tuesday evening. The game came in part of the Gavitt Games, the annual eight game series played between the Big East Conference and the Big Ten Conference. Maryland, coming off a single digit win against American came out shooting freely against a physical and uptempo Georgetown who destroyed USC Upstate by 40+. This game came a little differently from their previous matchups.
Considered the actual "start" of the season for both teams, the game was riddled with fouls for both sides. The same seemingly had no fluidity to it, as fouls ran rampant with 29 total fouls at the half and a total of 32 for Maryland and 24 for Georgetown. Maryland also came out of the gate shooting three pointers, only having seven fall out of 27. Georgetown however, was ale to overcome the dual foul trouble and pull away in the remaining minutes only to squander it in the last 54.4 seconds. Maryland just barely squeaked it out, 76-75 in an unbelievable collapse.
On battling back, Mark Turgeon praised his team. "We really guarded well, and we never quit. Just really proud of our guys," he said. Maryland finished with seven blocks and 34 total rebounds, nine of which came on the offensive side. Despite being proud of his team, he was a little confused with the lineups he was sending out. "We were playing such funny lineups. We didn't really know what we were doing, to be honest with you." Not a great thing to hear from a head coach, but it benefited them in the end with a one point victory.
In the final seconds, a turnover by Georgetown led to the ball going the other way. "This is how crazy basketball is," explained Turgeon post-game. "I'm yelling foul, and we don't foul and then he (Tre Campbell) steps out of bounds." The game in the second half was dominated by Georgetown but a collapse by the Hoyas in the last minute left many confused and in shock. "It was a crazy game," said Melo Trimble. The Maryland guard posted 22 points in the win. "We kept fighting, we played with a group of freshmen that had never played in that environment before." Trimble himself had never played in the Verizon Center before tonight, playing in front of a 13,455 person crowd.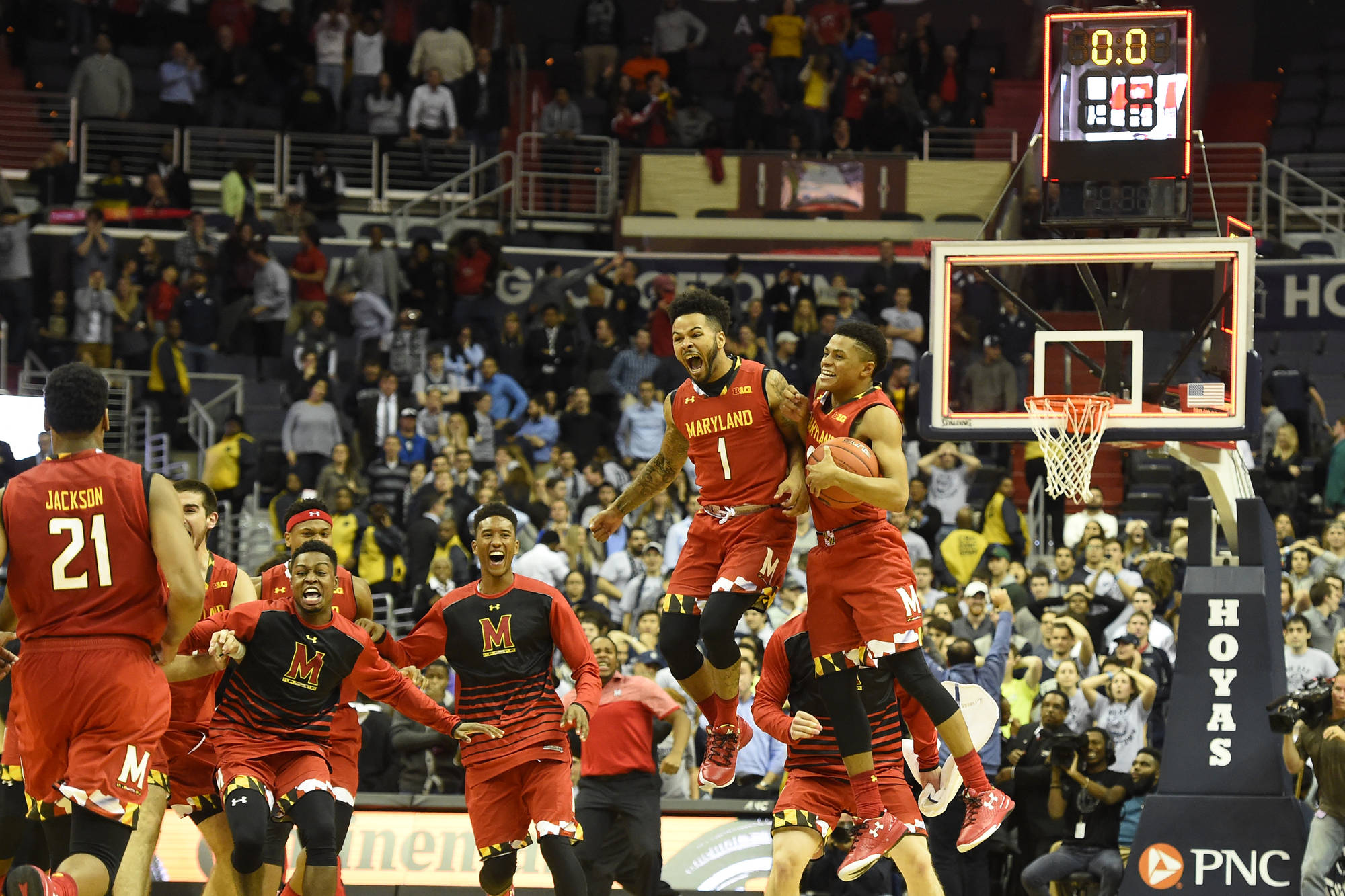 Maryland celebrates as time expires.
Tommy Gilligan-USA TODAY Sports
On Georgetown's end, John Thompson III seemed in shock for the post game conference. "We have to grow," said Thompson III. "We have to get better, we have to learn from our mistakes. Too many mental errors down at the end." On his offensive collapse and ineability to score, Thompson III said "Our offense didn't break down, we just made some mental mistakes." A true coach, Thompson III gave credit where it was due to Trimble. "He's an outstanding player, he's going to have success. He's going to do what great players do, he's going to make plays."
Going into later this week, a home game against Arkansas St., Thompson III and the team will focus on the basics: not fouling. "We have to learn, we can't have fouls with no time going off the clock."
On continuing the Maryland-Georgetown tradition, Thompson III said he's going to have to talk to Maryland. "He (Turgeon) and I will talk. We'll see."
---