Making Baseball Fun Again: Cespedes Family BBQ
For the last few years, the world of Twitter has grown to levels that are unfathomable. It seems that every topic or group has its own subculture within it. For sports, especially baseball, the subcultures have become places where one can make a name for themselves, share their opinions and analysis on teams and players, or just be hilarious through memes and namedrops. Within that baseball subculture, is a group called Cespedes Family BBQ.
The Cespedes Family BBQ (@CespedesBBQ) was formed by two college kids, Jake Mintz and Jordan Shusterman, and they have quickly become a must follow for the average or die-hard baseball fan. Within the "Baseball Twitter" group, they became not only a reliable source for all of baseball's hot takes but also became a group that has aimed to "Make Baseball Fun Again" through the gifs, funny screen caps, and simplifying the game. And they are really good at doing it.
The Beginnings
"We both grew up in the same Washington, D.C. Jewish community," said Jake. "We went to middle school and hated each other because we were too similar. We were the two athletic blonde guys that talked too much." As time went on, and once they entered high school, they became friends over their love for the game. On the actual start of the blog, it started with Jake asking a simple question: "We're having all these funny conversations, want to write them down somewhere online?" The rest, just followed suit.
"It's weird to think about," explained Jordan. Now in his senior year of college, he and Jake started Cespedes BBQ in high school, for their own personal indulgence. "We wanted to do something different. We were reading Baseball Prospectus, FanGraphs and all that stuff and we love it. We were having a conversation and talking about baseball and making jokes, and we realized 'Oh we should put these somewhere.'"
Not trying to keep up with the analytical side of the game, Jake and Jordan knew right away that they wanted to stay away from the analytical side of baseball. "We weren't trying to outsmart anyone. We knew we weren't going to contribute anything if we tried to write about analytics. We told ourselves we would do it for fun and we never did it for any attention." Deciding to write on their own merit and not try to compete with the big names, they then came up with what is the most unique blog related name in sports – Cespedes Family BBQ.
"We basically started it in the middle of senior year of high school just thinking – 'oh well this is a totally random, silly but very unique name that's attributing everything we love about the sport." The name comes from the historic and life changing video of Mets outfielder Yoenis Cespedes hosting a backyard barbeque in his native home of Cuba (skip to 19:20). "We kept watching this video over and over again and it kept making us laugh. It was indicative of the weirdness and the awesomeness of baseball and it represented both of those." In the video, you can see that Yo has a massive pig over an open fire – ready to roast. "We spitballed names about it, Jordan said Cespedes Family Barbecue, and we knew that was it." Not realizing what they had created, they decided to roll with it. "I didn't think we would have to explain the name ever," said Jake.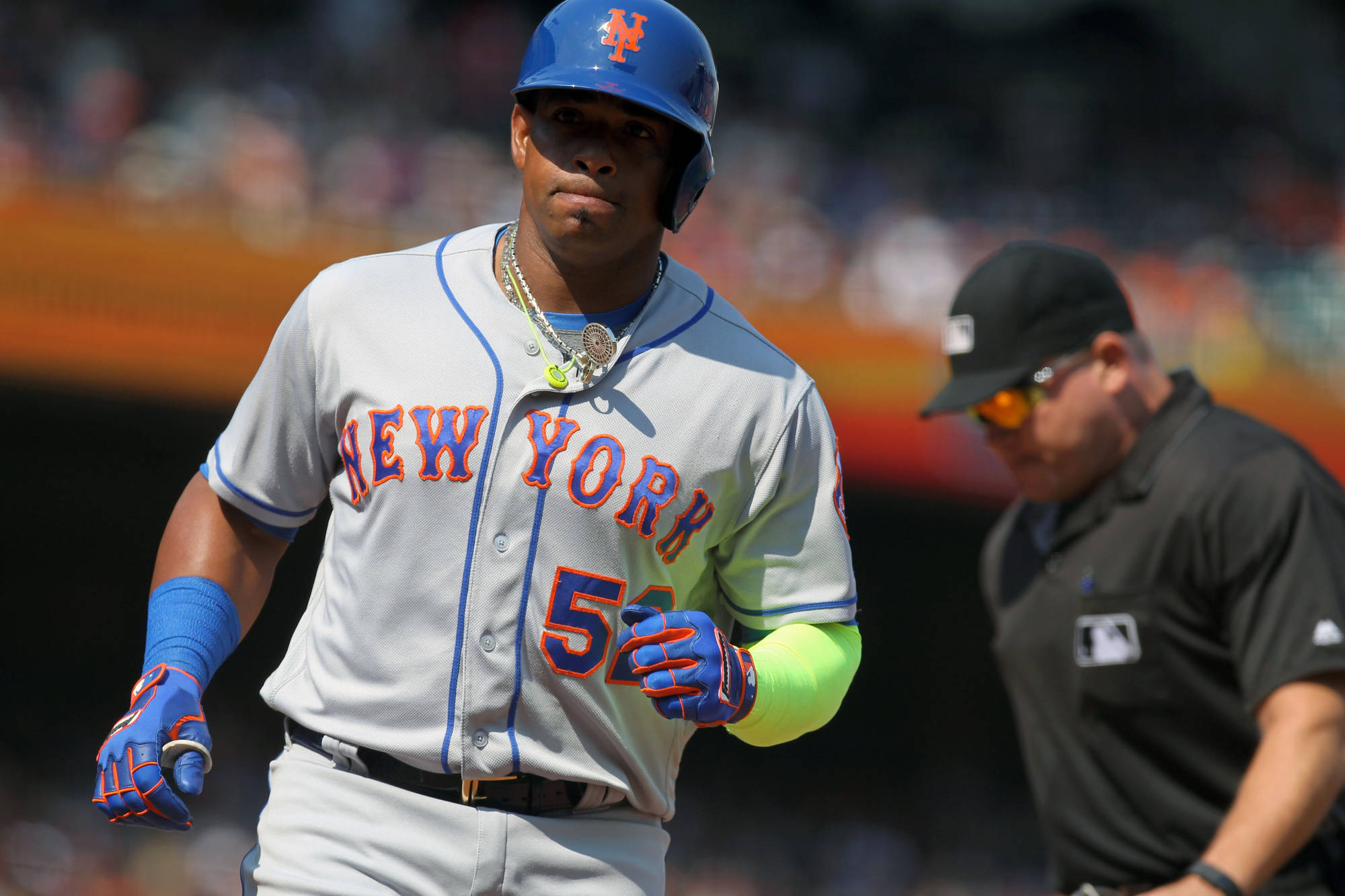 "We kept watching this video over and over again and it kept making us laugh. It was indicative of the weirdness and the awesomeness of baseball and it represented both of those." Yoenis Cespedes' (pictured) scout video was the inspiration of the name "Cespedes Family Barbeque".
Lance Iversen-USA TODAY Sports
Once the name was decided, the process for content followed. "We were writing a lot on the website, not actually intending for anyone to see it but for our own indulgence like – 'oh we think we're hilarious, let's write this down and then maybe go back and say that we were really funny,'" Jordan said. "We thought it would be cool to get on Twitter and put our voice out on that, if we are ever going to gain any attention – which was not the intention but this is a cool place to jump in. We started it, and didn't have much of a following for a while. We started in March of 2013."
The Rise and Growth
The account sort of set the tone for the quirky baseball-related twitter accounts. Being two students, they have had a lot of success in the young millennial demographic.
Their dynamic was new. It was weird, it was out there, and it made fun of baseball but at the same time revered it. Their first encounter with a true baseball personality was with Jason Parks (@ProfessorParks) when he was with Baseball Prospectus. "We met him, and I made an Andrelton Simmons joke to him and he laughed and said 'You guys are funny, I'm going to tweet you out'" said Jake. Their meeting kickstarted the Cespedes BBQ growth. "I remember he tweeted out, 'these guys are funny, give them a follow.' This was right before our first road trip in 2013. I remember we were leaving, and driving across Ohio and Indiana and we were crossing 500 followers and I was thinking 'this is insanity'."
After their first shout out from Parks, the BBQ reached around 1,000 followers on twitter. Since then, it was an uphill climb over the last three years. "From there, it was sort of like a popular post here, popular post there. It was all silly shit, nothing really that special," said Jordan. Now, 3 years later, comfortably sitting above 40,000 followers. It's still a hard to believe feat for Jake, saying "I tell people that we fell asleep at the keyboard, woke up and we were at the World Series." A good metaphor for how fast they have come into popularity, and how much they have become known in baseball. They have become so well known that they have become so well versed in the baseball community, that they have fans hawk them down to meet them. "The part that is weird is the people that people are so excited to meet us. We're just like you, and I think that's the point and why we do well," explained Jordan. Now that they have amassed such an audience, the weariness of having such crowd is something to keep in mind in a day and age where sports opinions can make or break your career.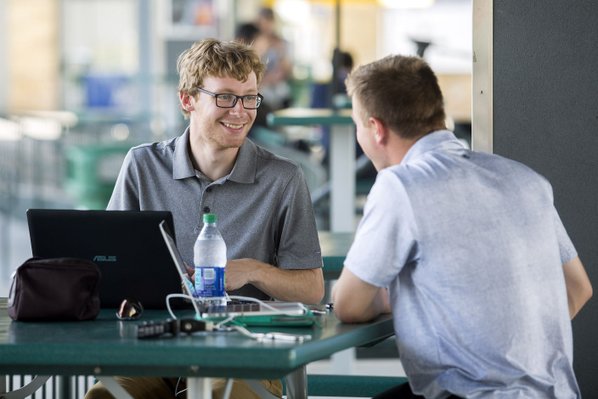 We're just like you, and I think that's the point and why we do well," says Jordan (right) with Jake (left). The two have been fortunate to work with both Baseball Prospectus and MLB.com since their rise on Twitter.
"That's always something we've always been conscious of, now that we have a legitimate voice, explained Jordan. It has been close to four full years since the twitter account was made, and it is still something that baffles both creators. "That is still the weirdest part. Easily the weirdest part. It's that anybody gives a shit. Two or three years ago when we were getting to 10 thousand 15 thousand follows, we didn't realize that what we were doing was good and what we did was working and we could continue to gain an audience and gain more twitter followers."
With said audience they have to maintain the positive stance and outlook in certain situations. Having no negativity is something they have striven for. "Like, we love shitting on players too but it's all about loving the Yuniesky Betancourts because it's all a game and we are trying to eliminate the ridiculous amounts of negativity and enjoy it. Make fun of it and also love it at the same time."
Making Baseball Fun Again
Similar to the movement of a certain "politician", and started by outfielder Bryce Harper, their unintentional theme of "Making Baseball Fun Again" has caught a widespread audience and people absolutely love it. "It still makes us laugh so hard that is a thing and that none of it was on purpose," said Jake. What is meant by the entire "Make Baseball Fun Again" saying is to bring a positivity into a sport that many do not find attractive. Sure, baseball has its own personality compared to that of football, but its own quirks and uniqueness is what makes it great. Many don't see that. The Cespedes Family BBQ has brought that into the light through the memes and the videos, and just general statements that make you laugh because it can only happen in baseball. Their success in that has been really easy: make the game simple. "It was always driven by a love for the sport and the silliness that surrounds it," explained Jordan. "That resonates with people. It resonates with younger people who are trying to watch this sport that people think is boring, stupid, and dying. But it's not, its simplifying it and getting away from what drives people crazy about baseball." An increasingly growing crowd with the younger generation, the two have also had success through fan interaction primarily on Snapchat. "It's the best way to keep in touch with us. People will send us a picture of a Mark Grudzielanek shirt and I'll respond and they'll screenshot and freak out. I'm just like you, sitting in the library not wanting to do my homework. It's the least we can do for the people who support us."
Emphasizing the point that they're just you and I, Jake and Jordan are always conscious of how far they have come. "If we respond to that kid on Snapchat, he's going to follow us forever. He's going to tell his friends about us because he's so excited. That resonates with us, and people, and I feel like that is how we have grown besides just having a good tweet here and there." However, on top of the fan interaction, they have credited their ability to connect with not just fans but players and those within the baseball community. "The thing I am most proud of and perhaps the coolest part of this experience is the connections we have made with people throughout the game, for us we have been able to connect with players, other writers, people in front offices, scouts, and regular fans as well. I think that is something that has helped us do really well, and makes me most excited about – getting those perspectives to see us." The two have had the opportunity to not only do this on social media, but at baseball's biggest stage too: the World Series.
Despite falling ass backwards into their position, their luck and success wasn't built off of not knowing their content or knowing what to say. It was from their pure interest in baseball. "That's the other thing that makes so good at what we do. We know what we're talking about, it's not just that we can make the Khalil Greene reference it's that all of our interests are rooted in reading Baseball Prospectus and Fangraphs every day. Being a smart baseball fan and that comes out in a lot of our humor." Knowing their stuff and knowing their audience has also netted them the opportunity to work with Baseball Prospectus, and now MLB.com as content creators and writers. Their ability to relate and compare with a generation that has become embedded in social media, and to bring nostalgia and laughs to baseball fans will only continue to make them even more and more popular as seasons roll by.
Friendships, Yoenis, and Yu Darvish In The Closet
Now having a credible voice in the business, the new platform to talk to their favorite writers is something that is still weird to them. "For me especially, as we start to grow, now I am friends with all these people and it's super weird," Jordan said laughing. "All the people I was reading and liking and appreciating and following, those are our friends now," said Jordan. Popular baseball twitter personalities such as Lana Berry (@Lana) and Jeff Passan (@JeffPassan) have now become friends of the Cespedes BBQ creators. "I remember vividly when Lana followed us," said Jake. Lana Berry, a social media guru and genius, is a good friend of both Jake and Jordan. "That was a moment. We talk to Lana outside of Twitter now, we slept on her couch when we were in Los Angeles. It's great because these two people know we're human beings, not just two weirdos behind a computer." Despite the friendships with those Jordan and Jake formally read and admired, they understand that now they are on the other side of the fence when it comes to being conscious of their audience. "At the same time we are in the position of the people that I was following. We are at the top or one of the main people in this kind of community which is super weird, but also very cool."
Both Jordan and Jake have had a long list of exciting adventures and meetings while on their rise in the baseball universe. However, meeting a certain Cuban baseball player was one that stood out. "Meeting Yoenis Cespedes was a great experience. That was last summer." A meeting that was arranged for them, they met Yoenis during a game in Anaheim. Since Yoenis isn't exactly that young, and is Cuban, he is one of the few superstar athletes that does not participate in social media. "We had to explain it (what we were). The translator knew about us, and she was explaining it to him in Spanish about the barbecue and this is what we're doing. He told us that the video we named our site after was a party for his birthday." Who would of thought that a birthday party celebration video would have led to the birth of Jake and Jordan's alias in the baseball business?
One of the more interesting stories of the Cespedes BBQ duo was seeing Yu Darvish, Japanese baseball star turned MLB ace, in the closet. "We were in Northwest Arkansas, the Double-A team for the Rangers were in town and it just so happens the one night we were there was Yu Darvish's last rehab start," explained Jake. Darvish was recovering from Tommy John surgery, and had a large Japanese media pool following him through his rehab. "It was on July 4th, and there is this enormous conglomerate of Japanese media there. They have to do the interview, and there is no media room but there is a room where they keep all the props for entertainment (a normal thing in Minor League Baseball). They put up a screen with the Rangers logo in the supply closet, and in there was an inflatable horse and a taco costume and megaphones and – oh! Yu Darvish! It was a surreal moment of seeing a top ten pitcher in the world, in northwest Arkansas, in a closet with twenty members of the Japanese media…and us."
In a world where baseball is perceived as black and white for many, the Cespedes Family Barbecue sees it in full color, and embraces the weirdness by both making fun of it and praising it. In a three year span they went from just two kids and a computer still to two kids and a computer, but now with the ability to create the idea that there is weirdness and goofiness that surrounds sports, even though they may not have any idea what they're doing in the process. "We're very fortunate and so lucky," they both said. "We can't describe to you why we are good at it. You have to have passion for it. Everything we have ever done is because we were interested in it." 
---