So Long David Ortiz
Yesterday afternoon, the David Ortiz signed off on what will be his final regular season in a loss to the Toronto Blue Jays. Before the game, the Sox honored the designated hitter with a plethora of gifts, and reminisced with better times by showing a tribute video on the scoreboard and also brought out almost all the players from the 2004, 2007, and 2013 Championship Red Sox teams. In short, it was his day, and nobody tried to take it away from him.
The Sox honored Ortiz by first showing a video of Kevin Spacey reading Rudyard Kipling's poem "If" to Ortiz in clutch moments and David being David, which was absolutely fantastic. In fact, since it was aired yesterday, I've watched it several times I loved it so much. With the combination of Spacey, Ortiz, and the Red Sox, chills were plenty to go around, and I got so jazzed up for Ortiz to hit the ball to Nova Scotia that I forgot a game was going to be played.
Brian Butterfield also brought out custom boots for Ortiz, so "he could walk off in style one last time" in the words of Public Address announcer Henry Mahegan. He was also given a gold bat from his training staff, one more prized possession from those who made Ortiz better every day. Perhaps the best part of the gift giving came from Charlie Baker (Gov. Mass.), Robert deLeo (Speaker of the House for Mass.), and Mayor Marty Walsh. The trio presented Ortiz a bridge and a street named in his honor, both of which connect to Fenway in some form.
After the small gifts, the Red Sox brought out the big guns with John Henry and Tom Werner, along with legends Jim Rice and Carl Yastrzemski, to announce that they will be retiring the famed number 34. Which in all honesty, was not a shocker considering he is the greatest designated hitter ever to walk the earth.
One last gift from the Red Sox included a $1,000,000 donation to the David Ortiz Children's Fund, an organization that has helped children across the world. If the tears that were flowing already weren't enough, a child that had his life saved by the fund that Ortiz started got to meet the hero behind his survival, sprinting from his seat to hug Ortiz who embraced him in open arms. Someone's cutting onions in here. Seriously.
And if you really think the Red Sox were not going to bring Pedro Martinez out for the ceremony, then you clearly don't know the bond these two have. Led by Pedro, almost every player from the 2004, 2007, and 2013 World Series teams filed out from center field. From Manny to Mike Lowell to Jonny Gomes, every Red Sox player that played a crucial role came out to congratulate Ortiz one last time. A nostalgic moment that made your head turn back to the good old days of the lovable idiots in 2004 to the dominant team of 2007 to the Boston Strong team in 2013, the Sox really out did themselves with this moment.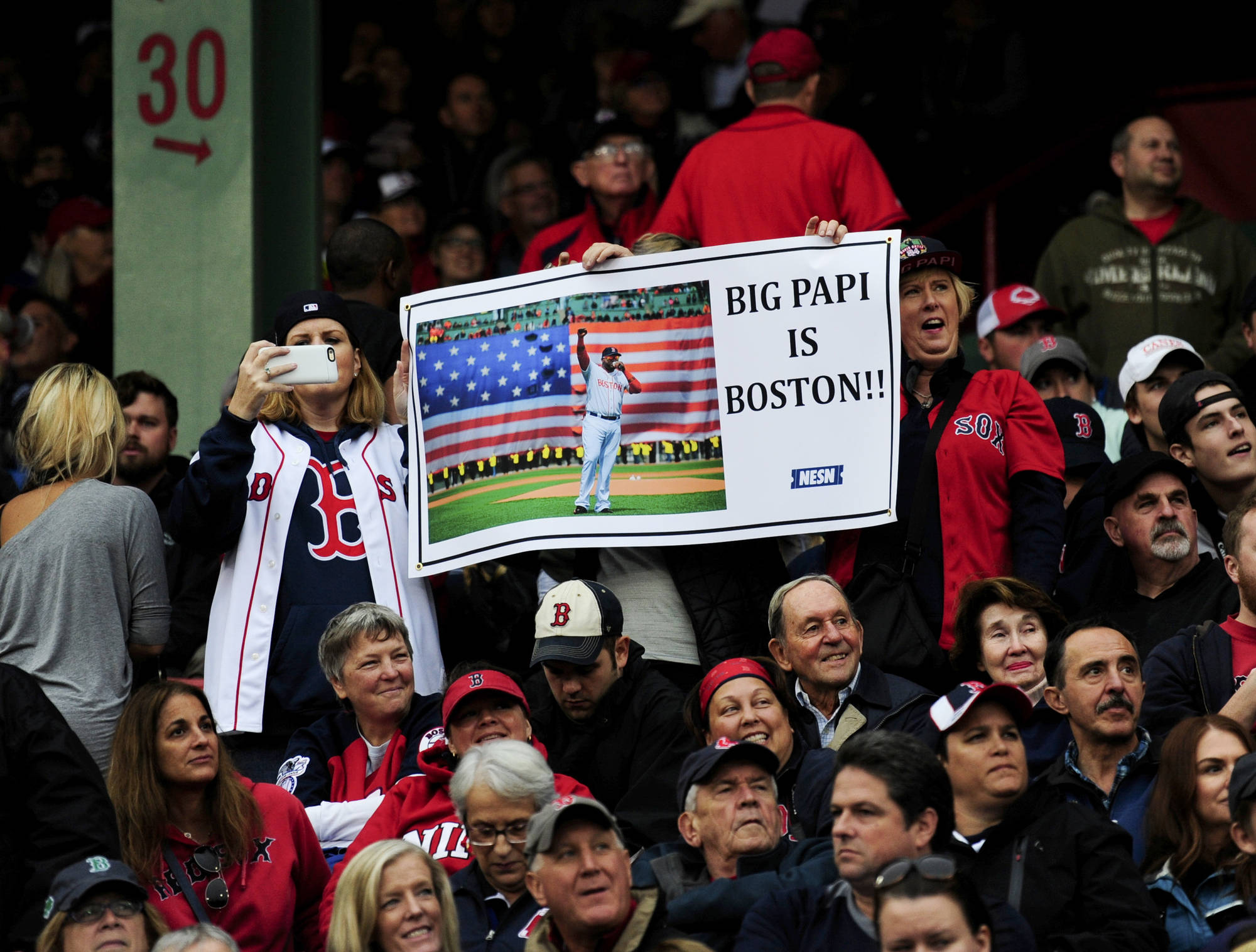 A fan with a sign for David
Bob DeChiara-USA TODAY Sports
After the Dominican National Anthem, the first time ever sang in a professional ballpark, Mary J Blige sang the National Anthem, and then sang a song that (almost) nobody knew. Nobody was going to make that known though, because this was David's day, and Blige is his favorite artist. It was a little over the top, but like I said, when it is David's day nobody dare say otherwise. She also sang before Game 1 of the 2013 World Series, so if history repeats itself like it often does, we could be looking at something pretty good.

No matter how old I get, no matter where life takes me, a true Red Sox fan won't ever forget the night when Ortiz hit the ball off into the bullpen in the 2004 ALCS. The iconic "Back is Sheffield, we'll see you later tonight!" Joe Buck call still gives me goosebumps even just thinking about it. We'll never forget what you've done for Red Sox Nation, with your lovable smile to your in the clutch hitting, we thank you, and will never forget some of your most iconic moments. Thank you.
"ITS GONE! ITS INTO THE BULLPEN! THIS GAME IS TIED! THIS GAME IS TIED! DAVID ORTIZ! DAVID ORTIZ! DAVID ORTIZ!"
---