The Next Era: Preview of The 2016 Colorado Avalanche
After the departure of their head coach just weeks before the team met to gear up for the season, the Colorado Avalanche have come out of the preseason looking ready to shed any poor expectations that has clouded them over the last three seasons.
The constant and criticism of former head coach Patrick Roy's coaching style was that the Avs bucked the trend of puck-possession systems that have garnered much success around the league. Instead, the Avs played a counterattack game that relied more on their speed, hoping to catch defense sleeping on breakout passes. While that was exciting at times, the overall effect led to too much time without the puck, something that strained an otherwise very weak defense. Now, the Avalanche are under Jared Bednar, where he was won championships in both the ECHL and most recently in the AHL. General Manager Joe Sakic was quick to find a replacement in such short time, and believes the undermined Bednar will completely revamp how the Avalanche attack on offense and protect on defense, something that Avalanche fans have been calling for over the last two seasons.
Despite the departure of Roy, the Avalanche have had no significant changes to their core.. They've got high-end offensive talent led by Matt Duchene and Nathan MacKinnon, and a qualified leader in Gabriel Landeskog, but are notorious for being poor on the blue line when it comes to defense. Their weak defense was a big part to their end of the season slide out of the playoffs. Colorado was in the playoff race last season until falling short in the last few weeks, losing eight of its last 10 games, missing the postseason for the second straight year. The last time they made the playoffs was in the 2013-14 season, shocking everyone with a Central Division title, which was Roy's first season as a head coach.
To counter their recent failure on defense, the Avs acquired defenseman Fedor Tyutin and Patrick Wiercioch to help bolster the blue line. Both of which are veterans, they were good acquisitions to help bolster a young defensive core and will also provide a physical aspect that could knock forwards down and take possession away from them. On top of adding to the defense, the Avalanche added forwards Joe Colborne, Rocco Grimaldi and Ben Smith. Gabriel Bourque and Rene Bourque were signed to tryout contracts. While the forwards will not be huge individual assets, they will provide depth to a once thin offense.
The most intriguing pick up was the 6-foot-5, 202-pound Patrick Wiercioch. A promising start to his career in Ottawa led to him falling short on expectations, and led to his release. Many believe that his change of scenery will rejuvenate his short career, as it does for many players. Working with Landeskog and veteran Jerome Iginla could bring him back to production, but many are also not holding their breath on the physical two-way forward.
Exciting things are ahead from forward Mikko Rantanen, the 10th overall pick in the 2015 draft. The 19 year old turns 20 on October 29th, which makes him the youngest player on the team. The Finnish player has received a lot of claim that he has the potential to get into the Calder Trophy conversation, but would have to be a steady and consistent force in a team that can often have trouble producing.
The most important new face, though, is behind the bench in Bednar, who makes his NHL debut after cutting his teeth for years in the minors. But the question that remains in the air is 'How will Bednar fare?' He wants to play a puck-pressure game and obviously tighten up defensively, all the things you want to hear if you're an Avs fan. But how will the players respond to a largely unknown coach, who has no experience in the highest level of hockey?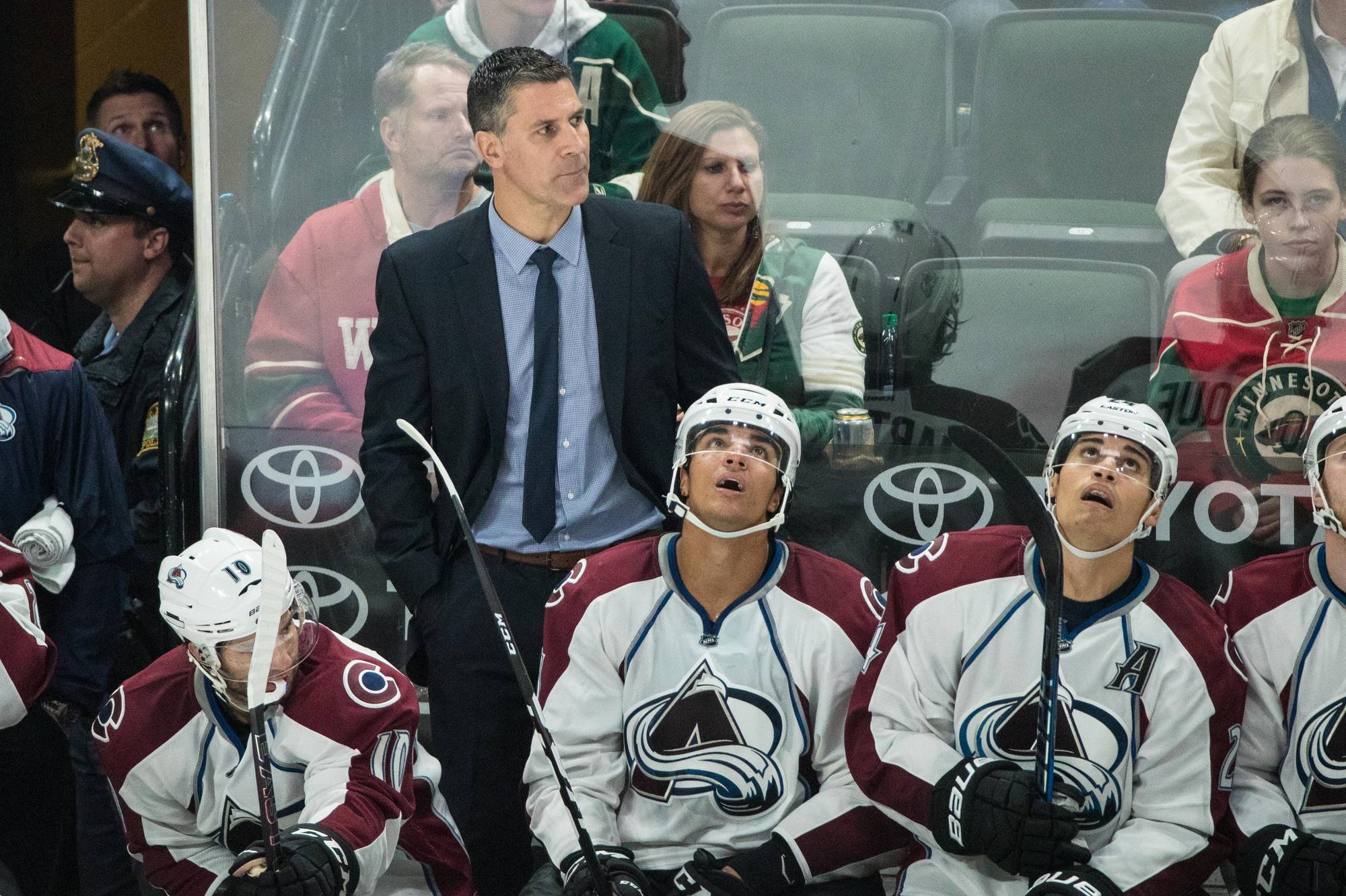 New head coach, Jared Bednar.
Brace Hemmelgarn-USA TODAY Sports
If he wants to improve the blueline he must turn to young defenseman Nikita Zadorov. The defenseman had only two points in 22 games last season, not a huge point of emphasis, but registered a -5 plus/minus which is not a good stat for defensemen to have. The 21 year old would have to tighten up his game and limit the plus/minus to something more attractive than a -5, and if possible he would have to bring the puck up more to tally more points. That would be a boon to the blue-line if the 6-foot-5 Russian turned in an impact season, because he's got the talent to be a two-way guy. The only thing in his way is that he needs to show more consistency.
Another player that will thrive off of consistency is the starting goaltender Which Semyon Varlamov. The Russian goalie has taken steps backwards for two straight years since putting up a career-best .927 save percentage in 2013-14, helping lead the Avs to that Central title. He brilliantly masked a lot of Colorado's defensive issues that season by standing on his head to bail out their misplays on a nightly basis. But since then, that save percentage has dipped to .921 in 2014-15 and then just .914 last season (to go along with a 2.81 goals-against average). It's evident that Varlamov could certainly use better defensive play in front of him, no question. There is little to blame on recent struggles from Varly, but it still raises eyebrows when it comes to his reliability. If the defense becomes thicker, then Varlamov's production will rise to what it once was. If he continues to struggle, the rise of Calvin Pickard could become an occurrence. The backup has potential to be a No. 1, so in either situation the Avs look pretty solid in goal regardless of the outcome.
Semyon Varlamov and his ability to stay steady in goal is a huge factor to success for the Avalanche.
Ron Chenoy-USA TODAY Sports
The only thing that will come out of the Avalanche that is certain is the production from Duchene, MacKinnon and defenseman Tyson Barrie. The trio are the offensive leaders, with captain Landeskog's consistent two-way game, the group is the heart of Colorado's arsenal when it comes to assets on the ice. Landeskog and Swedish countryman Carl Soderberg formed a steady pairing up front last season, and could be paired on the second line and powerplay as a duo that could be very overlooked by many defenses. The fleet footed MacKinnon was a star in the World Cup of Hockey for Team North America, while Duchene shined in a Team Canada win over Team USA. Both offensive stars are looking to carry that over into strong starts for the season, and it has shown they are clicking on all cylinders in practice. The Avalanche rolled through the pre-season, going 6-0 and are hoping to carry over their success into the regular season.
When it comes down to an early season prediction, I think the Avs will do a better job of containing the puck on not only offense but also defense under coach Bednar. How Varlamov bounces back will have a huge bearing on things, and could make or break their season. The Central Division is a crazy division, where the Dallas Stars, Chicago Blackhawks, St. Louis Blues, Nashville Predators are expected to be in the playoffs this season. With those teams as successful as they have been, and retaining the same roster and improving in the offseason, I can't see Colorado being any better than those teams unless something monumental will happen. The bar is set low with me expecting them to finish seventh in the Central Division, but if they get hot at all the right times, they could spoil some teams chances and end up in playoff hockey.
---