It's Time to Expand the CFP. Here's Why and How.
If you've been keeping track, this was the 4th year of the College Football Playoff, and the 2nd time that the 4th-ranked team won the national title. The other 2 champions were ranked 2nd entering the playoff. What does this prove? Well, maybe nothing. But it certainly disproves the idea that expanding the playoff beyond the current 4-team format would only add teams that had no chance of winning. Since 2 #4 schools have won the national championship, who knows how many teams ranked lower than #4 would have won the tournament if they had the chance? Also, by leaving the field at 4 teams, we are trusting the committee to make sure that the best team is in the top 4. That might not seem difficult. But if the committee was actually good at ranking teams, then why hasn't their top team ever won the championship? It's not like they've been wrong a few times. 4 consecutive times is a lot, especially when you've never picked the correct team. On top of that, the top-ranked school has lost to the #4-seed twice, not even making it to the national championship game.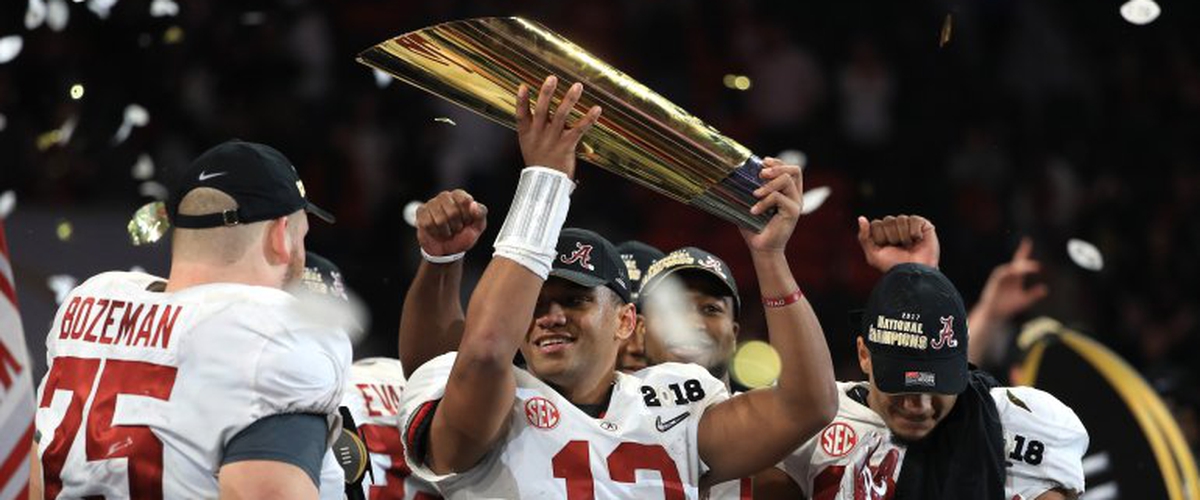 However, I have been critical of a potential playoff expansion in the past because I feel that it will cause even more controversy. If you allow more teams to be in the playoff, you must lower the standard. By lowering the standard, more teams will feel that they qualify to make the playoff tournament, leaving even more schools upset when they are eventually left out. However, I have come up with a system that makes a very clear standard while also expanding the playoff so that it can be more inclusive without leaving excluded teams feeling ripped off.
The first part of my proposal is a playoff that does not have a set number of teams, but a minimum of 5 teams. I think the playoff should automatically include the ACC, Big 12, Big Ten, Pac-12, and SEC champions. It should then include the highest ranked conference champion from a "Group of 5" conference (American, Conference-USA, MAC, Mountain West, and Sun Belt) if there is a ranked champion from 1 of those conferences. So most years, there would be at least 6 teams. Then the playoff should include all teams that finished with less than 2 losses (regardless of conference) and played at least 3 teams in the regular season that were ranked at the time of their game (so Alabama would have received credit for playing #3 Florida State although the Seminoles finished 6-6 in the wake of QB Deondre Francois' injury). Teams who received their second loss in the conference championship would also qualify (given that they played 3 ranked opponents in the regular season). This would prevent independent schools such as Notre Dame from playing easy schedules in order to guarantee less than 2 losses, but would also include teams that didn't win their conference but proved to be a title-contender. Also, I would suggest that the regular season was shortened to 10 games (2 non-conference and 8 conference games) in the event that a 4-round playoff was needed (9-16 teams). This way players would not have more than 15 games in a season, which is the current maximum.
While this system would have a fluctuating amount of teams from year to year, it would include every team that proved to be competitive on a national scale. It would also make a very clear standard that would prevent teams who did not qualify from complaining about the system being unfair. The only reason the CFP rankings would matter is for playoff seeding and picking the highest-ranked Group of 5 champion, which is usually a pretty obvious selection that no one would disagree with. In terms of inclusion, the committee could not unfairly include or exclude teams that they have bias for or against.
Here would have been the playoff rankings for the past 4 seasons:
2014:
1 (1) Alabama
2 (2) Oregon
3 (3) Florida State
4 (4) Ohio State
5 (5) Baylor
6 (6) TCU
7 (20) Boise State
2015:
1 (1) Clemson
2 (2) Alabama
3 (3) Michigan State
4 (4) Oklahoma
5 (6) Stanford
6 (18) Houston
2016:
1 (1) Alabama
2 (2) Clemson
3 (3) Ohio State
4 (4) Washington
5 (5) Penn State
6 (7) Oklahoma
7 (15) Western Michigan
2017:
1 (1) Clemson
2 (2) Oklahoma
3 (3) Georgia
4 (4) Alabama
5 (5) Ohio State
6 (8) USC
7 (12) UCF
Overall, I feel that this system would include all the teams that deserve a chance at a national championship and would only include those teams. As you can see, it would usually be 7 teams, the 5 major-conference champs, the best Group of 5 champ, and 1 at-large power team. While a 7-team bracket is funky, it would just mean a bye-week for the #1 team. I think that the committee should at least consider change since the current format is clearly not effective and is still very controversial.