Ranking All 27 NFL Teams' Picks in Round 1
5 teams did not make a selection in the first round of the draft last night (Green Bay Packers, Los Angeles Rams, Minnesota Vikings, New England Patriots, and Seattle Seahawks). But that leaves 27 teams for us to instantaneously judge before we even know how good or bad their picks really were. So here is how each team's moves stacked up last night, 27 through 1.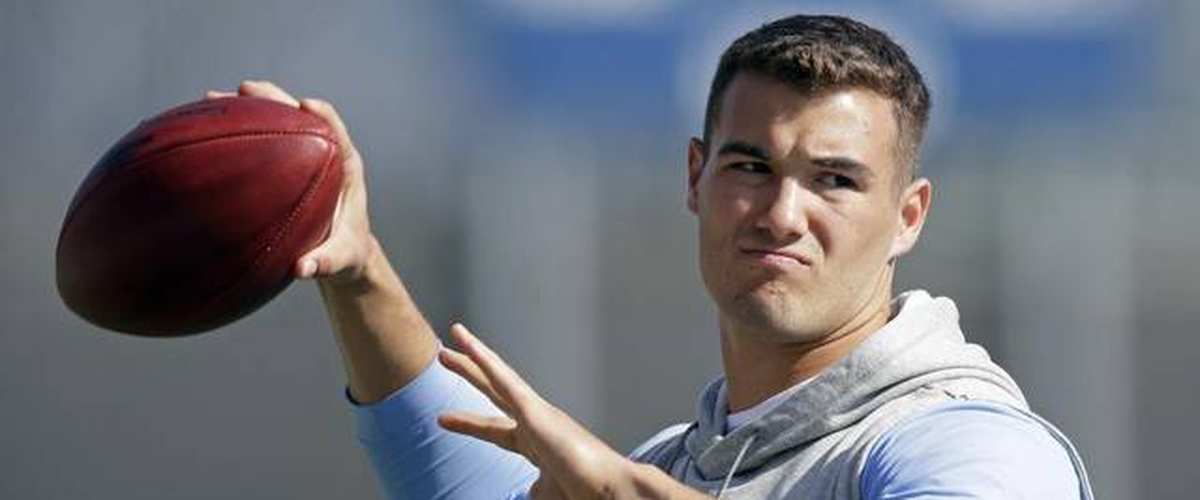 27 Chicago Bears (#2 Mitch Trubisky): The Bears decided that the Niners were bound to draft their future QB at #2 so they traded up 1 spot to land their franchise player. There's just a few problems with that: The 49ers were probably going to take Solomon Thomas anyways and Mitch Trubisky has bust written all over him. Congratulations Chicago, you played yourself.
26 Cincinnati Bengals (#9 John Ross): Cincinnati got lost in the hype and drafted the speedster from Washington at #9. He might be an effective player for the Bengals, but they passed on Jonathan Allen and Reuben Foster (be prepared to hear that a lot) to reach on him.
25 Buffalo Bills (#27 Tre'Davious White): Buffalo was in position to draft Deshaun Watson at #10 and maybe find the consistency at QB that they've been looking for. Then they threw that out the window and traded down, allowing Kansas City and Houston to grab quarterbacks instead. Maybe Buffalo is planning on taking DeShone Kizer in the second round, but at first glance, they messed up.
24 Philadelphia Eagles (#14 Derek Barnett): I like Derek Barnett and think he'll be a good player for Philly. But you passed on Jonathan Allen for a different defensive lineman? That one confused me. I wasn't expecting the Eagles to go with a defensive lineman in the first place, but since they did, it's hard to understand why Allen wasn't the man at #14.
23 Oakland Raiders (#24 Gareon Conley): Conley was a decent pick for the Raiders. They needed a cornerback and they got one. My issue with this pick is that Kevin King and Tre'Davious White were still available and I think either one of them would've been a better selection.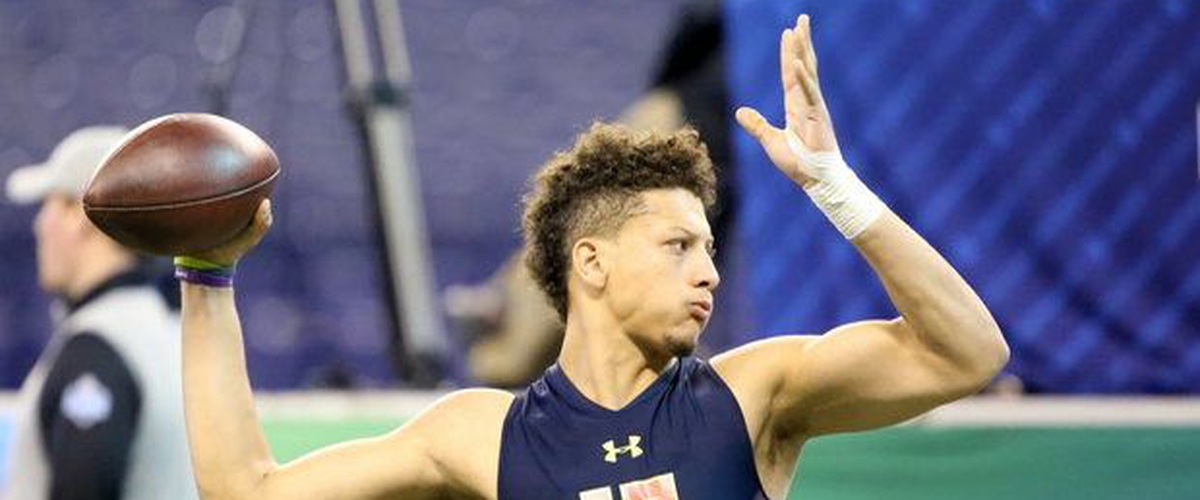 22 Kansas City Chiefs (#10 Patrick Mahomes): I think Patrick Mahomes is a great fit in Kansas City. He'll be able to develop behind Alex Smith until he's ready to take over. So why rank the Chiefs so low? Because they didn't need to move all the way up to #10 to land Mahomes. Many mock drafts had him as a fringe first-rounder, so Kansas City might have even been able to draft him from their original #27 spot.
21 Baltimore Ravens (#16 Marlon Humphrey): Again, I'm not mad at the pick. I'm mad about what the pick could have been. And again, it could've been Jonathan Allen or Reuben Foster. Sure, Baltimore needs some secondary help. But they don't need it that bad! Not a terrible selection, but definitely disappointing.
20 Tennessee Titans (#5 Corey Davis & #18 Adoree' Jackson): The Titans reached not once, but twice in the first round of the draft. Corey Davis was the accepted 3rd best receiver in the draft, but they took him ahead of Mike Williams and John Ross. Then they selected Adoree' Jackson when they could've had OJ Howard. Way to go, Tennessee.
19 Pittsburgh Steelers (#30 TJ Watt): The Steelers reached a little here. I didn't see Watt as a first-rounder, but his brother did a good job of hyping him up enough for the Steelers to take him over Reuben Foster. If the Steelers weren't already a solid team, I would've ranked them lower, but it's not like they need TJ Watt to be great for them to be successful, so it was not a huge mistake either way.
18 New York Giants (#23 Evan Engram): Like the Raiders, the Giants addressed a need. Also like the Raiders, they misjudged their positional big board. OJ Howard was off the board, but David Njoku was still available. Engram is a good player, but he shouldn't have been a first rounder.
17 Denver Broncos (#20 Garett Bolles): This is where the list shifts from bad moves to neutral picks. Denver needed an offensive lineman and they got one. Bolles was widely accepted as a first-rounder so his position on teams' draft boards likely varied depending on the team. For that reason, I can't be mad that Denver thought he was the best offensive lineman in the draft.
16 Detroit Lions (#21 Jarrad Davis): The linebacker from Florida found a good fit in Detroit. The Lions were in desperate need of a linebacker. I like the pick, but why not Reuben Foster? The Lions followed the trend of letting him slide, and they may regret it if Foster ends up being a Pro Bowler.
15 Atlanta Falcons (#26 Takkarist McKinley): In my mock draft yesterday, I had the Falcons taking McKinley at #31. They probably could've taken him there without moving up, which is why they didn't rank higher here. I do like the pick, though. He will fit in well with Vic Beasley to boost the linebacker core.
14 Miami Dolphins (#22 Charles Harris): I think this was a solid pick for a Miami team that has several needs on defense. Harris can get after the quarterback extremely well from the outside, and that will help their secondary to not have to press coverage for as long each play.
13 Arizona Cardinals (#13 Haason Reddick): Reddick is a good player and fits well at #13, but again, why not Reuben Foster? I had Foster picked to go to the Cardinals here in my mock draft, so to see them take another linebacker instead was confusing. I do like Reddick though, so I don't think this was a total whiff.
12 Dallas Cowboys (#28 Taco Charlton): This wasn't a super outside-the-box pick since he was supposed to land around here, but I think Charlton was extremely slept on entering this draft. I actually believe he is quite a steal at #28, so I really like this pick for Dallas. I also commend them for drafting for need instead of going after the headline-type player like they usually do.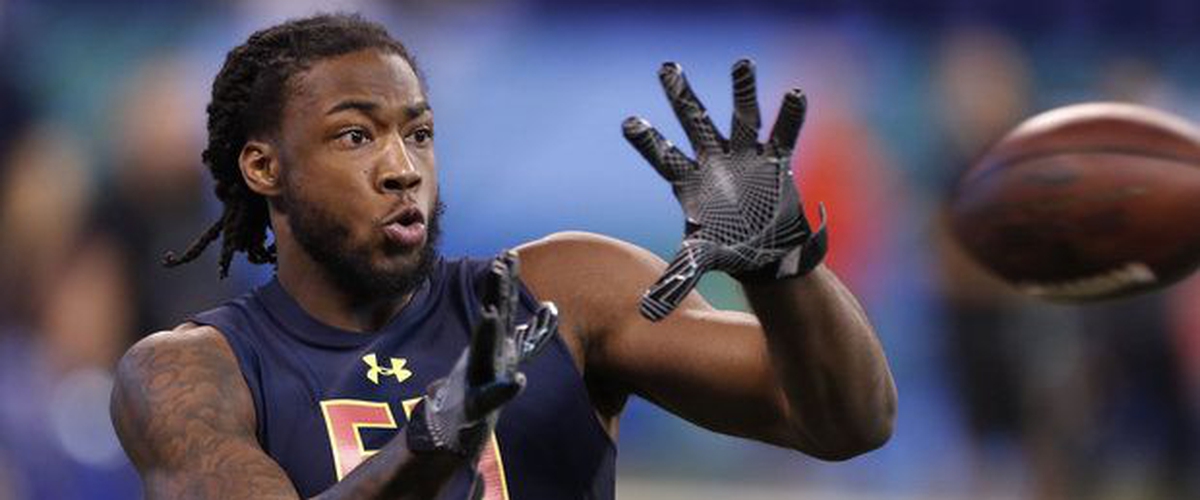 11 Los Angeles Chargers (#7 Mike Williams): I like this pick because Lord knows Philip Rivers needs some help at receiver and Williams is a reliable target. The only negative I can think of is that they could've taken Malik Hooker instead. Either one would've been a good fit, though, so I'm not mad at this one.
10 Carolina Panthers (#8 Christian McCaffrey): The Panthers got away from their typical best-player-available-no-matter-what mentality by passing on Jonathan Allen and taking McCaffrey instead. While passing on Allen was a strong negative for many teams, I think it was good that Carolina addressed their needs on offense by giving Cam Newton another weapon.
9 Jacksonville Jaguars (#4 Leonard Fournette): Fournette has the most NFL-style game out of all the running backs, so I think this was a great pick. Part of Blake Bortles struggles are due to the predictability of the Jags' offense. Now that they have a legitimate running threat, the passing game should improve as well.
8 Tampa Bay Buccaneers (#19 OJ Howard): Some people were saying that Howard would go as early as #6, but the Bucs' showed patience (take notes, Chicago and Kansas City) and landed him at #19. One of the biggest steals of the first round for sure. Howard is a big-time threat and has tremendous size for blocking. Well done, Tampa Bay.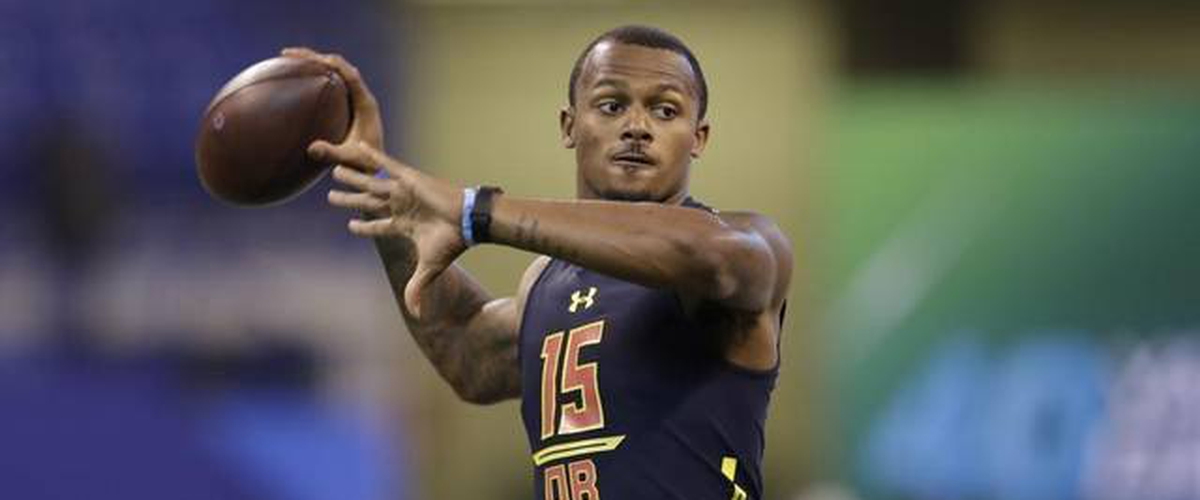 7 Houston Texans (#12 Deshaun Watson): The Texans were not patient, but I don't blame them. Once the second QB was off the board, Houston took matters into their own hands and moved up to take Brock Osweiler's replacement. After a full season of that mess, this was an extremely necessary move and it worked out.
6 Indianapolis Colts (#15 Malik Hooker): I couldn't believe when I heard Jon Gruden say that he was surprised that Hooker went that "early" at #15. Stick to analyzing quarterbacks, Jon. Hooker is one of the biggest impact players you'll find on defense in this draft. He was all over the field for Ohio State, and the Colts stole a gem here.
5 Cleveland Browns (#1 Myles Garrett, #25 Jabrill Peppers, & #29 David Njoku): Leave it to the Browns to have the first pick but find a way to have a questionable first round. Garrett was obviously a good pick at #1, but Jabrill Peppers only had 1 career interception in college and will be playing safety for Cleveland. Then they traded up into the first round for a tight end. Could've been better for sure, but Myles Garrett is good enough to put them in the top 5.
4 New York Jets (#6 Jamal Adams): Jamal Adams could've been picked as high as #2, so the fact that New York snagged him at #6 is impressive. He could end up being the best player in this draft, and they avoided the temptation to get a quarterback to draft him. This was an all-around great pick for the Jets.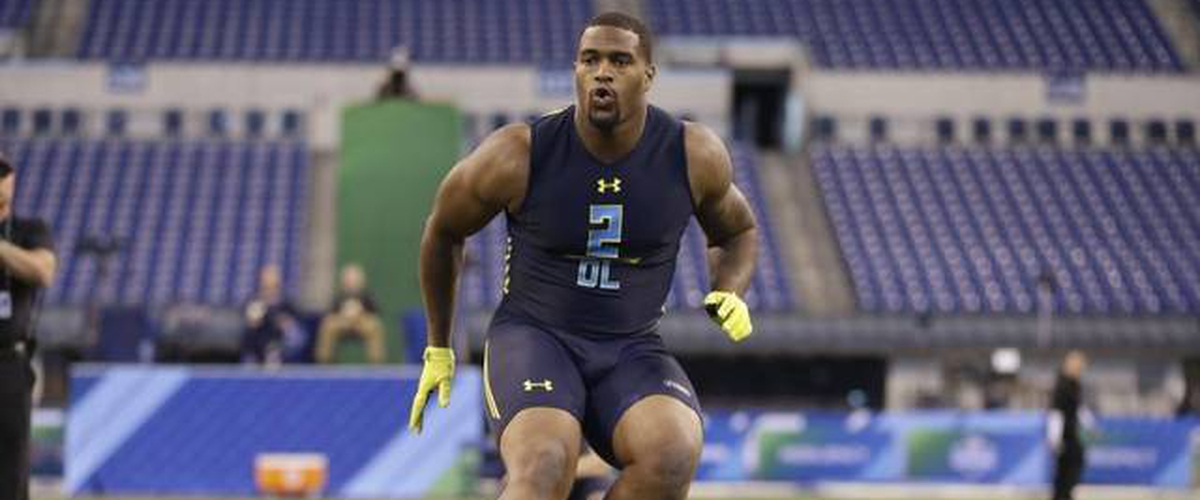 3 Washington Redskins (#17 Jonathan Allen): The Redskins showed some guts by going against the crowd and taking Allen. For whatever reason, he was passed on by numerous teams who could've used him, and I think that led to other teams feeling nervous about picking him. The Redskins were not afraid, however, and they landed one of the best 5 players in the draft all the way down at #17.
2 New Orleans Saints (#11 Marshon Lattimore & #32 Ryan Ramczyk): I had projected Marshon Lattimore to be picked 5th by Tennessee, so the Saints were fortunate to grab the draft's best cornerback at #11. But they weren't done yet. They held onto the pick they acquired from New England to add a very promising offensive lineman to protect their 38-year-old future Hall-of-Famer. A lot of people will not give New Orleans the credit they deserve, but they had a fantastic first round.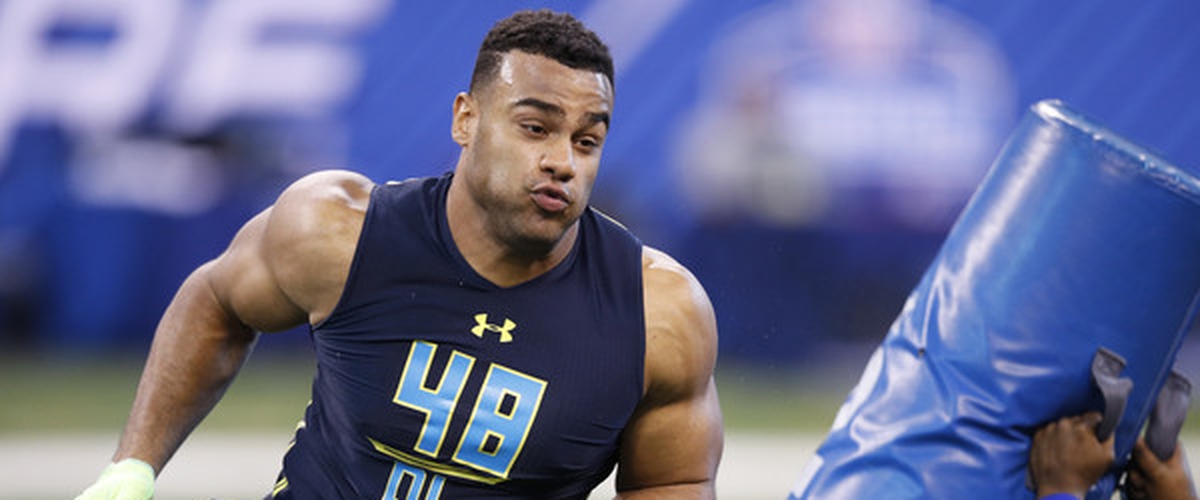 1 San Francisco 49ers (#3 Solomon Thomas & #31 Reuben Foster): The Niners blew my mind with how incredible their first round was. First, they completely fleeced the Bears to acquire some extra 3rd and 4th round picks. Then, they drafted Solomon Thomas with the 3rd overall pick. That would've been good enough to contend for the top spot on this list already. But then, they traded up to #31 to stop Reuben Foster's slide. In summary, the 49ers left the evening with 2 of the 5 best defensive players in the draft and some extra draft picks from Chicago. Unbelievable execution. Well done, San Fran.