Analyst sees Miami Heat as perfect destination for Paul George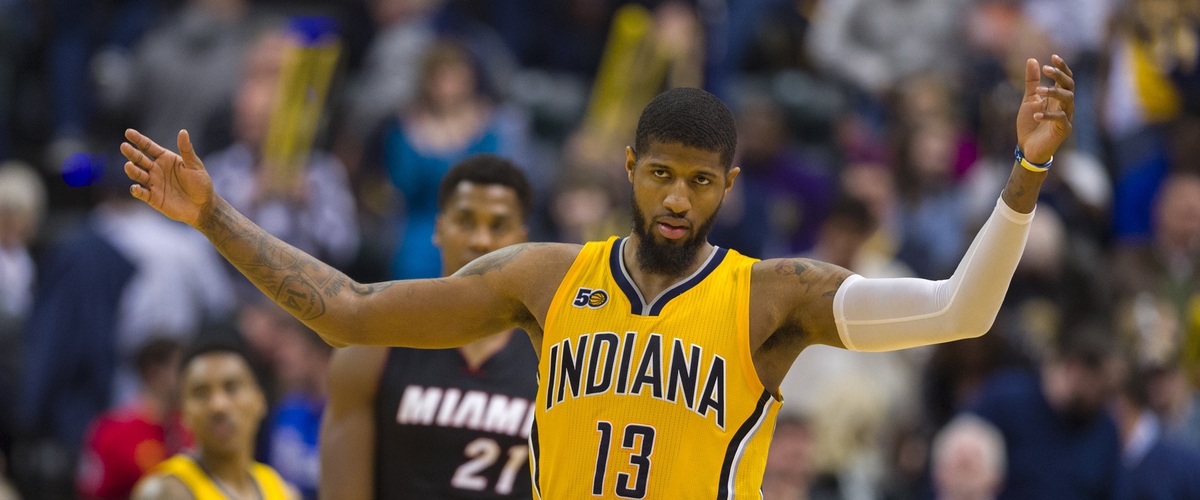 Pacers star Paul George may have played his last game as an Indiana Pacer this past Sunday. The Pacers' season ended in a sweep against the Cleveland Cavaliers. After playing well in games 1-3, George struggled in what could be his last game with 15 points on 5-21 shooting.
When asked about his future in Indiana this past Sunday, Paul George said, "I ain't even at that point, yet. Next question."
At some point this off-season he's going have to answer that question.
With George possibly being on the block from now until next season's deadline, teams such as the Lakers, Clippers, and Celtics have been mentioned as potential destinations. It's already been reported that Paul George wants to play in Los Angeles, which is near his hometown Palmdale, California.
However, FS1 basketball analyst Chris Broussard believes the Heat would be a much better fit for George than either of the three teams.
Here's what Broussard said on the "In The Zone" basketball podcast:
BROUSSARD: "I think he wants to move on. I think we all feel the same way. The question is, what's the best fit for him? Where should he go?
"Everybody's talking the Lakers. This is my problem if I'm Paul George and I'm looking at the Lakers. Yeah, I know it's LA, it's the glamour franchise, it's where I'm from. But am I going there to be on a mediocre team for the meat of my prime?
"Because if you're in the West and you're not making the playoffs, you're not making the All-Star team. It's already tough enough with all the players they have in the West. So I think he needs to stay East. You could look at Boston.
"I think, though: Miami. Best fit. You need to go somewhere where they know how to win. Where there's a culture. The Clippers are a case in point of knowing the importance of knowing how to win. And I know Doc [Rivers] has won a championship, but he has not been able to put that culture with the Clippers.
"There's only a handful of teams that tend to win championships, and [the Heat] have got a coach. And obviously, you've got Pat Riley there. Look at when he was with Indiana, when they were a great team. They had a shot-blocker, Roy Hibbert. Now, you got Hassan Whiteside, who's better than Roy Hibbert. You had a good point guard, George Hill. Goran Dragic? Not the defender that George Hill was, but certainly a better offensive player and playmaker.
"You've got some role players. Now, you might have to trade some of them. Like, I'd trade for [George] this year rather than wait for him to become a free agent. You've got Justise Winslow, Tyler Johnson, you've got guys you could trade for him. Wayne Ellington. I would try to keep [Dion] Waiters.
"If I put Paul George on that team with a championship coach in Erik Spoelstra — I'm not going to say they're better than Cleveland, but I think they're right there close to Cleveland and certainly better than anybody else in the East."
[h/t Fox Sport's Andrew Lynch]
Start at around 19:05.
But if Indiana decided to trade George, they'll want a lot in return for him. Maybe even Hassan Whiteside or Goran Dragic, players the Heat would most likely be reluctant to give up in a potential deal for George. Or maybe just three of the Heat's young core players in Richardson, Johnson, and Winslow along with the 14th pick in the draft(after the selection). Regardless, you're going to have to give up assets for what could be a rental player. George has two years remaining on his contract and is set to make $19.5 million this upcoming season, but he can opt out and become an unrestricted free agent next summer. With the chance to increase his salary earnings, he'll most likely test the free agent waters. And there's a chance he could leave.
That said, Pat Riley has a history of taking risks like this with Shaquille O'Neal in 2004 and just recently Goran Dragic. After playing one season in Miami, both players ended up signing long-term deals with the Heat. But would Riley be willing to take on another risk in acquiring Paul George? History says yes but we'll see.