Hockey Stop: The Ins and Outs of the 2018 draft and more! (Picks 1-10)
Three years ago, it was the Connor McDavid sweepstakes. Two years ago, Auston Matthews. Last year it was the...It was up for grabs? Last seasons draft featured plenty of guys who can be studs in the future, but only Nico Hischier (1st pick; New Jersey) and Nolan Patrick (2nd pick; Philadelphia Flyers) who made the leap to the NHL. But this year, we're back where we left off in 2016. It's the Rasmus Dahlin sweepstakes, and the Buffalo Sabres won it. But, just like in all the other drafts listed above, there's much more to it than the top guy. We have guys like Charlie McAvoy, taken in the mid-first, that turned out to be a star. It's my job to bring you my predictions and how I believe some of the later picks could be great.
1st Overall- Buffalo selects Rasmus Dahlin, Frolunda HC (SHL)
Buffalo gets a guy here that can do it all. He has insane puck-handling skills, along with remarkable skating. Despite being a defenseman, he has the speed and skill to lead the rush and create offense. He has great hockey sense offensively, along with great passing. But don't let that fool you, he is defensively responsible. He has the strength to win the net front battles, along with board battles. He doesn't shy away from the physical game either. Dahlin has drawn comparisons to Erik Karlsson, and could be a franchise defenseman sooner rather than later. He reminds me of Victor Hedman, where he is very good offensively, but also a big body at the back-end. You're going to be hearing his name for a long time.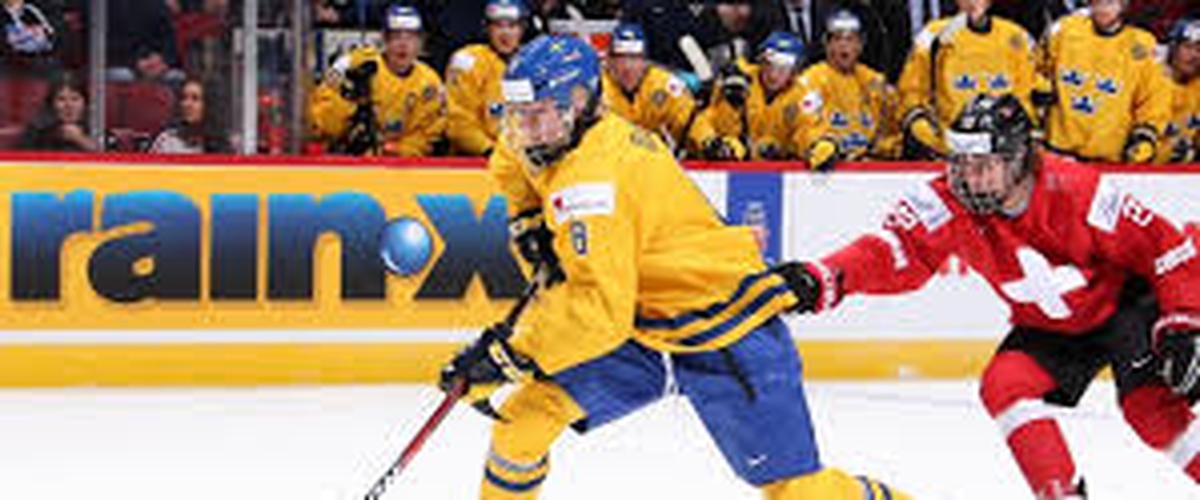 2nd Overall- Carolina selects Andrei Svechnikov, RW, Barrie (OHL)
With this selection, Carolina acquires a pure goal scorer. He is a fantastic skater, he can beat defenders with just his skating, and he pairs that with his stick-handling skills. Although he faced a wrist injury earlier on this past season, after scoring 10 goals in the first 10 games, he bounced back and scored 30 goals in the remaining 34 games. He has the potential to be one of the better scorers in the league, mixing in with the Laine's and Ovechkin's. The main problem with Svechnikov, like that of Ovechkin, is his lack of effort in the defensive zone. However, he is still very young, and because of Carolina's young up-and-coming d-core, he could fit well and be coached into a more reliable defending forward.
3rd Overall- Montreal selects Filip Zadina, LW, Halifax (QMJHL)
Montreal finally gets their luck in the expansion draft, winning a top 3 pick in the lottery. With their third overall pick, they get an elite goal scorer, like Svechnikov. Zadina, however, isn't as NHL ready as Svechnikov is presumed to be, but is a more complete player. He isn't as fast as Svechnikov is, but he has great edges and cuts, along with great balance to fight off checks. He also has good hands, and can beat defenders one on one. The biggest thing is that he can also defend. He isn't afraid to block shots and he played on the penalty kill for Halifax. I believe that he could turn out better than Svechikov, if coached right, but he will need more time. Even if he doesn't surpass Svechnikov later in his career, he will still be an elite scoring playmaker, and on the penalty kill for the Canadiens.
4th overall- Ottawa selects Brady Tkachuk, LW, Boston University (NCAA)
After a disappointing year for Ottawa, they wind up with the fourth overall pick, which isn't a bad thing. If there's one thing we know about Ottawa, it's that they love to play that in-your-face hockey, with speed and skill to go with it. Brady Tkachuk is the best prospect for Ottawa, because he is an aggressive player, like his brother Matthew in Calgary. He also brings size and skill, and may be ready for the Senators by next season. Although not the fastest guy, he has long, powerful strides that can get him going to that top speed, and one more year at the collegiate level could season his skating up a bit.
5th Overall- Arizona selects Oliver Wahlstrom, USNTDP (USHL)
With the 5th overall pick, and a draft full of great defensive prospects, many people had Arizona going with a d-man here. However, Arizona has Oliver Ekman-Larsson and Jacob Chychrun, who will be their top guys for a while. So it would make sense to pick up a goal scorer to play alongside Clayton Keller. Wahlstrom fits that role. The young prodigy, remembered by his incredible goal at the Bruins mini 1 on 1's in 2009, has emerged as one of the top goal scorers in the draft. Although he is 1-2 years out from being NHL-ready, he is already an elite skater, one of the best skaters in the draft. He can not only score with a lethal wrist shot, but he is also an incredible playmaker. He needs work on the defensive side of things, but when the time comes, he could be a force with the Yotes, alongside of Keller.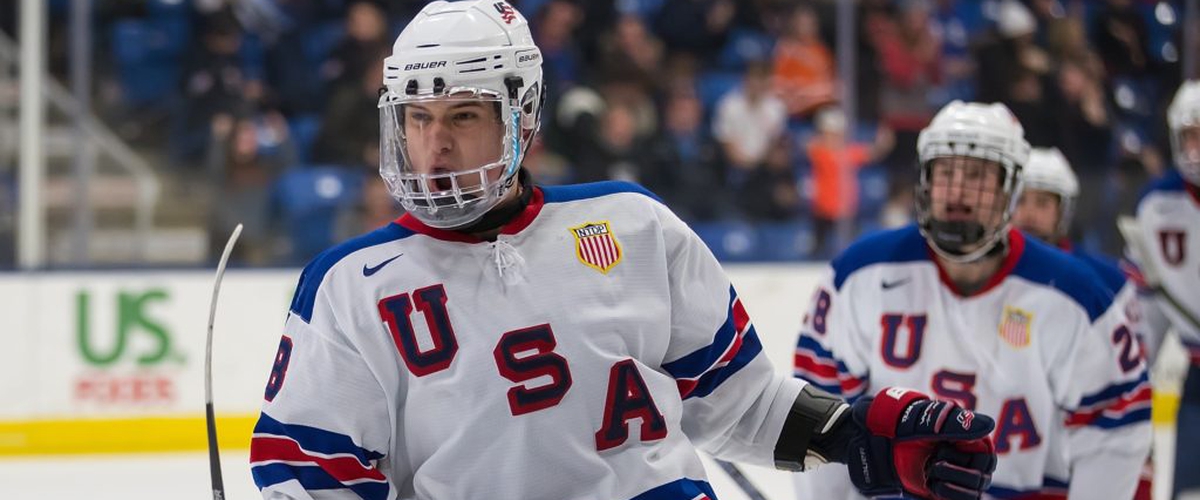 6th Overall- Originally Detroit's pick, but I believe it will be traded to the Islanders for the Isles 12th overall pick and Ryan Pulock (read after my draft predictions to see the explanation)***
Islanders select Adam Boqvist, D, Brynas IF (SHL)
The Islanders want to prove their worth to captain John Tavares, right? So trading up and getting a d-man that has a higher ceiling, and could have a bigger impact at a faster rate could do just that, which is why they go Boqvist. Boqvist is an incredible skater, and that paves the way for him to be an outstanding two-way defenseman. He makes great decisions in the offensive zone with the puck, with incredible passes and a wide variety of shots. His point shots allow for teammates to get deflections or rebounds, and he can certainly help John Tavares in the future. He must get bigger, as he does get pushed around a lot in his own end; however he has the technical skill to be great in his own end. With the right coaching, he could be a franchise defenseman out of Sweden.
7th Overall- Vancouver selects Joe Veleno, C, Drummondville (QMJHL)
Vancouver has their guy on the back end in Olli Juolevi, and should go for a defenseman in the second round. They need a center, to go with Boeser in the future, or a solid future second line center behind Bo Horvat. Veleno is very fast, with decent puck-handling skills, to beat defenders one on one. He is a good two-way player, with fantastic playmaking ability on the offensive end. His shooting needs work, but he could be a great center in the future.
8th Overall- Chicago selects Quinton Hughes, D, US-Under-18 (USAH-NTDP)
Chicago's aging D-core, along with some of the top defensemen in the draft still available, gives them every reason to take Quinton Hughes at number 8. He is a great skater, and because of that, he is rarely caught out of position. He has a great wrist and slap shot, along with fantastic vision and great passing in the offensive zone. He will more than likely run the PP on any team he goes to. However, due to his lack of size, he is outmuscled in his own end, and must get better positionally as well in the D-Zone.
9th Overall- Rangers select Evan Bouchard, D, London (OHL)
The Rangers have taken forward prospects Filip Chytil and Lias Andersson in recent drafts, which will pave the way for them to start selecting young guys for the back-end, especially with McDonagh now gone. Bouchard has decent, not great, skating, and although his speed isn't bad, he needs to work on acceleration, along with his edges. Out of all the defensemen in this draft, he has one of, if not, the best point shot. His slap shots, snap shots, and wrist shots are already NHL caliber. He also has decent vision, along with good passing to set up teammates, and continues to improve at that. Defensively, he uses his big frame to his advantage, and angles forwards off and away from the slot, however, due to his below average footwork, he can get beat wide, and drawn out of position. He still has the upside to be an elite defenseman, and a future quarterback to the powerplay.
10th Overall- Edmonton selects Noah Dobson, D, Acadie-Bathurst (QMJHL)
Edmonton has so many young forwards, along with a thin blue line and weak goaltending. Along with the fact that Noah Dobson remains undrafted, they'd be stupid not to take him. He has great skating; he's fast, with great edge work. He's great with the puck, and he's great at creating passing and shooting lanes. He has great vision, and great passing ability. His slap shot matches up to that of Evan Bouchard, and his wrist shots can also be lethal, and he can only get better. He is really strong, and can eliminate net front presence in the d-zone. He wins most battles and occasionally throws big hits, however, he tends to stay in position. Although he is more of a complete player, he isn't as close to being NHL ready as Bouchard is.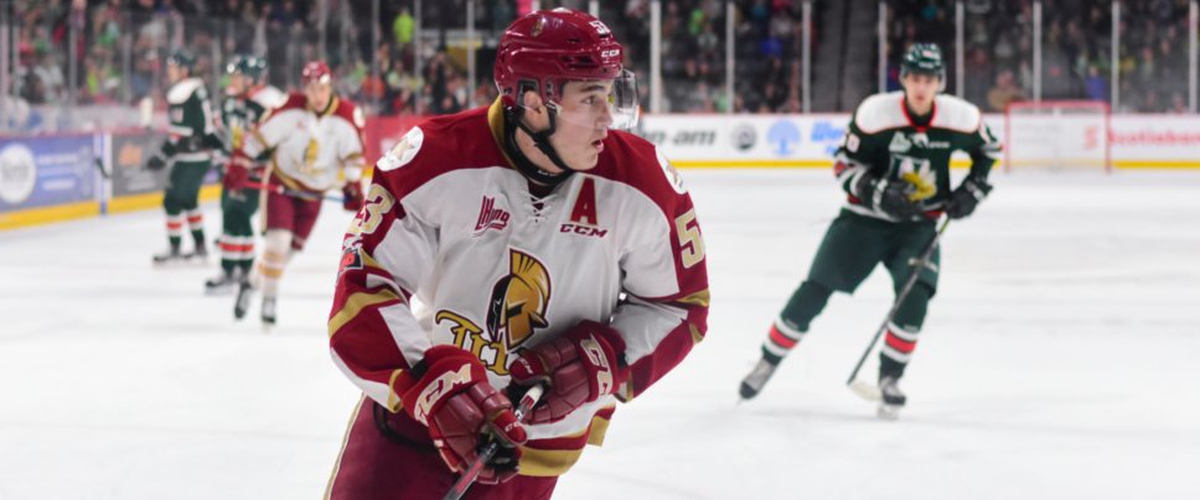 ***-Detroit showed a willingness to trade their 6th overall pick, and is looking to stay within the top 15 picks, but could move further back. The Islanders are one of few teams to have two firsts, and the only team with two firsts in the top 15. This allows them to trade one of those picks, especially if it means trading up. Ryan Pulock is a decent defensive prospect, but they could get someone even better early on, and with the star power on the blue line in this draft, there's no wonder they'd go for it. Detroit presumably has a guy in mind, and won't get hurt too bad if trading back in the draft, because of how deep the first round is.