Fantasy Football Predictions for the 2018-19 Season
Every Football season spells the end for friendship. Fantasy Football begins and it is a war between friends and family for bragging rights. So I'm here to give you my two cents in the hopes that you wind up on top this fantasy season.
Let me kick things off with the quarterbacks, the position that racks up the most fantasy points week by week. Last season's top 5 may catch you by surprise, considering injuries to quarterbacks such as Deshaun Watson and Aaron Rodgers. So, here's that list:
1. Russell Wilson (Seattle Seahawks)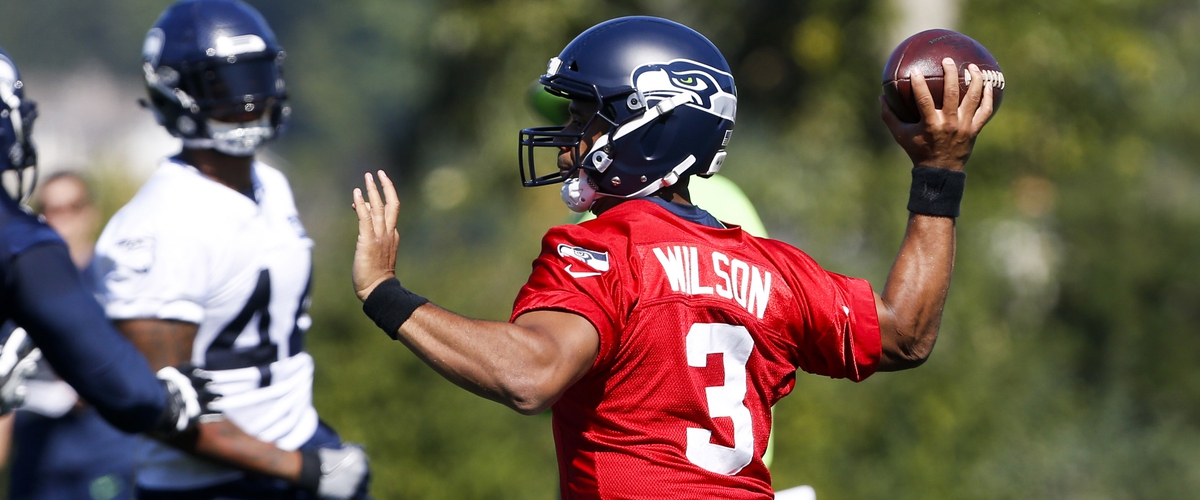 2. Tom Brady (New England Patriots)
3. Cam Newton (Carolina Panthers)
4. Alex Smith (Kansas City Chiefs, now Washington Redskins)
5. Kirk Cousins (Washington Redskins, now Minnesota Vikings)
If you take this list and think about, if they were moved, what team they are on now and what benefits that team has for them, this top 5 should remain somewhat intact. Kirk Cousins now finds himself with an elite Wide Receiver duo of Adam Thielen and Stefon Diggs. Not to mention, a healthy Dalvin Cook as a star running back as well. Tom Brady is Tom Brady, arguably (but shouldn't be an argument) the greatest quarterback to ever play the game of football, and at the very least, the most successful. And finally, Russell Wilson remains on the same team as last year, with mostly the same key players offensively, alongside the fact that Chris Carson is breaking out of his shell a little bit at the running back position. Now, the negatives are Cam Newton and Alex Smith. I really don't believe Alex Smith is a top 5 quarterback on a consistent basis. Sure he had a great season, but keep in mind Aaron Rodgers was injured early, as well as Deshaun Watson and Carson Wentz. Also consider the fact that he's leaving a good Kansas City team for Washington, who hasn't competed for a playoff spot since 2015, Kirk Cousins first full season as a starter. Meanwhile, Cam Newton always seems to be super inconsistent year by year. Yes, he is an enticing selection, as he scrambles a lot and controls most of the offense in Carolina, but his year by year inconsistency makes him a bit of a risk in my eyes. Now before I get carried away, let's take a look at my prediction for the top 5 quarterbacks for next season.
1. Carson Wentz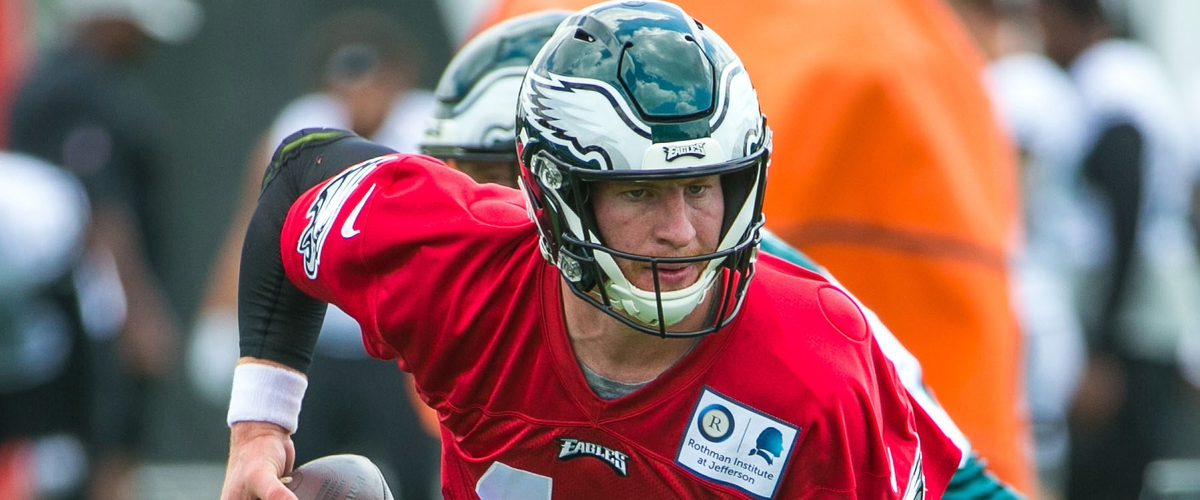 2. Aaron Rodgers
3. Russell Wilson
4. Tom Brady
5. Jared Goff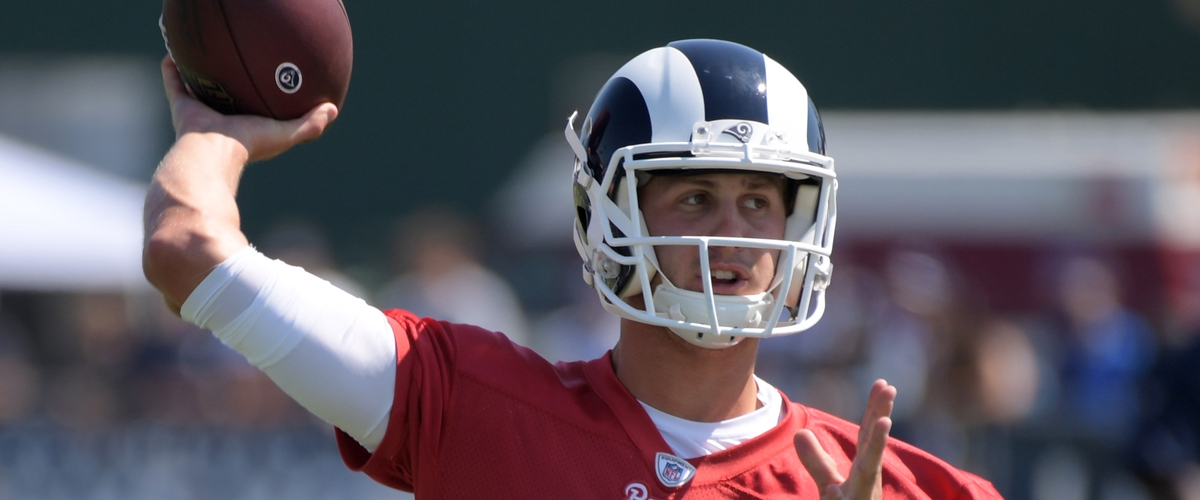 I know, I talked about Deshaun Watson in the last paragraph a few times, and didn't even include him in my predictions. But here's why. I'm not saying this is going to 100% happen, but you guys should definitely keep this in mind, he is a scrambling quarterback, in his sophomore slump (maybe?). Also, scrambling quarterbacks tend to be injury prone, and last season he unfortunately went down in practice, which now raises flags as he could re-injure that same knee. So for me the safer pick would be Jared Goff, a young quarterback who had a breakout season with a young up and coming team in every sense. Their wide receivers are solid, Cooper Kupp is a fast slot receiver, Brandin Cooks joined the team and he had a fantastic 2017 campaign with New England and is looking to continue that into this season. Robert Woods had a great year last year as well, and adds to the receiving threat. And if Goff ever gets slowed down by defenses, they can turn to Todd Gurley, arguably the best running back in the league today. Because of all the weapons on offense, it's tough to look at Goff and say he isn't going to have a good year, at the very least a decent one. Carson Wentz was on track to being one of the top 5, but was injured in the final weeks, cutting him just short. However, next season, he will be hungry, playing alongside hungry teammates, looking for a repeat championship. Philly hasn't slowed down either, and seems to continue to build on this championship team. Aaron Rodgers, who I placed at number 2, always has great fantasy numbers, most of the time placing in the top 3. But last season, as I've mentioned earlier, he was injured early on in the season. But expect him to be back and continuing to cement his legacy on the field. Now it's time for sleeper picks. For those who are unfamiliar or new to fantasy sports, a sleeper pick is a player that may not be considered a top player in their position but has a great breakout season and finds themselves among the best. I have 3 potential sleeper picks.
1. Kirk Cousins
I understand he was in the top 5 and said he was going to be even better this season, but like Deshaun Watson, I did not place him in my top 5. Many people still don't view Cousins as a very good quarterback, but he found himself among the top QBs in the league playing for a weaker team. So I fully anticipate him to have another great season, maybe not top 5, but still.
2. Blake Bortles
Bortles was given a lot of criticism last season. How he can't run an offense without a lot of help from Leonard Fournette. But that's also his strength. Because of the doubts among other NFL players and fans, with the threat of Leonard Fournette taking their attention away from the passing game, Bortles is poised for a breakout year. He should definitely be considered in your draft, at the very least as a backup fantasy QB to start. Especially if you go for someone like Deshaun Watson, among other risky picks.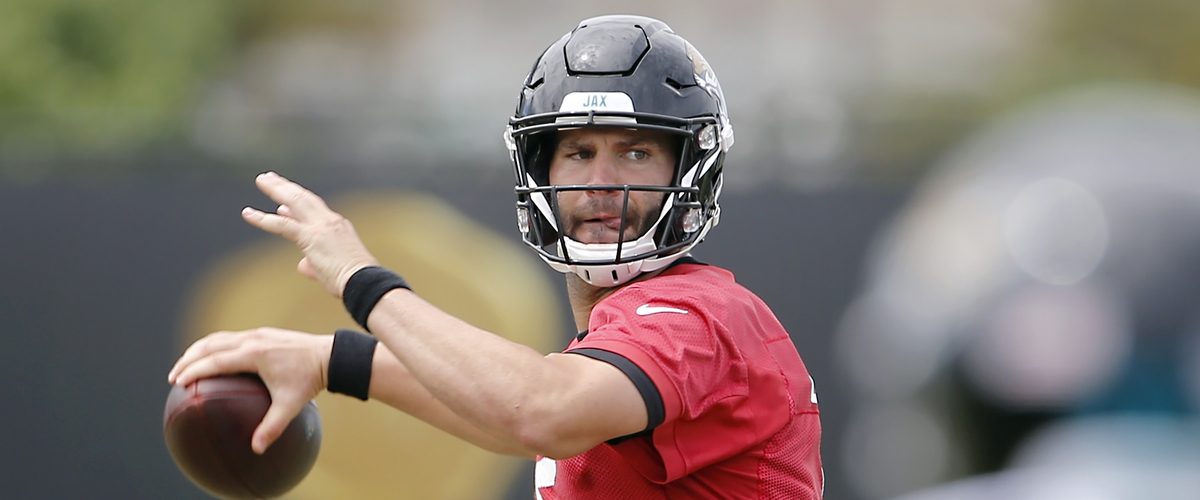 3. Jimmy Garappolo
I personally dislike Garappolo. A lot. He is super cocky and arrogant, with his perfect smile and all. But there's a hard time denying the fact that San Francisco is slowly getting better, and starting to build around him. They have decent running backs to fall back on as well, if he ever needs help. I could see him potentially being a wildcard for top 10 at the end of the year, but in his sample sized career, he has shown a tendency to be injured, making him a boom or bust pick in my eyes.
Now it's time for who I think could be busts: Players who are anticipated to have a good season, but fall short of expectations.
1. Derek Carr
I know, I know, the Raiders added Jordy Nelson. But I think both Nelson and Carr are overrated. Carr had one great season, was completely overpaid, and stank up the organization last season due to his underwhelming stats. Jordy Nelson's career has been completely controlled by Aaron Rodgers, and without his former teams star QB, he has completely struggled. So yes, Derek Carr could be a bust, and I personally will not be drafting him this upcoming year.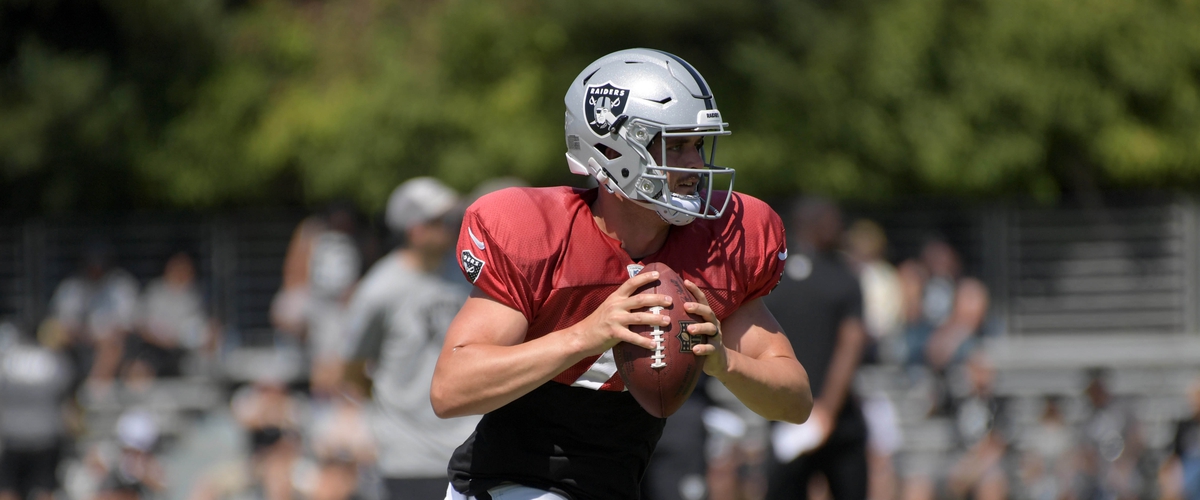 2. Dak Prescott
Dak had an off year, without the presence of Zeke Elliot for a few weeks. They also lost Dez Bryant, who is an extremely talented wide receiver who never found chemistry with Prescott. Their offensive core in Dallas, outside of Prescott and Zeke, are old and continuing to age. For example, Jason Witten. He is not a capable starting quarterback in fantasy, sorry Dallas fans. He might be an okay backup at best this season, and it's disappointing, because I was riding the Dak bandwagon for a little while. This organization is drowning the talent they have, and it's tough to watch.
3. Cam Newton
Now this, I admit, is a bit of a reach. Cam usually puts up good fantasy points year in and year out. But the reason he is here is because people view him as a top 5 fantasy quarterback, despite his inconsistency year to year. But with McCaffrey now in the running game, Cam won't be in near total control of the offense. He won't be the one passing and running with the ball on almost every play. His numbers will be down as the Panthers adjust to giving McCaffrey a larger role. I think this is a temporary, one year, slump for Newton, but it's this year and you should be aware. He could still be a great fantasy QB, and I could be completely wrong, but it's worth noting that there are some red flags.
Now it's time to show you some new faces at the starting QB slot, or at the very least, battling for a spot to be starter.
1. Josh Rosen
He is the safest rookie QB to pick up, as he is one of the few who have the starting role locked up. Arizona still has good receivers, most notably Larry Fitzgerald, alongside an elite running back in David Johnson, who is hungry for a bounce back season. He could have a big year with the Cardinals, so keep your eyes on him.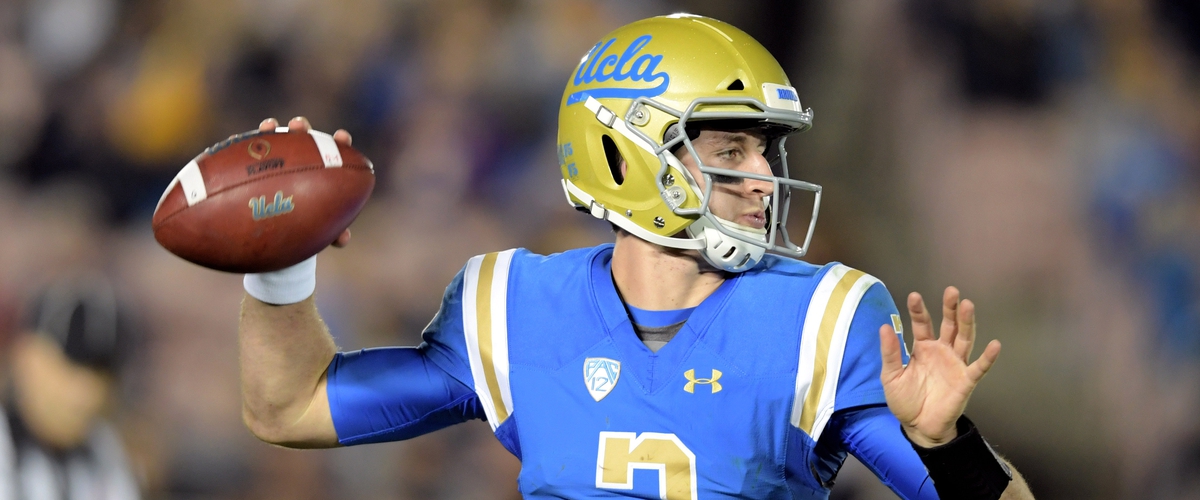 2. Patrick Mahomes II
Another new starter that basically already has the job locked in. He is placed at two because of the fact that Kansas City doesn't have the same advantages as Arizona. Mahomes should be paid attention to throughout the year, as it's only a matter of time before he finds a pattern and the chemistry with his teammates.
3. Baker Mayfield
I don't know where Mayfield stands in the organization. The Browns have a decent receiving core and decent running backs that can definitely aid a young quarterback, but they also added Tyrod Taylor, who seemingly is their starter? Taylor, in my eyes, will not succeed, but we all know how the Browns are. They'll continuously try Taylor out, and keep finding themselves back at the bottom. But there is hope, as Mayfield is looked highly upon by the front office, and may be given a chance before the halfway mark of the season. Keep an eye on the QB battle in Cleveland, as well as the start to their season.
Now, onto the Running Backs. As QBs rack up the most points, you'd think they're pretty important, but you're wrong. There are plenty of QBs to go around, but running backs, as well as receivers, are hard to come by as big point producers. So it's very important for people to take a guy like Le'Veon Bell in the first round than any QB out there. Last season, the top 5 RBs, outside of maybe one or two, were not big two seasons ago, and featured a couple rookies as well. Here are the top 5 RBs from the 2017 season in fantasy:
1. Todd Gurley (Los Angeles Rams)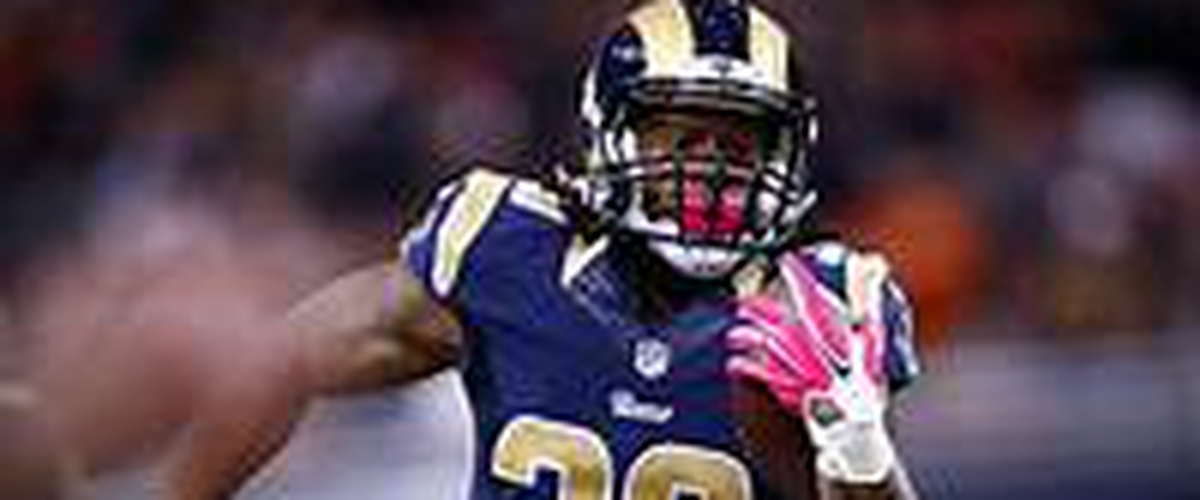 2. Le'Veon Bell (Pittsburgh Steelers)
3. Kareem Hunt (Kansas City Chiefs)
4. Alvin Kamara (New Orleans Saints)
5. Mark Ingram (New Orleans Saints)
Kareem Hunt is a rookie, and he was top 5. Alvin Kamara was also a rookie in the top 5, alongside Mark Ingram, the guy ahead of him in the lineup. Not to take anything away from Ingram, but he's never really been a point getter in Fantasy Football. Le'Veon Bell is consistently top 3, mainly 1st, year in and year out. Todd Gurley had an amazing rookie season, despite limited games due to an injury sustained before the season, went on to have a very bad season in his second year, and finally last season, where he dominated. I fully expect the top 2 to stay intact, but also remember David Johnson was injured early on in the season, as well as Dalvin Cook, Vikings rookie who could've found himself among the top 5, and Jay Ajayi, who, after he was traded to Philly, found a rhythm and dominated. In review, Mark Ingram's role will most likely be smaller, as Alvin Kamara is the younger and smarter option, which should knock him out of next years top 5. Alvin Kamara should finish roughly in the same position again next season. Kareem Hunt, who last season started on fire, kind of lost his tough, and wasn't putting up the same big numbers consistently, which for me, makes me believe he could be in for a sophomore slump. Le'Veon Bell, as stated earlier, is a consistent top 3 RB, and he should finish in that area yet again. Lastly, Todd Gurley, he should wind up like a Bell, where he finishes as a consistent top 3 fantasy RB, so that should be his range for next season as well, although we haven't seen enough successful back to back seasons YET, although I believe he is well on his way to that. With that being said, here's my Top 5 RB Predictions for the 2018-19 Fantasy football season.
1. Ezekial Elliot
Despite being suspended for 6 out of the 16 games played, he still finished near the top 5, showing just how good he is. With Jason Witten and Dez Bryant now out of Dallas, and a weak passing attack in general, his role could be gigantic, and he could be forced to put the team on his back. Expect him to thrive on this.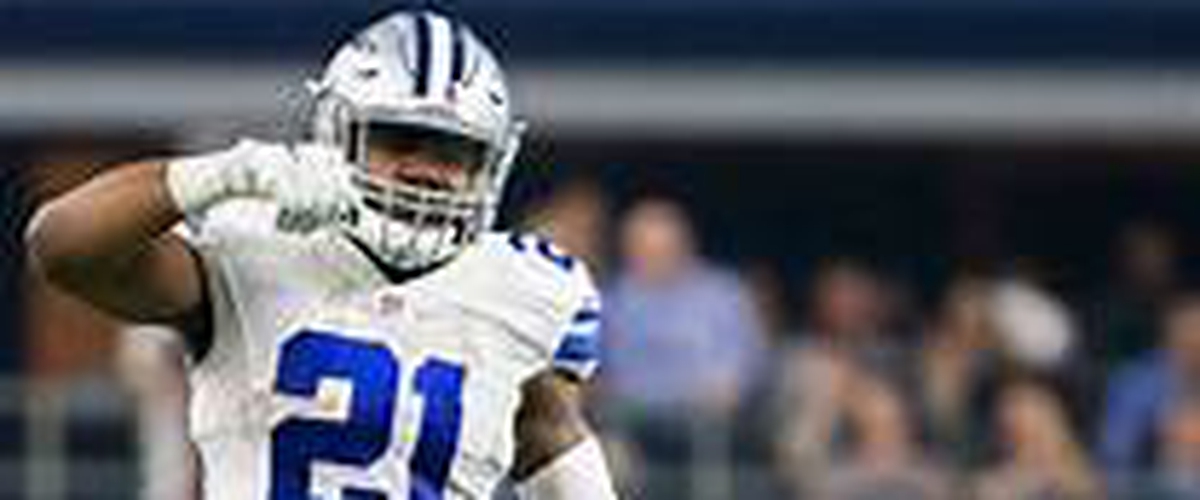 2. Todd Gurley
As stated before, Todd Gurley should continue to have stellar performances each year, but with all the raw talent, it's hard to be number one, and that's the case here.
3. Le'Veon Bell
Like Todd Gurley, there's just so much raw talent coming into the league and random veterans who just break out and put up big numbers that it's hard to get number one. Not to mention, Le'Veon Bell is starting to get up there in age, and RBs tend to have shorter careers, so how much more does he have left in the tank? I say he's still got the gas, and he should finish top 3 yet again.
4. David Johnson
It's hard to come back from a major knee injury as a RB, but David Johnson is the testament to that. He's hungry, and with the nature of the Cardinals, with star studded veterans like him and Fitzgerald paired with fresh legs like Josh Rosen, among others, he could thrive. It's time for Johnson to bounce back.
5. Leonard Fournette
Leonard Fournette was just outside the top 5, and he's readyy for an even better season. It will be difficult, and this is a toss up, with guys like Jay Ajayi, Dalvin Cook and Alvin Kamara right behind him. But Leonard Fournette is on a very good Jaguars team, with a somewhat weak passing game, where he could get a ton of carries yet again. That defense will give him all the opportunities he wants, and he's the safer pick for me at #5.
Next up, the sleeper picks. I have three sleeper picks for the RB position, however there could easily be 5:
1. Derrick Henry
For the last two seasons, it was speculated Henry could take the starting job away from DeMarco Murray in Tennessee. In some people's eyes, he was younger and just more talented than Murray was. His time as starting RB in Tennessee is long overdue and he is ready to shine next year. Watch out for Derrick Henry.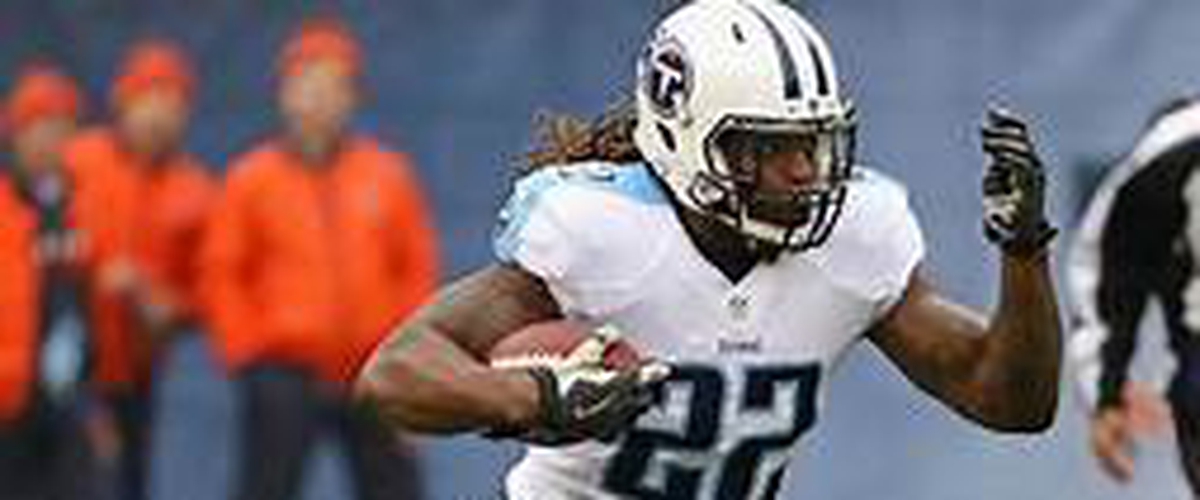 2. Duke Johnson Jr.
Duke was flying under the radar in fantasy last season, playing for an 0-16 Browns team. But despite the struggling team, he found a way to shine. With the Browns improving in almost every area, he could be in for another solid year, and potentially a big one.
3. Chris Carson
Chris Carson of the Seattle Seahawks showed flashes of what he can become last season. Most reports out of Seattle this off-season have been positive ones about Carson and how he is going to break out. The passing game in Seattle gets a little weaker, and they could use a solid RB to fall back on, something they haven't had since the 2015 Marshawn Lynch era. He might not have a very large role, as Russell Wilson control the offense, but he could put up consistent numbers every single weak and could be a very solid RB for your fantasy team.
This past draft featured a pair of RBs who could have great seasons. The 2nd overall pick and the 31st overall pick. Here they are:
1. Saquon Barkley
Saquon Barkley is one of the best RB prospects the NFL has seen in awhile. Taken at #2 by the Giants, it's a no-brainer Barkley will be putting up big numbers early. But it's the Giants, and who knows how well he'll play for them. I think he will be big, and you should draft him, but I don't think he will be top 5 big, as there's just so many other better, more experienced RBs on better teams.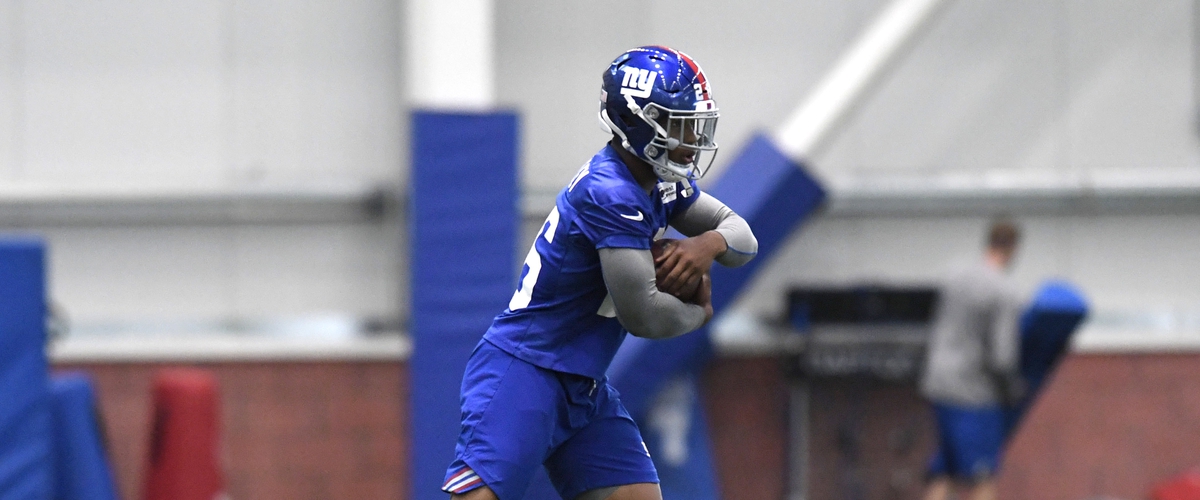 2. Sony Michel
As you guys know, the Patriots never use their RBs often, and usually use late round RB selections to slot into the lineup, or trade for cheaper RBs like Rex Burkhead. So it was a surprise that they went ahead and took the second best RB in the draft with their first round selection. That could mean they have some special role for him or something along those lines. He's good in the passing game, he's good in the running game, and he could be very special for the Patriots next season.
Finally, it's time for potential busts. For QBs, it's hard to find busts because there's either great QBs or decent QBs, and not very much in between. But with RBs, it's easier to find, based on situation and the team in front of them. Here are my 3 potential busts for next season:
1. Kareem Hunt
As said earlier on, Hunt fizzled out in the later weeks of the season for Kansas City. On top of that drop off last season, people now have film on him and his tendencies to better shut him down. Look at Todd Gurley for example, who I believe is a more talented RB, and how he was shut down in a big way in his sophomore season. Go ahead and draft Hunt, but don't come back complaining to me because I'll just say, "I told you so."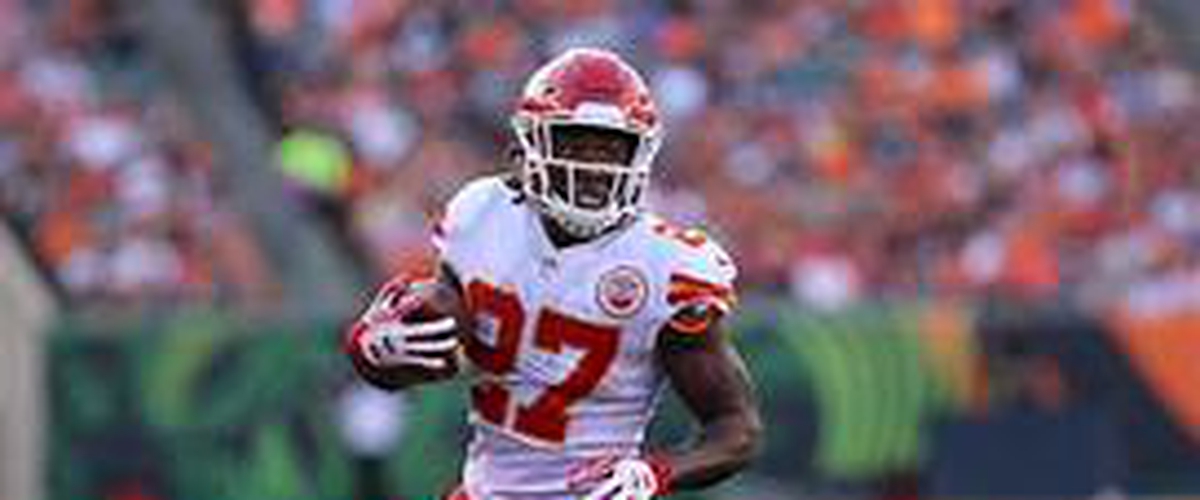 2. Mark Ingram
Ingram, before last season, really wasn't much from a fantasy standpoint. Now, with his role diminishing due to Alvin Kamara, he could go back to that below average fantasy producer. This isn't a guarantee but he is still a bit of a risk.
3. Lesean McCoy
McCoy is aging. He is still producing well but he plays for a weak team, with an aging body on top of that. I don't think he has much more left in the gas tank, and I could see him putting up underwhelming numbers throughout the year. I guess only time will tell.
Part two: Featuring Wide Receivers and Tight Ends!