2016-17 Metropolitan Division Preview
This will be a four part blog post, with this being the final part, in which I will tackle some predictions of how teams will perform as well as where they will fall come playoff time. Playoff teams will be marked with a "X"
Metropolitan Division
1. Pittsburgh Penguins X
The defending Stanley Cup champions will once again reign supreme within their division. They return with a nearly identical roster as last year. With a full season of Mike Sullivan behind the bench, the season should have a much smoother start than that of the 2015-16 season.
Sidney Crosby is unarguably the best player in the world. The two time Stanley Cup winner is fourth all time in points per game behind only Gretzky, fellow Penguin Mario Lemieux, Mike Bossy and Bobby Orr. If that doesn't prove just how dominant Crosby has been during his 707 game career, I really do not know what will. Without a doubt, Crosby is going to continue this trend of amazing play.
But Sid the Kid isn't the only dominant player the Penguins have on their roster. Among active players, behind Sidney Crosby is none other than teammate Evgeni Malkin in points per game. The "Two-Headed Monster" is going to continue what they have done their entire careers.
Behind the superstar forward group that includes Crosby, Malkin, Kessel and Hagelin, the Pens are also solid throughout the rest of the lineup. On defense, they have one of the best players in the league in Kris Letang, who will be able to push at least another 60 point season if he stays healthy. The only real weak spot on this team is Ian Cole. If they can address that issue by consistently playing Derrick Pouliot over Cole, it would be for the best. Either way though, Pittsburgh is returning just as strong as they were last year, which is a great thing for them, and a terrible thing for the rest of the league.
2. Washington Capitals X
In just about any other division, Ovie and the Caps would be at the top, but unfortunately they are stuck in a very competitive Metropolitan division.
The Capitals have a lot going for them, the best goal scorer in the NHL, Alexander Ovechkin who is a shoe-in to score another 50 goals in 2016-17. They also have Kuznetzov, Oshie, and Backstrom. Washington also has the depth to go along with the stars like Williams, Winnik, newly signed Connolly and so on. The Capitals can score goals, without a doubt. The forwards do not have any problems, but they do have a couple of sore spots on defense.
The biggest issue is Brooks Orpik and his giant $5.5 million contract.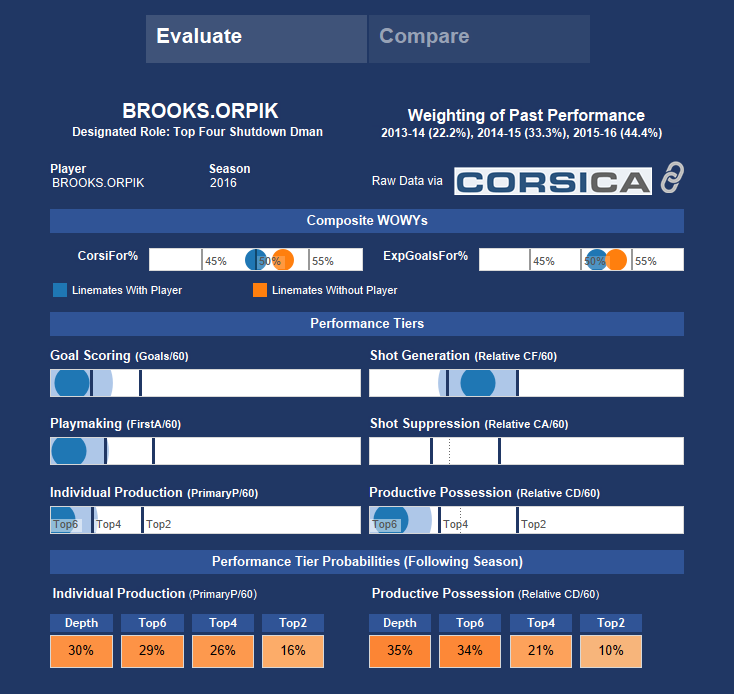 Brooks Orpik HERO Chart
For a guy that makes a minimal impact and who's highest season point total was 25, his contract is an absolute dumpster fire. Orpik spends nearly 20 minutes a night on the ice and he doesn't help the team at all, he drags his teammates down. He plays far too much and is payed far too much. But beyond this one sore spot, the Capitals have a great set of defensemen, and an even better goaltender.
3. New York Rangers X
The Rangers live and die with Henrik "King" Lunqvist. Without him, this team would not be in a position to succeed night in and night out.
GM Jeff Gorton has added a few decent free agents to the Rangers lineup that will really help out with their levels of depth. Michael Grabner can add some speed, Brandon Pirri can add at least 10 goals and highly sought after NCAA player Jimmy Vessey can prove why every team in the league wanted him.
Despite this and a couple other acquisitions, the Rangers' Stanley Cup window is closing very rapidly. It seems as though former superstar Rick Nash has lost his scoring touch, Lundqvist is aging and with terrible defense that this team may not make it too far into the post-season in future years, partly due to the trading of prospects and picks.
The Blueshirts did make a smart trade by receiving Mika Zibanejad in exchange for Derick Brassard and a 7th round pick. While Brassard's 58 points may slightly edge out Zibanejad's 51, he had the higher CF% of 48.9% compared to Brassard's 47.6%.
While none of the moves majorly help the Rangers to the powerhouse they were a couple of years ago, none of them hurt the team either. The fact is this, the blueline is absolutely terrible with Girardi and Staal on it, and that New York will start to be in serious trouble when Lunqvist finally starts to see a decline in play.
4. Philadelphia FlyersX
The Flyers didn't make too many changes to the roster over the summer, which may be the smart thing to do. Last spring Philadelphia shocked many fans by pushing the favorites to win the Stanley Cup, the Washington Capitals, to six games. During that series the Flyers discovered something that will greatly benefit them: that they have not one, but two starting goaltenders in Steve Mason and Michal Neuvirth.
Two starters will certainly help, but so should the growth of their young defensemen, Ivan Provorov and Calder nominee Shayne Gostisbehere. The latter already showing extremely extremely large strides with 46 points in 64 games in 2015-16. These two rising stars absolutely help add the depth at D that the Flyers so desperately need.
While the blueline has plenty going on for it, it's hard to say the same for the forwards, outside of a handful of guys. There's still the same cast and crew of Giroux, Simmonds, Voracek and Coutourier. Ron Hextall did add Dale Weise and Boyd Gordon, but those aren't exactly the type of players that will make a massive impact, but they do help a bit.
5. New York IslandersX
It should surprise no one that the Isles will barely make it into the post season. Simply put, the Islanders suffered major blows this offseason. Three core players signed elsewhere during the summer. Those three being Kyle Okposo, Frans Nielsen and Matt Martin. They lost a lot of goals there, and their prospects aren't quite ready to take over.
There were a couple of signings that lessen the blow though. The biggest one being Andrew Ladd, and while the contract may be an atrocious seven year deal, it won't hurt them this year. The team also signed Jason Chimera, which may be a bit of a replacement for gritty Matt Martin.
6. New Jersey Devils
The addition of Taylor Hall is going to make the biggest impact for New Jersey. While Hall is one of the best left wingers in the NHL, one man can only do so much. The defense of this team is currently in very rough shape. They have some great young defensive prospects coming up such as Damon Severson and Jon Merill, but they aren't yet ready to take over.
Corey Schneider is in an unfortunate situation. He is one of the most elite goaltenders in the league and he is in his prime. But he's stuck on a team that will probably miss the playoffs, and is far from challenging for the Stanley Cup. The Devils will undoubtedly miss the post season despite Corey Schneider and Taylor Hall's best attempts to drag the team into the playoffs.
7. Carolina Hurricanes
The Hurricanes will one day return to their glory years of 2006, but it won't be in 2016-17. As of right now, they are very, very thin in terms of proven NHLers. The team is lucky enough to have a very good Justin Faulk and Jeff Skinner, but beyond that there is a major drop off.
The acquisitions of Teuvo Teravainen, Viktor Stalberg and Lee Stempniak will help. Teravainen is still young and just adds to their prospect pool, while veterans Stalberg and Stempniak help out with the depth issues. Hopefully though, the defensive prospects, like Noah Hanifin and Hayden Fleury, have grown and are ready to take on a larger part this year.
The Canes biggest issue though, it Cam Ward. It will be very hard for the team to be competitive nightly with Ward and Eddie Lack in net. The fact that Carolina actually even re-signed Cam Ward is quite confusing.
8. Columbus Blue Jackets
The Jackets are in absolute shambles. They are probably the biggest mess of a team in the entire NHL. There are so many players being overpaid by Columbus, whether it was them signing them or acquiring the player through trade, there is no excuse to have so many deplorable contracts. The only bright spots on the team is that Seth Jones and Ryan Murray are a nice start to a D-core. But besides that, their forwards aren't good, and their goaltending seems to be very up and down. Columbus better pray for the first overall draft pick in the 2017 lottery, it's gotta get worse before it can get better.
---