Has Jonathan Toews Earned His Contract?
Jonathan Toews is beloved by many, fans of Chicago as well as others around the league. He is often held up on a pedestal with other players such as Sidney Crosby or Anze Kopitar. But has the Blackhawk captain truly earned to be held that highly? Toews is praised for intangibles such as leadership, which really is something that is unmeasurable and no one outside of the Chicago dressing room can really attest to. But you can measure his offensive prowess and if he truly is as great defensively as nearly everybody says his is.
The fact is though, Toews doesn't deserve that monster of a contract. Offensively, he can be dangerous, but that goes along with being a first line center and playing with wingers such as Marian Hossa. Even with the terrific support he has been given, he just cannot compete with the elite players in the NHL. This season Toews has 12 points in 21 games, with players such as Kevin Hayes of the Rangers, rookie defenseman Zach Werenski and Oilers winger Patrick Maroon ahead of him. The season is still young though, so maybe he can pick up the pace. But history shows that Toews is not elite offensively. In his career he has only achieved being point per game once, and that came in the lock-out shortened season where he amassed 48 points in 47 games played. Along with that, his career high point total for a single season was 76, and that came in 2010-11. These aren't bad numbers by any stretch of the imagination, but far from stardom.
Offense doesn't tend to be what Toews is praised for, he is usually called one of, if not the best defensive forward in the NHL. He has even won the Selke once in his career, so he must be one of the best defensively. Unfortunately, that is a bit of a misconception. Toews isn't amazing in his own zone, but that isn't to say that he is bad either. There are just so many players better than him in every aspect of the game.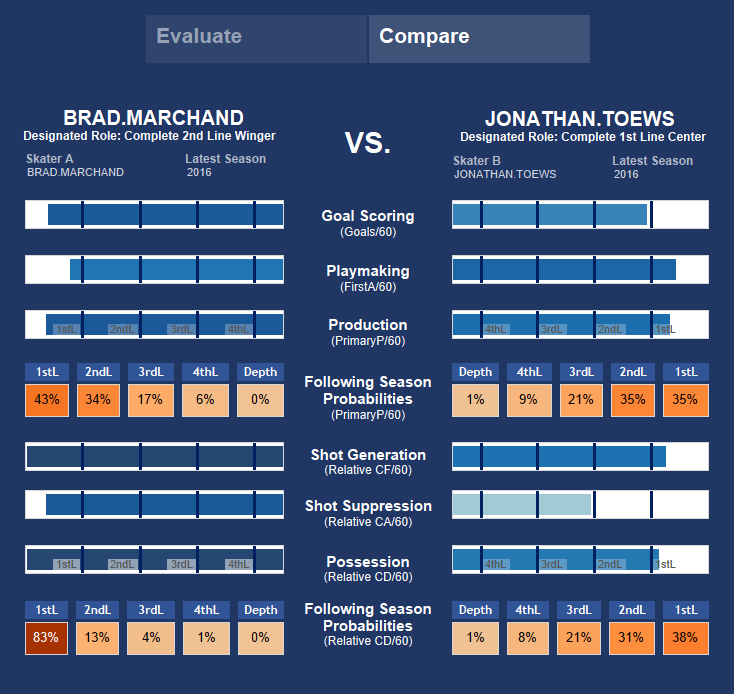 Marchand vs Toews HERO Chart
Brad Marchand will probably go down as one of the most pesky players of this era. He's hated by many but oh lord is he an amazing player. I am sure that most would guess that Marchand would be better offensively than Toews, but not defensively too. The Boston Bruin winger is better than Toews in damn near every aspect, from goal scoring, to possession, to shot suppression. On top of that, Marchand only has a cap hit of $4,500,000 which rises to $6,125,00 after this season. Nearly half of Toews' $10.5 million cap hit. The Blackhawks are paying almost double for a player that is worse in every end of the rink. Marchand is just one example of many players that top Toews.
But at least Toews has those intangibles like leadership and sportsmanship, right? Toews is not a bad player, but he isn't amazing either, and he is certainly overpaid as well as overrated. The only player on the Blackhawks that deserves a contract like Toews' already has it, and that is Patrick Kane.
---