Which NBA Rim Protectors Scare the Competition The Most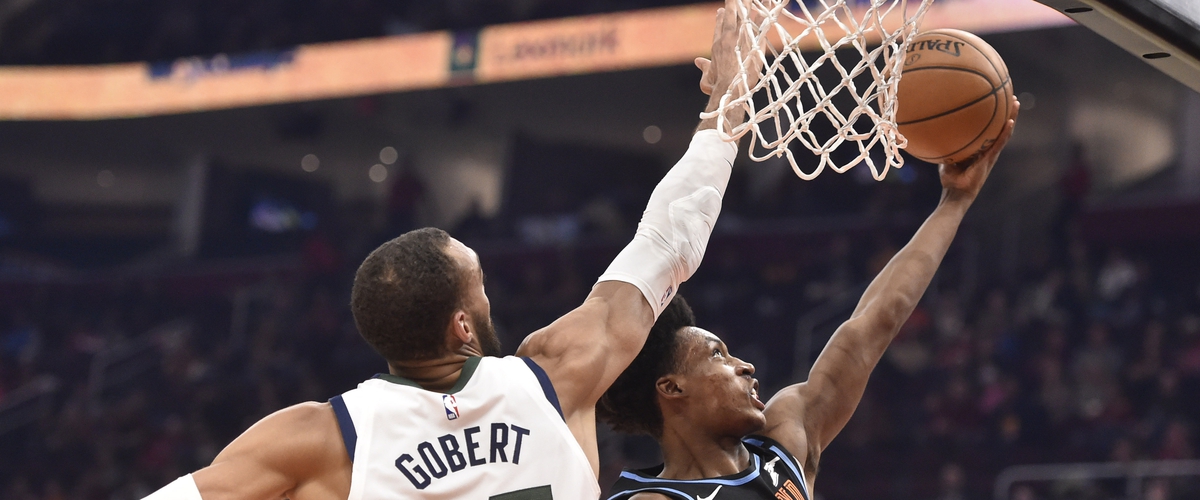 Rudy Gobert is the back to back reigning Defensive Player of the year, but some basketball hipsters cast doubts on the Jazz center's prowess on that end. They say that switch-ability is too important in the modern era, that he is too slow. These critics forget the most important element in basketball, the basket. Gobert is a rim protector first and foremost, and a great one at that. This season the Jazz allowed their opponents a field goal percentage of just 59.6% from within six feet of the rim, good for 10th best in the league. That stat doesn't tell the whole story though. When Gobert is on the court, teams attempt 11% less shots from within the restricted area. That number would put him at fifth in the league among centers who play more than 25 minutes a game. Using data from stats.nba.com, I calculated how these bigs impact opponents' shot attempts at the rim.
Player | Percent Change in Opp. RA FGA
Brook Lopez -0.2440371047101562
Bam Adebayo -0.12795969997011533
Nikola Vucevic -0.11638238040994511
Jonas Valanciunas -0.11212607415968386
Rudy Gobert -0.1118494876446006
Marc Gasol -0.10657561160731932
Joel Embiid -0.08982435602093239
Jarrett Allen -0.07709758507584899
Steven Adams -0.06598735575908186
LaMarcus Aldridge -0.05186616461167437
Kristaps Porzingis -0.04275859261525937
Montrezl Harrell -0.02740154847483295
Jaren Jackson Jr. -0.023806392044860392
Zach Collins -0.021782565281510544
Domantas Sabonis -0.021682906142816476
Julius Randle -0.01995751930381053
Andre Drummond 0.008157479789599376
Myles Turner 0.008709344911596377
Dwight Powell 0.010075681445731755
Karl-Anthony Towns 0.020201083947722843
Nikola Jokic 0.02160176060319431
Hassan Whiteside 0.024782518470126864
Al Horford 0.03196052389301537
Larry Nance Jr. 0.03841157991908462
Anthony Davis 0.04206678015801269
Clint Capela 0.0701154735747214
Deandre Ayton 0.07577797280144634
Wendell Carter Jr. 0.08857105546886211
Kevin Love 0.11515071396136453
Tristan Thompson 0.11859779245522946
Lauri Markkanen 0.16102045750214924
At the top of the rankings is Brook Lopez, which may be a little surprising at first glance. Most likely his high rating is due to him sharing the floor with Defensive Player of the Year candidate Giannis Antetekounmpo. The duo accounts for a 24%(!) drop in attempts in the restricted area, almost double that of Bam Adebayo, the second highest. The twin towers deployed by the Bucks make for a very intimidating pair. There's a sharp drop-off after Lopez where the data becomes more consistent. So, what key points can we take away from this data?
Nikola Vucevic Is a Better Rim Protector Than He Gets Credit For
The top 10 after Lopez is about what one would expect, it is filled with the league's premier rim protectors like Rudy Gobert and Joel Embiid, except for Nikola Vucevic, of the Orlando Magic coming in at 3rd. Vucevic is far from a traffic cone on that end, but it is rare to hear his name in the conversation with the other big men he joins on this list. Its often hard to get a full picture of defensive impact from stats alone, and with Vucevic logging only 0.6 Defensive Box Plus Minus hes probably not gonna be a defensive player of the year candidate any time soon. Still, this does show us that when facing Vucevic at the rim, some players thing twice about going up for that layup. Maybe hes a better defender than we realize.
The Bulls are Bad
Really bad. On the opposite end of the list is Lauri Markkanen. When playing against Markkanen, teams attempt a staggering 16% more shots at the rim. Normally Markkanen will share the floor with Wendell Carter Jr, who is just a few spots higher on the list, but when the Bulls play small with Markkanen at the five, teams eye the rim like candy from a baby. The fact that Carter Jr. only faces half the increase Markkanen does when they share the floor so often, leads one to believe that Markkanen is an even easier target than these numbers show. Unlike the Bucks, where having the duo of Antetekounmpo and Lopez defending the rim leads to incredible intimidation, teams are not afraid of the Bulls twin turnstiles.
Giannis is Really Good
Brook Lopez has never been known for his defense. The big man has career Defensive Box Plus Minus average of 1.4, just decent. Lopez has made his living off of dominant post moves, and more recently, stretching the floor. Yet he sits well on top of these rankings. In addition to running the floor in Milwaukee, the Greek Freak provides a menacing presence at the rim. With a 10' standing reach and a 40" vertical, the forward protects the basket like the top centers in the game. This just serves to highlight another element in the defending MVP's insane all around game. While Antetekounmpo's blocks per game might be down to just one (from 1.5 last year, and 1.4 for his career) its not because he has regressed as a defender at the hoop. Players have just learned to stop trying if they look at the basket and see Antetekounmpo looming.
---