Danny Ainge's Wild Ride: Breaking Down Boston's 2017 NBA Draft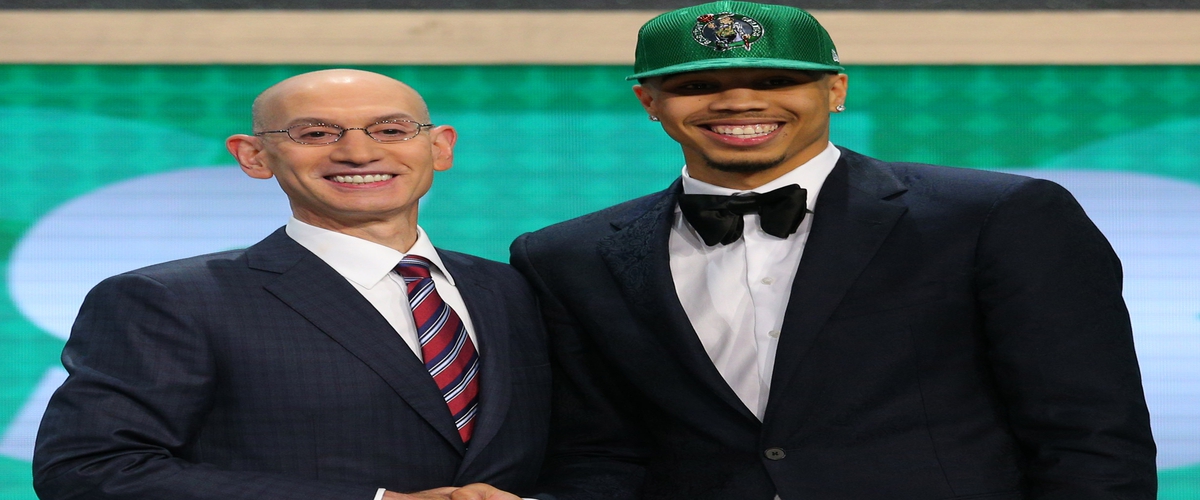 Stop me if you've heard this before. Boston had one of the strongest drafts in recent memory.
Seriously, stop hogging all the major prospects! Do you hear me? I won't be ignored, Dan.
After ridiculous rumors speculating that the Celtics could acquire Paul George, Jimmy Butler, and seemingly every other franchise player of an NBA team, the one move they did make didn't seem half as big but could be a hell of a lot more important when it comes to the future of the franchise. Let's take a look at it, shall we?
Boston receives: The third overall pick in the 2017 NBA Draft and the Lakers' 2018 first round pick.
Philadelphia receives: The first overall pick in the 2017 NBA Draft.
Grade: A. This is one of those rare examples of a trade that works perfectly for both parties. Philadelphia gets the chance to draft literally any player in the pool, and Boston gets to select their first choice without the added pressure and scrutiny of said first choice being drafted first overall. The slight drop in pay a third overall pick is eligible for compared to the first overall pick also makes it possible for Boston to be able to sign a max free agent with some additional moves.
Now let's take a look at who Boston drafted with those hoarded picks.
Third overall: Jayson Tatum, F- A lot of people felt that Markelle Fultz was the unquestioned best player in the draft. As I said in my writeup of the Sixers' draft, I'm not one of those people. I felt that Jayson Tatum, Josh Jackson, Jonathan Isaac, and Malik Monk all had just as much potential and that Tatum was the player who was the most likely of all to reach it and the one with the highest floor. Obviously Boston agreed, as they shocked the basketball world by taking Tatum over Josh Jackson and then claimed they'd have drafted him first overall.
This was a fantastic pick. Tatum projects as an immediate offensive star and his smooth game and sweet shooting stroke will complement the penetrating style of his fellow young teammates Gerschon Yabusele, Jaylen Brown, Terry Rozier, and Marcus Smart perfectly. It's possible Tatum also becomes a solid perimeter defender but his offense alone should make him a franchise cornerstone for years to come.
37th overall: Semj Ojeleye, F- This was a straight steal. Ojeleye is a first round talent who was overlooked due to not playing in the weak, unbelievably overrated ACC or Pac12. Instead, the junior forward who originally transferred from Duke played in literally one of the toughest conferences in the country. Anybody who has watched the AAC knows it's basically a combination of the Big East and Big 12. Most of the overrated stars of the ACC and Pac12 would get embarrassed and bullied on a nightly basis in the AAC.
In a conference full of tough, aggressive scorers, Ojeleye proved night in and night out that he could hold his own with any of them. He was the star and heart and soul of an SMU squad that showed that life after Larry Brown didn't have to be terrible.
Ojeleye was one of my favorite players to watch last year, and he'll be one of yours too. There's literally nothing he can't do on the court, and he's a beast in every sense of the word. He's an explosive athlete with the game to match and a flat out star who doesn't hesitate to do the dirty work.
There are people who think Ojeleye is a combo forward. Those people are clueless. He's basically the player Boston hopes Jaylen Brown will develop into, and a lot of teams will regret letting him drop as far as he did.
53rd overall: Kadeem Allen, G- I was really shocked Kadeem Allen got drafted. He's 24, undersized, and a major work in progress.
With that said, Allen's ridiculous 6'9"+ wingspan, mass, and athleticism make up for his lack of height and he has definitely displayed the potential to be a solid two-way guard at times.
Personally I would've drafted a guy like LJ Peak, Rodney Purvis, or Rodney Pryor but this pick makes sense when you consider that Boston needed a potential insurance policy for Avery Bradley who can potentially defend either guard position.
56th overall: Jabari Bird, G/F- This could end up being an unbelievable steal. Bird was a big time recruit who was expected to be one and done but some things led to him sticking around longer.
He and now the Celtics are better off for it. Bird went from an athletic, gifted but cocky HS recruit to an experienced senior who had another strong season last year, and this maturation makes it possible for him to potentially be a solid contributor at the NBA level one day.
Bird will need to play within a team offense but has shown all of the ability to do things like come off screens, be a spot up shooter, and attack the rim relentlessly. He'll also need to prove he can and will consistently defend along the perimeter. If he does those things, Bird should be a very good reserve wing and maybe a starter somewhere someday.
Boston had an unbelievable draft for the second straight year, adding a franchise cornerstone, another potential one, and two potential important reserve players in the future.
However, we have seen the Celtics squander great picks time and time again by not developing -or in some cases even so much as holding onto -them. Time will tell whether or not that will be the case with this year's picks.