HurricaneDij's Top 10 Favorite Games (2019-20)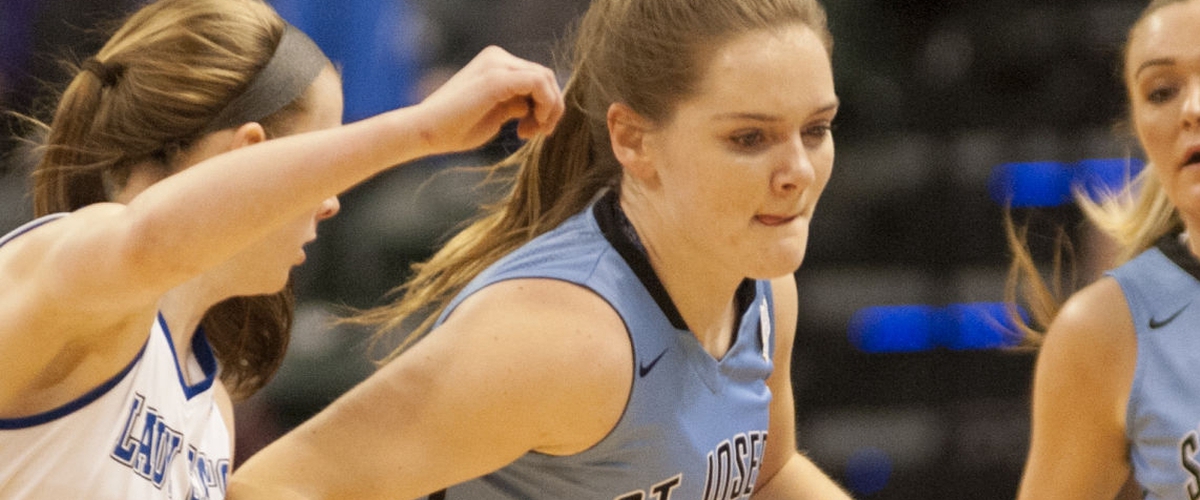 Desperate times call for desperate measures. Multiple writers at The Times are publishing their top 10 favorite games in the region from this past season, and I'm going to need to do my part to keep up with those guys, even though it ultimately won't happen. Obviously, in my case, I have 49 games to choose from...

My top 10 games for which I've attended:

10) Portage @ Andrean, Nov. 5, 2019 - My first high school game of the season, chalk this one up to youth versus experience. A DAC-tested Portage team opened their season by rallying from 13 down in the third quarter to knock off youthful Andrean for a big road win, 58-56. Andrean was led by junior wing Julia Schutz, and also had three freshmen in their rotation. Schutz had 13 points and six boards, while IUN commit Kristen Cravens led Portage with seven rebounds in the win.

9) Morgan Township @ Knox, Nov. 14, 2019 - This was the night I met one Felicity Olejniczak for the first time, and her Knox teammates gave her a standing O when I made in known that I would include her in my holiday break post, a particular post that is still visible in my blog's previous incarnation. Felicity scored 15 points in this early-season battle, a 54-36 win for the Lady Redskins, while MT junior guard Emma O'Brien made five three-pointers in a losing effort. This was also the night I tried Papa's pizza in Culver. Feels like such a long time ago now;).

8) LaCrosse @ Michigan City Marquette, Jan. 28, 2020 - The smallest school in Northwest Indiana facing off against a diminished version of the two-time defending Class A state champions, LaCrosse won 55-48. Madi Heavilin, a 6'0" multi-position player, had her way in the post and that may have been the decisive factor in the game, as Marquette clearly missed the size they had during the years prior. Power forward Claire Garwood, after returning mid-season from a torn ACL, looked more polished in this one, and two-time NBA champion Cliff Levingston was also seen at this game.

7) South Bend Riley @ New Prairie, Feb. 14, 2020 - Probably the most competitive of all the boys basketball games I've attended this year. NP quarterback Chase Ketterer, who participated in regionals last fall, was also a guard on the basketball team. While there was some questionable officiating at the very end of this one, the favored Riley Wildcats were ultimately able to take care of business in overtime, 66-61.

6) South Bend St. Joseph @ North Judson, Dec. 23, 2019 - Keegan Sullivan versus Lilliann Frasure on the evening before the holiday, what could possibly be better than this? Okay, it was a non-conference game that had little meaning in the grand scheme of things, but still a lot of talent on display on this night in our state's heartland. Sullivan (pictured above) nailed a half court buzzer-beater to give SBSJ a brief lead heading into the final period, and I was the guy in corner wearing a Vince Carter jersey with my arms up as the shot banked in. The Indians would go on to lose in a nail-biter, 47-43, as junior Sarah Hiestand missed a potential game-tying three in the waning moments.

5) Hanover Central vs. Culver Academies, Sectionals @ Knox, Feb. 5, 2020 - The first postseason game I would attend during the new year, this game was more intense than any paper rankings would have previously indicated as a 14-win team squared off against a one-win team. Culver even had a lead after one quarter, though talent would ultimately win out as Hanover would eventually take care of business against CMA, 47-33. HC was lead by their usual trio of Amanda Schreiber, Nevaeh Govert, and Julia Blue, and Govert's reverse layup near the end of the first half was poetry in motion.
4) Northern Iowa @ Valparaiso University, Feb. 28, 2020 - Unbeknownst at the time, this would be my last game of the season due to my vacation the following day and the ensuing pandemic. A buddy of mine from my Hobart days, Kevin, currently works as a kitchen aide in the cafeteria at VU, and he and I collected autographs from the team at the conclusion of the game, with senior forward Gracie Hales appearing to be their most popular player. We probably looked like the two biggest dorks on the planet as a pair of 30-somethings standing in line with a bunch of young kids to collect autographs from a group of college girls - But at the end of the day, I could not have been more proud of it. Valpo would hold serve at home on this night, 72-69.

3) Crown Point vs. Penn, Regionals @ LaPorte, Feb. 15, 2020 - Two of the top teams in the state facing off in the regional opener, this would be #1 if not for the bitter ending. The Penn guards drove the lane at will on this Saturday morning, especially in the second half, and would go on to win the game on a layup by Trinity Clinton, 42-41. I has previously thought that Crown Point, as the best team in the NWI region, had Penn's number, but chalk this one up to simply playing a good team and getting beat.

2) Munster @ LaPorte, Regionals, Feb. 15, 2020 - The second game that day, this was a tale of two halves. LaPorte took advantage of some home-cooking and raced out to a 15-point halftime lead. Ryin Ott made four three-pointers in the first quarter alone, while Sara Zabrecky was perfect from the foul line for Munster. LaPorte as a team was held to just 10 points in the second half, but it was enough as they held on to knock off the Mustangs, 48-47.

1) Westville vs. North Judson, Sectionals @ Hebron, Feb. 7, 2020 - Nothing is better than sectional excitement, and this was the last game for the uniquely talented and senior sharpshooter Nicole Albers, whom I have listed as my favorite player in the region a couple months back. Albers contributed four points and one assist, and had drawn the impossible match-up against the aforementioned Frasure, a player not only among the best in the region, but also one of the best players in the entire state of Indiana, and a player that stands at least seven or eight inches taller than Coco. Still, Albers held her own as an effective game-manager, and undersized Westville were within four points of the Bluejays late in the third quarter. And early in the fourth, she was able to break loose and nailed a three for the final time of her career. Westville would go on to lose the game, 55-38, and even though the North Judson student section has been known to act up at times based on personal experience, I felt that both schools showed out quite well for this game overall.
For the Books:
Albers has made 51, count 'em, 51 three-pointers over the course of the last two seasons. Mark that standard down in your trials and tribulations collection. By comparison, solidly-profiled region collegians Lauren Ladowski and Sarah Martin did not make that many threes for the entirety of their respective prep careers.