My court is my castle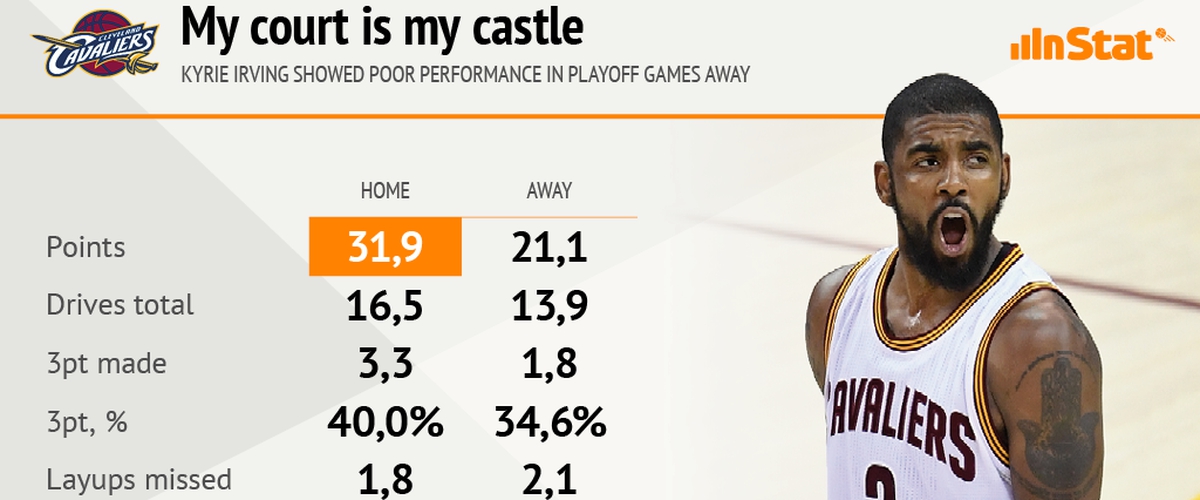 Kyrie Irving has been a leader for Cleveland Cavaliers, while also becoming the reason of their losses. That could be seen throughout #NBAPlayoffs-2017 and has become obvious in the NBA Finals.
According to InStat Sport, Irving's efficiency in road games declines significantly.
For example, in Quicken Loans Arena he averages 31.9 points, while the number is only 21.1 away from home court. #InStat advanced data proves there is no lack of effort from Uncle Drew. He uses beloved drives roughly the same way as well as shoots the ball from the 3 point land. Defensive activeness is also at the same level.
Home court is literally the case. Given that his teammates overall play the same way they always do, Irving scores 3.25 treys per home game (40% accuracy) and only 1.8 (35%) per road game. Even his signature layups from the paint are more efficient at home. The guard misses 40% more attempts on the road (2.1 misses when being a visitor against 1.7 of those as a host).