Why Crosby is MVP?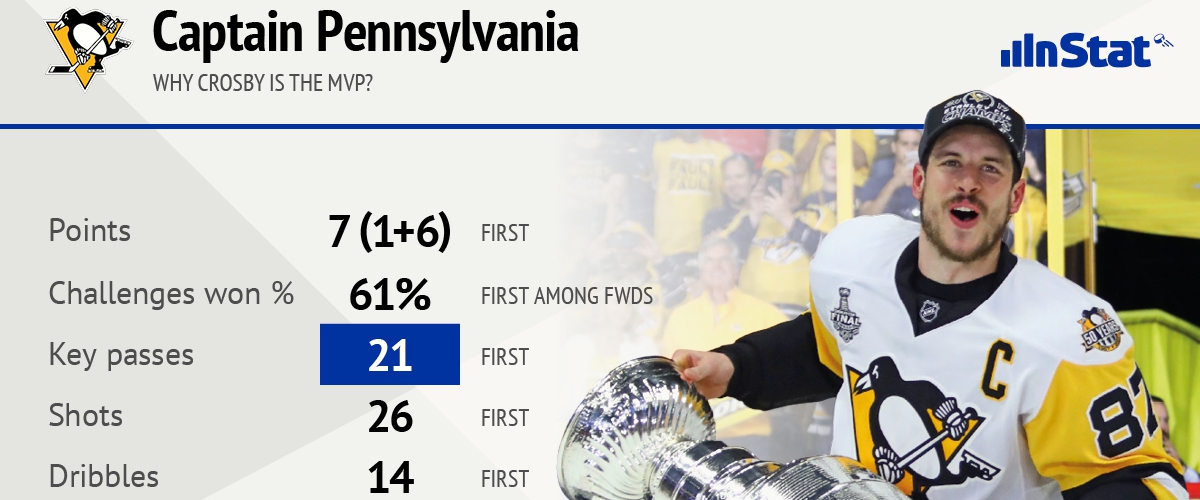 Pittsburgh Penguins forward Sidney Crosby became Stanley Cup Finals MPV for the second season in a row. Crosby failed to become the final's top scorer and still there are no doubts he deserved the MVP status.
InStat's advanced statistics, collected for the best coaches, proves that Crosby contribution to the Penguins' attacking performance deservedly earned him the MVP status.
Yes, Crosby did not score too many goals, although he was the team's top shooter with 26 shots in the final series, and most of his shots were slot shots as usual. Crosby surprised by being inefficient at faceoffs, winning a mere 46% of them.
Basically, this is pretty much it concerning the center forward's failings. Now let's move on to his fantastic contribution to the Pens' success. In the final series Crosby scored the most points in the team: 7 (1+6).
Six assists were no coincidence: no other player in the final series made as many key passes as the Canadian: 21 times. It's a huge result: for instance, Sidney's teammate Jake Guentzel, the second best player in terms of key passes, made 11 of them, almost twice less.
Crosby creativity is the Penguins' weapon. His ability to dribble past an opponent in one-on-one situation demonstrates his class. The forward completed 14 successful dribbles, more than anyone else in the series.
And, finally, Sidney won 61% of challenges, which is the best rate among all forwards in the final series. Normally it would be defenders who are that good at challenges, and it would be defensive actions. Yet Crosby was successful in challenges in both sides of the rink. It should also be noted that Crosby was rarely checked by opponents (9 times) despite playing a key role in his side's attacks. Obviously, this is where his technical skills and speed worked fine.