Daily Fantasy NASCAR Recap - New Hampshire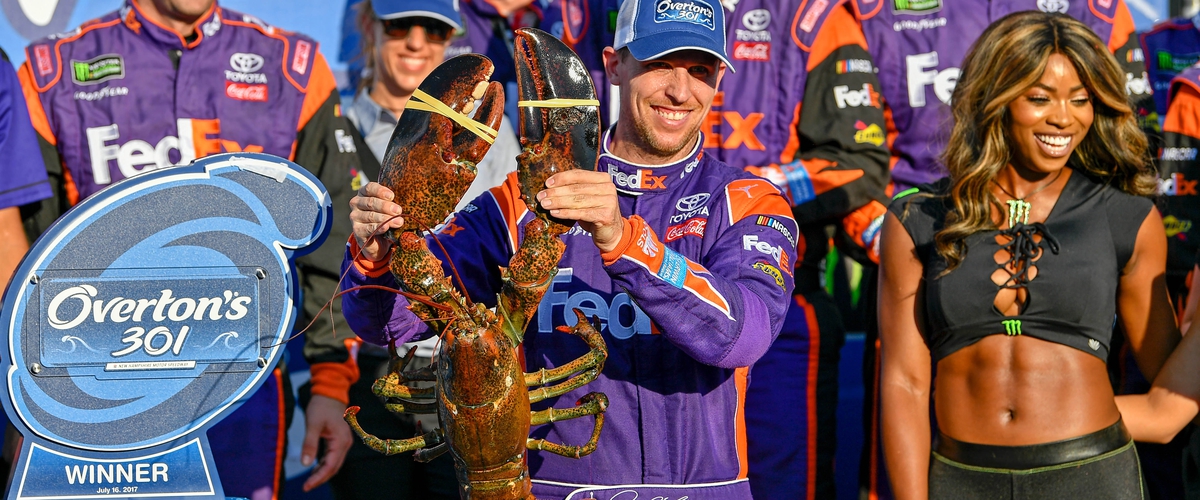 The Toyota camp was the talk of the weekend going into the Overton's 300 and it was a Toyota driver taking home the gigantic lobster. Martin Truex Jr. and Kyle Busch won the first two stages but it was Denny Hamlin breaking through in his backup car on Sunday to grab the checkered flag. It wasn't just Hamlin's first win of the year, it was also Joe Gibbs Racing first win as an organization in 2017. How happy was Denny? The burnout says it all:
Looking at the race from a fantasy perspective, Martin Truex Jr. with his race-high 137 laps led and 3rd place finish netted 111.3 DraftKings points. That's back to back weeks leading the field. Right behind him was Kyle Larson who once again started from the rear and cruised his way to the front. He finished runner-up for the 7th time this season and earned the second most DraftKings points with 98.3 this week. Toyota's close out the Top with race winner Denny Hamlin(79), Kyle Busch(70.3), and Matt Kenseth(55.5).
It was another very successful week for the cheatsheet as the Top 3 in my overall ranks finished there and seven of the Top 10 finished there as well with a correlation of .609 for the week(highest since I have started tracking). For a complete look at the trends sheet grab a copy through the link below. I look at each drivers salary, average GPP ownership, and final DraftKings points for every race. I have also started to track average points per race on each different track type. Check it out and let me know what you think.
LINK TO DFS NASCAR RACE BY RACE TRENDS SHEET
---