DFS NASCAR Recap - Coke Zero 400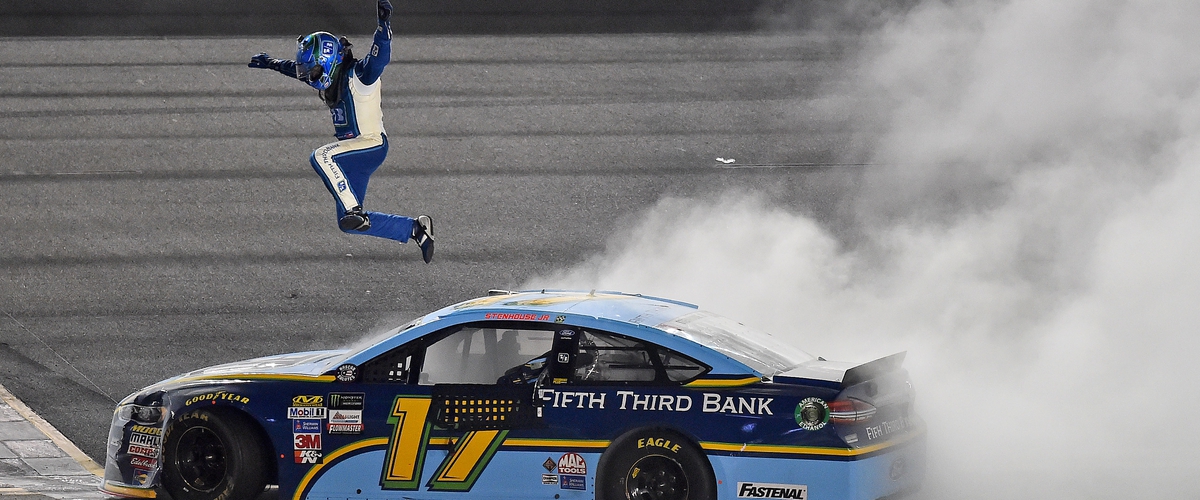 After all the anticipation for Dale Earnhardt Jr's final race at Daytona, it was Ricky Stenhouse Jr. who stole the show with his second win of the season. He may have also taken torch from Dale Jr. as the Cup series Superspeedway wizard as his first win came at Talladega just under two months ago.
The Coke Zero 400 set a race record for with 14 cautions which helped contribute to many drivers making an early exit. Some notable names that failed to finish the race were Dale Jr, Austin Dillon, Martin Truex Jr, Joey Logano, Kevin Harvick, Brad Keselowski, Kurt Busch, Matt Kenseth, Denny Hamlin, Ryan Blaney, and Kyle Larson.
For the cheatsheet this week it was a huge disappointment as only one driver(Clint Bowyer) who ranked inside the Top 10 finished inside the Top 10 in DraftKings points. It was the first time I have seen negative correlation and while it is hard to write these articles following bad weeks, I like to be completely transparent with my content. I am not all worried about the performance of the cheatsheet seeing the two weeks prior were terrific overall. It was also another unpredictable wreck-fest at Daytona and next week we get back to normal as the Monster Energy NASCAR Cup Series heads to Kentucky for the Quaker State 400.
With 17 races in the book we still have nine different winners and five drivers(Johnson, Larson, Stenhouse, Keselowski, Truex Jr.) with multiple wins. Joe Gibbs Racing has still failed to reach Victory Lane but Kyle Busch leads all drivers without a win in points and currently ranks 11th in the playoff race. His teammate Denny Hamlin sits 14th, Matt Kenseth sits on the bubble in 16th and rookie Daniel Suarez sits just under 100 points behind the cutline in 19th place.
Looking at the stage results this season, Martin Truex Jr. has dominated winning 11 and currently sits with 21 Playoff Bonus Points. No other driver has even won five stages this year and only four other drivers(Larson-13, Keselowski-13, Johnson-16, Stenhouse-10) have earned double digit Playoff Bonus Points.
Make sure to check out my Race by Race Trends Sheet following the race weekend. I added not only Last 5, Last 10, and Season average DraftKings points but also added average DraftKings points by tack type.
If you have any questions about the sheet, my picks, or anything fantasy NASCAR be sure to hit me up on Twitter(@Jager_Bombs9) or in the DFSR chatroom. You can also check out my article for the Quaker State 400 over at DFSR which will published on Thursday and followed by a video on after Qualifying/Practice.
---