DFS NASCAR Recap - Toyota Save Mart 350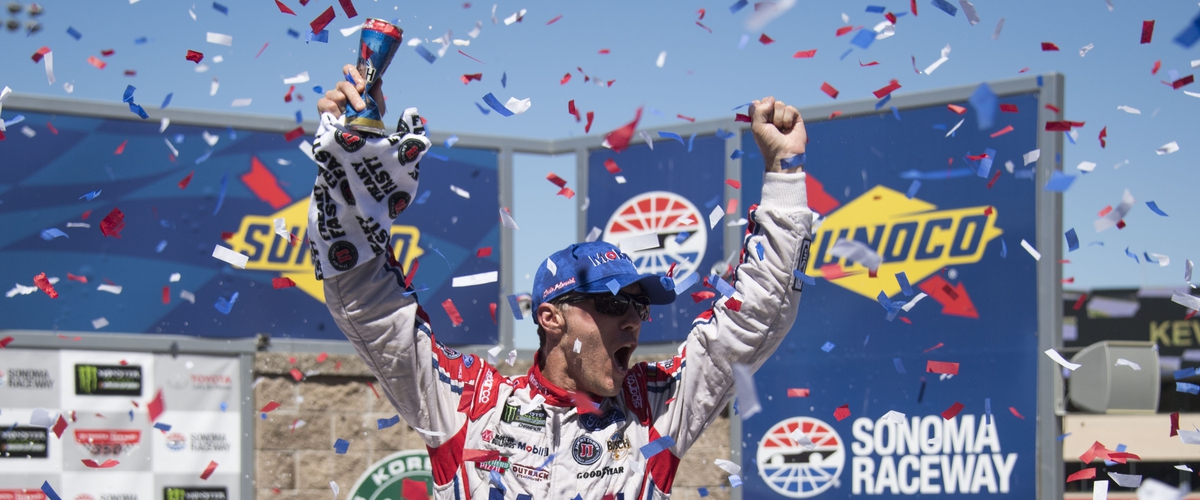 Kevin Harvick checked a lot thing off his list with his 36th career win on Sunday afternoon. It was his first win of the season, first win in a FORD, and first win at Sonoma. The win also broke a 20 race winless streak dating back to October of last season.
Martin Truex Jr. led the most laps and also picked up yet another stage win giving him 11 on the season(no other driver has 5) and some very crucial bonus points come playoffs. Harvick was right behind Truex with 24 laps led while three others drivers(Brad Keselowski, Denny Hamlin, Jimmie Johnson) all led over 10 laps. Looking at place differential leaders from the race, the Top 5 were Brad Keselowski(+20), Matt Kenseth(+18), Kevin Harvick(+11), Jimmie Johnson(+11), and Clint Bowyer(+11).
With Harvick's win that gives us 11 different winners through 16 races, and still no win from Joe Gibbs Racing. Here is a look at the Top 10 in the Monster Energy NASCAR Cup Series going into next week's race at Daytona:
1. Kyle Larson (659 pts, 2 wins, 58.1 avg DK pts)
2. Martin Truex Jr. (646 pts, 2 wins, 62.3 DK avg DK pts)
3. Kevin Harvick (548 pts, 1 win, 46.2 avg DK pts)
4. Kyle Busch (542 pts, 0 wins, 51.9 avg DK pts)
5. Brad Keselowski (519 pts, 2 wins, 47 avg DK pts)
6. Chase Elliott (509 pts, 0 wins, 38.6 avg DK pts)
7. Jimmie Johnson (483 pts, 3 wins, 47.2 avg DK pts)
8. Jamie McMurray (477 pts, 0 wins, 29.1 avg DK pts)
9. Denny Hamlin (476 pts, 0 wins, 33.8 avg DK pts)
10. Joey Logano (434 pts, 1 win*, 38.1 avg DK pts)
*. Encumbered win due to failing post-race inspection.
Now let's take a look at my recap video reviewing my Top 5 picks and GPP pick of the week for DraftKings.
Thanks for checking out my content. I very much appreciate all of you who comment on the blog, YouTube videos, Twitter, or join me in the DFSR chatroom. Stay tuned as more videos and articles are coming very soon!
---